"The Stack" 10-4-19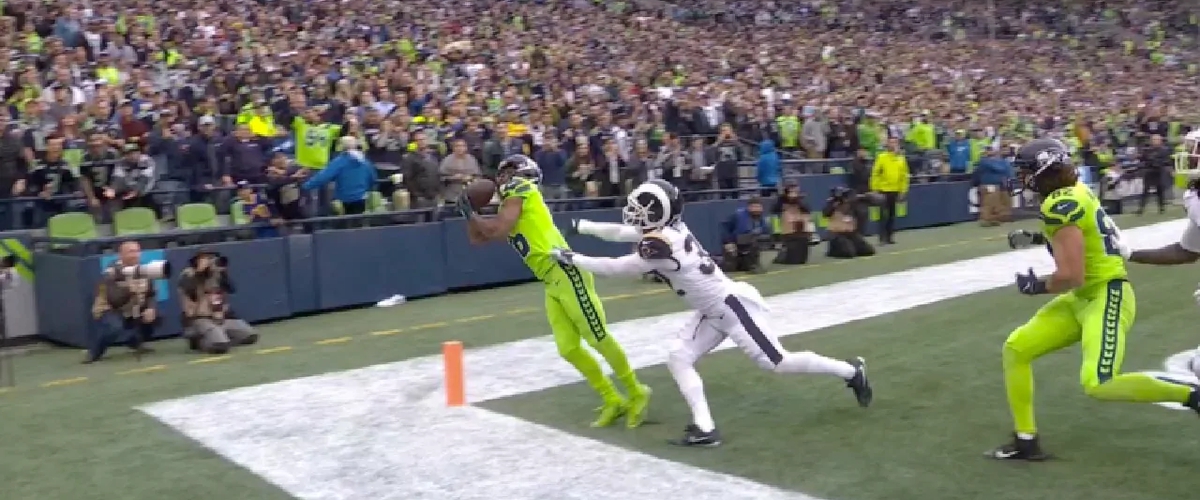 Seattle Seahawks wide receiver Tyler Lockett had an incredible touchdown catch that had supposedly a 2% chance of happening. It was a huge play and the Seahawks hung on to beat the L.A. Rams 30-29. Great start to week 5 in the NFL.
The Stack is back on this Football Friday and once again, we got the Thursday night game wrong. Just kidding. The Seattle Seahawks survived...barely. It was a great game. Russell Wilson's touchdown pass to Tyler Lockett?! How did he do that? Greg Zuerlein missing a 44-yard field goal. What gives?! Seahawks beat the L.A. Rams 30-29. I wonder what games we'll get wrong this week. That's not the way to think about it. Let's find out and make some pics for week 5 in "the stack" for today, Friday, October 4th:
2-2 Jacksonville Jaguars @ 2-2 Carolina Panthers 1 PM ET CBS
Panthers quarterback Kyle Allen has won all three of his road starts. He has not won a home start. Has he even had a home start? Asking for a friend. Jaguars quarterback Gardner Minshew II has a bum leg. If he can't go, I like the Panthers. If he can go and isn't limited, I like the magic to continue.
Prediction: Jaguars 23 Panthers 20
0-3-1 Arizona Cardinals @ 0-4 Cincinnati Bengals 1 PM ET FOX
Ah, the winless bowl. What a dud of a game this is. I was going to pick the Bengals if for no other reason than because they were the home team, but with Bill Bidwell, former Cardinals owner dying, I think the Cardinals play with a little extra motivation and find a way to get the win.
Prediction: Cardinals 26 Bengals 19
1-3 Atlanta Falcons @ 2-2 Houston Texans 1 PM ET FOX
I think the Falcons are the better team. I think they are a better team than what they have shown. But I really like Texans quarterback Deshaun Watson. And the Falcons have burned me too many times. Decisions, decisions.
Prediction: Texans 24 Falcons 20
2-2 Tampa Bay Buccaneers @ 3-1 New Orleans Saints 1 PM ET FOX
Last year the Bucs stunned the Saints week 1 48-40. Do the Bucs have enough points in them after their 55 burger last week against the Rams? I think they do, but the Saints defense is a little better. If the Bucs win this game, I'll take them seriously.
Prediction: Saints 30 Bucs 24
2-2 Minnesota Vikings @ 2-2 New York Giants 1 PM ET FOX
It has been a tumultuous week for the Minnesota Vikings. A lot of criticism surrounding Adam Thielen's comments and then Kirk Cousins' apology to Thielen on his radio show. To top it off, Stefon Diggs seems like he wants out. They need a win in the most desperate of ways. The Giants are better since Daniel Jones took over at quarterback, but they still aren't great. The Vikings should win. If they don't their season is done.
Prediction: Vikings 27 Giants 10
3-1 Chicago Bears @ 2-2 Oakland Raiders 1 PM ET FOX (London)
Bears linebacker Khalil Mack gets his first chance (and maybe only) at Jon Gruden and the Raiders. He's going to have a big game. If nothing else, tune in to watch him destroy his former team.
Prediction: Bears 20 Raiders 10
0-3 New York Jets @ 2-2 Philadelphia Eagles 1 PM ET CBS
Jets quarterback Sam Darnold may play in this one, but he is worried about his spleen bursting if he gets hit. That's fair. With or without him, the Jets are going to get blown out. Big games by Carson Wentz and the Eagles offense.
Prediction: Eagles 31 Jets 9
2-2 Baltimore Ravens @ 1-3 Pittsburgh Steelers 1 PM ET CBS
Lamar Jackson and the Ravens offense has not looked the same the last two weeks. I guess when you face tougher competition than the Dolphins and Cardinals, that's to be expected. People seem to think the Steelers are back after that win against the Bengals Monday night. Yeah, not really. The Ravens defense isn't good, but the team is better than the Steelers. I think they go into the Steel City and get a victory.
Prediction: Ravens 30 Steelers 23
3-1 Buffalo Bills @ 2-2 Tennessee Titans 1 PM ET CBS
I have no idea what to make of the Titans. They win the games you don't expect them to and lose the game they probably shouldn't. I think Matt Barkley is going to start at quarterback for the Bills, right? That doesn't bode well for them even though they have a dominant defense. I'll take a chance on the Titans.
Prediction: Titans 16 Bills 13
4-0 New England Patriots @ 0-4 Washington 1 PM ET CBS
It doesn't matter who Washington starts at quarterback, Case Keenum, Colt McCoy or Dwayne Haskins. They are going to be slaughtered by an angry Tom Brady and company. It doesn't even matter that they don't have kicker Stephen Gostkowski. Cover your eyes Washington fans.
Prediction: Patriots 38 Washington 6
0-4 Denver Broncos @ 2-2 Los Angeles Chargers 4:05 PM ET CBS
The Broncos have lost some heartbreakers this year so far. They may be in line for another heartbreaker. Melvin Gordon returns to the Chargers and he is going to have an impact in the game. Philip Rivers and the Chargers take care of business.
Prediction: Chargers 23 Broncos 17
3-1 Green Bay Packers @ 3-1 Dallas Cowboy s 4:25 PM ET FOX
Both teams are coming off of their first loss of the season. The Cowboys won't have offensive tackle Tyron Smith. I doubt wide receiver Davante Adams plays for the Packers with that turf toe injury. The Cowboys are the better team and Ezekiel Elliott has to be licking his chops and ready to go against that Packers run defense. Cowboys win an entertaining one.
Prediction: Cowboys 31 Packers 24
2-2 Indianapolis Colts @ 4-0 Kansas City Chiefs 8:20 PM ET NBC
This game would be far more intriguing if Andrew Luck were starting at quarterback. No offense to Jacoby Brissett, but he just isn't Luck and you need a quarterback like Luck to go toe-to-toe with Patrick Mahomes. I don't think it's going to happen for Indianapolis.
Prediction: Chiefs 34 Colts 20
Coming up Monday: Week 5 NFL Sunday reaction plus MNF preview and prediction
---