"The Stack" 10-7-19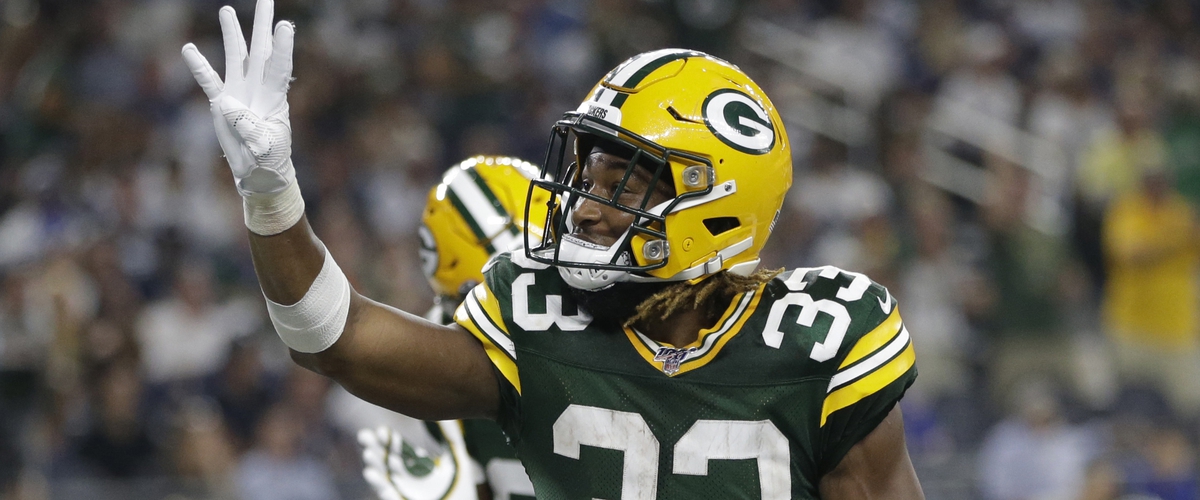 4. That's the number of rushing touchdowns Green Bay Packers running back Aaron Jones had in the Packers impressive 34-24 win over the Cowboys.
The Stack is back on this Monday and it was a wild Sunday in the NFL. Several teams won their first game, a scary injury in Pittsburgh and they're holding their breath in Kansas City that Patrick Mahomes' ankle isn't too bad. We'll react to it all so let's get right to "the stack" for today, Monday, October 7th:
Jaguars 27 Panthers 34
It was the Christian McCaffrey show in Charlotte. The Panthers running continued his MVP season with 237 yards from scrimmage and added three touchdowns as the Panthers won a wild one over Jacksonville. Gardner Minshew II did his best to get the win for the Jaguars as did Leonard Fournette, but their defense could not stop McCaffrey all day. In fact, they ran the same play over and over and over. McCaffrey is the real deal.
Cardinals 26 Ravens 23
Cardinals rookie quarterback Kyler Murray showed why he was the number one overall pick, even if it was against the winless Bengals. What he did on that last drive rushing and throwing was great. The Cardinals just need to continue to add pieces to make them a completely competitive team. The Bengals, meanwhile, are terrible. Just flat out terrible.
Falcons 32 Texans 53
Deshaun Watson, have yourself a game. Over 400 yards passing and five touchdowns as the Texans did whatever they wanted to against the Atlanta Falcons defense, especially in the second half. The Falcons are an embarrassment, especially on defense, but they also have no running game making it all the more difficult. Watson carved them up.
Buccaneers 24 Saints 31
Teddy Bridgewater had by far his best game as quarterback for the New Orleans Saints, throwing for over 300 yards and four touchdowns as the Saints took care of Tampa Bay. He had a good rapport with wide receiver Michael Thomas who had over 180 yards receiving and two touchdowns and the Saints improved to 3-0 since Drew Brees has been out with a thumb injury.
Vikings 28 Giants 10
Amazing what a week of controversy can do for bringing a team together. Kirk Cousins was dialed in with Adam Thielen all game long, (7 receptions for 130 yards and two touchdowns) and Dalvin Cook had over 200 yards from scrimmage as the Vikings offense had their way with the Giants defense all game long. There were plenty of points left on the board and the defense could have been a little better, but the Vikings will take performances like that any week.
Bears 21 Raiders 24
Well there sure was a surprise in London on Sunday. This game was a roller coaster with the Raiders stunning everyone by getting up 17-0 on the Chicago Bears only to see the Bears roar back with 21 unanswered points. Allen Robinson had two receiving touchdowns for the Bears. Raiders rookie running back Josh Jacobs would not be deterred though rushing for the go-ahead score and helping the Raiders win. Even more surprising is that the Raiders had four sacks and the Bears had none! Khalil Mack. Paging Khalil Mack.
Jets 6 Eagles 31
The New York Jets are an utter embarrassment. Then again, when they are on their third string quarterback and the offensive line is in shambles and they don't have any weapons outside of Le'Veon Bell, what do you expect? Hope you had the Philadelphia Eagles defense in fantasy. They were fantastic. That's the biggest takeaway in this game.
Ravens 26 Steelers 23
Not a real impressive win by the Baltimore Ravens. Lamar Jackson didn't look great throwing three interceptions. Good thing they have a kicker like Justin Tucker. That game-winning field goal in overtime looked like it was going left before fading back right. Remarkable. Scary situation that happened to Steelers quarterback Mason Rudolph getting knocked unconscious by Ravens safety Earl Thomas. It was not a dirty hit. And then for the medical cart to not work. It's just that sort of season for the Steelers.
Bills 14 Titans 7
I did not think Bills quarterback Josh Allen was going to play. He did though and he was fine. This game though is more about the Titans inability to make a field goal and the Bills stifling defense. Titans kicker Cairo Santo missed three makeable field goals and had another one blocked. The Bills defense was great. This is a good football team…which is surprising to say.
Patriots 33 Washington 7
Say this about Washington, at least they had a lead against the defending Super Bowl champions. Then Tom Brady and the Patriots offense took over and the defense overwhelmed Washington quarterback Colt McCoy to no one's surprise. Now head coach Jay Gruden is gone. It's bad in D.C. This is a horrible football team. Maybe that is why so many Patriots fans were there and it felt like a home game.
Broncos 20 Chargers 13
It was stunning how bad the L.A. Chargers looked in this game. Philip Rivers played bad. Running back Melvin Gordon returned and was ineffective. The Chargers had no energy on offense. Maybe that was because there were so many Broncos fans in attendance. The Broncos pick up their first win of the season and first win for head coach Vic Fangio. Good for them.
Packers 34 Cowboys 24
Packers running back Aaron Jones had himself a game. Four rushing touchdowns (and a fantasy loss for me as a result), over 100 yards rushing and almost 80 yards receiving. With wide receiver Davante Adams out, Jones' performance was huge for the Packers in their win. The defense forced a few Cowboys turnovers as well and though the Cowboys made a game of it late, this was really never in doubt. The Packers are good and the Cowboys have some serious questions to answer.
Colts 19 Chiefs 13
This was not only the most stunning result of the week, it may be the most stunning result of the season. The Indianapolis Colts, shorthanded on defense due to injuries and without Andrew Luck (because you know, he retired), went into Arrowhead and beat down the Chiefs with a relentless running game and putting pressure on hall-of-famer Patrick Mahomes. The Chiefs suffered injuries during the game that certainly played a role in the final outcome including Mahomes getting his ankle dinged up, but the Colts had a brilliant game plan all along. What a win.
2-2 Cleveland Browns @ 3-0 San Francisco 49ers 8:15 PM ET ESPN MNF
The 49ers have had two weeks to prepare for Baker Mayfield, Odell Beckham Jr. and the Browns. The Browns are flying high off of their win in Baltimore last week. Will they be ready for an undefeated 49ers team? I don't think San Francisco is as good as their record indicates. The Browns will go in there and win their third road game of the year.
Prediction: Browns 24 49ers 20
Coming up Tuesday: MNF recap, college football weekend reaction and MLB playoff thoughts
---