"The Stack" 10-6-17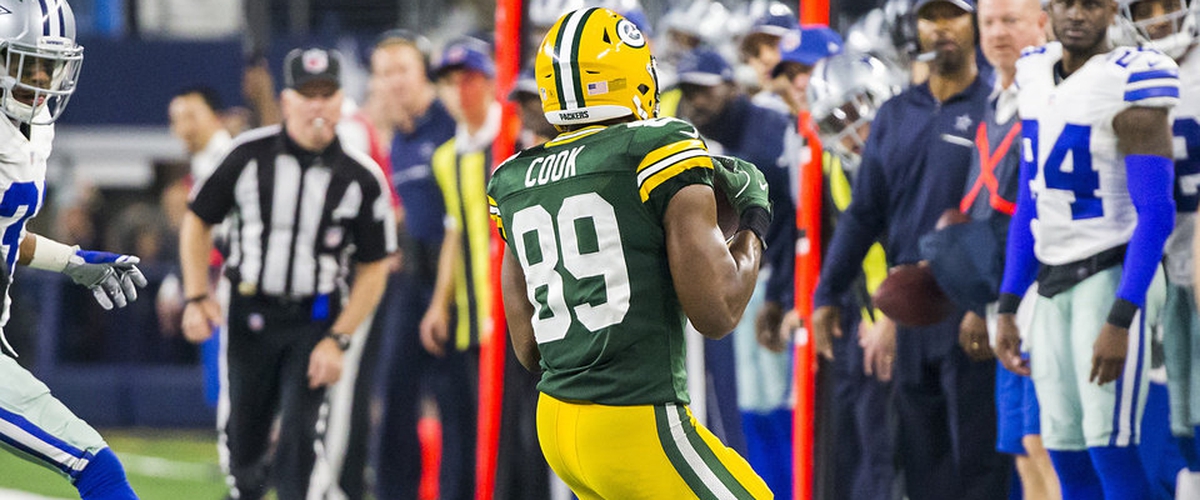 Jared Cook's toe-tapping sideline grab in the NFC Divisional Playoff round last year helped lift Green Bay past the Cowboys. The Cowboys are looking for revenge this week.
It's another Football Friday and The Stack is 1-0 this week thanks to the New England Patriots taking down the Tampa Bay Buccaneers. Picks have not been great this year thus far. Will week 5 change? Highly unlikely, but before we get to that, congratulations is in order to the Minnesota Lynx who won their fourth WNBA Championship with an 85-76 win over the Los Angeles Sparks. This is a really good team and a good rival. And what a game between the Colorado Rockies and Arizona Diamondbacks in the NL Wild Card. The Diamondbacks escaped with an 11-8 victory. Tons of runs. Lots of fun. Now then, we'll try to make better picks this week for Sunday's NFL action so let's get right to "the stack" for today, Friday, October 6th:
Buffalo Bills @ Cincinnati Bengals 1 PM ET CBS
Who would have thought the Buffalo Bills would be 3-1 right now? I certainly didn't think they would beat Atlanta in Atlanta last week. The Bengals have looked much better the last two weeks since their putrid first two games of the season which were both at home. They haven't scored a touchdown yet at home. That changes Sunday. So will the end result.
Prediction: Bengals 20 Bills 16
New York Jets @ Cleveland Browns 1 PM ET FOX
Weird, a cross-over game. I'm sure FOX is thrilled to be getting this game. The Jets have played much better this year than almost everyone thought they would. This game is a major importance for the Browns, because it may be the last game that they are truly favored to win. They have not looked well the last two weeks. I'm guessing they give it their all and win a close one. Now I've probably just jinxed them.
Prediction: Browns 24 Jets 20
Carolina Panthers @ Detroit Lions 1 PM ET FOX
I'm still not a believer in the Lions, but given what has been going on in Carolina with Cam Newton this week and coming off of a high with that win at New England, they are bound to be in for a bit of letdown this week.
Prediction: Lions 27 Panthers 17
San Francisco 49ers @ Indianapolis Colts 1 PM ET FOX
I am really tempted to take the 49ers in this one. They look like they are starting to get into an offensive flow, but don't you think Jacoby Brissett and the Colts are going to play decent at home? Heck they were close for a while at Seattle last week. I think they squeak one out here.
Prediction: Colts 23 49ers 20
Tennessee Titans @ Miami Dolphins 1 PM ET CBS
If Marcus Mariota doesn't play, I think it is going to be awfully difficult for the Titans to win this week. They were embarrassed last week by the Texans though and the Dolphins have scored just six points the last two weeks…combined. It is their "home" opener though. Perhaps they will play much better this week. Prove it to me Jay Cutler.
Prediction: Titans 17 Dolphins 13
Los Angeles Chargers @ New York Giants 1 PM ET CBS
Wouldn't it be something if this game ended in a tie and kept both teams winless? I'm guessing the Chargers are kind of happy to not be playing in a soccer stadium where they have zero homefield advantage. The Giants were so close last week. Eli Manning and company will do enough this week. Plus, it's Eli Manning versus Philip Rivers. This is probably the last time these guys play against one another. This is a very intriguing game to watch.
Prediction: Giants 27 Chargers 23
Arizona Cardinals @ Philadelphia Eagles 1 PM ET FOX
This game is for the birds. Womp, womp, womp. Boo!!! Carson Palmer is getting shellacked this year behind a pretty bad offensive line. I don't think it gets any better on the road against the Eagles. I am not a huge believer in this team yet, but they will do more than enough to get the win.
Prediction: Eagles 26 Cardinals 13
Jacksonville Jaguars @ Pittsburgh Steelers 1 PM ET CBS
Two weeks after looking like world beaters, the Jaguars had a terrible performance against the Jets. The Jets!! What gives? The Steelers haven't found their grove yet, but Le'Veon Bell had over 140 yards rushing last week. The Jaguars defense will keep them in the game for a while, but Pittsburgh's offense has too many weapons and will pull away late.
Prediction: Steelers 30 Jaguars 13
Seattle Seahawks @ Los Angeles Rams 4:05 PM ET CBS
Yes, another cross-over game. I was dead wrong about the Rams coming into this season. Their offense is legit. The Seahawks defense won't have Cliff Avril. They will slow down the Rams offense, but they won't stop them. And the Seahawks offense still has some issues. The Rams come away with the victory.
Prediction: Rams 22 Seahawks 13
Baltimore Ravens @ Oakland Raiders 4:05 PM ET CBS
We won't see Derek Carr this week for the Raiders. That could be a problem as E.J. Manuel doesn't exactly instill the most confidence in anyone. He looked decent last week. The Ravens defense will mess with him though. Too bad the Ravens offense stinks. They have a chance in this one only because Carr is out, but I don't think they will do enough to get it done.
Prediction: Raiders 20 Ravens 12
Green Bay Packers @ Dallas Cowboys 4:25 PM ET FOX
A rematch of last year's thrilling NFC Divisional Playoff game. No doubt the Cowboys want revenge for that loss, but they just don't look like they did last year. They aren't quite as good on offense and their defense is average at best. An average defense against Aaron Rodgers? I'll take Rodgers every time.
Prediction: Packers 34 Cowboys 26
Kansas City Chiefs @ Houston Texans 8:30 PM ET NBC
I am definitely in the minority here, but I think coming off of a physical game on Monday night and having to go on the road facing a team with a ton of positive energy thanks to their rookie quarterback (Deshaun Watson), I just don't think the Chiefs are going to come into Houston and be all that effective. Then again with how wrong I've been so far this year, watch them put 37 points on the board. The Texans defense is good though. I think they are the difference in this one.
Prediction: Texans 28 Chiefs 20
Coming up Monday: Week 5 Sunday NFL action reaction plus MNF preview
---