"The Stack" 10-9-17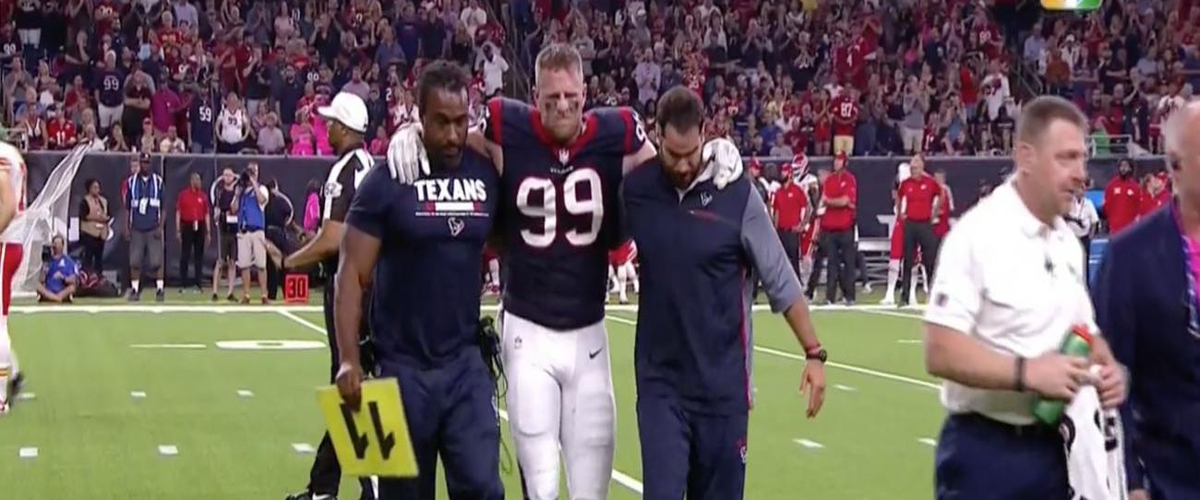 J.J. Watt suffered a tibial plateau fracture on the first drive of Sunday's game against Kansas City and will be out for the season by all indications. It's a significant loss for the Texans who also appear to have lost fellow defensive end Whitney Mercilus for the year with a pectoral injury.
I'm better than this. I'm better at picking NFL games and understanding what is going on. I have in previous years anyway. This year, not so much. Once again, my picks stunk this week. The Stack is here on this Monday with reaction to Sunday's NFL action plus a Monday Night Football preview so let's get right to "the stack" for today, Monday, October 9th:
Bengals 20 Bills 16
On a rainy day it was big plays from Bengals wide receiver A.J. Green that was the difference in this one. Yes, he had a fumble and had a hand on a couple of deflected balls that turned into interceptions, but it was his long touchdown catch and then long catch and run in the fourth quarter that was the difference in this one. The Bengals are looking much better these days.
Jets 17 Browns 14
I went out on a limb and thought the Browns would win this game and really they should have. What, they had two redzone turnovers, a missed field goal and then went for it on fourth and goal when a field goal would have tied the game up 10-10 and got stuffed. I still don't think the Jets are all that good, but they have won three in a row now. Baffled by what the Browns did in this one. They gave this game away.
Panthers 27 Lions 24
Cam Newton had himself a game. Really, his last two games have been outstanding. During a week with a self-made distraction, Newton went out and bludgeoned the Lions secondary. Tight end Ed Dickson had himself a career day with five catches for 175 yards. The Lions couldn't stop him. Matthew Stafford was bad and apart from a couple of for all intents and purposes "garbage touchdowns", he wasn't that great. . Big win for the Panthers.
Colts 26 49ers 23
Too bad this game (which was actually exciting towards the end) has to be overshadowed by the vice president choosing to make a statement (and an expensive one at that). Peyton Manning got honored at halftime and it was his teammate Adam Vinatieri who won the game with a 51-yard field goal. Vinatieri was tremendous all day. Jacoby Brissett made some big plays and the Colts honored Manning by delivering a win.
Dolphins 16 Titans 10
To anyone who watched this game, I'm sorry. I wouldn't force anyone to watch this game. The offenses stunk yet somehow Jay Cutler's Dolphins got the win. Had Marcus Mariota been able to play, that would not have been the case. Come on Titans.
Chargers 27 Giants 22
It's officially rock bottom for the Giants. The top four wide receivers (Sterling Shepherd, Dewayne Harris, Brandon Marshall and Odell Beckham Jr.) all went down with injuries. In the case of OBJ, he fractured his fibula and is done for the year. Such a devastating loss for this team. I picked them to win the division. That certainly won't happen. The Chargers looked bad early, but battled back. Nice to see.
Eagles 34 Cardinals 7
Speaking of battling, did the Cardinals even bother to play on Sunday? Their defense was terrible as Carson Wentz shredded them with four touchdown passes. The Cardinals were lucky to be .500 headed into this game. I'm thinking that is where they will be, hovering around .500 for most of the year. This Eagles team has been awfully impressive thus far.
Jaguars 30 Steelers 9
Very few results (if any) were more surprising than the beatdown that the Jaguars put on the Steelers. Their defense picked off Big Ben five times and made life miserable for the Steelers on offense. Rookie running back Leonard Fournette punctuated the upset by rushing for a 90 yard touchdown which will make me lose in fantasy this week. Thanks Fournette!
Seahawks 16 Rams 10
All of us believing that this Rams team was different and could keep the offensive explosiveness up were let down Sunday by the Rams who had five turnovers in this one. This was not Jared Goff's best game, but he was far from the only Ram who had issues. Todd Gurley fumbled the ball out of the endzone on the first or second drive of the game. They were up 10-0 and let the Seahawks score the final 16 points. I don't know if the Seahawks are back necessarily, but this was a good win for them on the road even if the stadium was only half full.
Ravens 30 Raiders 17
When Raiders tight end Jared Cook fumbled it on the Raiders first drive of the game and the Ravens returned it for a touchdown, this game was essentially over. No offense to E.J. Manuel, but he is no Derek Carr. The Raiders have now lost three in a row. This is not a good football team right now.
Packers 35 Cowboys 31
Game of the day without a doubt! The Cowboys started hot early with Dak Prescott throwing three first half touchdowns, but Aaron Rodgers as he always does led the Packers back. They took a 28-24 lead after a pick six in the fourth quarter only to see the Cowboys run it down the field and convert on a fourth down and one thanks to Ezekiel Elliott extending the length of the football in the pile. They would score a few plays later, but left too much time for Rodgers who made some great throws and ran for 18 yards on a third and eight. Blown coverage on that play. Have to have a QB spy there. Two plays later a brilliant back shoulder throw to Devante Adams gave the Packers the win. Adams had two touchdown in the game. You may recall he got lit up last week. Amazing win for Rodgers and the Packers.
Chiefs 42 Texans 34
Where to begin with this game. How about the injuries? Whitney Mercilus left right away for the Texans on the first drive and he was soon followed by J.J. Watt who suffered a tibial plateau fracture which will likely cost him the rest of the season. Tough break for him and the Texans. That injury let the air out of the building in a hurry. Deshaun Watson did have five touchdowns showing how special of a quarterback he is and will continue to be, but it was the Chiefs who were just too much. Alex Smith is playing lights out football right now. Watch out to the rest of the NFL. The Chiefs are going to be incredibly difficult to stop all year. They did however suffer a couple of injuries on their own. Travis Kelce left the game and was being checked for a concussion and it sounds like wide receiver Chris Conley has an Achilles injury. We'll see what these injuries do to the Chiefs going forward.
Minnesota Vikings @ Chicago Bears 8:30 PM ET ESPN MNF
We still don't know if Sam Bradford will play for the Vikings, but we do know Mitchell Trubisky is starting for the Bears. Will Vikings head coach Mike Zimmer confuse him and give the rookie a welcome to the NFL type moment? Vikings fans hope so. Last year the Vikings were essentially a no show against the Bears. Don't let that happen again. I fear it will though.
Prediction: Bears 20 Vikings 13
Coming up Tuesday: MNF reaction, college football thoughts plus MLB playoffs
---