"The Stack" 10-13-17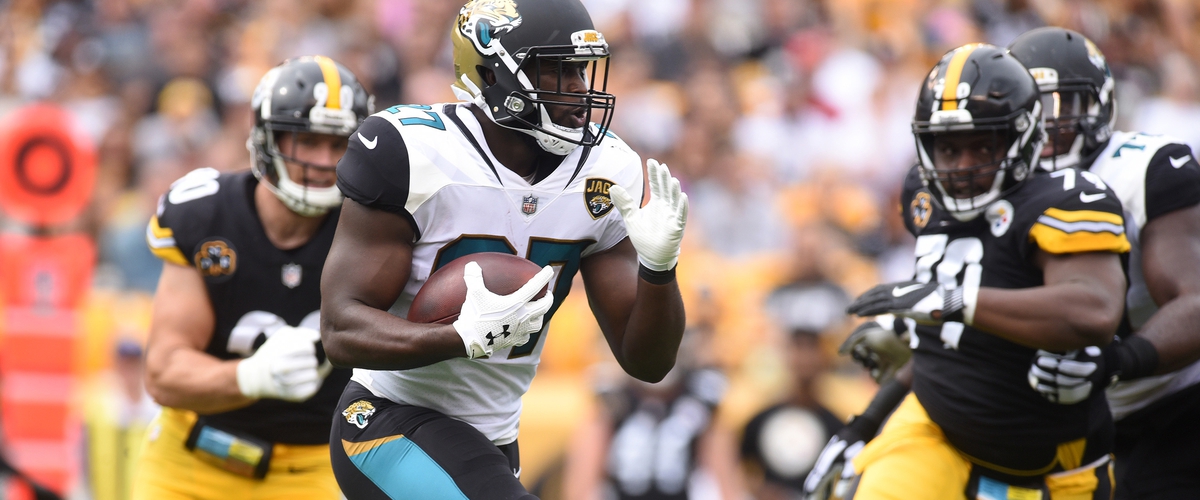 Leonard Fournette ran all over the Steelers last week. Can he do it again against the Rams in one of the better matchups in week 6?
The Stack is back on this Football Friday and I get it if you're skeptical about me continuing to do this considering how bad my picks have been this year. I have been pretty good over the years. This is not one of them. We'll keep trying though. Week six did not get off to a good start with the Panthers losing to the Eagles 28-23. Cam Newton was not good late in the game taking way too many deep shots. How about Carson Wentz though? Impressive. What other games am I going to get wrong this week? Let's find out in "the stack" for today, Friday, October 13th:
Miami Dolphins @ Atlanta Falcons 1 PM ET CBS
The Falcons should be healthier this week with Julio Jones back in the lineup. Fortunately if the Falcons offense isn't at their best they are playing the Dolphins whose offense is absolutely atrocious so far this year. The Falcons defense has to be licking their chops.
Prediction: Falcons 27 Dolphins 13
Chicago Bears @ Baltimore Ravens 1 PM ET FOX
Game two of the Trubisky era in Chicago. It will end just like the first game…a loss. The Ravens defense will make life difficult for the rookie and they'll come away with a victory.
Prediction: Ravens 23 Bears 10
Cleveland Browns @ Houston Texans 1 PM ET CBS
Browns fans, you've been reminded several times I'm sure already this week that the Browns passed not once, but twice on Deshaun Watson in the NFL Draft in April. You'll hear it a few more times in the pregame shows and during the game too. Won't make you feel any better with Deshone Kizer on the bench.
Prediction: Texans 34 Browns 17
Green Bay Packers @ Minnesota Vikings 1 PM ET FOX
I'd love to pick the Vikings here, but I'm not sure what the offense is going to do with Case Keenum. No "Duck, Duck, Grey Duck" this week. Instead they will be watching Aaron Rodgers chuck it all over the field. Don't know if the Vikings defense can do what they did last year to him in U.S. Bank Stadium. And I don't want to say anything that might jinx myself about what might happen down the line.
Prediction: Packers 24 Vikings 17
Detroit Lions @ New Orleans Saints 1 PM ET FOX
The health of Matthew Stafford makes me leery of taking the Lions this week. Plus they don't have defensive lineman Haloti Ngata. What this means is the Drew Brees and the Saints offense is going to have a good day and now they don't have to worry about forcing the ball to Adrian Peterson. He's in the desert.
Prediction: Saints 27 Lions 20
New England Patriots @ New York Jets 1 PM ET CBS
Technically the Jets are ahead in this division. That still stuns me. Assuming Tom Brady does not miss this game due to his shoulder injury, I can't imagine the Patriots losing this game.
Prediction: Patriots 30 Jets 17
San Francisco 49ers @ Washington 1 PM ET FOX
Kyle Shanahan returns to where we used to be an offensive coordinator with Washington. It's been a few years though. The 49ers have played tough and close the last few weeks, but it hasn't translated to a win. It won't this week either. Kirk Cousins and Shanahan may reunite next year, but on this day it's Washington that will have the last laugh.
Prediction: Washington 27 49ers 10
Tampa Bay Buccaneers @ Arizona Cardinals 4:05 PM ET FOX
This is one of the most difficult games of the week to pick. The Cardinals have not been very good this year, but the Buccaneers have shown that they maybe aren't ready for this moment quite yet. Can Adrian Peterson be a difference maker for the Cardinals? I don't think so. Not behind that offensive line. I'm going with the Bucs, but I don't feel good about this one at all.
Prediction: Buccaneers 24 Cardinals 20
Los Angeles Rams @ Jacksonville Jaguars 4:05 PM ET FOX
Who would have ever thought that when the schedule came out that when week six came around that this would have been one of the better, sexier matchups of the weekend? Leonard Fournette has ran the ball incredibly well so far this season and that Jaguars defense has been great. Can they do it against Jared Goff and the Rams? This is the second straight game against a great defense. I think it is going to be more tough sledding for Goff and the Rams in this one.
Prediction: Jaguars 17 Rams 13
Pittsburgh Steelers @ Kansas City Chiefs 4:25 PM ET CBS
The Steelers have just not looked like themselves this year. Does Ben Roethlisberger have it anymore? He said it last week after the loss to the Jaguars and then got mad at reporters this week for quoting him. Heathens! The Chiefs are seeking revenge for the divisional playoff loss the Steelers gave the Chiefs last year in the Chiefs' building. The NFL's lone undefeated team is not going to have that happen again.
Prediction: Chiefs 27 Steelers 21
Los Angeles Chargers @ Oakland Raiders 4:25 PM ET CBS
For and foremost, thoughts and prayers with everyone in northern California dealing with those wildfires. The air quality is poor to say the least, but the NFL says the game will be played as scheduled as of now. That may change before Sunday. As long as Derek Carr plays, the Raiders will beat the Chargers. Plain and simple.
Prediction: Raiders 30 Chargers 20
New York Giants @ Denver Broncos 8:30 PM ET NBC
This is the lock of the week. The Giants offense was struggling even before their top four wide receivers went down last week. With no OBJ, Brandon Marshall or Harris and I don't even know about Shepherd, how are the Giants going to score any points against that Broncos defense? How?!
Prediction: Broncos 27 Giants 6
Coming up Monday: Reaction to Sunday's week 6 NFL action plus MNF preview