"The Stack" 11-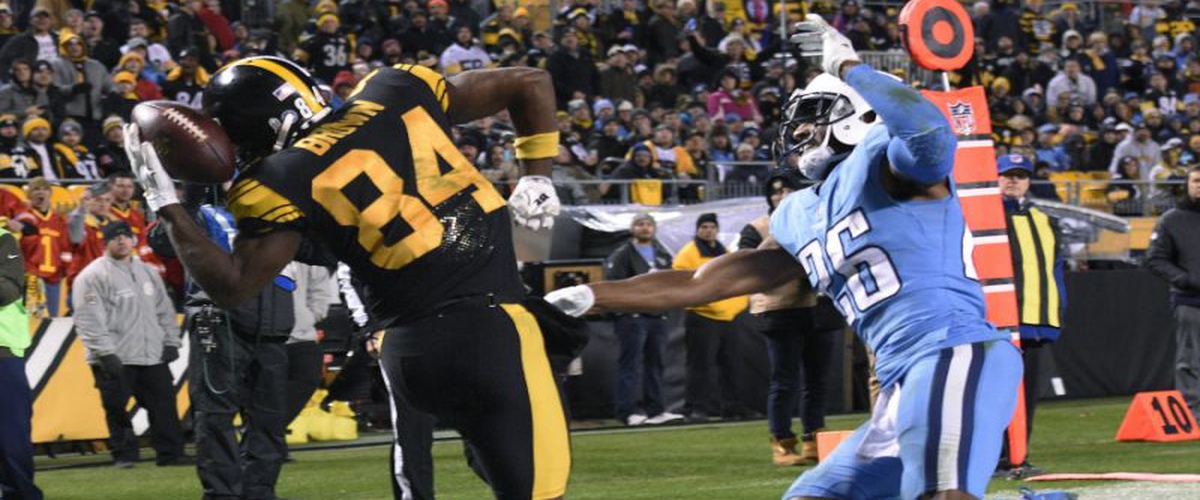 Antonio Brown had ten catches for 144 yards and three touchdowns including this acrobatic catch as the Steelers trounced the Titans 40-17.
It's the last Football Friday before Thanksgiving and The Stack is here with our weekly picks for all of Sunday's games. Have to admit, picks have been really bad this year, but now that I am 30 and starting my fourth decade of life, maybe that will turn my luck around. Started out good with a 1-0 start following the Steelers 40-17 thumping of the Titans. Man were Ben Roethlisberger and Antonio Brown on the same page last night. Their defense played well too. A number of difficult games to pick on the schedule plus a matchup that features two division leaders that no one saw coming with major playoff implications so let's get right to it and see what's in "the stack" for today, Friday, November 17th:
Tampa Bay Buccaneers @ Miami Dolphins 1 PM ET FOX
Both teams have been very disappointing this season. Two key factors to this game. One, I don't know if Jameis Winston is going to play. Is Ryan Fitzpatrick really going to do much against the Dolphins if he plays? Perhaps. Two, this game is at 1 PM ET. It's not a night primetime game. They stink in primetime. I'll take my chances on the Dolphins.
Prediction: Dolphins 24 Bucs 20
Detroit Lions @ Chicago Bears 1 PM ET FOX
Lions and Tigers and Bears oh my. Okay, no tigers, but remember last year when the Lions struggled at Soldier Field? I believe they lost. They struggled with the Browns last week so beware of the upset. I can see it happening, but Detroit is the far more talented team between them and Chicago. They sneak out of Detroit with a win.
Prediction: Lions 23 Bears 17
Jacksonville Jaguars @ Cleveland Browns 1 PM ET CBS
Former Browns safety and current Jaguars safety Teshaun Gipson says he hopes the Jaguars put up 40 points on the Browns. No love lost I guess. He better beware. The Browns have been playing better as of late. I don't feel great about the Jaguars, but it is an odd week and I believe they will beat the Browns.
Prediction: Jaguars 23 Browns 14
Baltimore Ravens @ Green Bay Packers 1 PM ET CBS
The Ravens offense stinks. The Packers offense isn't much better without Aaron Rodgers. Both teams have solid field goal kickers. In a low scoring affair, I'll take the team with the better kicker.
Prediction: Ravens 19 Packers 16
Arizona Cardinals @ Houston Texans 1 PM ET FOX
What an absolutely atrocious quarterback matchup this is going to be. Drew Stanton or Blaine Gabbert against Tom Savage. If Stanton plays, I like the Cardinals to win. If Gabbert plays, I may lean towards Houston, but right now they look absolutely lost without Deshaun Watson.
Prediction: Cardinals 20 Texans 10
Los Angeles Rams @ Minnesota Vikings 1 PM ET FOX
Major storylines in this one. One, Case Keenum is still the Vikings starting quarterback and rightfully so. He is playing great football right now and should be starting over Teddy Bridgewater. Two, if you would have said that week 11 would feature the Vikings and Rams as division leaders with identical 7-2 records, you're a liar. These two teams have been incredibly surprising and the Vikings defense is going to have their hands full with that Rams offense. Three, FOX should not allow Greg Olsen to be in the broadcast booth to help call this game with the Vikings squaring off with the Panthers in a few weeks. This is going to be a close game. I'm nervous, but I'll learn towards the home team.
Prediction: Vikings 30 Rams 23
Washington @ New Orleans Saints 1 PM ET FOX
The Saints have won seven straight and are playing great football. They are rushing the ball incredibly well and their defense has really turned things around. Washington is in for a rough game though their offense will keep things interesting for a while.
Prediction: Saints 30 Washington 20
Kansas City Chiefs @ New York Giants 1 PM ET CBS
Giants head coach Ben McAdoo said that the team had an emotional meeting this week. I think that means that the Giants are going to come out with a lot of passion and spirit on Sunday. Whether it will last remains to be seen. The Chiefs have had a couple of weeks to get back to their winning ways and that offense is going to take care of business against the Giants.
Prediction: Chiefs 30 Giants 17
Buffalo Bills @ Los Angeles Chargers 4:05 PM ET FOX
Another one of these crossover games. The Bills I think made a terrible decision to bench Tyrod Taylor for Nathan Peterman. The Chargers may not have Philip Rivers so a real gem of a quarterback clash in this one could be on the horizon. I think the Chargers are going to be just a little bit better at home without Rivers and a whole lot better than the Bills without him.
Prediction: Chargers 27 Bills 16
Cincinnati Bengals @ Denver Broncos 4:25 PM ET CBS
The sky is falling in Denver. The Broncos defense stinks. Their quarterback situation is no good. It would seem that the Bengals could take advantage of that and come out with a win, but the Bengals aren't all that good either. I was leaning Bengals earlier in the week, but in writing this, I think that the Broncos put it together for one week and come through with a win at the end.
Prediction: Broncos 19 Bengals 17
New England Patriots @ Oakland Raiders 4:25 PM ET CBS
This game is being played in Mexico City which is above sea level. The Patriots are preparing in Colorado. The Raiders are not. Jack Del Rio doesn't think the team needs to practice. When they start running out of gas in the third quarter and Tom Brady keeps leading scoring drives, Del Rio may wish he had done things differently.
Prediction: Patriots 35 Raiders 24
Philadelphia Eagles @ Dallas Cowboys 8:30 PM ET NBC
The Eagles are really good offensively. Carson Wentz has played phenomenal. Dallas' defense though has been much better than expected this season. Having said that, linebacker Sean Lee is not playing. Left tackle Tyron Smith isn't playing either. That Eagles defense is going to try and tee off on Dak Prescott just like Adrian Clayborn and the Falcons did last week. The Cowboys must play desperate and get a win if they want any hopes at the division. They need a win to have a shot at the wild card too.
Prediction: Eagles 30 Cowboys 27
Coming up Monday: Week 11 NFL reaction plus MNF preview
---