"The Stack" 11-23-17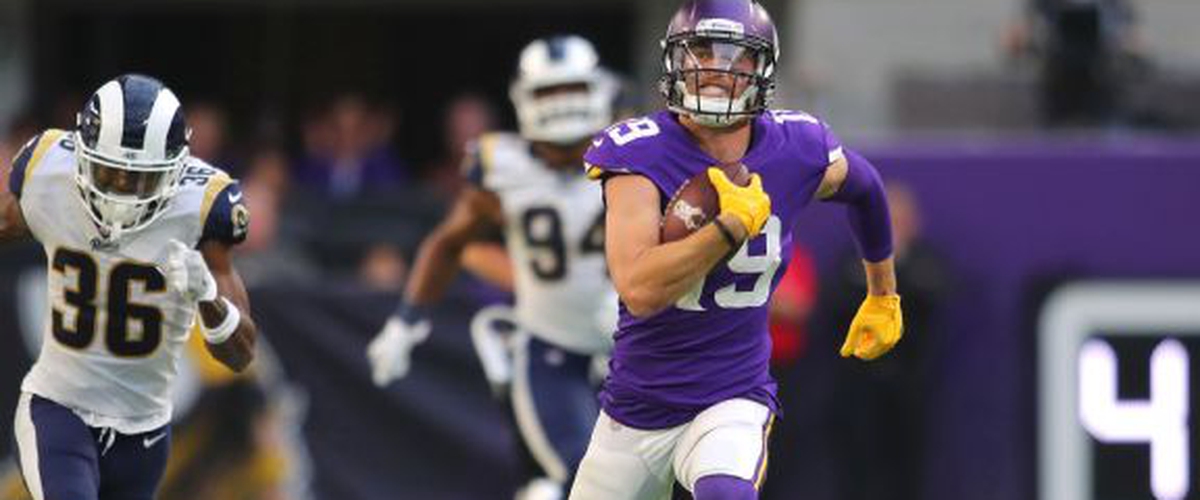 Can Adam Thielen and the Minnesota Vikings go into Detroit and take down the Lions to improve to 9-2? They kickoff the Thanksgiving Day NFL tripleheader in what should be a big game.
Happy Thanksgiving everyone! The Stack is back on this Thanksgiving Thursday and after a couple of days where we were a little under the weather, but we're ready for the feast today. The food feast and the football feast. Thanksgiving is all about the three "Fs" after all…football, food and family. We'll preview the tripleheader of NFL games today plus a college football weekend forecast so let's get right to "the stack" for today, Thursday, November 23rd:
Minnesota Vikings @ Detroit Lions 12:30 PM ET FOX
What a way to start Thanksgiving. The Vikings are on a tear right now while the Lions are right on their tails. They have been less than convincing in their last two wins over the Browns and Bears, but a win would put them only one game back of the Vikings and they will have swept both games this season. That makes this game incredibly important to the Vikings. They are on a three game losing streak right now. I think with that defense, Case Keenum and Adam Thielen, the Vikings will be too strong for the Lions on Turkey Day.
Prediction: Vikings 27 Lions 19
Los Angeles Chargers @ Dallas Cowboys 4:30 PM ET CBS
The Cowboys are reeling right now. Their offense is out of sync without Ezekiel Elliott and Tyron Smith. Smith may be back for today's game. Linebacker Sean Lee is not. The Chargers have been playing really good football lately. Unfortunately, Dak Prescott is infinitely better than Nathan Peterman. Still though, the Chargers are playing better football and I think they are the slightly better team and will eek out of Dallas with a win.
Prediction: Chargers 34 Cowboys 23
New York Giants @ Washington 8:30 PM ET NBC
This game is a little more difficult to predict than you might think. How demoralized will Washington be after squandering that lead at New Orleans last week? I'll be curious to see if the Giants can play with that same fire and passion they did last week against Kansas City. Ultimately, Washington's offense will be a little too much for the Giants and they'll pick up the win.
Prediction: Washington 24 Giants 16
College football weekend forecast
Two days full of college football rivalries to feast on as you recover from early Black Friday shopping and then the normal dose of big games on Saturday. Many teams will be playing their big rivals this week. Just look at some of the games we get this week:
· Ole Miss @ #14 Mississippi State 7:30 PM ET ESPN, Thursday
· #25 Virginia Tech @ Virginia 8 PM ET ESPN, Friday
· South Florida @ #15 UCF 3:30 PM ET ABC, Friday
· #5 Wisconsin @ Minnesota 3:30 PM ET ABC, Saturday
· #7 Georgia @ Georgia Tech Noon ET ABC, Saturday
· #9 Ohio State @ Michigan Noon ET FOX, Saturday
· Florida State @ Florida Noon ET ESPN, Saturday
· Louisville @ Kentucky Noon ET SEC Network, Saturday
· Indiana @ Purdue Noon ET ESPN2, Saturday
· UNLV @ Nevada 3 PM ET, Saturday
· #1 Alabama @ #6 Auburn 3:30 PM ET CBS, Saturday
· #22 Northwestern @ Illinois 4 PM ET FS1, Saturday
· Vanderbilt @ Tennessee 4 PM ET SEC Network, Saturday
· Arizona @ Arizona State 4:30 PM ET, Saturday
· Oregon State @ Oregon 7 PM ET ESPN2, Saturday
· #3 Clemson plays #24 South Carolina 7:30 PM ET ESPN, Saturday
· #8 Notre Dame @ #21 Stanford 8 PM ET ABC, Saturday
· #13 Washington State @ #17 Washington 8 PM ET FOX, Saturday
· Colorado @ Utah 10 PM ET FS1, Saturday
There are of course a few others out there. Some of these matchups immediately jump out. The big one of course is #1 Alabama @ #6 Auburn. It's the Iron Bowl. Auburn needs to win to keep their faint playoff hopes alive. Alabama still may be able to get in with a loss, but it won't be easy. What a huge matchup. I will take Auburn whose offense will force Alabama to match them and I don't know if Alabama will be able to do that. I will pick Auburn.
#15 UCF certainly hasn't garnered as much respect as they probably should. Beating South Florida probably won't do much, but it will put UCF in prime position to be the team from the non-power five conference that makes it to a New Year's Six bowl game. Can you believe that Florida State @ Florida barely registers on the college football radar this weekend? These programs have been incredibly disappointing this year. Tennessee and Vanderbilt have combined for approximately zero SEC conference wins. Something has to give there.
Can the teams in prime playoff position avoid the upset? That would be Clemson, Georgia, Wisconsin, Oklahoma and Miami (FL). Oklahoma plays West Virginia and while Baker Mayfield won't start, he should play at some point one would think. Maybe he just sits the first half. The Hurricanes have to go to Pittsburgh for a Friday game (Noon ET, ABC). That is definitely a trap game for them. We know Alabama-Auburn is going to provide a shakeup in the standings? Will anyone else fall? It's going to be a fascinating week of college football.
Coming up Friday: Week 12 NFL picks and preview of Sunday's games.
---