"The Stack" 11-12-20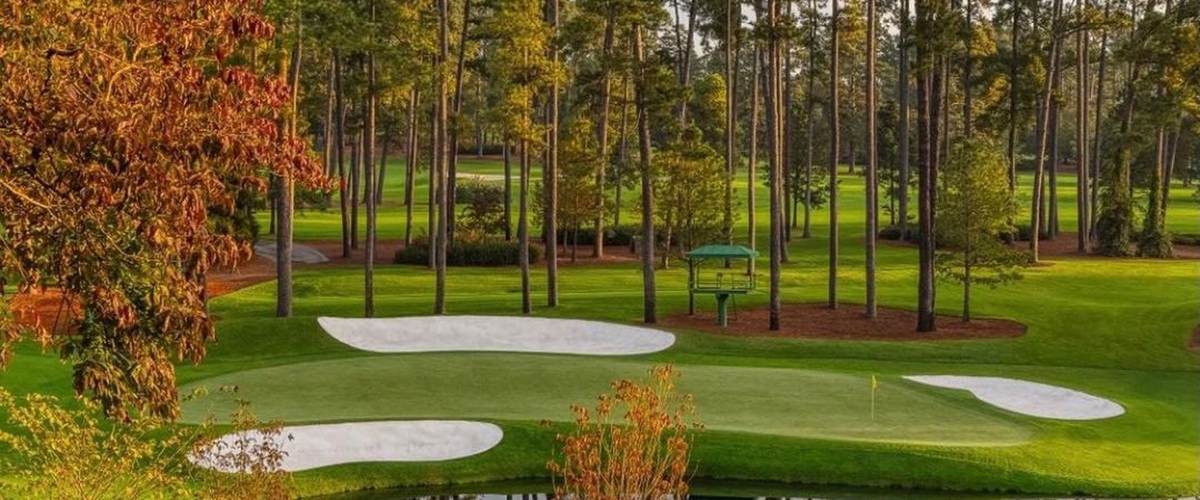 The Masters in November?! Due to the coronavirus, we get to witness one of the best golf tournaments of the year in the fall. It may look a little different, but it should be a great four days of golf.
The Stack is back on this Thursday and it is a unique Thursday as the Masters start today. What? In November?! Well because of the coronavirus, yes, the Masters got postponed to this week. It will be fun to watch the Masters in a different month and see how different the course plays. We'll make a prediction plus talk some college football and TNF so let's get right to "the stack" for today, Thursday, November 12th:
The Masters starts today
In a tradition unlike what we have ever seen before, The Masters tees off today (it's already happening). No azaleas. Instead the fall foliage will be the scenic backdrop throughout much of the course. I've heard some people say that the course will play slower in the fall than it would in the spring. That makes sense. It is supposed to rain a bunch today, but hopefully the rest of the week will be okay. A lot of talk about Bryson DeChambeau and his play as of late (he won the last major) and how far he can hit the ball, but he has struggled at Augusta in the past. Dustin Johnson is always a popular pick as well. I would love to see Tiger Woods defend his title and win another green jacket, but I just don't think it will happen. Maybe I'll take a flier on John Rahm. Did you see that hole-in-one he shot by skipping his tee shot across the water in practice this week? Amazing! He's pretty good. I think I'm going back to the well though in picking Rory McIlroy. I've heard that he changed his swing or something so might this finally be his time. I always cheer for Jordan Spieth, but I don't have faith in him to get the job done. I could go with the favorite, but I will try McIlroy. It's going to be an amazing four days of golf. Check it out on ESPN & CBS and stream on ESPN+ if you so choose. Enjoy this unique event!
College football weekend forecast
Speaking of The Masters, Augusta National will host College Gameday this week which is really cool. It's a good week to do it, because the slate for college football this week is not good. No ranked teams against one another and we have a lot of cancellations due to the rapid increase in positive COVID tests that are sweeping across the country. The games not being played this weekend so far are:
· #12 Georgia @ Missouri (Postponed)
· UL-Monroe @ Arkansas State (Postponed)
· #3 Ohio State @ Maryland (Canceled)
· #5 Texas A&M @ Tennessee (Postponed)
· Memphis @ Navy (Postponed)
· #24 Auburn @ Mississippi State (Postponed)
· #1 Alabama @ LSU (Postponed)
· Air Force @ Wyoming (Canceled)
For those keeping score at home, that is eight games canceled, four of which are SEC games. They're hoping to get them in, perhaps on December 19th, but that is the SEC Championship game. What if one of these teams whose game is postponed would be playing in the championship game? The Big Ten, Pac-12 and Mountain West don't have any room to make up the games so they are flat out being canceled. The college football season I feel like is very much on the brink of a potential shutdown.
As mentioned before, there are no ranked teams playing one another this week. A number of ranked teams are on the road this week including:
· #9 Miami (FL) @ Virginia Tech Noon ET ESPN
· #10 Indiana @ Michigan State Noon ET ABC
· #15 Coastal Carolina @ Troy Noon ET ESPN2
· #2 Notre Dame @ Boston College 3:30 PM ET ABC
· #20 USC @ Arizona 3:30 PM ET FOX
· #11 Oregon @ Washington State 7 PM ET FOX
· #19 SMU @ Tulsa 7 PM ET ESPN2
· #13 Wisconsin @ Michigan 7:30 PM ET ABC
· #23 Northwestern @ Purdue 7:30 PM ET Big Ten Network
I guess if I had to put any teams on upset alert (they all are technically) I would lean most towards Notre Dame who may have a letdown performance after their big win over Clemson last week and Northwestern, because they're, well, Northwestern. Miami (FL) would be next too. We'll see if it happens. Here's hoping for no more games to be canceled and here's hoping we get some good games this week.
5-3 Indianapolis Colts @ 6-2 Tennessee Titans 8:20 PM ET FOX & NFL Network (Streaming on
Amazon Prime)
Huge matchup in the AFC South tonight on Thursday Night Football. Who is going to rise to the top of the division after tonight? The Colts have a fantastic defense. The Titans offense has really been spectacular with Derrick Henry and Ryan Tannehill throwing to A.J. Brown, Corey Davis and the rest of the group. They had a tough two game losing streak a few weeks ago, but bounced back last week against the Bears. They'll be even better tonight on a short week, but it will be tough because like I said, the Colts have a very good defense and they are a very good team. In the end though, they will remember the night they played the Titans and they will look to beat them in a couple of weeks, because it's not happening tonight.
Prediction: Titans 23 Colts 16
Coming up Friday: NFL Week 10 preview & predictions
---