"The Stack" 11-30-19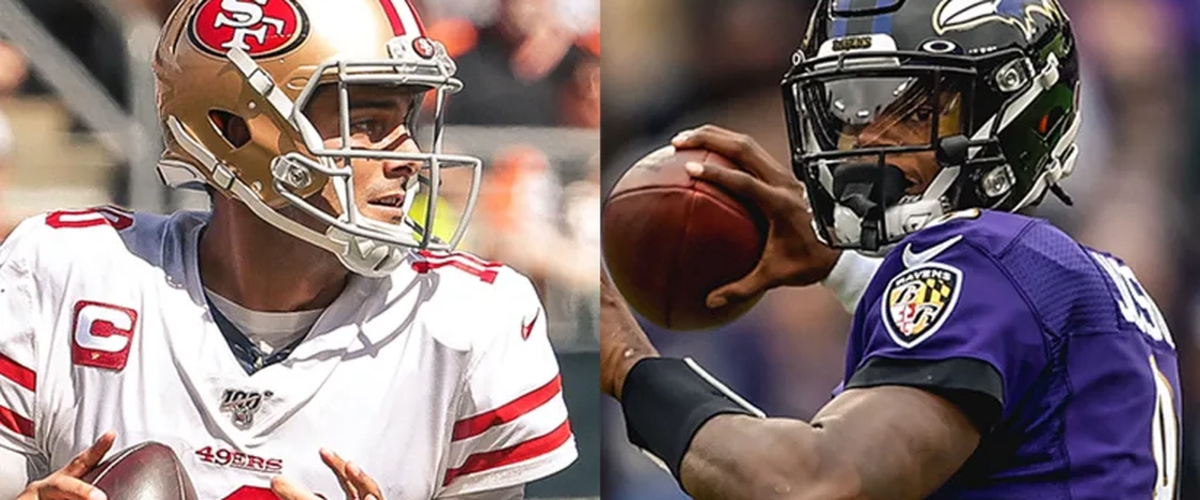 Lamar Jackson versus the San Francisco 49ers defense. The game of the week is in Baltimore where the one-loss 49ers take on the red hot Ravens.
The Stack is back and while it may not be Football Friday, we'll treat it as such. Some surprising things happened on Thanksgiving. Who is David Blough? The Lions rookie quarterback played well, including throwing a 75-yard touchdown pass on his first career completion, but the Lions would ultimately lose to the Bears 24-20. Trubisky played well for Chicago. What about the beatdown that the Buffalo Bills handed the Dallas Cowboys? Dak Prescott had three turnovers and Bill Maher missed two field goals as Josh Allen and the Bills beat them 26-15. Wow! Wow! Wow! Wow! And in the nightcap, the New Orleans Saints held off the Atlanta Falcons 26-18. The Saints have clinched the NFC South. Congratulations! Now let's get right to the rest of the week 13 NFL previews & predictions in "the stack" for today, Saturday, November 30th (though we are treating this as a Football Friday):
5-6 Cleveland Browns @ 6-5 Pittsburgh Steelers 1 PM ET CBS
Emotions will run high in this one given that the Myles Garrett incident with Mason Rudolph happened just a couple of weeks ago. Garrett's suspended for the year so he isn't playing and Mason Rudolph has been benched so maybe it won't be as big of a deal. The bigger issue for the Steelers is that JuJu Smith-Schuster and James Conner most likely won't be playing in this one. Because of that, I think the Browns can ultimately get the best of the Steelers in this one.
Prediction: Browns 24 Steelers 20
8-3 Green Bay Packers @ 2-9 New York Giants 1 PM ET FOX
The Packers are coming off of an embarrassing loss on the national stage to the San Francisco 49ers last week. I would not want to be the Giants this week because the Packers are angry and they are going to embarrass the Giants.
Prediction: Packers 38 Giants 10
5-6 Philadelphia Eagles @ 2-9 Miami Dolphins 1 PM ET FOX
Fortunately for the Eagles, the Bills beat the Cowboys on Thanksgiving so a win over the Dolphins would give the Eagles the same record as the Cowboys although the Cowboys would have the tiebreaker…for now. The Eagles will earn that sixth win of the year against a Dolphins team that is doing their best to get a top draft pick (though not as good as the Cincinnati Bengals).
Prediction: Eagles 27 Dolphins 13
4-7 Tampa Bay Buccaneers @ 4-7 Jacksonville Jaguars 1 PM ET FOX
Battle of Florida. That's about the only reason to watch this one. I want to pick the Jaguars, but I think Tampa's offense is going to be slightly better despite Jameis Winston throwing a couple of interceptions.
Prediction: Bucs 27 Jaguars 20
6-5 Tennessee Titans @ 6-5 Indianapolis Colts 1 PM ET CBS
I want to take the Titans. I really do. The Colts won't be at full strength, but the Titans just don't tend to play well on the road in the division. Hope they can turn that around, but until they do, I have to take the home team.
Prediction: Colts 20 Titans 17
4-7 New York Jets @ 0-11 Cincinnati Bengals 1 PM ET CBS
Sam Darnold and the Jets are playing real well right now which makes this the perfect spot for an upset. The winless Bengals are turning back to Andy Dalton which is the right decision. I'm very tempted to pick the upset. Beware, Jets. Beware.
Prediction: Jets 24 Bengals 20
2-9 Washington @ 5-6 Carolina Panthers 1 PM ET CBS
With Panthers running back Christian McCaffrey running all over them in this game, I'm just going to predict that Dwayne Haskins won't be taking a selfie with any fans both during and after the game.
Prediction: Panthers 27 Washington 9
10-1 San Francisco 49ers @ 9-2 Baltimore Ravens 1 PM ET FOX
Game of the week no question about it. Lamar Jackson versus that 49ers defense is must see TV! Jackson will not have his normal explosive games that we have seen during this seven game win streak, but he will make enough plays and it may come down to a Justin Tucker field goal for the win.
Prediction: Ravens 23 49ers 20
6-5 Los Angeles Rams @ 3-7-1 Arizona Cardinals 4:05 PM ET FOX
I think Kyler Murray and the Cardinals have a bright future ahead of them, arguably brighter than that of the Rams, the team they are playing Sunday. The Cardinals just haven't been able to get it done in close games this year so I'll go with the Rams in a close game as they are eager to put that 45-6 shellacking they received last week against Lamar Jackson and the Ravens.
Prediction: Rams 27 Cardinals 23
4-7 Los Angeles Chargers @ 3-8 Denver Broncos 4:25 PM ET CBS
I shouldn't have faith in Philip Rivers based on what we have seen from him the past few games. That Broncos defense is tough and they did a number on Rivers and company earlier in the season to earn them their first win of the Vic Fangio era. It's a different time though. Or is it? I'm confusing myself now. I'll go with the Bolts, because why not?
Prediction: Chargers 23 Broncos 16
6-5 Oakland Raiders @ 7-4 Kansas City Chiefs 4:25 PM ET CBS
The Raiders were absolutely embarrassed by the Jets last week. Now they get to Arrowhead where it is going to be cold and Patrick Mahomes is making his first home start since he was injured. That doesn't seem like a good recipe for a Raiders victory.
Prediction: Chiefs 34 Raiders 24
10-1 New England Patriots @ 7-4 Houston Texans 8:20 PM ET NBC
Deshaun Watson against the Patriots defense is the matchup to watch in this one. If Watson can have success and hookup with DeAndre Hopkins and the rest of his wide receivers, the Texans will win. I need to see it happen though to be able to not take the Patriots.
Prediction: Patriots 20 Texans 19
Coming up Monday: NFL week 13 recap & reaction plus MNF preview & prediction
---