"The Stack" 12-5-19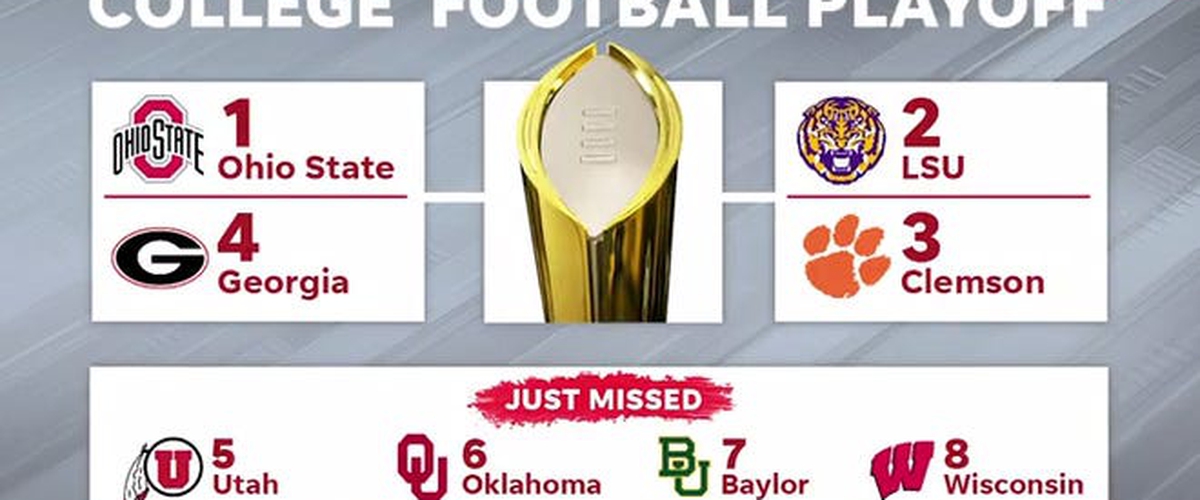 Alot is on the line this weekend in college football with the conference championship games. Who is going to the College Football Playoff?
The Stack is back on this Thursday and we have plenty of football games to preview today. There are ten championship games in college football this weekend plus a big Thursday Night Football matchup so let's get right to "the stack" for today, Thursday, December 5th:
College football weekend forecast
What a weekend we have in terms of the championship games we have this weekend in college football. Well, some of them anyway. Let's make some picks:
Pac-12 Championship Game (Santa Clara, CA)
#5 11-1 Utah VS #13 10-2 Oregon 8 PM ET ABC (Friday)
So much on the line for the Pac-12 this weekend. Had Oregon not lost to Arizona State, we would be talking about how the winner of this game would likely get the fourth and final spot in the College Football Playoff. Now, the conference just needs Utah to win in order to have a chance at the playoff (foreshadowing, I think they get in because Georgia won't beat LSU). Not that Oregon is going to roll over, but Utah has more to play for and they will play with that energy. Very good on offense, defense and special teams. I'm absolUTEly picking Utah.
Predicted winner: Utah
Big-12 Championship Game (Arlington, TX)
#7 11-1 Baylor VS #6 11-1 Oklahoma Noon ET ABC
Jerry World gets to see a good one. The winner of this game has a chance to make it to the College Football Playoff depending on the outcome of the Pac-12 Championship game Friday night. Heck, even if Utah wins, the winner of this game still has a pretty good chance. Baylor, you might recall, had a 31-10 lead over Oklahoma when the two teams met a few weeks back only to lose 34-31 thanks to a brilliant second half by Jalen Hurts and Oklahoma. That was in Waco. Neutral site is going to be more difficult, but I think Baylor learns from that game and Oklahoma has looked shaky over the past month. I can't BEAR the thought of…oh well never mind.
Predicted winner: Baylor
Sun Belt Championship Game (Boone, NC)
10-2 Louisiana VS #21 11-1 Appalachian State Noon ET ESPN
It's a home game for App State and they have a chance at playing in a New Year's Six Bowl game with a win. They are the far superior team in this conference. They'll roll.
Predicted winner: Appalachian State
MAC Championship Game (Detroit, MI)
7-5 Miami (OH) VS 8-4 Central Michigan Noon ET ESPN2
Not sure what analysis I can give you for this one. So I'll just make a pick
Predicted winner: Central Michigan
Conference USA Championship Game (Boca Raton, FL)
9-3 UAB VS 9-3 FAU 12:30 PM ET CBSSN
It's a home game for Florida Atlantic. And when making a pick, when in doubt, go with Lane Kiffin's team.
Predicted winner: Florida Atlantic
AAC Championship Game (Memphis, TN)
#20 10-2 Cincinnati VS #17 11-1 Memphis 3:30 PM ET ABC
I would think the American Athletic Conference would be able to secure a neutral site game for the conference championship game. Maybe they don't want to be taken that seriously. Take Memphis seriously. They are very good and if they win, they're going to be playing a New Year's Six Bowl game in all likelihood. Cincinnati will make it tough early on, but Memphis will pull away and get the win.
Predicted winner: Memphis
SEC Championship Game (Atlanta, GA)
#4 11-1 Georgia VS #2 12-0 LSU 4 PM ET CBS
Georgia's defense is great, I get that. But they will be down their top two wide receivers (one who will be out the whole game, the other at least a half after he fought with a Georgia Tech player last week) and their offense has had difficulty moving the ball down the field and scoring points anyway. They will have the crowd since Athens is a short drive away (Georgia, not Greece) and LSU's defense isn't very good, but LSU has Joe Burrows and that LSU offense is going to have a big game and remain undefeated.
Predicted winner: LSU
Mountain West Conference Championship Game (Boise, ID)
9-4 Hawaii VS #19 11-1 Boise State 4 PM ET ESPN
There is another championship being played at the same time as the SEC Championship and it's a home game for the Boise State Broncos. They still have a shot at the New Year's Six but it's unlikely. Still, they are the far superior team and will roll Hawaii.
Predicted winner: Boise State
ACC Championship Game (Charlotte, NC)
#23 9-3 Virginia VS #3 12-0 Clemson 7:30 PM ET ABC
There is no way Clemson loses this game. They will curb stomp Virginia. Enjoy your time in Charlotte, Hoos. It's not going to be pretty a few minutes into the game.
Predicted winner: Clemson
Big Ten Championship Game (Indianapolis, IN)
#1 12-0 Ohio State VS #8 10-2 Wisconsin 8 PM ET FOX
I wish Minnesota was in this game, even though they would have been blown out by the Buckeyes. The Badgers get another shot against Ohio State, but it's not going to matter. Ohio State will pull away late and remain undefeated.
Predicted winner: Ohio State
Enjoy all of the championship games, everyone. We'll find out Sunday who officially is in the College Football Playoff.
6-6 Dallas Cowboys @ 6-6 Chicago Bears 8:20 PM ET FOX & NFL Network
How could two 6-6 teams be going in such opposite directions? The Cowboys have lost three of their last four games and if I am correct on this, the Bears have won three of their last four games. Trubisky has played better, but I'm still not ready to say that the Bears are back and going to make a run (though please beat Green Bay next week, Chicago. Please!). The Cowboys have more talent and they need everyone on offense and defense to step up. I think they find a way and pick up a big road win.
Prediction: Cowboys 24 Bears 20
Coming up Friday: Week 14 NFL Sunday previews & predictions
---