"The Stack" 12-13-18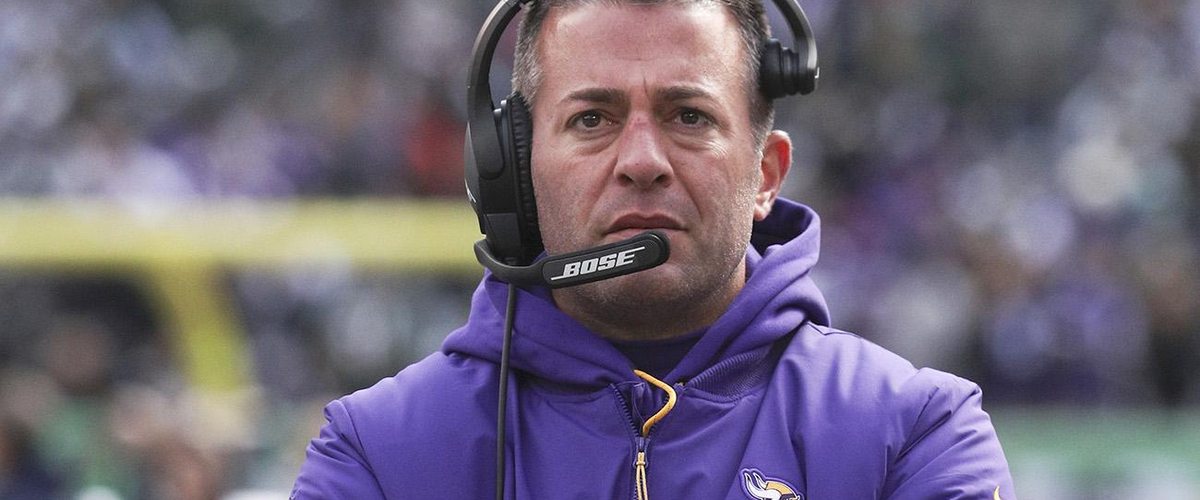 Minnesota Vikings offensive coordinator John DeFilippo is out as Vikings OC following a dip in offensive production the last few games capped off by a miserable showing Monday night against Seattle. Quarterbacks coach Kyle Stefanski will take over play-calling duties.
The Stack is back on this Thursday and we don't have a whole lot to talk about today outside of the huge AFC West showdown tonight. Oh yeah, and some dumbass doesn't believe we landed on the moon, but now says he was joking. We'll get to all that and more in "the stack" for today, Thursday, December 13th:
John DeFilippo out as Vikings OC
Yes, this news came on Tuesday, but since we didn't have a blog post on Wednesday (well whose fault is that Stacken?) we're getting to it today. After a dismal showing on Monday night, Minnesota Vikings head coach Mike Zimmer fired offensive coordinator John DeFilippo. The two had been butting heads for a while and you could tell there was tension, at least that is what ESPN MNF analyst Booger McFarland said. For weeks Zimmer has been saying that the Vikings need to run the ball more, but DeFilippo just didn't do it.
Finally, after an offensive performance Monday night that resulted in 276 yards of offense and seven points in garbage time, Zimmer knew he had to do something to make sure that this season isn't wasted and doesn't result in further disappointment. The marriage with Zimmer and DeFilippo didn't work out and now the Vikings will turn to quarterbacks coach Kevin Stefanski to run the show.
Stefanski was the quarterbacks coach last year in Minnesota when Pat Shurmur was the offensive coordinator. When Shurmur left to take the New York Giants head coaching job, he wanted to bring Stefanski with him, but Zimmer blocked the move. That appears now to be a smart decision.
Stefanski will be the fourth offensive coordinator for the Vikings since 2016. They need to get settled at the position and Zimmer needs to take more control of the offense. I feel like this time around he will and it better work out as the Vikings still control their own destiny for the sixth seed in the NFC Playoffs. One thing I'm curious to see is after the season, if the Vikings move on from Stefanski, could someone like former Green Bay Packers head coach Mike McCarthy come on as the offensive coordinator if he doesn't get another head coaching position? That would be very intriguing. Big game for the Vikings Sunday against the Miami Dolphins.
Steph Curry accepts NASA's invitation, says he was joking about the moon landing
Golden State Warriors point guard Steph Curry is very good at basketball. His comedy skills are not so great. More importantly, his common sense is lacking. On a recent NBA podcast of some sort, Curry and some other basketball players were talking and Curry said that he didn't believe that we (USA) landed on the moon. It was staged.
Now this sent the whole social media world into a tizzy and a twitter (also on Twitter). Did Curry really not think we landed on the moon? Was he being funny or trolling? If that is the case, why would he say it? Curry got chastised, criticized and roasted for his comments and rightfully so. They are dumb and dangerous. Why would you say something like that is a proven fact? Are you that into conspiracy theories? Have you been hanging with first class dumbass Kyrie Irving and his whole "The Earth is Flat" debate? Irving apologized in October and came up with some lame excuse that he was into conspiracy theories at the time, but that is not a valid excuse.
The NBA should be ashamed of these two and tell them to zip it. This is an embarrassment to the NBA, to Curry and the Golden State Warriors, to Curry's family and to teachers, educators and historians everywhere. Even if Curry was joking, was that in good taste? And for him to say he was taken aback by the amount of attention and criticism by his remark, he is more foolish and stupid than we initially thought. You are the most popular player in the NBA, certainly top three. You are a star and people take you for your word. Why wouldn't this make headlines? Curry, you're a dumbass.
Fortunately, the folks at NASA seem to be taken this in strides and in good spirits and have offered Curry a tour when the Warriors come to Houston to take on the Rockets later this season. Curry has taken them up on their offer. Here's hoping he does something useful with his tour and acknowledges that what he did was stupid, naïve and dangerous. Hey Steph, I know some people say they have millions of dollars, but I have never seen a million dollars so I think they are lying and I don't think millions of dollars exist. Care to prove me wrong and send me a million?
College bowl season kicks off
College bowl season is here and five bowl games kick off the festivities on Saturday. We'll try to go over each bowl game and give confidence points. That includes all of the not so great bowl games like the AutoCure Nation Bowl which we'll pick right now. Let's go! It's the most wonderful time of the year if you listen to some folks who love college football bowl games (I am not one of them):
Autonation Cure Bowl (Orlando, FL)
6-6 Tulane VS 7-6 Louisiana (Lafayette) 1:30 PM ET CBSSN
Two Louisiana teams battling it out in Orlando. The bowl game probably should have been played in New Orleans. With that being said, I'll try going with Louisiana as I'm just not sure about Tulane.
Confidence points: Low 20s
New Mexico Bowl presented by Progressive (Albuquerque, NM)
10-2 Utah State VS 9-3 North Texas 2 PM ET ESPN
Utah State is a really good team, but their head coach is gone (I believe he left to take the Texas Tech head coaching job). That makes me a little unsure about the team's motivation. North Texas' head coach was rumored to be leaving, but he is staying with the team. I'll take Utah State, but I'm not confident about it.
Confidence points: Mid to upper single digits
Mitsibushi Motors Las Vegas Bowl (Las Vegas, NV)
7-5 Arizona State VS 11-2 Fresno State 3:30 PM ET ABC
I have to give credit to Herm Edwards for the job he did in year one at Arizona State. They are much better than any of us thought they would be. Fresno State though, outside of Central Florida, is the best team in the non-power five. Too much talent. I like the Bulldogs.
Confidence points: Low 20s
Raycom Media Camellia Bowl (Montgomery, AL)
9-3 Georgia Southern VS 7-5 Eastern Michigan 5:30 PM ET ESPN
Eastern Michigan is in a bowl game for the second consecutive season. Good for them after enduring years of bad seasons. I'm not sure if they can beat Georgia Southern, but then again, I'm not sure Georgia Southern can beat Eastern Michigan. Toss up for me.
Confidence points: Low single digits
R+L Carriers New Orleans Bowl (New Orleans, LA)
8-5 Middle Tennessee VS 10-2 Appalachian State 9 PM ET ESPN
Motivation is always key and that is why I am hesitant in taking App State since their coach left to take the head coaching job at Louisville. What's the team's motivation level? But have you seen this team? They are outstanding. Middle Tennessee couldn't even win their conference championship game on their home field. I'll go out on a limb and take App State.
Confidence points: Mid 20s
Want to test your skills in the college bowl pick 'em? Join a league I'm in on ESPN.com. Just search "The Sports Lounge Season4" and join us. Enjoy bowl season everyone.
10-3 Los Angeles Chargers @ 11-2 Kansas City Chiefs 8:20 PM ET FOX and NFL Network (Streaming live on Amazon Prime)
An absolutely titanic NFL matchup on Thursday night. This one will decide who wins the AFC West. Both teams are coming into this game beat up. The Chargers won't have running back Aaron Ekler and are likely not to have Melvin Gordon in the backfield either. That will slow them down quite a bit and force Phillip Rivers to throw a lot more. Kansas City has their own injuries to deal with like wide receiver Tyreek Hill's foot and running back Spencer Ware is banged up and unlikely to play. Wide receiver Sammy Watkins also is out which means newly signed wide receiver Kelvin Benjamin will have to make some plays. The Chargers are a different team than in years past, but last year when they played a night game against the Chiefs, they fell apart. And that was when Pat Mahomes wasn't playing. He's playing in this one. I have to go with the home team in this one.
Prediction: Chiefs 27 Chargers 20
Coming up Friday: Week 15 NFL Sunday previews and predictions
---