"The Stack" 12-14-18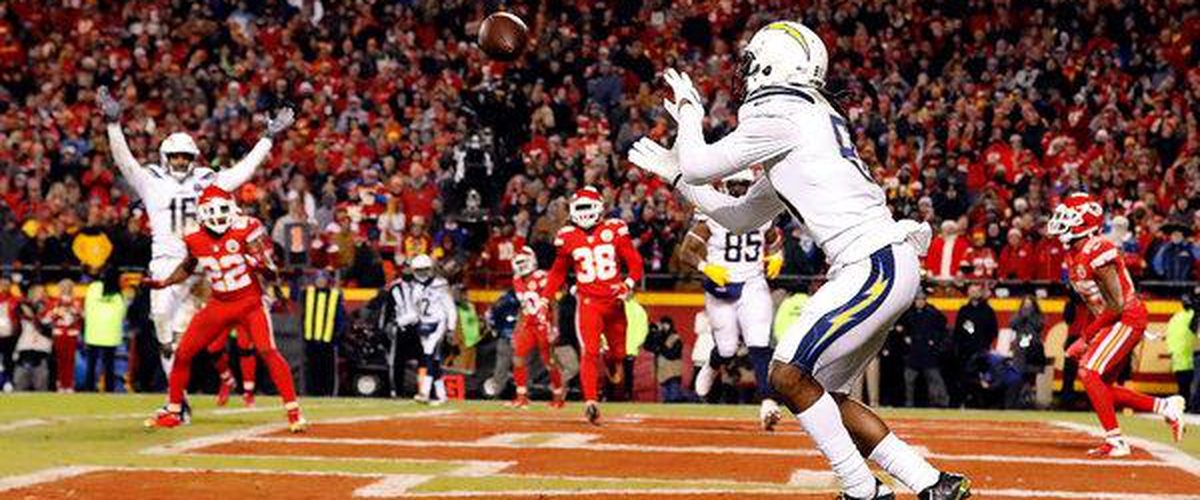 The Los Angeles Chargers were trailing 28-14 with under five minutes left, but rallied with two touchdowns and then capped off the last touchdown drive with a two point conversion, caught by Mike Williams who caught the touchdown to put them in that position. Williams had two receiving touchdowns and a rushing touchdown as the Chargers won 29-28. Both the Chargers and Chiefs are now 11-3.
It's another Football Friday and The Stack is here ready to pick some games for week 15 in the NFL. What a game we saw last night in Kansas City. Unbelievable finish. The Chargers were trailing 28-14 late in the fourth quarter and scored two touchdowns to win it after Philip Rivers threw a two point conversion to Mike Williams to give the Chargers the 29-28 lead over the Chiefs which would be the score they would go on to win by. Williams had two receiving touchdowns and one rushing touchdown. He had himself a game. I wish I had picked him up in fantasy. No game will top that, but let's see what else week 15 in the NFL has in store in "the stack" for today, Friday, December 14th:
9-4 Houston Texans @ 4-9 New York Jets 4:30 PM ET NFL Network (Saturday)
I like that we get some Saturday football even though the matchups aren't great. The Texans' win streak was snapped last week by Indianapolis. They'll get another one started against the Jets. Don't let last week fool you Jets fans.
Prediction: Texans 30 Jets 13
5-7-1 Cleveland Browns @ 6-7 Denver Broncos 8:20 PM ET NFL Network (Saturday)
The Cleveland Browns are still alive for a playoff shot. It's small, but they still have a shot. Baker Mayfield and the Browns have been a really fun team to watch since Hue Jackson got fired. The Broncos looked a little shocked and down last week against the 49ers, but maybe that was due to Emmanuel Sanders not being in the lineup. He won't be in the lineup the rest of the year. The Broncos better figure it out.
Prediction: Browns 23 Broncos 20
3-10 Arizona Cardinals @ 4-9 Atlanta Falcons 1 PM ET FOX
Yuck. This is not a great game. The Cardinals are bad and the Falcons are just plain disappointing, but that has more to do with injuries than anything else. They'll find a way to win their last home game of the year.
Prediction: Falcons 27 Cardinals 14
5-8 Tampa Bay Buccaneers @ 7-6 Baltimore Ravens 1 PM ET CBS
Lamar Jackson once again is getting the start for the Ravens and it's hard to argue that he shouldn't. The Ravens have been far more effective on offense with him in the lineup. Against a bad Buccaneers defense, expect the Ravens to run, run and run some more. Also, expect them to force a few turnovers as well.
Prediction: Ravens 27 Buccaneers 10
5-8 Detroit Lions @ 4-9 Buffalo Bills 1 PM ET FOX
I don't like this game. Both of these teams could win. Either way, one of my preseason predictions for these teams will be wrong at the end of this game. I don't trust either of them. I'll go with the home team??
Prediction: Bills 17 Lions 13
5-7-1 Green Bay Packers @ 9-4 Chicago Bears 1 PM ET FOX
Remember that miracle that Aaron Rodgers pull off in week one against the Bears? I don't see that happening this week. The Bears defense is going to be all over the Packers and I don't see Rodgers being able to lead the Packers late to get a victory.
Prediction: Bears 23 Packers 17
3-10 Oakland Raiders @ 5-8 Cincinnati Bengals 1 PM ET CBS
Another yucky game to pick. The Raiders looked so good last week against the rival Steelers. Will they have that same intensity against the Bengals? I'm not thinking so, but with all of the Bengals injuries, are the Raiders maybe a little better? A toss up that I will give the slight edge to the home team.
Prediction: Bengals 20 Raiders 17
8-5 Dallas Cowboys @ 7-6 Indianapolis Colts 1 PM ET FOX
This is another really difficult game to pick. Man, week 15 is full of a lot of them. The Cowboys have won five games in a row while the Colts offense (apart from that Jaguars game a couple of weeks ago) has been rolling. Andrew Luck and company won a big game last week against Houston. They're going to beat the other team from Texas this week.
Prediction: Colts 27 Cowboys 24
6-7 Washington @ 4-9 Jacksonville Jaguars 1 PM ET CBS
This is another yucky game. Do you have confidence in Josh Johnson being the quarterback for Washington? Probably more than you do Mark Sanchez aka the Butt Fumbler. Then again, it's not like Cody Kessler exudes a lot of confidence himself. Yeah, I'll just pick the home team who also has the better defense.
Prediction: Jaguars 13 Washington 9
7-6 Miami Dolphins @ 6-6-1 Minnesota Vikings 1 PM ET CBS
It has been a pretty difficult week in Minnesota. First the Vikings got embarrassed on MNF. Then they fired offensive coordinator John DeFilippo. There has been some talk about head coach Mike Zimmer's job and how Kirk Cousins is a $84 million mistake. Like Aaron Rodgers once said, "R-E-L-A-X. Relax." The Vikings will get back on track on home against the Dolphins that are probably still on a high after the Miracle in Miami last week…similar to last year for the Vikings with the Minneapolis Miracle and then they got blown out by Philly in the NFC Championship game.
Prediction: Vikings 27 Dolphins 16
7-6 Tennessee Titans @ 5-8 New York Giants 1 PM ET CBS
You know the Titans are a Jekyl-and-Hyde sort of team. They play well one week and not so well the next. The Giants have been playing much better football lately. Too bad it is too late. Still, I think they do enough to get by the Titans and damage their chances of making the playoffs.
Prediction: Giants 24 Titans 20
8-5 Seattle Seahawks @ 3-10 San Francisco 49ers 4:05 PM ET FOX
The Seahawks should be weary of an upset. The 49ers played well last week and the Seahawks just came off of a big win against the Vikings. Good thing running the football and defense travels well. Seahawks survive.
Prediction: Seahawks 23 49ers 16
9-4 New England Patriots @ 7-5-1 Pittsburgh Steelers 4:25 PM ET CBS
Both teams are coming into this game having lost their last game. In the Steelers case, they have lost three in a row. Is Ben Roethlisberger going to play? If he does, how healthy will he be? Will James Conner play? Unlikely. All of those injuries against a pissed off Patriots team? Not good.
Prediction: Patriots 31 Steelers 20
6-7 Philadelphia Eagles @ 11-2 Los Angeles Rams 8:20 PM ET NBC
No Carson Wentz by the sound of it for the Eagles. He tore his ACL last year against the Rams and it was the anniversary of that injury just the other day. Good thing the Eagles have Nick Foles to lead them on. The team believes in him. That was last year though. This team is not nearly as good. And the Rams just scored 6 points last week. They are going to make up for that this week.
Prediction: Rams 34 Eagles 17
Coming up Monday: Week 15 NFL Saturday and Sunday reaction plus MNF preview and prediction
Listen to this week's "The Sports Block" podcast here.
---