"The Stack" 12-13-19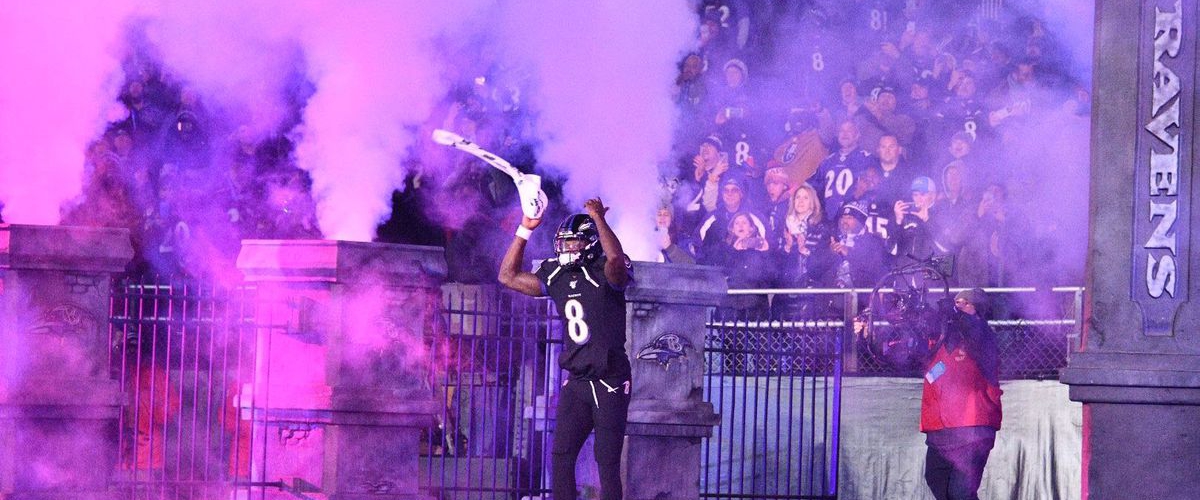 Lamar Jackson was just beginning to pump up the crowd during pregame introductions. Jackson put on a masterful performance on TNF, throwing for five touchdowns and rushing for 86 yards as the Ravens thumped the Jets 42-21. This guy is must-see TV.
The Stack is back on what could be our last true Football Friday post of the year. With bowl season starting on Friday next week we are looking at maybe making some changes in how we preview the bowl games. Stay tuned and you'll find out. That was some performance by Lamar Jackson last night, throwing for five touchdowns and running for 86 yards as the Baltimore Ravens trounced the New York Jets 42-21. He is must see television. Man I wish he was on my team. How is the rest of week 15 going to fare? Let's find out in "the stack" for today, Friday, December 13th (Oh my gosh, it's Friday the 13th. Something terrible is going to happen!!):
6-7 Philadelphia Eagles @ 3-10 Washington 1 PM ET FOX
The Philadelphia Eagles should win this game. But, as we have seen with the Eagles this year, no game is easy. Wide receiver Alshon Jeffrey is out for the year so that hurts. We'll ride with Carson Wentz and company since Washington is so bad, but don't be surprised if this game is closer than it should be or if Washington wins outright.
Prediction: Eagles 27 Washington 20
8-5 Houston Texans @ 8-5 Tennessee Titans 1 PM ET CBS
Who would have thought that the Texans and Titans would be playing each other for the AFC South lead in week 15? Outside from a few Titans fans, I don't think anyone. I've kept asking the Titans to prove me wrong all year and they have made me believers. Ryan Tannehill is playing some great football right now. That defense will get after Deshaun Watson. Don't fail me Titans.
Prediction: Titans 31 Texans 20
3-10 Miami Dolphins @ 2-11 New York Giants 1 PM ET CBS
Hopefully the Dolphins kept all of their equipment at MetLife Stadium since they played the Jets last week. Eli Manning played well for one half for the Giants last Monday night, but I'm not going to blame him entirely for the Giants second half meltdown. Assuming he plays, I'll ride with the Giants to snap their nine game losing streak.
Prediction: Giants 27 Dolphins 23
5-8 Denver Broncos @ 9-4 Kansas City Chiefs 1 PM ET CBS
Rookie quarterback Drew Lock has played well for the Broncos in his two starts going 2-0. He returns home to Missouri where he grew up, pretty close to Kansas City actually. He played college at Missouri. But everything will come back to reality when hall-of-famer Patrick Mahomes and the Chiefs take care of business.
Prediction: Chiefs 34 Broncos 17
7-6 Chicago Bears @ 10-3 Green Bay Packers 1 PM ET FOX
Mitchell Trubisky (yes, I used his full name because his play as of late warrants it) and the Chicago Bears have been playing really well as of late. Can they keep it up against the Packers? I hope they do, because as a Vikings fan, I really need the Packers to lose this week before they play the Vikings next week. As a realist though, I don't see Aaron Rodgers and company losing this game. Prove me wrong, Bears. Prove me wrong!
Prediction: Packers 23 Bears 17
6-7 Tampa Bay Buccaneers @ 3-9-1 Detroit Lions 1 PM ET FOX
Both teams lost a wide receiver for the year this week. The Bucs lost Mike Evans and the Lions lost Marvin Jones Jr. The Bucs have been playing really well as of late and I will go with them if Jameis Winston plays. It sounds like he will. If his backup, Ryan Griffin?? plays, I will go with the upset pick and take the Lions. I'll make my pick presuming Winston plays.
Prediction: Bucs 24 Lions 20
10-3 New England Patriots @ 1-12 Cincinnati Bengals 1 PM ET CBS
This whole video-taping issue may come back to bite the Bengals, because they will face an even angrier Patriots team than they otherwise would have seen. The Patriots will not let up. I sure hope the Bengals take care of the ball and don't give up a defensive touchdown or two since I am going against their defense this week. I don't have high hopes. The Bengals shouldn't either that they can keep this game even remotely close.
Prediction: Patriots 41 Bengals 10
10-3 Seattle Seahawks @ 5-8 Carolina Panthers 1 PM ET FOX
The Seahawks came crashing back to earth last week after the L.A. Rams gave it to them. Flying all the way across the country to play an early kickoff game, I have my concerns with them beating Carolina, but the Panthers are mired in a five game losing streak. They've turned the ball over 13 times during the losing streak and have only forced one turnover. As much as I would like to see it happen, I don't see the Panthers pulling out the victory.
Prediction: Seahawks 27 Panthers 20
9-4 Minnesota Vikings @ 5-8 Los Angeles Chargers 4:05 PM ET CBS
As has so often been the case throughout their tenure at the soccer park, the Chargers can expect a lot of the visiting team's fans to be in attendance. I hope like heck that Vikings fans take over the stadium, no less than 75-25. Wide receiver Adam Thielen is likely to make his return to the lineup which would really help the Vikings offense. This is not a bad 5-8 Chargers team though. They are better than their record shows and they are healthy, but I think the Vikings find a way to get to double digit wins and keep the pressure on the Packers.
Prediction: Vikings 27 Chargers 20
4-9 Jacksonville Jaguars @ 6-7 Oakland Raiders 4:05 PM ET CBS
It is the last home game ever for the Oakland Raiders in the Black Hole. In Oakland. They are moving to Las Vegas after the season as you know. Given that the Jaguars look like they have given up on the season, I don't see there being any way with all of the emotions and everything that the Raiders lose this game.
Prediction: Raiders 37 Jaguars 13
6-7 Cleveland Browns @ 3-9-1 Arizona Cardinals 4:05 PM ET CBS
Can the Browns keep their slim playoff hopes by going out to the desert and picking up a win? This seems like a game the Browns will lose, especially with everything going on surrounding Odell Beckham Jr. and Baker Mayfield. But the Cardinals like to lose close games, failing to come through in the clutch in nearly every game that they have faced a late one score deficit. That won't change in their home finale.
Prediction: Browns 24 Cardinals 20
4-9 Atlanta Falcons @ 11-2 San Francisco 49ers 4:25 PM ET FOX
Do we really expect the Falcons to be able to slow down the 49ers? The Falcons defense is terrible and they will fail trying to stop Emmanuel Sanders, Deebo Samuel, George Kittle and the rest of the 49ers. No way the 49ers lose, especially not after last week's big win against the New Orleans Saints.
Prediction: 49ers 34 Falcons 16
8-5 Los Angeles Rams @ 6-7 Dallas Cowboys 4:25 PM ET FOX
I hope the Cowboys win. It would help the Vikings in the wild card race. But have you seen anything from the Cowboys the last few weeks to indicate to you that they can put together a complete game and beat a team that is playing well and above .500? Nope, I didn't think so either. The Rams offense is rolling right now and I think that continues. Prove me wrong, Cowboys. Prove me wrong.
Prediction: Rams 34 Cowboys 24
9-4 Buffalo Bills @ 8-5 Pittsburgh Steelers 8:20 PM ET NBC
The fact that the Steelers are in the playoff position that they are is truly remarkable and a testament to Mike Tomlin and the type of head coach he is. They are the sixth team in the wild card right now. The Bills haven't played on Sunday Night Football in 13 years…not since 2007. This is their time! Continue to show the world that the Bills are for real and goodness sakes, don't turn the ball over to Minkah Fitzpatrick.
Prediction: Bills 20 Steelers 16
Coming up Monday: Week 15 NFL Sunday reaction plus MNF preview & prediction
---