"The Stack" 12-21-19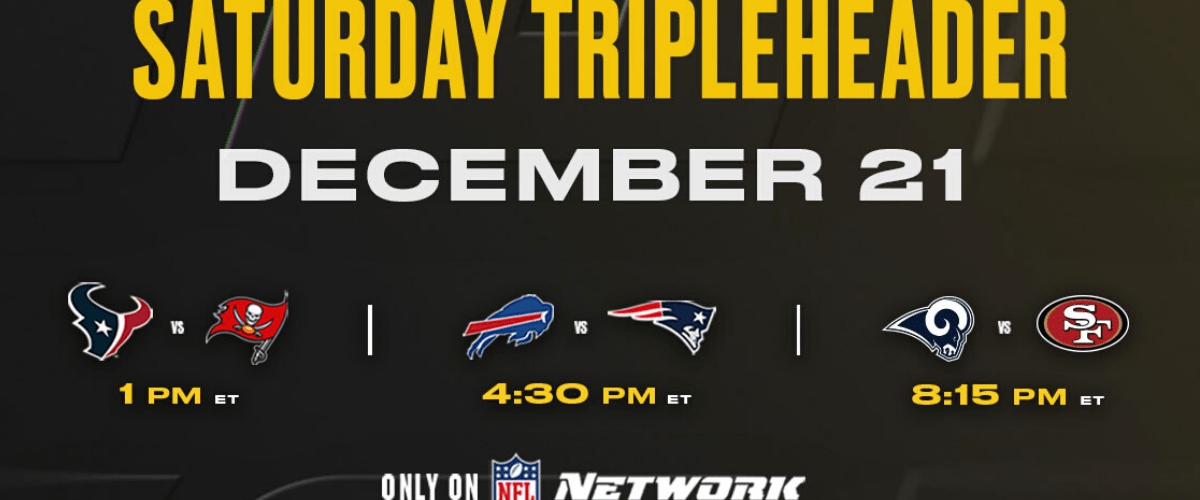 Three NFL games today all on the NFL Network. All have playoff implications. This is going to be a good day of football.
The Stack is back on this Saturday with a special edition. We have eight three NFL games today on the NFL Network and six bowl games. Exciting time for football fans with bowl season kicking off and the playoffs nearing for the NFL. Let's make some picks in "the stack" for today, Saturday, December 21st:
9-5 Houston Texans @ 7-7 Tampa Bay Buccaneers 1 PM ET NFL Network
If the Bucs had either wide receiver Mike Evans or Chris Godwin playing in this game, I would probably take the Buccaneers to win, but neither of them are. The Texans have too much to lose and a return to the playoffs is in their sight. Deshaun Watson will have a big day through the air and the Texans will emerge victorious.
Prediction: Texans 31 Buccaneers 24
10-4 Buffalo Bills @ 11-3 New England Patriots 4:30 PM ET NFL Network
In order for the Bills to win the AFC East, they need to win their final two games and the Patriots need to lose their final two games. That is unlikely, but they still have a chance. I think the Bills can win this game. I think they have been playing better football between the two teams as of late, but given Tom Brady and the Patriots dominance over the Bills, until Buffalo proves they can beat New England, I have to go with the Patriots.
Prediction: Patriots 16 Bills 13
7-7 Los Angeles Rams @ 11-3 San Francisco 49ers 8:15 PM ET NFL Network
The Rams need to win to keep their very slim playoff hopes alive. A loss and they are eliminated from playoff contention. Given they didn't show up last week against the Dallas Cowboys, they will need a much better effort to beat a 49ers team stinging from that last second defeat to the Atlanta Falcons last week. The 49ers need this win not only to keep up for homefield advantage, but to also show folks that they are for real and that last week was just a minor slip up. I think they do it.
Prediction: 49ers 27 Rams 17
New Mexico Bowl (Albuquerque, NM)
8-5 Central Michigan VS 9-3 San Diego State 2 PM ET ESPN
I don't trust SDSU's offense, but their defense is legit. I think they win this one in a low scoring affair.
Predicted winner: SDSU
Confidence points: Mid to upper 20s
FBC Mortgage Cure Bowl (Orlando, FL)
7-5 Liberty VS 7-5 Georgia Southern 2:30 PM ET CBSSN
Georgia Southern runs the triple option which is difficult to stop. This is Liberty's first ever bowl appearance so they may just be happy to be in Orlando. I could see this going either way.
Predicted winner: Georgia Southern
Confidence points: Low double digits
Cheribundi Boca Raton Bowl (Boca Raton, FL)
10-2 SMU VS 10-3 FAU 3:30 PM ET ABC
It's a home game for Florida Atlantic, but with head coach Lane Kiffin gone for Ole Miss, how much effort will Florida Atlantic really give? The SMU offense is phenomenal. I expect quarterback Shane Buechele to have a big game.
Predicted winner: SMU
Confidence points: Mid 20s
Camellia Bowl (Mobile, AL)
6-6 Florida International VS 7-5 Arkansas State 5:30 PM ET ESPN
I don't have a great feel for either of these teams, but FIU to me has been more up and down. Yes, they beat Miami (FL), but they also struggled to put away bad teams like Old Dominion. Another toss up.
Predicted winner: Arkansas State
Confidence points: Upper teens
Mitsubishi Motors Las Vegas Bowl (Las Vegas, NV)
#19 12-1 Boise State VS 7-5 Washington 7:30 PM ET ABC
This is the last game for Washington head coach Chris Peterson who surprisingly is stepping down at the end of the season. His players will give forth a great effort to send him out a winner I think. This Washington squad is talented, but they have largely underachieved this season. Peterson's former team, Boise State, is out to prove to everyone again that they should have been the group of 5 choice. Great defense. Another toss up. This will be a good game.
Predicted winner: Boise State
Confidence points: Mid-single digits
R+L Carriers New Orleans Bowl (New Orleans, LA)
#20 12-1 Appalachian State VS 9-4 UAB 9 PM ET ESPN
App State was hoping to play in the Belk Bowl, but they were denied. Hopefully they are still ready to play in this game. They lost their head coach, but their new head coach was their assistant head coach so I don't expect a drop in performance. This team beat UNC and South Carolina this year. There is no reason to think they should lose this game to UAB.
Predicted winner: Appalachian State
Confidence points: All the points (41)
Bonus Pick
Celebration Bowl (Atlanta, GA)
9-3 Alcorn State (SWAC) VS 8-3 North Carolina A&T (MEAC) Noon ET ABC
I don't have much of anything on either of these teams. I'll go with Steve McNair's alma mater.
Predicted winner: Alcorn State
Confidence points: High single digits
Coming up Monday: Week 16 NFL recap & reaction plus MNF preview and prediction
---