"The Stack" 12-26-18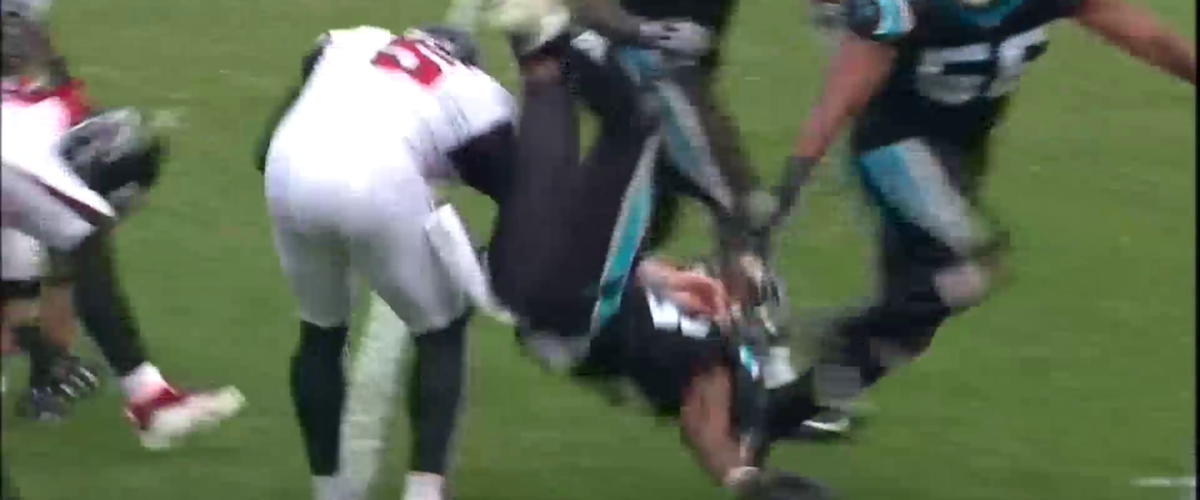 Atlanta Falcons punter Matt Bosher's hit on a punt return for Carolina was one of the iconic moments from a very big week 16 in the NFL.
The Stack is back on this Wednesday and hopefully everyone had a very Merry Christmas! We ended up not having any blog posts over the holiday, but we are back today with some reaction to week 16 in the NFL plus some bowl picks. If you enjoyed the NBA games on Christmas Day, good. My apologies to those who were expecting a blog on Monday with reaction to Sunday's NFL games. We are putting our reaction down in a different way today so let's get right to "the stack" for today, Wednesday, December 26th:
Week 16 NFL reaction
Despite the fact that the Tennessee Titans won 25-16 against Washington, the questions surrounding quarterback Marcus Mariota and his injury are going to make next week's game against the Indianapolis Colts put more in the Colts favor.
Lamar Jackson wasn't great against the Los Angeles Chargers, but he did throw for over 200 yards in the Baltimore Ravens 22-10 win and he was helped by that tremendous defensive effort. Major letdown for Philip Rivers and the Chargers.
Incredible comeback by Andrew Luck and the Indianapolis Colts against the New York Giants. Down by 14 points twice, Luck and company rallied and found a way to win 28-27 which sets up a win-and-your-in scenario against the Titans next week.
Blake Bortles was the spark that helped lift the Jacksonville Jaguars to a 17-7 win over the Miami Dolphins, because he led them on a 51-yard drive that resulted in a field goal that broke a 7-7 tie?? Am I missing something?
That hit by Atlanta Falcons punter Matt Bosher in the Falcons 24-10 win over the Carolina Panthers was one of the best plays of week 16. What a tackle! That will be used in film studies and it is something that punters and kickers everywhere should aspire to.
The Cleveland Browns may be eliminated from playoff contention, but man are they fun to watch. They beat the Cincinnati Bengals 26-18 (and Hue Jackson for a second straight time). You're catching a glimpse of a team that is going to make some real noise in the next year or two and possibly win the AFC North.
The Dallas Cowboys are your NFC East champions thanks to their 27-20 win over the Tampa Bay Buccaneers. How many Cowboys fans wish they weren't in the playoffs so head coach Jason Garrett would be fired? Maybe he still will be.
Very slow start by the Minnesota Vikings, but they eventually put it together against the Detroit Lions in their 27-9 win. One of the major reasons was tight end Kyle Rudolph who caught a Hail Mary pass for a touchdown as the first half expired. He had a season high nine catches for a career high 122 yards and two touchdowns which ties a career high. Should we expect anything less from a game around Christmas time with a name like Rudolph?
The New England Patriots and their fans should be concerned about Tom Brady. He did not look good against the Buffalo Bills in the 24-12 Patriots win. Sounds like there are injuries with Brady, but he is downplaying them. That's just the Patriot Way. Still, I would be concerned that he can hold up for a deep playoff push.
Amazing quarterback duel between Aaron Rodgers and Sam Darnold. Darnold and his Jets came up short against Rodgers and the Packers as Green Bay won 44-38 in overtime. Shouldn't have given up that fourth quarter lead.
Nick Foles continues his magical run for the Philadelphia Eagles. It looked like they had lost it after Deshaun Watson had brought the Houston Texans back to take a 30-29 lead, but Foles would not be deterred. What a day with over 470 yards passing (a career high) and leading the Eagles to a 32-30 victory on a last second field goal to keep their playoff hopes alive. He is (or at the very least should) get paid over the offseason.
Todd Gurley who? What a day for running back C.J. Anderson who the Los Angeles Rams just signed last week. 167 yards rushing and a touchdown. Very impressive. Cool to see Larry Fitzgerald throw his first career touchdown pass. Was that that last time Cardinals fans will see Fitzgerald at home? It's been a dismal year for the Cardinals and Sunday's 31-9 loss to the Rams won't help at all.
That Chicago Bears defense is good, but their offense is a major concern headed into the postseason. Good thing defense can travel anywhere. The gaffs by both Trubisky and 49ers quarterback Nick Mullens were noticeable, but the Bears came out ahead fortunately for them 14-9.
What a game between the Steelers and Saints. There were some bad calls (and non-calls) that potentially cost the Steelers, but running a fake punt from your own territory and not getting it and then fumbling on a potential game-tying or game-winning drive are ways that will doom you and your chances of making it to the postseason. With the 31-28 win, the Saints are the top seed in the NFC playoffs. All roads to Atlanta in the NFC will have to come through New Orleans.
It is very difficult to play Seattle in Seattle in primetime. They are just too good. Russell Wilson was electric. His throws were so good. That's not to say that Patrick Mahomes didn't impress himself, but the Chiefs got off to a bit of a slow start and there were too many penalties that really hurt the Chiefs and it ended up costing them with their 38-31 loss. The Seahawks are postseason bound.
If that was the last game in Oakland, at least the Raiders finished it off in style with a 27-14 win over their arch rival Denver Broncos. A lot of uncertainty surrounding where Oakland plays next season remains. Maybe they will be in Oakland one final year.
College football Wednesday bowl games
ServPro First Responder Bowl
7-5 Boston College VS 10-2 Boise State 1:30 PM ET ESPN
This is one of those bowl games where you would think that the team with the better record will win the game, but arguably the best player in this game, BC running back A.J. Dillon, is on the other team. Boise State has a pretty good running back in their own right and they have the better defense. I'll go with them.
Confidence points: Mid teens
Quick Lane Bowl
6-6 Minnesota VS 6-6 Georgia Tech 5:15 PM ET ESPN
The Golden Gophers are a young team and the extra practices they have gotten in preparation for this bowl game will be extremely beneficial for them next year. Against a triple option offensive attack, I don't think they will be able to stop Georgia Tech. I'll go with the Yellow Jackets.
Confidence points: Low 30s
Cheez-It Bowl
7-5 California VS 6-6 TCU 9 PM ET ESPN
Both of these teams are just average. TCU has been a big disappointment this season while Cal has been a pleasant surprise. I'll still go with TCU, but I don't have much confidence in this one.
Confidence points: Mid single digits
Coming up Thursday: More college bowl game picks
---