"The Stack" 2-27-18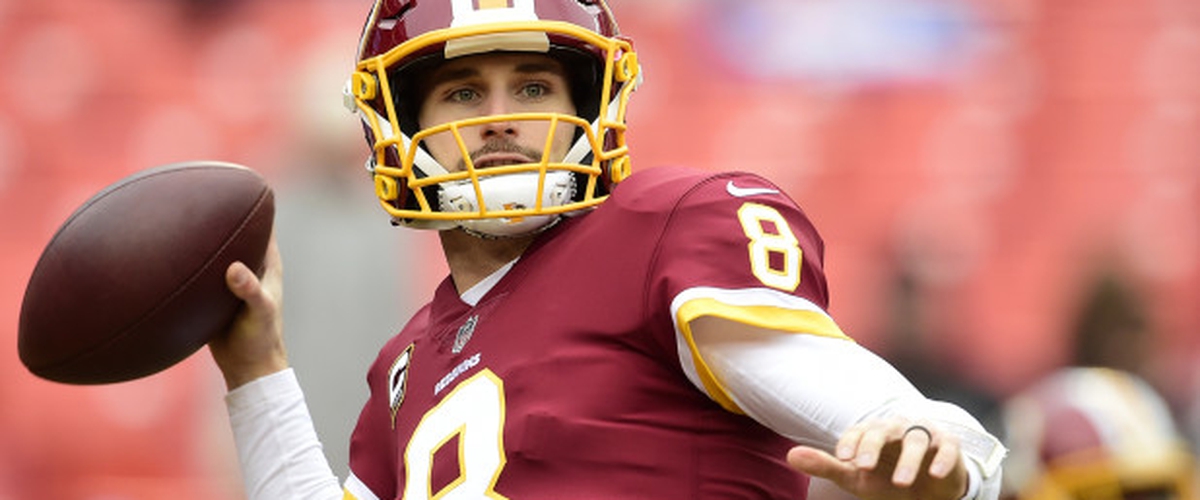 Kirk Cousins and the Minnesota Vikings have mutual interest in the two sides possibly joining forces. This comes on the heels of the Vikings reportedly not placing the franchise tag on Case Keenum.
The Stack is back on this Tuesday and there isn't a whole lot to discuss today. Thought we might be talking more about the NFL making Dallas Cowboys owner Jerry Jones pay millions as a result of him airing dirty laundry during the season with NFL Commissioner Roger Goodell, but then it turned out just to be that Jones has to pay legal fees the NFL incurred in excess of two million dollars so it really isn't that big of a deal. A couple more college basketball conference tournaments start today. Let's see what else is in "the stack" for today, Tuesday, February 27th:
Vikings going after Cousins??
It appears that the Minnesota Vikings are going to go hard after quarterback Kirk Cousins in free agency. That's the word from Gil Brandt of nfl.com and Mike Garafolo of NFL Network. There is interest on both sides. This comes only after reports surfaced that the Vikings will not be placing the franchise tag on Case Keenum. That doesn't necessarily mean that Keenum's time in Minnesota is done. The team could still try to offer Keenum a multi-year contract, but with Minnesota's reported fascination with Cousins, it would appear that Keenum will not be in purple next year (unless he signs with the Ravens). I'm not really sure quite what to make of this. Keenum did a marvelous job leading the Vikings to the NFC Championship game last year. He had the best numbers of his career. And it wasn't his fault entirely (I will argue barely at all) that they were blown out by the Philadelphia Eagles in said NFC Championship game. Keenum did wonders filling in for Sam Bradford. Remember he came in for Sam in week five against the Chicago Bears on Monday Night Football and led them to a victory. There are no done deals yet and I do think Cousins would be an upgrade at the quarterback position for the Vikings, but not a significant one. And there is something to be said for chemistry which Keenum and Adam Thielen had. We'll see exactly what happens, but for right now, it appears that the Vikings are the favorites to land Cousins with the Broncos and Jets still in the running.
NHL trade deadline
The NHL trade deadline was yesterday afternoon. Did you even know or pay attention? The big trade was made on Sunday with the Boston Bruins acquiring Rick Nash from the New York Rangers for picks and a couple of players. Will Nash re-sign with Boston after the season is done? If not, that is an awfully high price to pay for a guy who may not lead Boston to the Stanley Cup Final.
Not to be outdone by their division cohorts, the Tampa Bay Lightning nabbed Ryan McDonagh and J.T. Miller from the Rangers for three players headlined by Vladislav Namestnikov and two picks including a 2018 first round pick and a conditional second-round pick. That's quite the haul for the Rangers for two players. Yes the Rangers will not be making the playoffs this year, but if they can develop the players that they got and maximize their picks, they'll be back in the playoffs very soon.
Other trades including Vegas getting Tomas Tatar from the Detroit Red Wings for three draft picks including a 2018 first round pick, the Columbus Blue Jackets landing Thomas Vanek from the Vancouver Canucks for a couple of players, the San Jose Sharks getting Evander Kane from the Buffalo Sabres for some picks and a player and the Winnipeg Jets landing Paul Stastny from the division rival St. Louis Blues for a player and picks. There were of course other trades (18 in all involving 37 players), but these are the biggest ones and they are all going to make an impact for these playoff bound teams or teams fighting hard to make the playoffs. With a month and change left in the regular season, the final push is on and teams are desperate for a boost.
Big South tournament preview
The Atlantic Sun tipped off their tournament yesterday and outside of a minor #5 seed over a #4 seed upset (North Florida topped NJIT), the bracket held true. I can't say that is how things will go in the Big South tournament which tips off today on the campus sites. UNC Asheville is the favorite, but Winthrop can never be overlooked and if you are looking for a real intriguing team, look no further than the Campbell Camels who boast a great player in Chris Clemons. You may recall that he had a big effort in the conference tournament last year (a 50 point effort I believe at one point) to help lead Campbell to a couple of wins. If he gets going watch out. I think the top seed wins this one though.
Predicted winner: UNC Asheville
Patriot League tournament preview
Like the Atlantic Sun and Big South, the Patriot League tournament is played on the school campuses. With the tournament tipping off today it is very hard to take the top seed Bucknell Bison. Colgate, the two seed, nearly beat them a couple of weeks ago. I can't see any other team coming close to Bucknell other than Colgate, but I don't see Colgate taking them down.
Predicted winner: Bucknell
Coming up Wednesday: Conference tournament previews plus other headlines from the sports world