"The Stack" 4-28-20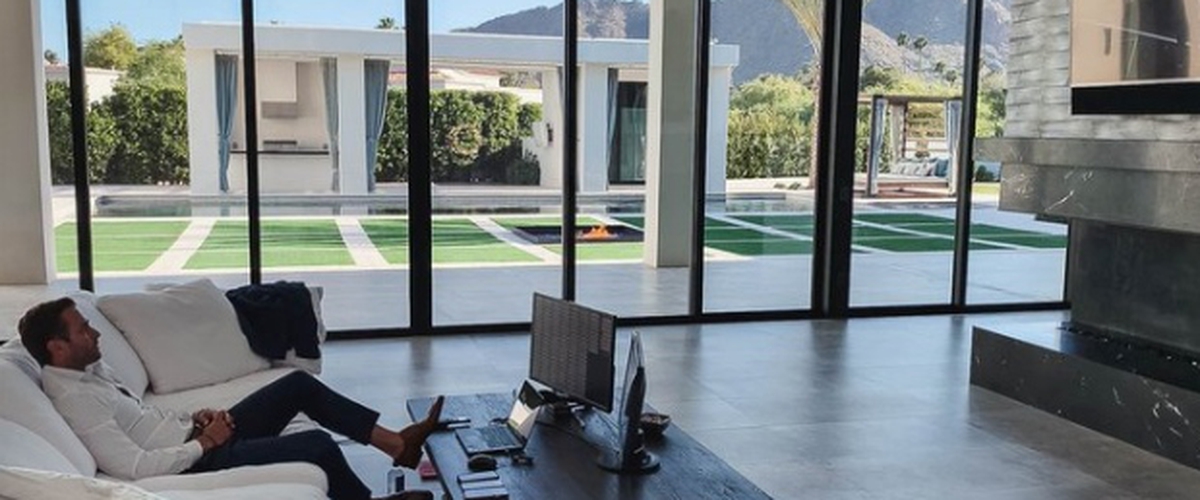 Arizona Cardinals head coach Kliff Kingsbury's house was one of the iconic images of the NFL's first virtual draft last week that went off without a hitch or much of a glitch. It was a very memorable weekend.
The Stack is back on this Tuesday and I'm sure you have had your fair share of draft grades, reaction and analysis over the past few days. Who were the big winners? Who were the big losers? We won't do grades for every team. We won't go over every pick, just some of the things that really stood out from the draft weekend so let's get right to "the stack" for today, Tuesday, April 28th:
NFL Draft recap/reaction
There was worry about this draft being the first virtual NFL Draft. Would there be glitches? How would the league embrace this? I will admit, I had those concerns leading up to the draft. I wondered if it would have been better for the raft to be postponed to a later date. I was wrong. Commissioner Roger Goodell was right. I was wrong along with many others. Through 255 picks, the NFL Draft brought a sense of intimacy thanks in large part Commissioner Goodell giving the picks through the first three rounds in his basement. It was fun to see Goodell interact with the fans on video on his TV and talk with the draft picks. He more than likely talked with each draft pick longer than had the draft been in Las Vegas (by the way the draft will be in Las Vegas in 2022). By the end of the third round, Goodell was exhausted and giving the picks from his lounge chair. It was a very cool scene.
But that wasn't the only thing that made this a memorable draft. The inside look at all of the coaches and GM's homes was really cool. From Arizona Cardinals head coach Kliff Kingsbury's magnificent Bruce Wayne-like home (or something like that) (it was so cool that some people built a Lego set of the crib to Minnesota Vikings head coach Mike Zimmer's hunting lodge/ranch, it was incredible to get an inside look at where these guys live and where they were conducting the draft from. Seeing the families cheer and helping out their dads and husbands was really fun to watch as well. The general excitement that was felt and exuberance was unparalleled to anything that we have seen before from the NFL Draft. Sure the NFL will put on a big party in Cleveland next year, but hopefully we can see some aspect of the coaches and GM's homes and families. That is definitely a lasting memory from this draft.
Now to the picks in the draft itself. The pick heard round the world and surely the pick that everyone will remember from the draft is the Green Bay Packers taking Utah State quarterback Jordan Love with the 26th pick. It's a pick that could provide major dividends down the road, but it doesn't help the team now. In the deepest wide receiver class in draft history, a draft that saw 33 wide receivers taken, the Packers didn't take one. Not a single one. Taking Boston College running back A.J. Dillon in the second round when they have two perfectly fine running backs in Jamaal Williams and Aaron Jones makes no sense. Yes, you are trying to think of the future, but the Packers have a superstar quarterback in Aaron Rodgers right now. You were one game away from the Super Bowl last year. While the rest of the NFC North and most of the rest of the league got better during the weekend, it feels like the Packers took a major step back. Or at the bare minimum, not a step forward that will get them to a Super Bowl title. We can always look back in a few years and change how we thought of a draft went for a team, going from a D or an F to a B+ or A-. That could happen with the Packers. Right now, it feels like they had the worst draft out of any team in the league.
A lot of teams had really good drafts, the Jacksonville Jaguars got an honorable mention here. There are a few other teams I will get to as well, but there were two obvious teams that had drafts above the rest. They would be the Baltimore Ravens and Dallas Cowboys. It seems like the Ravens always have a stellar draft year in and year out. That speaks to how well GM Eric DeCosta has done in taking over for longtime general manager Ozzie Newsome. Some of it is luck, no question about it. Having LSU linebacker Patrick Queen fall to them at 28 and Ohio State running back J.K. Dobbins fall to them in the second round is quite lucky, but the picks that this team makes always make sense and they're positioning themselves for a lot of good competitive years ahead in the AFC. Fantastic job by the Ravens.
As for Dallas, same thing with Baltimore, you have to have a little luck on your side like with Oklahoma wide receiver CeeDee Lamb falling to them at pick #17, but the Cowboys had to make the selection and they did. They got a couple of cornerbacks that will be factors on their defense for years to come. They got their next center of the hopefully the next decade or longer, another one from Wisconsin. Dallas made smart and sensible picks all draft long and they will reap the rewards of their draft next season and beyond.
Cincinnati killed the draft. Yes, LSU quarterback Joe Burrow was a no brainer at number one, but getting Clemson wide receiver Tee Higgins in the second round was incredible. They got two linebackers from Wyoming and Appalachian State that are sure to improve their defense. The Bengals did d a great job improving their team.
Cleveland also had a great draft getting Alabama offensive tackle Jedrick Wills Jr. at ten and then somehow having LSU safety Grant Delpit falling to them in the second round…both stellar picks. They got a great tight end in Florida Atlantic's Harrison Bryant. The Browns improved a lot.
Let's not forget the Minnesota Vikings getting gifted LSU wide receiver Justin Jefferson falling into their laps at pick #22. They traded back a few spots with the San Francisco 49ers and got their cornerback, TCU Jeff Gladney. Boise State offensive tackle Ezra Cleveland falling to them in the second round was practically a miracle. Getting Baylor defensive lineman Aaron Lynch in the fourth round in addition to the South Carolina defensive end and the Oregon linebacker was great. The Vikings had a lot of holes and they filled them with their record 15 draft picks. It sure would have been nice to land Minnesota safety Antoine Winfield Jr. or Minnesota wide receiver Tyler Johnson. Even St. John's (MN) offensive lineman Ben Bartch would have been nice to have, but it's hard to complain about the Vikings' draft. It was pretty stellar.
We talked about the Green Bay Packers' bad draft earlier. We end the draft thoughts with a similarly puzzling draft by the Philadelphia Eagles. TCU wide receiver Jalen Reagor was a bizarre pick at #21 when Justin Jefferson was on the board. The Eagles liked Reagor more apparently, but it was still a little weird. Then the Eagles took Alabama quarterback Jalen Hurts in the second round. Does that mean that the end of the Carson Wentz era is coming sooner rather than later? Possibly. He is often injured and has never won a playoff game as an Eagle. It's always good to have a back and perhaps the Eagles envision a Taysom Hill role for Hurts, but this pick invites more questions and scrutiny than it does answers. Getting speedster wide receiver John Hightower from Boise State in the fifth round is good, but overall the Eagles' draft just doesn't feel as strong or as good as it has in years past.
That was quite the memorable draft. Already looking forward to next year's draft.
Coming up next week: Some thoughts on the upcoming NFL schedule