"The Stack 4-9-18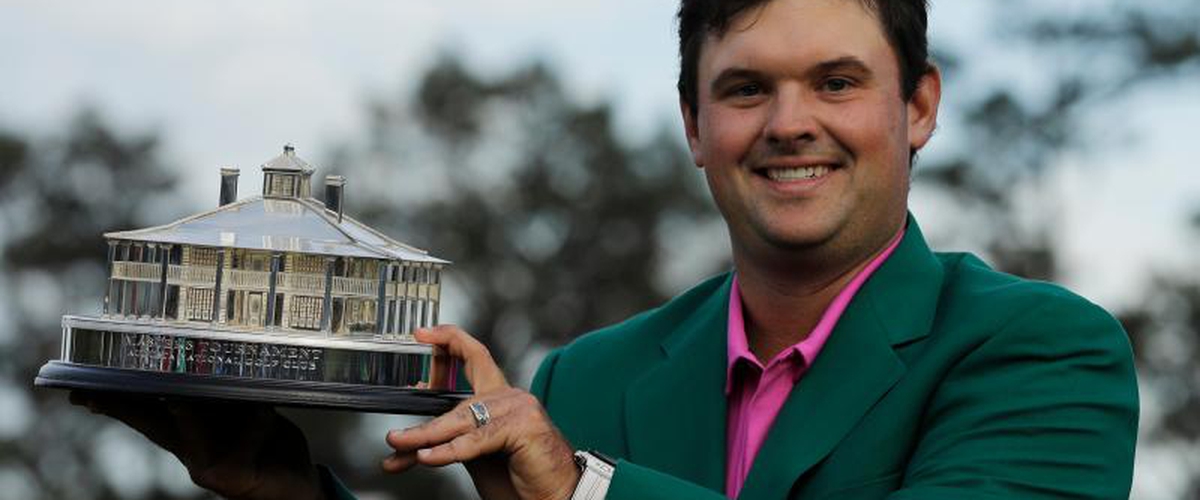 Patrick Reed is your Masters champion. Rickie Fowler and Jordan Spieth both made charges, but Reed made several clutch putts and hung on to win his first green jacket.
The Stack is back on this Monday and the Masters are in the books and the NBA and NHL Playoffs are set to start this week. We'll have an NHL Playoff preview on Wednesday, but that isn't going to stop us from going through what the playoffs would look like if the NHL would do the Nathan Stacken/Adam Silver plan and seed the playoff teams one through sixteen and see what the possible matchups would be so let's get right to it and see what all is in "the stack" for today, Monday, April 9th:
Patrick Reed wins Masters
So maybe entering Sunday, the Masters wasn't shaping up to be everything we were hoping it would be. Phil Mickelson and Tiger Woods were both over par and had disappointing tournaments to that point (Woods finished one over (+1) and made several big shots down the stretch on Sunday) and guys like Jordan Spieth were well behind the leader, Patrick Reed, who sat at fourteen under (-14). At least Rory McIlroy was right there at eleven under (-11) and in the final pairing. You guys like Ricky Fowler, Bubba Watson and Dustin Johnson hanging around, but there wasn't as much sizzle as we were all hoping for in the final few pairings. At least Reed and McIlroy have a history going back to the Ryder Cup at Hazeltine a couple of years ago. That was a tremendous dual they had. Back to Sunday though. As Sunday progressed, the Masters got really intriguing really fast.
Reed bogeyed the first hole while McIlroy saved par. McIlroy birdied the second hole to get within one stroke. McIlroy never could get any closer though. His swing was just not there on Sunday. His shots weren't hitting where they had been the previous few days. It was not meant to be for Rory. However, it was Spieth who was really picking up the momentum. Spieth was on a tear on the front nine shooting a five under 31 and he kept applying the pressure. To start the day, Spieth was nine shots back of Reed. At one point they were tied. Spieth was making putt after putt, but since he was a few holes ahead of Reed, you knew Reed would have a chance and boy did Reed pull out some cold blooded shots whether with his irons or from the green. Spieth narrowly missed a putt on a seventeen that would have tied him back up with Reed. His drive on 18 was wild and he ended up bogeying the hole. Not only did that put him two shots back of Reed, but he also missed out on tying the club record for a low score shot at Augusta at 63. He shot a 64. After Reed birdied 14, he was calm the rest of the way out. Fowler made things interesting by birdieing 18 to get within one stroke of Reed and it forced Reed to have to two putt on 18 to win outright. Reed would do that and he would become your Masters champion for this year. It was an exciting final round. Would it have been better if Spieth had won? Absolutely. Reed isn't a huge household name to people unlike Spieth and Tiger, but Reed does have a following after the Ryder Cup. He'll have a name here now going forward. It won't move the dial up much in terms of ratings, but Reed is one of the better golfers on tour. And for this week at the Masters, he was the best golfer on tour. Congrats on the green jacket Reed. Well deserved.
Nathan Stacken NHL playoff proposal
NBA Commissioner Adam Silver floated the idea I believe at NBA All-Star weekend that the NBA may tinker with the playoffs at some point by taking the top eight teams in each conference and then assigning them one through sixteen seeds based on record regardless of conference affiliation so you could potentially see the best two teams in the league play one another regardless of conference in the NBA Finals. I've been touting this idea for years. We'll do it for the NBA after we know the NBA playoffs, but since we know the NHL's after they were announced last night, I thought it would be fun to do it for the NHL as well. Again, this is the Nathan Stacken plan, but since Silver is pushing this as well, I will call this the Nathan Stacken/Adam Silver playoff plan approach:
Eastern Conference playoff teams
1. Tampa Bay Lightning (113 points)
2. Boston Bruins (112 points)
3. Washington Capitals (105 points)
4. Toronto Maple Leafs (105 points)
5. Pittsburgh Penguins (100 points)
6. Philadelphia Flyers (98 points)
7. Columbus Blue Jackets (97 points)
8. New Jersey Devils (97 points)
**Notes: The Capitals get the three spot based on their edge in regulation and overtime wins of 46 compared to Toronto's 42. The Blue Jackets get the seventh spot based on their 45 regulation and overtime wins compared to New Jersey's 44.
Western Conference playoff teams
1. Nashville Predators (117 points)
2. Winnipeg Jets (114 points)
3. Vegas Golden Knights (109 points)
4. Minnesota Wild (101 points)
5. Anaheim Ducks (101 points)
6. San Jose Sharks (100 points)
7. Los Angeles Kings (98 points)
8. Colorado Avalanche (95 points)
*Notes: The Wild are the four spot in the west based on their 42 regulation and overtime wins in the regular season compared to the Ducks' 40.
NHL Playoff teams 1-16 seeds
1. Nashville Predators
2. Winnipeg Jets
3. Tampa Bay Lightning
4. Boston Bruins
5. Vegas Golden Knights
6. Washington Capitals
7. Toronto Maple Leafs
8. Minnesota Wild
9. Anaheim Ducks
10. Pittsburgh Penguins
11. San Jose Sharks
12. Los Angeles Kings
13. Philadelphia Flyers
14. Columbus Blue Jackets
15. New Jersey Devils
16. Colorado Avalanche
**Notes: The Penguins would be the 10 seed over the Sharks because of their 45 regulation and overtime victories compared to San Jose's 40 and the Kings would be the 12 seed over the Flyers because of their 43 regulation and overtime victories compared to Philadelphia's 40.
The matchups would be as follows
#1 Nashville vs. #16 Colorado
#2 Winnipeg vs. #15 New Jersey
#3 Tampa Bay vs. #14 Columbus
#4 Boston vs. #13 Philadelphia
#5 Las Vegas vs. #12 Los Angeles
#6 Washington vs. # 11 San Jose
#7 Toronto vs. #10 Pittsburgh
#8 Minnesota vs. #9 Anaheim
Only two of the eight matchups would pit a western conference team against an eastern conference team, but as you progress that could change. For Washington and San Jose, that's a long ways to travel so the easiest way around that is to do two days in between each game with travel. Anaheim and Minnesota would have a ways to travel, but they are used to it being in the same conference. Open the playoffs with the teams that have to travel the least going first. For example, since the real NHL playoffs start on Wednesday, have these be your starting games:
Philadelphia @ Boston 7 PM ET CNBC
Pittsburgh @ Toronto 8 PM ET NBCSN
Colorado at Nashville 9:30 PM ET CNBC
Los Angeles @ Las Vegas 10:30 PM ET NBCSN
Thursday's games would be:
Columbus @ Tampa Bay 7 PM ET CNBC
San Jose @ Washington 7 PM ET NBCSN
New Jersey @ Winnipeg 9:30 PM ET CNBC
Anaheim @ Minnesota 9:30 PM ET NBCSN
Each series would have minimum one two day break in between one of the games, but otherwise games would be played every other night except for in the cases of San Jose-Washington and maybe Anaheim-Minnesota (sorry, I'm not buying it for New Jersey and Winnipeg or Columbus and Tampa Bay). I'm merely throwing out CNBC as an example too. The NHL also broadcasts games on USA and they also broadcast games on the weekends on NBC. Throw in games in the NHL Network and this would work out. Would it make the playoffs a little longer? Sure. The first round would definitely be longer, but it would be different and that's the cool thing about this. What do you think? Would you like to see the NHL and NBA try this sort of thing one year? Let me know what you think.
Prayers for Humboldt
By now most everyone should have heard about the horrible tragedy that has unfolded in Saskatchewan where a bus carrying a junior hockey team from Humboldt, Saskatchewan, collided with a semi-truck killing 14 people. That number has since risen to 15. It is a devastating time for the province and the community of Humboldt. It shouldn't come to any surprise that Humboldt loves their hockey team and supports them to no end, but it may come as a surprise as to just how tight knit this team was to the community and the special bond that they shared. For this to happen, I don't even know how to comprehend the huge sadness that is taking place right now in Humboldt, Saskatchewan and even Canada as a whole. A vigil was held Sunday night. Continued prayers for you Humboldt. The hockey community is with you all the way just as people from around the sports world and beyond. #PrayingForHumboldt
Before we go…
Man is Shoehei Ohtani something else. The Los Angeles Angels pitcher had a perfect game going against the Oakland Athletics on Sunday before giving up a hit in the seventh inning. The Angels wound up winning 6-1. Ohtani is 2-0 and has hit three homeruns. He's the first player to do that since Babe Ruth almost 100 years ago. I know we are just one week into the season, but this guy is so impressive. MVP? Certainly has to be in the discussion after one week.
Coming up Wednesday: NHL playoff preview
---