"The Stack" 5-29-18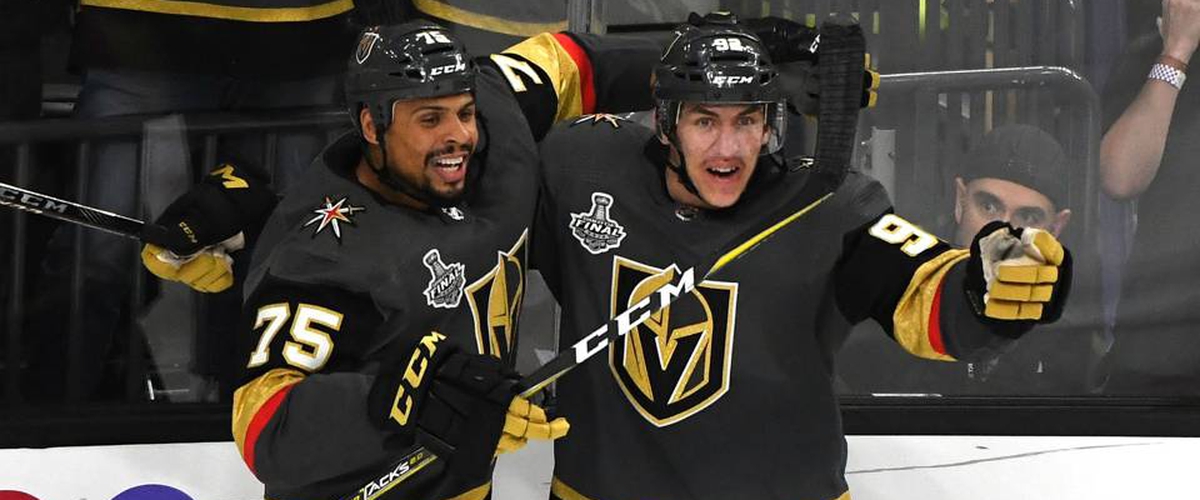 Ryan Reaves scored the tying goal in the third period to make 4-4 and was a huge reason why the Vegas Golden Knights won game 6-4 over the Washington Capitals to take a 1-0 lead in the Stanley Cup Final.
The Stack is back on this Tuesday. Hope everyone had a great Memorial Day weekend. Thank you to all of the members of the armed forces, both past and present for what you have done for our country in keeping us safe. What a night in Vegas and the NBA Finals, take four, is on. Let's get to all of it in "the stack" for today, Tuesday, May 29th:
Vegas wins Stanley Cup Final game one
What an entertaining first game to the Stanley Cup Final we had last night between the Washington Capitals and Vegas Golden Knights. Vegas won 6-4 to take a 1-0 series lead, but this was back and forth as you can get. Vegas scored on a power play in the first period to take a 1-0 lead thanks to Colin Miller whose shot from near the blue line got past Braden Holtby. Holtby looked like he thought the puck was going to be deflected and he was leaning on his right leg a little bit more so he couldn't get over in time. Later in the period though for the first time in this postseason, a visiting team would get a goal past Marc Andre-Fleury and the Capitals did it twice in less than a minute, but their lead was short lived when William Karlsson banged one in to tie the game. We'd be tied after two periods as well, but the Capitals took a 4-3 lead moments into the third period thanks to Tom Wilson. Again though, that lead was short lived because Ryan Reaves scored less than 90 seconds after Wilson. Tomas Nosek would get the game-winning goal off of a tremendous feed. Slapshot buried in the back of the net. He would add an empty-net goal to give Vegas the 6-4 lead. It wasn't like the Capitals didn't have chances though. Multiple posts and crossbars were hit in the third and Lars Eller had a wide open net with under a minute to go, but he couldn't get his stick on the puck thanks to a great play Brayden McNabb to prevent a tie game from happening. Vegas also should thank their fourth line. The fourth line contributed with three goals. Awfully impressive. An awfully entertaining game.
Hope the series is a long one and all of the games are like this. I am going with my heart and saying Capitals in seven because I really want to see Alex Ovechkin win the cup. If Vegas wins though I have no problem with that. It's such a great sports story. And the opening for Vegas was great. Fantastic theatrics. It may be a little over the top, but hey, it's Vegas. Can't wait to see what they have in store for game two. Look the video up online if you haven't seen it or don't know what I'm talking about. It is something else. Game two is Wednesday in Las Vegas on NBCSN.
Warriors beat Rockets, advancing to fourth straight NBA Finals
Stop me if you have heard this one before…the Golden State Warriors and Cleveland Cavaliers are going to meet in the NBA Finals. It's act four after the Warriors rallied to beat the Houston Rockets 101-92 to win the series 4-3. The Warriors were once again trailing the Rockets at halftime and it looked like Golden State was going to miss out, but then that dreaded third quarter came around for the Rockets and the Warriors routed them, outscoring the Rockets 33-18. Steph Curry and Kevin Durant were tremendous in the second half. This series could have played out entirely different had Chris Paul been able to play in either games six or seven. Not having him hurt the Rockets a lot. You may recall the Rockets had a 17 point lead after the first quarter in game six on the road only to get blown out 115-86. While game seven was not as large of a blowout, it still stings nonetheless considering the Rockets had homecourt advantage. The sad thing in this is that the Warriors didn't even play very good against Houston. They had a lot of uncharacteristic turnovers and some poor shooting. The Rockets definitely deserve some credit, but this was not the Warriors best effort. We'll see a much different team I'm guessing against Cleveland. I bet the Warriors get the sweep or at worst, win it in five games.
French Open gets underway
The French Open is underway from Roland Garros and last I checked the French Open is played on clay so despite the fact that he is getting up there in age, I have to go with Rafael Nadal. He's just too good on this surface. As for the women's side, I think this is the time for Serena Williams. She will show everyone that she still has it after the health scare and complications that she had after giving birth. I think she wins this tournament. The queen reigns on her court and the king rules on his.
Before I go, lest I let one of the best performances in a closeout game in NBA Playoff history go by and not mention it at all. That was an incredible game by LeBron James the other night playing all 48 minutes and recording the double-double not to mention adding another couple of blocks. He nearly had a triple-double. It was clutch. Cavaliers head coach Ty Lue called it LeBron's best game he has ever seen. It's definitely right up there. He will need to do that every game if the Cavs have any hopes of beating the Golden State Warriors.
Coming up later this week: Stanley Cup Final reaction plus NBA Finals and more
---