"The Stack" 8-23-18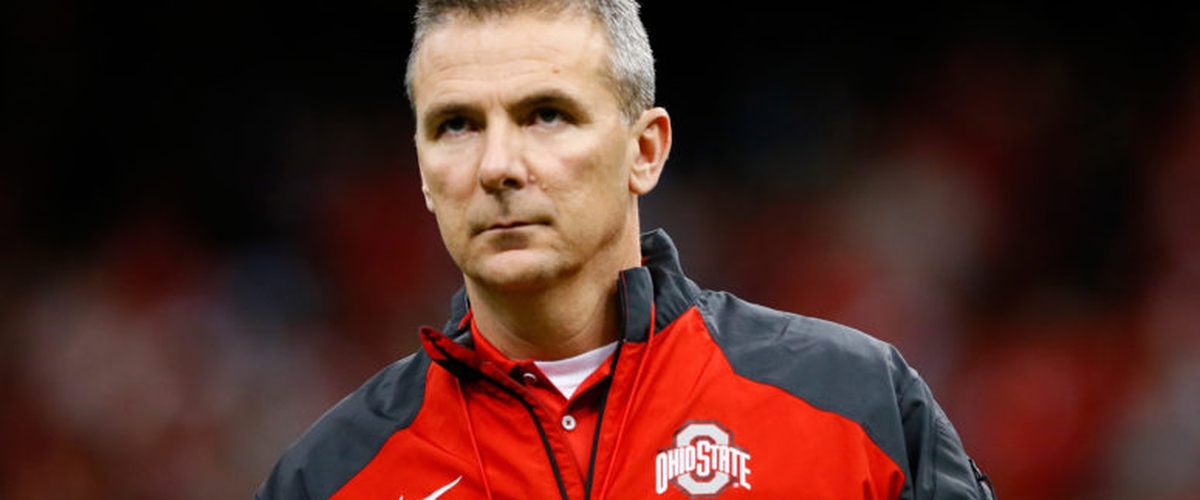 Urban Meyer has been suspended for three games by Ohio State. His press conference was something less than desirable as Urban came off very cold and unsympathetic to Courtney Smith.
The Stack is back on this Thursday and I apologize for not getting more blog posts out. Unfortunately going forward we won't have blogs every weekday (as you can obviously tell). We will definitely have more blogs as football season rolls around, but they will be fewer overall. Have to focus on the family. Anyway, we have some stuff to talk about today, and forewarning, there are some strong opinions regarding Urban Meyer. So let's get right to it and see what's in "the stack" for today, Thursday, August 23rd:
Urban Meyer suspended three games
Ohio State has suspended head football coach Urban three games regarding the domestic violence situation between Courtney Smith and her husband, former wide receiver coach Zach Smith. Urban as we all know lied to the media on Big Ten Media Day and by all appearances knew about the situation and didn't do anything about it.
Opinion time now. This is a joke. Ohio State is an embarrassment and they should be embarrassed by this "punishment" doled out to Urban Meyer. The ridicule that this university receives is absolutely deserved and if anything, they become more hated now that they did before. In Meyer's press conference after the announcement was made, he apologized to Buckeye Nation, not Courtney Smith. What the hell is this? Where's your remorse Urban? You better believe that he is going to be scrutinized or should be scrutinized with every move going forward. The reaction in Columbus too is embarrassing. I get that Urban is a great head coach and that football is life in Columbus, but how about showing some moral values ahead of a damn football team? He didn't do anything while someone was suffering from domestic violence (though again, no charges were ever filed) accusations thanks to someone on his staff. And you think that isn't worth getting fired? Three games is a slap on the wrist. Ohio State looks terrible in this situation, again in my opinion. If I were associated with Ohio State today I would be ashamed of my university, but you know most people won't say that. VS Oregon State, VS Rutgers and VS TCU (neutral site) are the games that Meyer misses. Odds are that Ohio State can get out of that 3-0 and at the very worst be 2-1. Three game punishment? What a joke. Here's the proverbial middle finger to you Ohio State. To hell with you. Hopefully this season turns out to be a nightmare and hopefully the ridicule and embarrassment will last for quite some time. Everyone has their own thoughts on this situation. These are mine. If you disagree, that is fine. Hopefully though, many people feel the way I feel this morning.
College basketball has a new ranking system
The RPI is no longer. College basketball is doing away with the RPI and going to a new ranking system, the NET, short for NCAA Evaluation Tool. NET will be used for the upcoming season and will factor strength of schedule, game results, where the games are played at (aka location), scoring margin, offensive and defensive efficiency and the quality of wins and losses. It's probably a better system than the RPI, but it is still not perfect. Definitely a work in progress, but this will hopefully make it better for when the NCAA Selection Committee goes through the process of selecting and seeding teams for March Madness.
Tiger Woods-Phil Mickelson match set
Tiger Woods and Phil Mickelson have confirmed that their highly anticipated head-to-head match with $9 million on the line is on for Thanksgiving weekend. The match will take place in Las Vegas on Friday, November 23rd and can be seen on pay-per-view (PPV). While this match may have been better a decade ago, seeing these two go head-to-head is going to be a real treat not just for golf fans, but for the average sports fan as well. My money right now is on Tiger with the way he is playing lately. This is going to be fun and I hope to be able to see it.
Adrian Peterson signs with Washington, George Iloka to the Vikings
A couple of veteran players have new homes and new teams. Thanks to some injuries at the running back position, Washington has signed Adrian Peterson to a one-year, $1.05 million deal, the veteran's minimum. He'll be given a shot to take the starting running back spot, but there is also a real chance he does not make the team. We shall see. Last year wasn't great. It was a disaster in New Orleans, but was better in Arizona, but still not great. Hopefully this go around will be better for Peterson's sake.
One of Peterson's former teams, the Minnesota Vikings, signed a player who was surprisingly released over the weekend, but is very familiar with the style and scheme of Vikings head coach Mike Zimmer. That would be former Cincinnati Bengals safety George Iloka who was with Zimmer during Iloka's first two seasons. The deal is a one-year deal worth under a million dollars and only a $93 thousand signing bonus. Iloka is a good player and I'm sure Zimmer will use him in a variety of positions including linebacker. Zimmer said recently that linebacker depth was a concern for him. One of the best defenses in the league just got that much better.
One NFL preseason game tonight. The Philadelphia Eagles are at the Cleveland Browns at 8 PM ET on FOX.
Coming up Friday (maybe): Reaction to top stories in the sports world
---