"The Stack" 9-4-18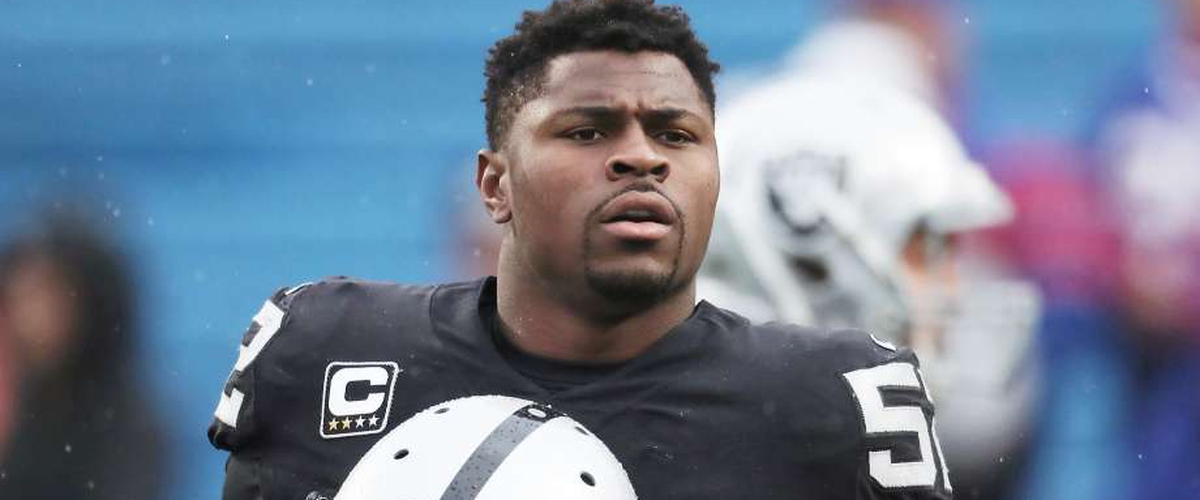 Khalil Mack, in a stunning turn of events, is now a Chicago Bear. The Bears traded two first round picks for Mack and a 2020 second round pick on Saturday, stunning the NFL world.
The Stack is back on this Tuesday and hopefully everyone had a good Labor Day weekend. We have a number of different topics to get today, but first Bryson DeChambeau won the Dell Technologies Championship in golf, his second tournament in a row and Roger Federer, the two seed in the U.S. Open, was upset by someone named John Millman. No offense to Millman, but I had no idea who this guy was before the match nor do I know much about him after the match. Now let's get right to everything else in "the stack" for today, Tuesday, September 4th:
Kaepernick to star in Nike ad
Colin Kaepernick's collusion case against the NFL was allowed to proceed last week (good), but that isn't the biggest news for Kaepernick in this last week. Nike's "Just Do It" campaign will feature Kaepernick, along with several other athletes including Odell Beckham Jr., Shaquem Griffin, Lacey Baker, Serena Williams and LeBron James. The caption for Kaepernick says the following, "Believe in something. Even if it means sacrificing everything." That could not fit Kaepernick's situation more to a "t" than what has happened to Kaepernick. Everyone knows by now that Kaepernick started taking a knee during the national anthem to raise awareness to social injustices though that message has largely been lost to the group on the other side screaming that he is disrespecting the flag.
For Nike, this is a bold move. It will anger those that believe Kaepernick and others are disrespecting the flag and could very well cause a boycott, at least a temporary one. However those that understand what Kaepernick is doing may be more emboldened to buy Nike apparel. This is Nike's 30th anniversary of the "Just Do It" campaign. This is the kind of splash that should perhaps be made with a big anniversary. Kaepernick signed a deal with Nike in 2011 so it shouldn't necessarily be a surprise that he is being featured in this ad campaign. Very few athletes encapsulate that "Believe in something. Even if means sacrificing everything" than Kaepernick who has lost his NFL career (unfairly in my opinion) due to his beliefs of trying to raise social awareness to legitimate issues. Hopefully this works out for Nike. It has certainly created a firestorm that I'm sure the company was well aware of.
Week 1 college football thoughts
Week one of college football is in the books. It was a largely boring weekend in terms of games. Teams like Oklahoma, with their 63-14 win over a good Florida Atlantic team, impressed while for four teams, their College Football Playoff hopes have taken a significant hit.
#23 Texas inexplicably lost to Maryland for a second straight year 34-29. Yes there was a weather delay, but don't blame that on Texas losing. And yes, Maryland players were playing their first game since Jordan McNair's death and with all of the controversy surrounding the program they were perhaps playing a little more inspired, but make no mistake about it, this was/is a Texas team that is expected to do a lot this year. Some considered them a fringe playoff team. This loss all but takes them out of consideration unless they run the table going forward and considering they still have a non-conference game coming up against USC plus games with Oklahoma, TCU and West Virginia in Big 12 conference play, that seems unlikely.
#14 Michigan's playoff hopes also are life support after week one, again in my opinion, after losing to #12 Notre Dame 24-17. Quarterback Shea Patterson was largely ineffective and that vaunted Michigan defense did not play well in the first half (the second half was largely improved by allowing some 75 total yards). With a difficult conference schedule that includes games against Michigan State, Penn State and Ohio State, I don't like Michigan's chances.
For those that thought that the U (Miami (FL)), is back, #25 LSU shut that down Sunday night with a significant 33-17 beatdown of the #8 Hurricanes. The Hurricanes looked sloppy and LSU's
defense and run game were once again strong.
Washington may have had the most impressive loss, if there is such a thing. For most of that game against Auburn, they were the better team. Unfortunately, they gave up a late touchdown and lost 21-16. Highly unlikely that a two loss team makes the playoffs, but out of all teams with playoff hopes that suffered a loss in week one, I think Washington should feel the best.
Finally on Monday night, #20 Virginia Tech blasted #19 Florida State 24-3 for their first win in Tallahassee since 1974. Tech's defense was incredibly strong forcing five turnovers. It didn't help that Florida State was sloppy, but man what an impressive opening game of the year for Virginia Tech. I'm just waiting for that in explicable loss to happen. Not a great way to start the Willie Taggert era for FSU.
We'll have more college football thoughts on Wednesday as we look ahead to week two.
Khalil Mack thoughts
The trade that rocked Labor Day weekend is still a source of befuddlement for many football fans, especially Raiders fans, as Saturday the Oakland Raiders traded Khalil Mack to the Chicago Bears for two first round draft picks, one in 2019 and one in 2020. They also received a third round pick in 2020 and a sixth round pick in 2019. Yet, the Bears somehow fleeced them by getting a 2020 second round pick and a conditional fifth round pick in that same year in additional to getting an all-pro player. Um, what?! The Raiders just gave up potentially a once in a generation type of player. Mack has been sensational. Yes, money is always a concern, but how can you let a player of Mack's caliber go for two first round picks that will forever be compared to Mack and his production. For the Bears, they now have a scary defense. Mack joins a defense that has Leonard Floyd and rookie first round pick Roquan Smith. They were a top ten defense last year. They'll be even better this year. The offense is still a work in progress. I still don't have faith that Trubisky can lead the team and while they have some weapons, I don't know if it's enough, especially not enough to challenge the Green Bay Packers and Minnesota Vikings, at least not this year. Next year though, I think they can be right up there if they can get a big name free agent or two.
Coming up Wednesday: College football weekend forecast plus other top stories in sports
---