"The Stack" 9-21-18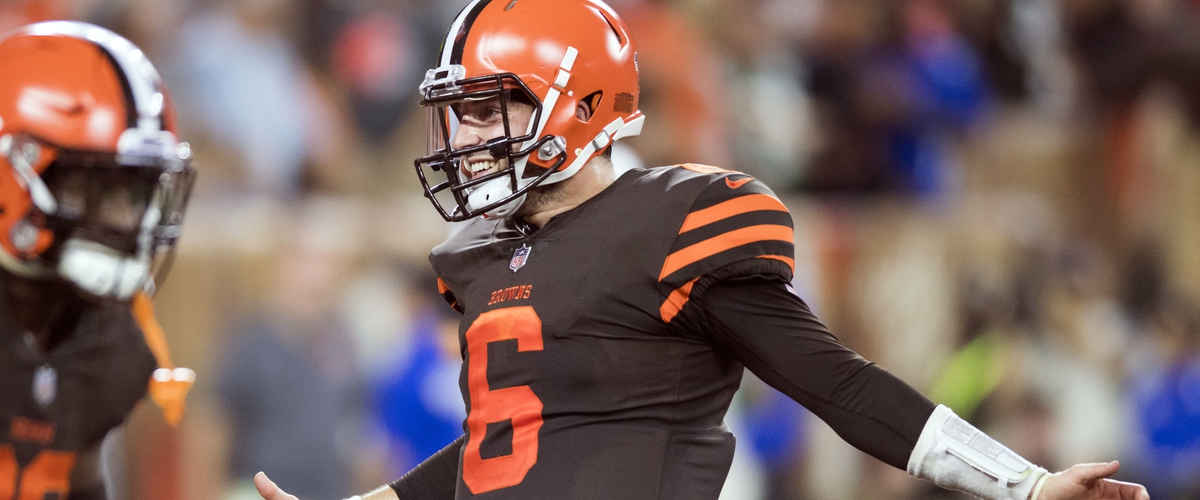 Baker Mayfield, the number one overall pick in this year's draft, came in for an injured Tyrod Taylor and led the Cleveland Browns to their first win in 635 days, with a 21-17 win over the New York Jets.
The Stack is back on this Football Friday and our picks this year have not been good so far, 16-14-2. Hopefully this week will be better. But hey, we are off to a great start this week and congratulations to the Cleveland Browns, the city of Cleveland and Browns fans everywhere following Baker Mayfield coming in and leading the Browns to a comeback 21-17 win over the New York Jets. Mayfield was brilliant. Free Bud Light for everyone. Dilly Dilly! First win in 635 days. There are a number of games that are 50-50 this week (really Stacken, aren't they all?). We'll see how it all goes down in week 3 in the NFL so let's get right to some picks and predictions in "the stack" for today, Friday, September 21st:
1-1 New Orleans Saints @ 1-1 Atlanta Falcons 1 PM ET FOX
The Saints have not looked good through two games and those two games have been at home! The Falcons have their own issues, mainly with injuries on the defensive side, but now with offensive lineman Adam Levitre out with a triceps injury, it's going to be a tall task. Matt Ryan looked great last week. In a rivalry game, I'll go with the home team.
Prediction: Falcons 30 Saints 27
2-0 Denver Broncos @ 1-1 Baltimore Ravens 1 PM ET CBS
Going into the season, I was set on picking the Broncos in this game, but they haven't looked all that impressive. The Ravens didn't look great against the Bengals last week, but with an extra few days to prepare, I think they pull out a close one at home though it would not shock me to see the Broncos come out victorious.
Prediction: Ravens 23 Broncos 20
2-0 Cincinnati Bengals @ 1-1 Carolina Panthers 1 PM ET CBS
Doesn't sound like running back Joe Mixon or defensive end Michael Johnson will play in this one. That's some bad news for the Bengals. Losing those two is going to hurt the Bengals chances in this one. I'm not entirely sold on the Panthers yet and I probably would pick the Bengals if they were at full strength, but I'll take the Panthers in a close one.
Prediction: Panthers 27 Bengals 23
0-2 New York Giants @ 0-2 Houston Texans 1 PM ET FOX
Not sure which team has been more disappointing through two weeks. I'll go with the Giants since their offensive line is terrible and they can't score at all. The Texans defense hasn't been able to get to the quarterback yet, but they will in this one. Deshaun Watson and company will have a good day too.
Prediction: Texans 27 Giants 10
1-1 Tennessee Titans @ 2-0 Jacksonville Jaguars 1 PM ET CBS
Not sure if the Jaguars have been told (they have), but the Titans swept them last year. Unsure if Marcus Mariota plays in this one for the Titans, but with him or without him (without him Blaine Gabbert starts), I'm going with the Jaguars in this one.
Prediction: Jaguars 23 Titans 13
1-1 San Francisco 49ers @ 2-0 Kansas City Chiefs 1 PM ET FOX
Listen, Jimmy Garoppolo is great, but I am not taking him over the red hot Patrick Mahomes in his first home start. Chiefs roll.
Prediction: Chiefs 37 49ers 20
0-2 Oakland Raiders @ 2-0 Miami Dolphins 1 PM ET CBS
Raiders head coach Jon Gruden lamented early this week that good pass rushers are hard to come by. He had one. He got rid of him. Now his team is currently winless and they will continue to be winless while the Dolphins remain a surprising undefeated 3-0.
Prediction: Dolphins 27 Raiders 20
0-2 Buffalo Bills @ 1-0-1 Minnesota Vikings 1 PM ET CBS
Hmmm…worst team in football against arguably the best defense in football. For sure one of the best teams in football. New kicker, angry after a tie. Yeah, I'm going with the Vikings. If they give up more than 10 points I'll be unhappy.
Prediction: Vikings 34 Bills 10
1-1 Indianapolis Colts @ 1-1 Philadelphia Eagles 1 PM ET CBS
Carson Wentz makes his long anticipated season debut for the Eagles. Their offense hasn't looked great through two weeks. The Colts looked good last week against a bad Washington team. Andrew Luck and company will need to be great to beat the Eagles even though the Eagles have issues at the wide receiver position. They'll win. Dare I call a Dakota connection of Wentz to Goedert? Calling it.
Prediction: Eagles 27 Colts 20
1-0-1 Green Bay Packers @ 1-1 Washington 1 PM ET FOX
Packers quarterback Aaron Rodgers said earlier this week that he has fear that his knee injury could get worse. I don't see Washington making it worse. If they couldn't beat the Colts last week, they sure has heck aren't going to beat the Packers. And those twenty to thirty thousand empty seats? They will all be filled with Cheeseheads making FedEx Field feel like a mini Lambeau.
Prediction: Packers 31 Washington 16
1-1 Los Angeles Chargers @ 2-0 Los Angeles Rams 4:05 PM ET CBS
The battle for L.A. Actually it has already been won…by the Rams. Have you seen a Chargers home game? The Rams have outscored their opponents 57-0 the last six quarters. They won't pitch a shutout in this one, but they will secure the victory.
Prediction: Rams 27 Chargers 14
1-1 Chicago Bears @ 0-2 Arizona Cardinals 4:25 PM ET FOX
If the Bills are the worst team in football, the Cardinals are the second worst team in football and it's not even close. What has happened to their offense? I don't think Trubisky is going to have a great day passing, but the Bears will have more offense and their defense will wreak havoc on Sam Bradford and company.
Prediction: Bears 23 Cardinals 10
1-1 Dallas Cowboys @ 0-2 Seattle Seahawks 4:25 PM ET FOX
The Cowboys beat a bad Giants team last week, but they beat up Eli Manning and that bad Giants offensive line. They go against another terrible offensive line this week in the Seahawks, but this is the Seahawks home opener and I think they do just enough to get the job done.
Prediction: Seahawks 20 Cowboys 16
1-1 New England Patriots @ 0-2 Detroit Lions 8:20 PM ET NBC
Hmmm…Bill Belichick against a former assistant who is coaching a team that has been a disappointment through two weeks I'll take Tom Brady and Belichick any day.
Prediction: Patriots 31 Lions 20
Coming up Monday: Week 3 Sunday NFL action plus MNF preview
---