"The Stack" 9-25-18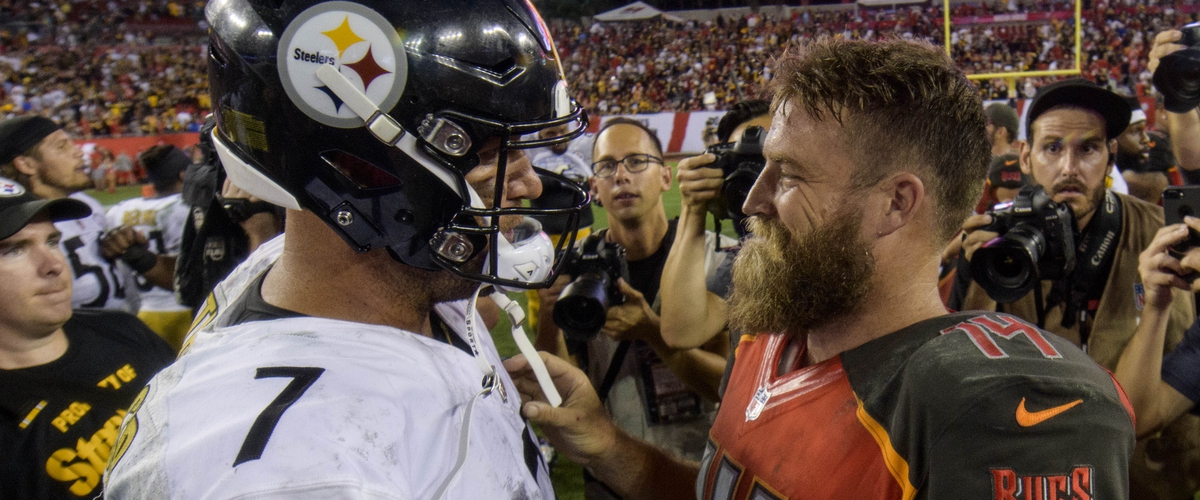 Ryan Fitzpatrick threw for over 400 yards becoming the first quarterback in NFL history to have three 400+ yard games to start a season. Ben Roethlisberger and the Steelers though would get the win 30-27.
The Stack is back on this Tuesday and we have a few things to talk about. NBA Media day was Monday. Yeah, who cares. Football, golf and more football so let's get right to "the stack" for today, Tuesday, September 25th:
Steelers outlast Bucs in wild MNF game
The Pittsburgh Steelers had a lot of noise and a lot of distractions going on this last week. They put together a pretty good effort despite a dozen penalties and held on for dear life as Fitzmagic and company came up just short. The Steelers picked up their first win of the season 30-27 over the Tampa Bay Buccaneers. Ben Roethlisberger was great in the first half throwing for 262 yards. He would end up throwing for over 300 yards and had a huge completion late to JuJu Smith-Schuster to seal the deal. James Conner ran decent for the Steelers and they had to overcome Ryan Fitzpatrick throwing for over 400 yards (411 yards to be exact). They did pick him off three times in the first half, returning one all the way for a touchdown. Don't blame Fitzmagic though. His wide receiver and offensive line didn't help much either in the first half. The Steelers did everything they could do to hang on in the second half and still nearly lost, but Fitzpatrick threw three straight incompletions with just under three minutes left and the Bucs never got the ball back. The Bucs should still stick with Fitzpatrick. Don't go back to Jameis Winston. The Steelers got the win, but there are still issues. Chris Boswell is not kicking well. He missed a field goal and an extra point. That's not good news for the Steelers, but they picked up a much needed victory Monday night.
Tiger wins Tour Championship
For the first time in five years Tiger Woods is a champion again. Woods won the Tour Championship, the last tournament of the FedEx Playoff, with a score of eleven under (-11), two strokes ahead of Billy Horschel. Woods had a comfortable lead for much of the day, but bogeys on fifteen and sixteen put his win in some doubt. He recovered though to par the final two holes to win his first tournament since 2013. Justin Rose ended up winning the FedEx Cup, but no one really cares about that. They care about Tiger. We care about Tiger. Everyone cares about Tiger. Ratings were up over 200 percent. The throngs of people that were walking the fairways to see Tiger was something to behold. Golf is better when Tiger wins. People want to see Tiger succeed. Sure some want to see him fail, but the majority I feel like want him to win. I am thrilled that I got to see Tiger win this tournament and I hope he wins at least one major next year. It is not out of the realm of possibility, especially after what we saw the last month. Congrats Tiger. Here's to more wins!
College football reaction
Of course the biggest upset of the college football season would have to happen to my Virginia Tech Hokies. The #13 Hokies went on the road to Richmond to take on Old Dominion and promptly lost 49-35 thanks to a monster fourth quarter by Old Dominion that saw them score 28 points. To add injury to insult, quarterback Josh Jackson has a tibia injury and is out indefinitely. Ouch! Poor, poor Hokies.
#1 Alabama rolled by #22 Texas A&M 45-23 and head coach Nick Saban wants the media to write about the issues plaguing his team. What aren't they doing well? Nothing. They aren't doing anything wrong. They just aren't.
There were a few close calls. USC barely beat Washington State Friday night, but ended up winning 39-36. #5 Oklahoma struggled with Army, but won 28-21 in overtime after missing a field goal at the end of regulation.
Texas appears to be back. They beat #17 TCU 31-16 for their third straight win since that opening day loss to Maryland. Nebraska still sucks. The winless Cornhuskers lost to #19 Michigan 56-10. Ouch! #14 Mississippi State got their doors blown off by Kentucky 28-7. Kentucky is 4-0. Both them and Duke are ranked. And no, we are not talking about basketball. We're talking football.
And then there was what happened in Eugene, Oregon, where College Gameday was. The Ducks had a 24-7 lead and were knocking on the door in the third quarter when a fumble happened and was recovered by Stanford and returned for a touchdown. Momentum swung heavily in favor of Stanford and they would wind up winning 38-31 in overtime. What a game. Poor Oregon!
We'll see what week five has in store when we do the college football kickoff in a couple of days.
Everson Griffen has health concerns
Minnesota Vikings defensive end Everson Griffen had an incident at a Minneapolis hotel Saturday night and there was a report out there that he tried to break into a teammates' house and was arrested. That ended up not being true, but this does not underscore the fact that Griffen is suffering from some sort of mental illness and needs help…soon and fast. He wasn't at the game on Sunday which led to rumors. At this point, Griffen's health is the first and foremost concern for the team. It would really stink though if Griffen is out for an extended lengthy of time. As long as he can come back healthy at some point, that's all that matters. Hopefully things turn out okay.
Coming up Thursday: College football weekend forecast, TNF and more.
---