"The Stack" 9-7-17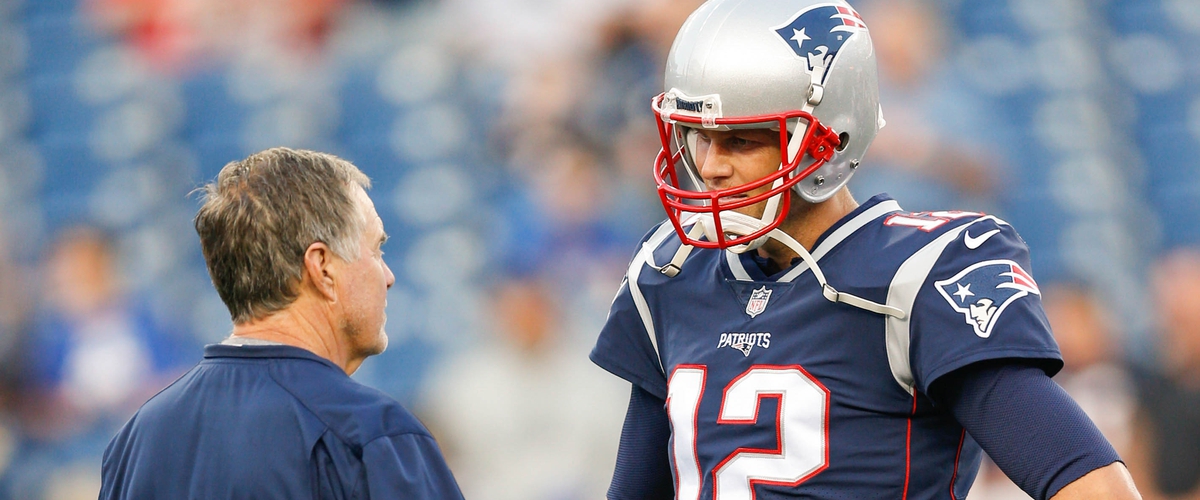 Tom Brady and Bill Belichick and the New England Patriots are the defending Super Bowl champions and they are ready to go for a sixth title.
The Stack is back on this Thursday and football is back! The NFL I mean. This season does not seem to have nearly as much intrigue for me, I don't know about you. Waning interest in the actual season may be due in part to the rules the NFL keeps trying to implement, their inconsistency in rulings like with Ezekiel Elliott and perhaps a few other reasons. Having said all of that, we still have a very good preview ahead for the upcoming NFL season. Division previews, playoff predictions, maybe an MVP vote and more so let's get right to it with our 2017-18 NFL season preview in "the stack" for today, Thursday, September 7th:
2017-18 NFL season preview
The last meaningful game we saw last year also was the biggest comeback in Super Bowl history less we remind Atlanta Falcons fans of that painful loss to the New England Patriots. You may recall the Falcons had a 28-3 lead in that game. That coincidentally (or not, most definitely not) happens to be the number of diamonds in the Super Bowl rings the Patriots have. Lots of guys changed teams during free agency. The Patriots reloaded unlike any team we've ever seen. They got cornerback Stephon Gillmore from the Buffalo Bills and traded for wide receiver Brandin Cooks from the New Orleans Saints. They picked up linebacker David Harris from the New York Jets and got defensive end Kony Ealy from the Carolina Panthers though they have since released him. Running back Adrian Peterson has a new team. He joined the Saints and maybe you've heard they open up on Monday Night Football against Peterson's old team, the Minnesota Vikings, in Minnesota. Colin Keapernick is still unemployed. That is surprising/not surprising. Wish he could get a job. Elsewhere players are continuing to take a knee for the national anthem. A lot of people have a problem with it. I am okay with them doing it, but I probably wouldn't do it. I understand what they're doing. I also understand I am in the minority with that decision as I am in the minority in thinking that the Patriots have a better than 50 percent chance of finishing the regular season undefeated despite losing wide receiver Julian Edelman to a torn ACL in the preseason. We'll get to the Patriots more in a moment.
There are plenty of new head coaches in the league. Sean McVay, the offensive coordinator for Washington, is now the youngest head coach in the NFL as the head coach of the Los Angeles Rams. The other team in L.A., the Chargers, also have a new head coach in their less than 30,000 seat stadium. That would be Anthony Lynn. Elsewhere in California, the San Francisco 49ers have a new head coach. It's Kyle Shanahan who was offensive coordinator of the Falcons last year (don't bring up the Super Bowl). The 49ers also made a surprise move with the General Manager position by hiring John Lynch. Doug Marrone had the interim tag removed with Jacksonville and is the Jaguars head coach. The Denver Broncos have a new head coach in Vance Joseph. He knows his defense. Sean McDermott is now the head coach in Buffalo and by the looks of it, the Bills are not all in it to win it this year and instead focused on the 2018 NFL Draft with six picks in the first three rounds. I think that just about does it. There are new GMs around as well. How long will they keep the current head coaches of the teams they now oversee? We'll have an interesting Black Monday next year I imagine.
AFC
East
Let's be real here. This division is the New England Patriots' to lose. I can't think of another Super Bowl team that has reloaded like the Patriots have. Think of all the guys they brought in. Cornerback Stephon Gilmore is really good. The Patriots brought him in from Buffalo. They traded for wide receiver Brandin Cooks from New Orleans. When the New York Jets released linebacker David Harris, the Patriots were there. I think there is a decent chance that the Patriots go undefeated this year. Their defense is going to be great and they still have that guy Tom Brady as their quarterback. He's pretty good I hear. Yes losing Julian Edelman does hurt, but Bill Belichick knows how to come up with a different game plan seemingly every week.
Honestly the rest of the division isn't even going to come close. The Miami Dolphins are going to be the most competitive even with Jay Cutler as their quarterback. Remember he had his best year with Adam Gase as his offensive coordinator in Chicago. Gase of course is the Dolphins' head coach. There are offensive weapons in wide receivers Jarvis Landry and DeVante Parker and running back Jay Ajayi. Their defense is pretty decent as well though their secondary may be a concern. As for the Bills, they will be okay, but losing Gilmore in free agency hurts. Trading away wide receiver Sammy Watkins also will hurt the offense though Watkins was never able to stay healthy for a full season. Jordan Matthews is not going to be able really threaten defenses like Watson would. And have you seen the Jets? They are playing for a top three NFL Draft pick next year. Their defense is decent, but their quarterback situation is a disaster and they don't have a lot of offensive weapons either.
Predicted AFC East Standings
1. New England Patriots 14-2
2. Miami Dolphins 7-9
3. Buffalo Bills 5-11
4. New York Jets 2-14
North
Fear not Steelers fans. Your running back Le'Veon Bell has returned. He skipped training camp waiting to sing that franchise tag, made the Steelers front office a tad bit upset, but he is back. Know who else is back? Wide receiver Martavis Bryant. Between Bell, Antonio Brown and Bryant, how are you going to stop them? Oh yeah, they still have Big Ben. The defense will be good. This Pittsburgh Steelers team is going to be tough to beat.
I am very intrigued by Cleveland. They are going really young letting go of veterans like cornerback Joe Harden (oh by the way he is with the Steelers) now. I like the youth on this team. They have a lot of good young talent, but that's just it. They are young. Very young. Head coach Hue Jackson has the youngest roster in the league. It's going to be a year of tough growing pains, but with Deshone Kizer and some decent offensive weapons plus Jabril Peppers who will likely be all over the field perhaps on both sides of the ball, things may just be looking up in Cleveland.
I view Cincinnati and Baltimore as neck and neck. The Ravens have suffered a lot of injuries in training camp and this offseason. Joe Flacco is going to start week one, but the (elite) quarterback hasn't played in a game or practiced for quite some time. That back issue may be a factor all this year. Supposedly this Ravens defense is really good. They've fallen a bit in previous years. I need to see just how dominant they are. The Bengals are intriguing because of the rookies they've added on offense in John Ross and Joe Mixon, but Ross is somewhat injury prone and Mixon is going to be sharing carries with Jeremy Hill and Giovani Bernard, at least for a little while. Can tight end Kyle Eifert stay healthy? Will A.J. Green remain dominant? I say so. I give the Bengals a better chance at making the playoffs, but I think defensive depth and injuries on offense are going to set them back a bit.
Predicted AFC North Standings
1. Pittsburgh Steelers 13-3
2. Baltimore Ravens 8-8
3. Cincinnati Bengals 7-9
4. Cleveland Browns 4-12
South
I've long been on the Tennessee Titans bandwagon for this year. In fact I may be driving this wagon. Let's call it a bus. In a very short amount of time, they have assembled a really good team. Marcus Mariota is a legit dual threat quarterback. He has weapons to help him in the passing game in tight end Delanie Walker and wide receiver Eric Decker, Corey Davis and more. Their defense is pretty good too and you really can't name a lot of them. I like Tennessee this year, but they have struggled to win within the division. Which is why Houston is going to be right there with them. The Texans defense, particularly the defensive line with J.J. Watt and Jadeveon Clowney is among the best in the NFL. DeAndre Hopkins is a good wide receiver. Lamar Miller is a good running back. Plus they are playing for the city. Unlike the New Orleans Saints who were displaced by Hurricane Katrina and had to play home games in Baton Rouge and San Antonio, the Texans still get to play at home. They are playing for their city in the wake of the destruction left by Hurricane Harvey. The one looming question hanging over them this year is the quarterback position. Is Tom Savage the answer? I have a hard time believing that, but he has to be better than Brock Osweiler. I think at some point we see Deshaun Watson this year.
I got bad news for Colts fans. Andrew Luck may not be back for quite some time and your backup quarterback situation is horrendous. Thank goodness the Colts traded for Patriots third string quarterback Jacoby Brissett. In Scott Tolzien we trust? That defense isn't going to be very good either. It is going to be a long year in Indianapolis I think. And until the Jacksonville Jaguars can show that they have gotten over the hump, I can't pick them to do well this year. They burned me last year. Their defense is going to be great, but unless Blake Bortles stops turning the ball over, this is going to be another down year for the Jags. It will be interesting to see how well rookie running back Leonard Fournette does though. I think he will do pretty well.
Predicted AFC South Standings
1. Tennessee Titans 11-5
2. Houston Texans 11-5
3. Jacksonville Jaguars 5-11
4. Indianapolis Colts 5-11
West
I was on the Raiders last year. And I am on the Raiders again this year. Had Derek Carr not gotten injured, I think they would have won the AFC West or at the very least reached the divisional round of the playoffs. Yes they are moving to Las Vegas here soon, but right now they are still the Oakland Raiders. Carr has Amari Cooper and Michael Crabtree to throw to. They got Jared Cook in free agency at tight end. Marshawn Lynch came out of retirement and is an ultimate boom or bust guy. If he can get over a thousand yards rushing this year, watch out AFC. The Raiders defense isn't that bad either. They are not as good as the Broncos or Chiefs, but they are definitely a more complete team.
I don't trust Trevor Siemian at quarterback for the Broncos. I just don't think the Broncos have a lot of explosiveness offensively. They will be in a lot of low scoring games because of their defense. That may explain why I like the Kansas City Chiefs slightly more. They have more on offense. Travis Kelce at tight end. Tyreek Hill playing at wide receiver this year and not returning kickoffs. Rookie running back Kareem Hunt has a ton of speed. Alex Smith is definitely a game manager at quarterback, but he can do what he needs to in order to win games. The Chiefs will be in the mix and then you have the Los Angeles Chargers. Joey Bosa is a stud defensive end and Philip Rivers still has something left in the tank. Injuries are a cause for concern, but their team shouldn't be too bad. It's just unfortunate they play in a division with three other good teams and will play in a 30 thousand seat stadium (if it even holds that much) that will not give them any homefield advantage.
Predicted AFC West Standings
1. Oakland Raiders 11-5
2. Kansas City Chiefs 9-7
3. Denver Broncos 9-7
4. Los Angeles Chargers 6-10
AFC Playoffs
1. New England Patriots
2. Pittsburgh Steelers
3. Oakland Raiders
4. Tennessee Titans
5. Houston Texans
6. Kansas City Chiefs
AFC Championship game
Oakland Raiders vs. New England Patiots
NFC
East
I'm not even going to lie, I don't like how I'm predicting the NFC in general. I truly think I am off the mark on at least four teams. The Dallas Cowboys could be one of them. Their defense last year wasn't supposed to be very good yet Rod Marinelli did a masterful job as defensive coordinator, but he has a lot of new young players on the team this year. Linebacker Jaylon Smith is fully recovered from that horrific knee injury he suffered in the Fiesta Bowl in 2016. I do think opposing defenses will be able to contain Dak Prescott and Ezekiel Elliott more this year and Elliott's six game suspension, whenever he serves will certainly hurt the team. I do not think the Cowboys return to the postseason this year, but I could be wrong.
I'm not sure what to make of the Philadelphia Eagles. They got quarterback Carson Wentz some new toys in wide receivers Alshon Jeffrey and Torrey Smith. They've looked good so far in preseason, but the regular season is a whole different ball game. Can Wentz take that next step? If they do, the Eagles could be in line for big things this year. Washington to me is a mixed bag. Yes Kirk Cousins is a good quarterback, but can Terrell Pryor put up the same numbers he did in Cleveland last year if not more? He should by my estimation. Not sure about the defense though. Can tight end Jordan Reed stay healthy? I doubt it.
That leaves us with the New York Giants. Pairing Odell Beckham Jr. with Brandon Marshall is going to be dynamite for Eli Manning and the Giants offense. Put Sterling Shepherd in the slot and if they can get a decent rushing attack from Paul Perkins, I see no reason why the Giants can't have the best offense in the division. The defense should be pretty good too. Landry Collins is the best safety in the game. The defensive line should be okay too.
Predicted NFC East Standings
1. New York Giants 10-6
2. Dallas Cowboys 9-7
3. Philadelphia Eagles 9-7
4. Washington 6-10
North
How can you not be terrified if you are a fan of a team that plays the Green Bay Packers of that offense? Ty Montgomery has had a whole offseason now to get better adjusted to the running back position. He is built like a wide receiver though. He could be in for a big season. A couple of years ago Martellus Bennett was a tremendous tight end with the Chicago Bears. He had an up-and-down year last year with the Patriots, but when he was on, he was on. Definitely an upgrade for Aaron Rodgers at the tight end position. The wide receiving group is great. The thing that continues to hold this team back is the defense. I don't know if they are going to be able to take that next step forward. Plus if you're a Minnesota Vikings fan, the thought of the Packers in the Super Bowl and winning the Lombardi Trophy in the Vikings stadium makes you sick to your stomach. As for the Vikings, they are the most difficult team to peg in the entire NFL. Their defense is one of the best in the NFL. It all comes down to the offensive line. It was terrible last year and they "upgraded" slightly in the offseason. If they can't give Sam Bradford time to throw the ball deep downfield or open up enough holes to get a running game established with Dalvin Cook and Latavius Murray, it is going to be another long up-and-down frustrating season for the Vikings and their fans.
I don't see the Detroit Lions having a great deal of weapons on the offensive side yet they will do just fine. Their defense is okay and their strength is along the defensive line. I have them for a much worse record than what they will finish. I just don't know with them and as for the Chicago Bears I have them with more wins than they probably deserve. Mike Glennon is not the answer at quarterback, but what other weapons do they have outside of running back Jordan Howard? You thought 3-13 was a long year last year for the Bears, it could be even longer this year yet somehow I'm giving the Bears more wins.
Predicted NFC North Standings
1. Green Bay Packers 12-4
2. Minnesota Vikings 9-7 (homer pick in me says 11-5 if the offensive line can stay healthy, 7-9 if the line is bad)
3. Detroit Lions 5-11 (I know it's not going to happen)
4. Chicago Bears 4-12 (I know, they will probably win fewer games)
South
Last we saw the Atlanta Falcons, they blew a 28-3 lead in the Super Bowl to the New England Patriots. Super Bowl hangovers can be very difficult to get over. Just ask the Carolina Panthers last year. The Falcons will be no exception. Their biggest loss was losing offensive coordinator Kyle Shanahan. Can Steve Sarkisian keep the offense high powered? I think he can. The Hard Knocks darlings, the Tampa Bay Buccaneers have a lot of reason to be optimistic. Mike Evans and Jameis Winston are both able to take that next step. Defense should be pretty good and when running back Doug Martin comes back they should have a very balanced offense. The problem for the Buccaneers though, apart from the lofty expectations is now they have to play sixteen straight games with their week one game against the Miami Dolphins moved to week 11.
The Carolina Panthers are going to be pretty good if Cam Newton can stay healthy. I am most intrigued by how they use running back Christian McCaffrey. He's a valuable weapon and he will be shifty coming out of the backfield. He is great at cutting. The Kalil brothers on the offensive line will help stabilize things there perhaps. The secondary is a tad questionable, but the defensive line should be good. The New Orleans Saints got rid of Brandin Cooks, but brought in Adrian Peterson. I'm not sure how the running back by committee approach is going to work. Peterson wants to exact revenge on the Vikings in week one and prove them wrong. Between the offense not being quite as explosive and the defense still struggling, I think it could be another long year for the Saints.
Predicted NFC South Standings
1. Atlanta Falcons 12-4
2. Tampa Bay Buccaneers 9-7
3. Carolina Panthers 9-7
4. New Orleans Saints 7-9
West
For weeks, if not months, I thought this division was the Arizona Cardinals' division to lose. If Carson Palmer can stay healthy, between him, running back David Johnson and wide receiver Larry Fitzgerald, the Cardinals have a potent offense. The Honey Badger and Patrick Peterson give the Cardinals a formidable defense. Recently however, the Seattle Seahawks have jumped back into the fold as the team to beat and the cherry on top was the trade that landed them defensive tackle Sheldon Richardson from the New York Jets. That is a very strong defensive line. The defense overall is absolutely solid. The offense could be pretty good too if Eddie Lacy can re-establish himself as a decent running back. This Seahawks team looks pretty special, but like the Vikings a lot of it stems on how well the offensive line performs. It was terrible last year. It's got to be better this year. It has to be.
The San Francisco 49ers are going to be better this with Kyle Shanahan now their head coach and John Lynch jumping from the television booth to the general manager role. I just don't think they have enough offensive weapons to be able to sustain a capable offense this year. As for the Los Angeles Rams, defensive tackle Aaron Donald continues to hold out and until Jared Goff shows that he can take that next step, it won't matter that they brought in Sammy Watkins or Cooper Kupp. Todd Gurley needs to have a resurgent year for the Rams to be better than people think. I think they will end up with more wins than I'm giving them, but they and the 49ers are difficult teams to peg.
Predicted NFC West Standings
1. Seattle Seahawks 12-4
2. Arizona Cardinals 11-5
3. San Francisco 49ers 3-13
4. Los Angeles Rams 3-13
NFC Playoffs
1. Seattle Seahawks
2. Atlanta Falcons
3. Green Bay Packers
4. New York Giants
5. Arizona Cardinals
6. Tampa Bay Buccaneers
The fan in me says to put the Vikings in there so I will give the Vikings the odds of making it in if their offensive line stays healthy. Plus the fact that Buccaneers have to now play 16 straight games is going to play a factor in their season and who makes it to the playoffs.
NFC Championship
Green Bay Packers vs. Seattle Seahawks
Super Bowl
Seattle Seahawks vs. New England Patriots
I have been beating the drum since free agency that the Patriots could go undefeated this year. I still give them about a 40 percent chance or so to do it and I know that is incredibly high. But the Seahawks get revenge and Blair Walsh makes a field goal that helps lift the Seahawks to the Super Bowl. That would also be stinging to Vikings fans.
Three years ago I said the Vikings would be playing in their home stadium for the Super Bowl so for my homer Super Bowl pick I present to you:
Minnesota Vikings vs. New England Patriots
If this happens to be the case, the Patriots will win. At least I will have seen a Vikings Super Bowl in my lifetime.
MVP
New England Patriots QB Tom Brady
Head coach of the year
Bill Belichick, New England Patriots
It's going to be a pretty intriguing season I feel like. How wrong will I be with some of these predictions? Very wrong. We're about to find out who surprises both good and bad. Enjoy the NFL season everyone. Oh and for the record, I have the Patriots taking down the Chiefs tonight 31-20 8:30 PM ET NBC.
Coming up Friday: Week 1 NFL picks and predictions
---