2018 Review > 2019 Yankees.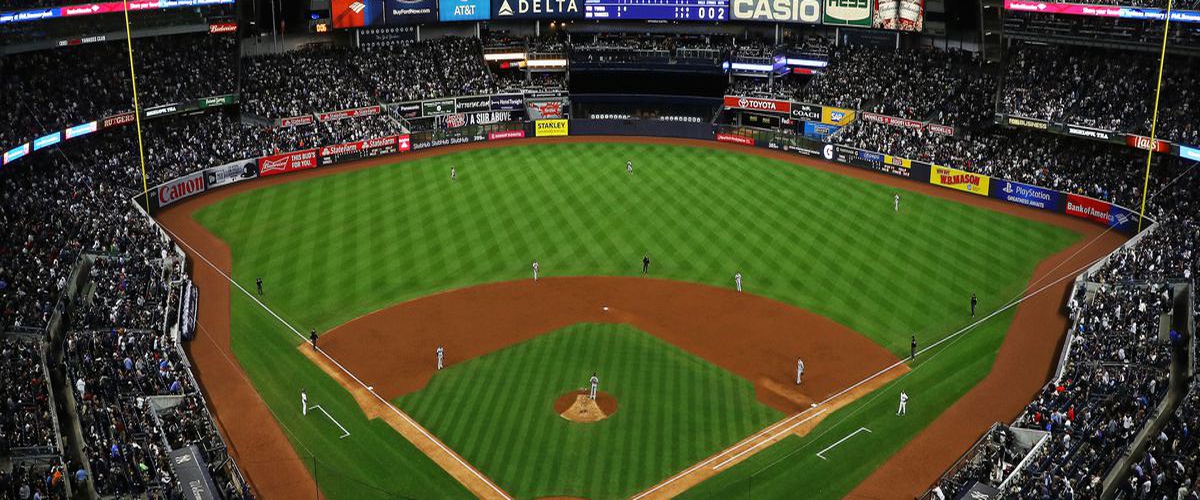 2018 started with such promise and outlook for my beloved Yankees of New York, sadly that came crashing down to earth last night after the 4-3 loss to the rival Boston Red Sox last night at the Stadium. After last season's trip to the ALCS, we kind of figured this year we would make it over the hump and get back to the fall classic. In theory that was great, but someone forgot to tell Boston, Houston, and Cleveland to just go out and suck this year. (No, I didn't forget to mention Oakland...)
So lets take a few mins to look back on 2018, and then MY thoughts on what to do for 2019. I like to do a player/position year in review and gradings, before i move on, so lets get this out of the way first.
CATCHERS
Gary Sanchez - Lets start with the guy most of us (99.9%) figured was primed for the biggest year out of anyone on the team not named Giancarlo. Gary "Best Pure Hitter on the Team" Sanchez had by all means, a miserable year. Gary's final regular season line (.186, 18, 53) is about as FUGLY as your gonna get average wise from an everyday starting major league player. The last time i can remember a regular (or semi-regular) player on the Yankees with such a low season ending average was Joel Skinner back in 1987 (.137) but that was in around 140 AB's. Keep in mind Gary regressed defensively this year, while still trowing out > 30% of baserunners behind the dish, his mental lapsees combined with his "Cano-ish" the game comes easy to me way, made him look Terrible. While he did turn it around both offensively/defensively in the post season, it was too little too late. I personally believe the pressure he put on himself to HIT, when looking up at the giant scoreboard and seeing .160 on the average line, messed with his head, and he couldn't dig himself out of the hole he was in. He was also hit with some crap luck, as he scorched some balls that were right at fielders. Gary also spent ample time on the DL, with what they say was a leg issue, IMO it was a Brain issue to boot. This overall tho was a crap year, no way to sugarcoat it. GRADE: D-
Austin Romine - I have honestly never been a big fan of Austin. Past seasons he has been barely serviceable as a backup, decent defensively, zero offensively. Something changed this season. Romine actually became a hitter, and honestly a pretty damn good one. His final numbers (.244, 10, 42) really don't measure up to how good he was for the time Sanchez was on the DL. He was good enough to get the masses to start an actual debate on if he should REPLACE Sanchez on a full time basis. As nice as that was, and helpful to us to boot, he slowed down and showed his weaknesses as September came. You honestly could not ask more out of a backup backstop, He doesn't have the arm Gary does, but can unleash a great throw. Good at blocking the plate, but play him too much and he just gets too beat up. GRADE: B
Kyle Higashioka - I like "Higgy" if just from the standpoint he's the kid that was up and down and up and down, and started off his career on a solid 0-27 streak, before his next 3 hits were all Home Runs :D .. You have to admire that. A classic AAAA catcher, nice kid, final line (.167, 3, 6). Only played in 29 games which is alot actually for a 3rd string catcher. GRADE: INCOMPLETE
FIRST BASE
Greg Bird - If there is 1 spot on this team that pained me personally all year is The Birdman. I have been a Huge fan, and honestly envisioned a .270/40 year out of him IF healthy all year. He just missed that projection, finishing (.199/11/38). He was buried so far on the bench by the end of the year, Jimmy Hoffa could have been found in the lineup easier (Thank You Mr Voit). So where did it go wrong? IMO, Lots of places. Once again Greg found himself on the DL, then upon his return just lost all the confidence he had. His swing was slow, couldn't catch up to any type of heat. I also believe he got caught up in the same thing Sanchez did, get up to the plate, see your average falling, and try too damn hard to do something. Bird's talent is IMO not questionable. He's a good defensive 1B, and has a swing designed for the Bronx. Not to mention he's the only true left handed power threat in the lineup. The season was lost upon the aquision of Luke Voit, and not to mention his stuggles are partially what kept Neil Walker around (who thought That would happen....). What happens from here? That's coming in a bit. I'm sorry Greg, I love ya, but even you would agree with this grade. GRADE: F
Neil Walker - I would have lost solid cash if i bet you Walker would be on the roster all year, let along play a pretty important role to boot. He started off horribly, wasn't even hitting his weight, before injuries (and Bird's lack of hitting) got him regular at bats, thus he put together a line of (.219/11/46).. He never really got it going average wise (the entire team outside of Andujar didn't), but he was very clutch. During one stretch he had a few games where late inning walks were catalysts for a couple of big wins. Defense was still pretty good, he was able to move around the infield and some outfield spots. He is what he is. If he would have been able to hit his career .268, his final grade would be higher. GRADE: C
Luke Voit - Did someone siphen some Shane Spencer DNA and create this guy in a Lab? Not only does he Look like Shane, he played like him. An impact that shook the team to it's core, with his power and attitude on the field. He literally turned Greg Bird from once thought of power bat, to WHO? Voit's final line (.33/14/33) in only 148 AB's was VERY impressive. I for one have some questions/reservations moving forward. Voit is not the best fielding 1B, hes built like a tank and doesn't have great range, but showed he was flexible on the stretch and serviceable at first.. Can he repeat his magic in 2019, or does he regress and show why the Cardinals traded him for Chasen Shrieve.. It will be very hard to reproduce thats a guarantee. For the purposes of the review tho, only 2018 counts. You wish he was Lefty/Lefty, but for what he did for us, I can care less if he batted standing on his head. GRADE: A
Tyler Austin - Made the team out of ST, had some flashes of power, and as usual hit the DL with regularity. Shipped to Minnesota in the Lance Lynn deal. Did about the same for Minnesota as he did here (.223/8/23 NYY .236/9/24 MIN in 1 more game for MIN). There really was just no place for him, since his car was a constant spot over the last few seasons in the "Reserved for Rx" spot in the parking lot. GRADE: TRADED FOR LYNN, SO D+
SECOND BASE
Gleyber Torres - What a season for the 21 year old kid, who would have been ROY if not for Andujar and Otani. A slash line of .271/24/77 which is the best overall season from a second basemen we have had since Cano was here. The pop came out of no where (he was projected to be a 10-15 HR guy), and his defense at second was pretty damn good considering hes a natural short stop. His strikeout numbers were a bit high (122K in 431AB) but thats the game today (which ill never understand). I'll take less pop and more gap hits to get that average closer to .300. Should cut down on his long swing and make more contact. Had a great feel for the game and worked well with Didi all season (after coming up). You could not have asked for more out of a 21 year old kid, playing in this town. The future is outstanding. Led the team in 3 run Home runs to boot. GRADE: B+
Tyler Wade - Given an opportunity to do something at the ML Level, just never got it going out of spring training. Final line of .167/1/5 in 23 games. Became a pinch runner. 23Ks in 70AB. Struggled when he went back to scranton. Good Glove and excellent speed, thought he would stick around more then walker. He didn't. His time may have been limited, but he was given a chance, albeit a small one. GRADE: D-
Ronald Torreyes - You just love when little Ronnie plays. He's one of those players who has the knack for doing something Nifty every game. (What I call "The Bubba Crosby Effect". Either its a clutch hit, or great defensive play that goes beyond his physical talents, you love having a guy like this on the team. Doesn't need to play consistently to perform, and his line .280/0/7 would have been better if not for the roster crunch/dl/personal reasons issue he went thru. He never got back to the majors after Walker remained and Drury was still here.. This grade reflects on while he was with us. GRADE: B
SHORTSTOP
Didi Gregorious - Still perhaps Brian Cashman's greatest "Move". This trade has paid off in dividend over and over. Had one of the best April's I have ever seen offensively, couldn't get him out. Then went into one of the worse swoons you can ever see. Defensively is as good as your gonna get. Range, speed, arm strength all major tools. Finished 268/27/86. If not for the late season DL, may have driven in 100 runs, and scored 100 as well (Finished with 89). One amazing overlooked stat, only 69K's in 569AB, which in today's game is RARE for a player with > 25HR. Could not ask for more out of Didi. Team Leader. If not for the crazy slump, would have been an all-star IMO. GRADE: B.
THIRD BASE
Brandon Drury - Feel really bad for Brandon. Came over from Arizona after being a starting player there and found himself injured and pretty much shat on. Played in only 18 Games before being sent to Toronto in the deal for JA Happ. Finished .176/1/7 with us (.154/0/3 with TOR). Spent a good portion of the season on the DL with concussion symptoms and vision issues, which is just horrible. I hope he can get healthy and resume his career properly being he's only 25. Even though he was brought here because i feel the Yanks thought Andujar was not ready or couldn't be trusted yet, his body bought us JA Happ which was a good deal. GRADE: TRADED FOR JA HAPP SO B.
Miguel Andujar - Possible rookie of the year with a slash line (.297/27/92). Led the team in Average and extra base hits. Some complained about his defense, but IMO was better then most anticipated. His throwing seemed to be most of his issues, as he drops down on the throw causing it to flatten out and be offline at times. Struck out < 100 times (97) in 606 AB. Showed poise and maturity all season. Has some work to do in the off season to improve defensively but remember, he is only 23. I would like to point out, Manny Machado in his first full season (He was 20), .283/14/71, leg the AL in doubles with 51. Andujar tied for 2nd (Bregman 51). Keep that in mind moving forward. Was 1 point off from leading team in SLG PCT (Judge .528 / Andujar .527). If he can fix the Defensive questions, not only will the grade go up a notch, but he will be an All-Star. GRADE: B.
Andy Hechavarria - A defensive specialist that hit more then i thought he would. Came over late in the season, and made the best defensive play of the post season at 3B. Played in 18 Games plus the post season as a defensive replacement. GRADE: INCOMPLETE.
OUTFIELD
Aaron Judge - What can you say. #ALLRISE. While we didn't get to rise 50+ times this year, due to injury (Missed 8 weeks for a fractured hand), his final line (.278/27/67) plus the fact he was pretty much the only one who hit anything in the post season, showed you just how special a talent he really is. Defensively a fixture in RF (the LF thing didn't last long), and his Arm is the best RF arm the Yanks have had since Jesse Barfield. Strikeouts will always be there, but he's a generational talent, so you live with them. Can literally carry a team by himself when he's hot. Not a single ballpark can contain him. While he didn't have many monster blasts this year as compared to last, he was still the #1 reason people turned in to watch Yankee Baseball. Avoided the softmore Jinx and proves he is the real deal. GRADE: A.
Giancarlo Stanton - The masses are drinking the hater-aid after Stanton had a horrible post season. They forget so quickly how another famous mega paid superstar did the same thing (Mr. Arod) until 2009's break out. Giancarlo had a rough time, started off extremely show and never really got into an extended hot streak, faltering his season in comparison to his 2017 MVP Season in Florida. While he led the team in RBI's, it felt very minuscule compared to what was expected. His final line (.266/38/100) was good, but not anything spectacular. The LF Experiment came and went without much fan fare. Could the lack of being in the Field hurt his plate production? Possible, some claim when they dont play the field they never feel quite right as a DH. Personally i think it was the assumption of 50-60HR in Yankee stadium, combined with the most closed stance you can possibly have and still hit the ball with any kind of regularity. I know you love that RF Porch, but you don't have to literally be pointing to it every at bat either). He's only 28, kind of young to be a full time DH, but he has to figure some stuff out and cut down on the K's (211). Some things to consider though. Scored 100 runs (102) for only the 2nd time in career. Drove in 100 for the Third Time. Career .268 hitter, hit .266. Played > 150 games for 3rd time in career. Expectations withstanding.. GRADE: C-
Aaron Hicks - A pleasant surprise, mixed with the obligatory 600 DL stints. Can never blame anyone for injuries (unless your Johnny Knoxville), but Aaron is always straining something. Oblique, Groin, Hamstring whatever can be strained, at some point it will be. Hit a career best 27 Homers, 79 RBI, in 480 AB's. Has one of the best OF arms in the ML, and isn't afraid to use it or show it off. A switch hitter who for some reason stands way out in the RH box vs. the Left, which causes him to be very susceptible to the outside pitch. Gets on base (90 BB) but wish he would cut down on the overtly long sweeping swing sometimes, which led to his .248 average, down almost 20 points from last year. Didn't have as many extra base hits (18 doubles, 3 triples) as you would like to see from a guy that hit at the top of the lineup for most of the season. Overall he impressed me, and surpassed my expectations this year. What he did show, is he deserves to be in the lineup everyday. GRADE: B-
Brett Gardner - The workhorse, the vet, the tough as nails guy who always seems to be in the right place and the right time. Problem was he never really got it going this year. At age 34 you have to wonder if the slowdown in his career has started. Batted a career low .236, with 12 HR and 45 RBI. Went from leadoff to the 9th spot literally over night in the order. Still the fastest Yankee on the bases, stole 16, but we all know was never a great base stealer.. gets horrible reads off pitchers. Still capable of gold glove defense and had his usual accurate as a pin arm. His OBP Suffered to a .322 clip, the lowest of his career (since his rookie year). A classy guy who you love having on your team, is this the end? He is a free agent. GRADE: C-
Clint Frazier - Poor Clint. When Judge went down, really had the opportunity to come up and stick, unfortunately spent most of the year on the DL with concussion symptoms. Really dissapointing. Don't know his status going forward, but is thought to be in the plans for 2019, his stock obviously being at a low now due to said injuries. Showed flashes when he was here (Played in only 15 Games), and in limited time hit .265. Has to show better contact at the ML Level, for a guy with supposed Epic bat speed/wrists. Lets hope 2019 brings health first, the talent is there to follow. GRADE: GET HEALTHY.
Andrew McCutchen - A trade deadline deal brought "Cutch" to us, and he did fairly well. (.253/5/10 in 25G), all being said he's not the same guy he was in Pittsburgh, but at age 31 still has something left in the tank. Has drawn more walks then he has in the past (tho that disappeared in the playoffs). A free agent, there is said to be interested in re-signing him, but IMO i would rather see Frazier get his spot out there (If healthy). Gave us a boost and solidified LF in the lieu of Gardner not hitting late in the season. GRADE: C+
Shane Robinson/Jace Peterson/Billy McKinney. - I had hoped for McKinney as he has a Bird-esque swing, but no position. Played some 1B in scranton, but again no path as he did this when Bird was playing 1B. Shopped to Toronto in the Happ Deal. Peterson came and went in a flash, shipped to Baltimore (Poor Jace), and hit .195 in 200AB there. Robinson was getting alot of PT in the beginning of the Judge DL Stint, played in 25G, hit .143 with some pretty good defense. Grade all 3 combined: GRADE: AS USEFUL AS A SACK OF WET MICE.
STARTING PITCHERS (or lack there of).
Luis Severino - If i had to sum up Severino in one word, that would be: FRUSTRATING. For a guy who's talent level is right up there with the names Syndergaard, Kershaw, Verlander, something second half of the season was a total miss. There has been talk of possible tipping of pitches, and to makes a ton of sense. The tapes are going to have to be scrutinized (or someone pay Boston some money and ask him WTF is happening).. First Half of the season (14-2, 2.31) vs Second Half (5-6 5.57) is maybe the craziest seasonal split i have seen in my lifetime. Was he hurt? Doubtful, his velocity was at 98-100 consistently. There were days his slider was non existent and flat. He really mixed in his new changeup alot too (Splits were 33% most starts). His WHIP went from 1.00 to 1.43 first to second half. Its not his stuff, he HAS to be tipping pitches so slightly but so SIGHTly.. Case in point his last start in the playoffs vs Boston.. Everyone knew what was coming and when.. Its the only way your going to make solid consistent contact off a guy who's hitting 97-100 consistently. How can you grade an "A" first half and an "F" Second half? well.. GRADE: MINDBOGGLING
Masahiro Tanaka - Thoughts of Chien Ming Wang aside, when Tanaka hurt BOTH?!? hamstrings running the bases, we all feared the worst. He did tho put together the most complete/consistant year from any of our starters. (12-6, 3.75 156IP 159K) is a solid season. Won our only playoff game (IN Boston none the less). Is a big game pitcher. Dials it up a notch, but is still homer prone as well (25). Has one of the nastiest splitters in the league, but when its not on, flattens out like a pancake and gets hit hard. Has to up his agility/etc to not get hurt when batting. GRADE: B.
CC Sabathia - CC is like that old shirt you love, or that Jacket you pull out in the fall thats old but comfy. He goes out and does his thing, after reinventing himself from a strict power lefty, to a crafty veteran. His knee issues remain, but he handled it better this year, started 29 games. Overall a 9-7 3.65 year out of him is all we could have asked for at age 37. Still hits 92-93 on the gun, but mixes it with cutters, sliders, changeups all over the place that made the league hit the weakest contact off him, which is amazing. Didn't finish the year well with the last playoff game 3 inning start, but I personally have never believed in guys who toss in average upper 80s junk being successful in those situations (unless you name is Maddux). Rumor is he wants to come back, and hes a nice security blanket, but at this point you cant have any expectation going forward. You had a great year big fella for a guy your age, and have surprised many with your reinvention. GRADE: B-
JA Happ - A trade dealing acquisition for us, went 7-0 2.69 in pinstripes (17-6 Overall). 2 years removed from a 20 win season, he is going to be 36 and a free agent. With Jordan Montgomery on the shelf, you would like to see him back but at what cost.. Was brought in for the sole purpose of beating Boston, well. Boston beat him when it mattered. Didn't give up much at all for him. What he did do is help us fend off Oakland, that can't be overlooked. GRADE: B
Sonny Gray - I like Sonny. That being said I have no friggin clue how he won 11 games. Its reminiscent of when Hideki Irabu won 13 games for the 98 Yankees.. You say, well they won 100+ games, and he pitched in some, so he had to win a few... While Grey's numbers (11-9 4.90 130IP 123K) dont sound terrible, that 1.496 Whip is a Disaster. When he got hit, he got murdered out there. Always been what i call a "Max Effort" Pitcher. He has such a small frame that he has to literally throw his entire human existence into every pitch to get it up to speed, which in the past has led to that checkered injury history. Was he tipping pitches like Severino? Something is a miss with him, his stuff is too good (albeit some wildness) to be this hittable. The whole smiling thing after he comes out of a game he got rocked in gotta go. GRADE: D-
Domingo German - Showed flashes in his starts, then would get de-railed with one of those bad single innings. If you took those bad innings out of his starts where he would give up a crooked number, he would've had a stellar season. Overall 2-6, 5.57, 85IP 102K. He has the arm to be successful. He's only 25 and can grow more. I want to see more of him. Also is fairly homer prone (15). GRADE: C-
Lance Lynn - We don't really know what Lynn is. He starts a game, can throw a gem, then follow it up with 3 stinkers. He's hit or miss out of the pen. With us went 3-2, 4.14 in 54IP. Serviceable, but you also have to wonder how him not being signed in free agency before the season effected him overall.. (I dont think it affected him at all by the time we got him). He was pretty good with St Louis in the past, but at age 31 hes basically a .500 pitcher who can eat some innings. GRADE: MEH
Luis Cessa - I have no idea why we keep trying with Cessa. Has velocity, and thats about it. 1-4 5.24, career 5-11 4.71.. Its about time we pull the plug and try someone else from the minors. He's not good out of the pen, and hes another king of the "Bad inning".. aka Cessa threw 3 shut out innings, oh yea, but he gave up 5 runs in the 2nd. GRADE: DOGFOOD (W/ Gravy).
Jordan Montgomery - A truly lost season due to injury. Some compared him to a young Pettite, i think thats unfair. 2-0 3.62 in 6 starts, career will take some time to rebuild after TJ Surgery. Only 25, time is on his side. Really thought if healthy he could have won 14-16 games on this squad. GRADE: RECONSTRUCTION
Johnathan Loaisiga - I like this kid alot and came out of no where on fire. Then the injury bug bit him as it has in the past and he came back not quite the same. 2-0 5.11, im very curious to see what he is going forward. Is he Sam Militello reincarnated? GRADE: LAST NAME LOOKS LIKE LASAGNA.
RELIF PITCHERS
Chad Green - Went downhill from last season but still put up very good numbers. 8-2 2.50 75IP 95K 1.04 WHIP. The 6th inning guy. Thats the good. The bad is gave up 9 Homers in his 75 innings, too many. At least he found a role and should flourish in it for another season. GRADE: B-
David Robertson - A free agent, High Socks Dave is always a pleasure on your team.. A totally good guy, and had his usual good season, never complaining one bit. 8-3, 3.23 69IP 91K 1.03 WHIP. His ERA got inflated with some mid season thumps, but you trust him in any spot you put him in.. Still the David Blane of the bullpen.. Dunno how he gets out of trouble he gets into. GRADE: B
Dellin Betances - The reverse Severino. Went from early season purgatory, to late season #1 pen option. You know he has 2 pitches, Fastball, Slider. You know they are coming. You can't hit them. Still showed he can NOT be a closer. Something clicks off in the brain and just loses it in the 9th inning. 4-6, 2.70, 66IP 115K. Do you believe next year he will be with the Yankees for *gasp* 8 YEARS?? Thats an ETERNITY for a bullpen arm that is not a closer. (Remember when he was a starter and going to be the B&B boys with Banuelos).. If not for the 9th inning issues it would be a solid A. GRADE: A-
Aroldis Chapman - Chappy has been around so long now you feel like hes 38 and wonder when that 102 MPH Fastball will be there no more.. Well after his last DL stint, it kind of wasn't. He would hit 100, but this season i only saw him at 102-103 a handful of times. Went Slideriffic at times because oddly enough he felt it was the only pitch he could throw for a strike. 3-0 2.45 32sv 51IP 93K. Solid season, even with that balky knee. He doesn't have too many left in the tank. Even with that, only gave up 24 Hits in his 54 innings, his SO/9 at 16.3 is his highest since 2014 and second highest of his career GRADE: B
Zach Britton - I was very happy with this acquisition as Britton has been one of the best leftys in the game over the last few seasons.. Coming off a leg injury (ACL), it took him time to get his velocity and movement back, and i don't think he was all the way back all year. Tossed 25 innings for us, to a 2.88 ERA, but you saw some wideness and bad timing on homers allowed. Would love to see him back after a full offseason to rebuild arm and leg strength. I was gonna list him incomplete, but he tossed enough in big situations for us to earn a grade. GRADE: B-
Tommy Kahnle - Remember when we let Kahnle go cause he was wild, then he found 98-99 on the gun and became unhittable? Well the old Kahnle is back. Injuries caused a lost season, and not much more. GRADE: BALL 8.
AJ Cole - Suprised many when he came over from Washington and actually recorded Outs... Boone fell in love with him and used him all over the place. 3-1 4.26 in 38IP with 49K. Problem is, when he went south, he went Antarctic. I would have settled for maybe Rio, or even Brazil.. Nope, he went straight Penguin. GRADE: COLE SLAW.
Adam Warren/David Hale/Giovanny Gallegos/Steven Tarpley/George Kontos - Nice to see Warren back, then was shipped to Seattle where he did decently, overall had a nice season for a guy who couldn't get an out the year before for the Cubs. Hale came and went, had 10 nice innings for us, went to Minnesota. Gallegos rode the scranton shuttle so many times he had his own reserved spot at the bus depot, then shipped to StLouis for Voit. Kontos came and went about as fast as your average Taco Bell Order. Seven Tarpley made the postseason roster in the obligaroty Graham Lloyd spot, and propmtly pitched like a Wallaby. COMBINED GRADE: GOING FOR GLASS OF OJ, NONE LEFT, HAVE TO SETTLE FOR MILK.
Justice Sheffield/Chance Adams - Not enough there to properly grade, but I will say this.. Neither overly impressed me. Sheffield has promise, but when he came up late wasn't that insane pitching rookie i anticipated.. Adams had a down year in Scranton and could very well be headed no where unless he shows his form from last year. GRADE: 2019.
COACHING STAFF/GM:
Coaches: Didn't do anything to embarrass us. Loved Phil Nevin going batshit in the dugout, showing that fire. If anything, they didn't collectively keep the fire lit under Gary Sanchez's butt.. GRADE: STAY/FIRE DOES IT REALLY MATTER.
Manager: First year manager Aaron Boone had his ups and downs, yet won 100 games. I think any one of us could do the same with this bunch and get railed in the media just the same. Got completely out managed in the Playoffs vs Boston, chalk it up to inexperience if you want too, either was was ugly. You just hope he doesn't overcompansate the other way going forward and make things worse. Good guy with the Media, I dont think any other manager would have gotten more or less out of the current teams build. GRADE: B
GM: Brian Cashman - he built us a team that will be successful for years to come. Not every move works, but he's been better then most in the game, and has gotten more return on players then anyone in the game. Not getting Gerrit Cole is a blemish, as is the Sonny Grey trade (just based on his performance) but both those moves were at the time thuoght to be the right one. GRADE: A-
Well there you have it folks, my year end grades.. Lets now turn to what i believe they should do in this offseason to correct our dificieinces. A few things that should be said first.
-It's not the other GM's jobs to make US Better.
-You're not going to get something without giving up something of equal value in return.
-The luxury tax reset, so the books are potentially open.
-We are not getting Jacob deGrom.
Now that those factors are out, lets look at what was our weaknesses and places we can improve.
1. Starting Pitching. It all begins here and will eventually end here. You can't win in any era of baseball without quality starting pitching. The fact that our "Starters" couldn't get out of the 3rd inning in the post season is laughable. While this was attempted to be addressed last offseason, similar issues are here in this offseason. Lack of obtainable quality top flight starters. Free agency is not what it once was, when we were able to sign xyz because some smaller market team could not afford to sign him. Those days are gone forever. Collective bargaining, cable tv deals, and even the luxury tax took care of all that. Now there is only 2 ways to really obtain a top flight pitcher. The Draft. Trade. Most guys will not hit free agency, or if they do there either on the borderline of age or injury risk.
The 2018 Crop of Free Agents available we will look at (and pursue) are: (drumroll)
-Clayton Kershaw
-Patrick Corbin
-Dallas Keuchel
-JA Happ
-Charlie Morton
-David Price (Opt Out)
-Nathan Eovaldi
Thats it. Outside of Kershaw, there is no one on this list that is a true "difference maker", and even Kershaw has some extreme red flags that would make me as nervous as a cat in a room full of rocking chairs to sign. He is only 31, but has the back of a 51 year old. Patrick Corbin is my #1 choice of this crop, as I wanted him last offseason when it was said he may be a casualty of Arizona's Roster/Salary crunch. He's 29, has good stuff, Lefty, throws innings, and misses bats. I would not list him as a #1 starter, but he is a solid #3, can be at best a #2. Kershaw is going to set the market, Corbin's price will follow, he won't be cheap.
I am not a fan of Keuchel. Regardless of his past history with us, he's a soft tossing crafty lefty, who led the NL in Hits allowed (211 in 204ip). While his strikeout numbers were up slightly, so was his ERA (From 2.90 to 3.74) and think that arm is showing signs of usage. He has led the NL in Batters faced 2 of the last 4 years. Hard Pass on me.
JA Happ I would like to resign if he comes under 3 years. He is going to be 37, and with the sheer amount of fastballs he relies on, when his stuff starts to go, he's gonna fall hardcore. He was 7-0 for us post the trade, and laid an egg in the playoffs, but with Montgomery on the shelf til Probably August, he would be a good pickup and not cost anything but money.
David Price will not opt out of that Boston contract, even if they lit his apartment on fire. 4 Years / 127MM Left on that disaster.. OUCH.
Nathan Eovaldi is an interesting case, but I would honestly take a flier on one of our young kids then bring him back. That elbow tendon is held together with plumbers putty and chewing gum.. Yes he still throws 100 consistently, his K numbers were up some and he destroyed us all season, but you know what will happen. We give him 2 years, 5 starts in POP, DL again.
So long story short, Out of the Free Agent pitchers market, Sign Patrick Corbin. I have heard he wants to come to the Yanks, and he's a perfect fit IMO for our rotation.
The trade market is the next place you have to look. It's obviously gonna hurt, but as I said in my offseason preface, if you want something good, prepare to give something back (or at least make it look that way eh Cash??). After sitting and looking at teams and their respective rosters, there is not that many options here imo either. A few possibilities do arise, names that are familiar. Who am I looking at? Remember this, if a team is near contention, they are not going to trade valuable young controllable starting pitching.. Those of you who think we can get players like Blake Snell, or Mike Clevinger, just slap yourself. It's not happening. Have to look at the bottom dwellers who need young players and are rebuilding.
-Michael Fullmer (Detroit)
-Madison Bumgardner (SF)
-Luis Castillo (Cincinatti)
-Zach Wheeler (NY Mets)
-Steven Matz (NY Mets)
-Andrew Heaney (Anaheim)
-Reynaldo Lopez (White Sox)
Some interesting names on the list, how obtainable are some of these guys? Well some more then others, but it all depends on we are giving up to boot. Fullmer is name that made a lot of sense and was talked about much this past year. He's only 25, is coming off a really bad year (3-12, 4.69) but is only 1 year removed from a 10-12 3.83 season for a very bad Tigers squad. We could put a package together that can net us him in return and it shouldn't be all that bad. Few negatives.. He never has pitched more then 164 innings, or started more then 25 games in a season. Oh then there is that Knee issue.. (Oh not another guy with a bum knee...). Yes in his last start he lasted 5 pitches and ended his season with a tore meniscus which wound him up in the office of Dr, James Andrews.. You shudder when you hear that name don't you.. But its NOT for his arm, thankfully. That was the year before when he and a nerve "moved" in his arm (same surgery Jacob deGrom had). So you have some questions there about him. Positives are he doesn't give up many homers, is young, and controllable through 2023.. (If he stays in one piece). I can see the Yanks offering the Tigers some young pieces from the talent pool to try to get something done. Perhaps German, Adams, Estrada, Josh Breaux, Dermis Garcia.. Some combination of the above, and Tyler Wade. Detroit is going to need peices back to give up a young starter, so listen to their offer. Without being said if they mention Gleyber of Anujar, just pretend the prone receiver stopped working and hang up.
Bumgarner is as usual a very interesting piece. You know how good he is, but I don't think he wants to leave San Fransisco, plus the Giants are going to want a ton back for him. 2 injury plagued seasons abound, he won went 6-7 3.26 this year in 21 starts. The thing is, you know when and if he's healthy he's one of the best quality lefties in the game (and can Rake at the plate to boot).. You're not getting him with out a quality offer. Start with the name Sheffield and add on from there. Madison is only 28 and is a Free Agent in 2019, he's only making 12MM on the last year of his deal. He's gonna cost Big.
Wheeler and Matz of the Mets is never gonna happen, we know the reasons why, but there will be questions and conversation. Personally I think teams missed out on getting Wheeler when his stock was low, since then he had a stellar second half and boosted his stock 10 fold. The Mets will want a fortune for him, as they should. Matz, not so much, he's still very injury prone and is up and down. Still young, controllable, but he's like a piece of glass. Will cost less then Wheeler, but not much less. Perhaps you can get the Mets new GM on a day he doesn't know what he's doing LOL..
I list Haney, Lopez, and Castillo because these are starters that had pretty good numbers for bad teams. Lower end Whips, and solid IP to K ratios. I would check in on each, see what offers come about. Im sure due diligence will occur. Leave no stone unturned.
So what do we DO here? Well I think a trade will be made for someone in this range. We are a starter or 2 away from that next literal step, so holding on to kids who are not in the ML yet is just a waste of trade chips. I am still not sold on Sheffield, Adams and haven't seen Abreu yet at the ML Level, so if the Giants offer up Bumgarner for Any 2 of them plus, you have to pull the trigger.
OFFENSIVE FA/TRADES
Ok lets get this Manny Machado melarchy out of the way. Is he a fantastic player? Yes. Would he make a monstrous difference in our lineup/team? No. I believe Miguel Andujar proved enough this year that spending 30MM per year on Machado is not needed. Andujar is young, controllable, and will improve. The Yanks will be all over Machado if for anything to drive his asking price up on whenever he goes, but that's about it. Andujar's defense should not be the issue here, and add the fact he's the only one in our lineup that actually drives in runs with something other then the home run.
Bryce Harper. Not happening. No place for him, will cost 400MM for a guy that hit .249, and there is no position for him. He's not moving to 1B. He got screwed by Stanton coming here, if not for that he could fit.
The offense overall is not the issue per se with the Yanks. What they do lack tho is contact bats, and guys who can consistantly put the ball in play. Problem is, when you have a team that is basically an all-star team all over the field, where do you put the little less "non all star" player who gives you those intangibles that you need to succeed? Look at the RedSox and Astros. respectively both lineups are filled with great players, but also crazy solid role players who have filled the gaps, and drive you insane to boot. Guys like Andrew Benintendi, who is just a solid overall player, but a shade below all-star level (.290, 16-20HR, 80-90 RBI). The Astros with guys like Gurriel, Springer, Gattis... these guys are silent killers.. They won't have gaudy stats that blow you away, but they put the bat on the ball and are inning catalysts. The Yankees are too much All or nothing. Its been that way now fo a few years, and that's what All-Star squads do. When they are all clicking they are unstoppable, but problem is that's a rare feat, and when they slump they virtually all go in the toilet at once. There isn't a lot that can be changed here with this in mind without doing something no GM has ever done, aka putting a lesser thought statistical guy in place of someone better. Example, how many of us would take a guy like Benentindi in our lineup over Giancarlo Stanton. The things that made the Yankee dynasty to great was that there were stars a plenty, but they were guys who had complete games. They weren't all or nothing ball players. This is the conundrum we face moving forward, and Yes its probably one that most teams would love to be in.. Sure, we won 100 games ut we have lots of room to get BETTER?!??
Since the only real position we can improve is at First Base, I will end with that. My thoughts on what should occur here. Luke Voit is right now penciled in as our starter, but I do have issues as I believe I stated above about him. Greg Bird had just an awful season, no way to sugar coat it. I don't think either can truly succeed as a platoon, they both need consistent at bats to be successful. Bird may have fallen in love with the porch and now is so pull happy he has lost his swing. Can or will Voit actually hit .300+ with power as he did for the month + with us next year in a full season? Unanswerable questions. The positive here is both men should push eachother to succeed. If Stanton wasn't clogging up the DH spot you could get both regular at-bats, but that won't happen, especially if Clint Frazier comes back healthy and warrants some OF time, which will give Hicks some rest and potential DH time when Stanton needs a rest. My gut feeling is that Bird will have a stellar spring, but I don't know if that is even enough to bring him back everyday. He had a great spring last year with 8 homers and look what happened.. Plus its not exactly like either of them is a contact machine, they both strikeout just as much as any slugger in our lineup. This issue is going to plague this team, but its the way the ML is headed now. Everyone swinging for the fences, and strikeouts are the norm. I don't like it, but we don't have a choice now.
Hope you enjoyed my write up, it was mostly just off the top of my head and my thoughts on our season and the offseason. I have faith in Cashman, he has given us a winning team, and a competetive one to boot. Every team has issues to fix, get out the glue and duct tape and lets see what the winter brings us.