Make-or-Breaks: Eli Manning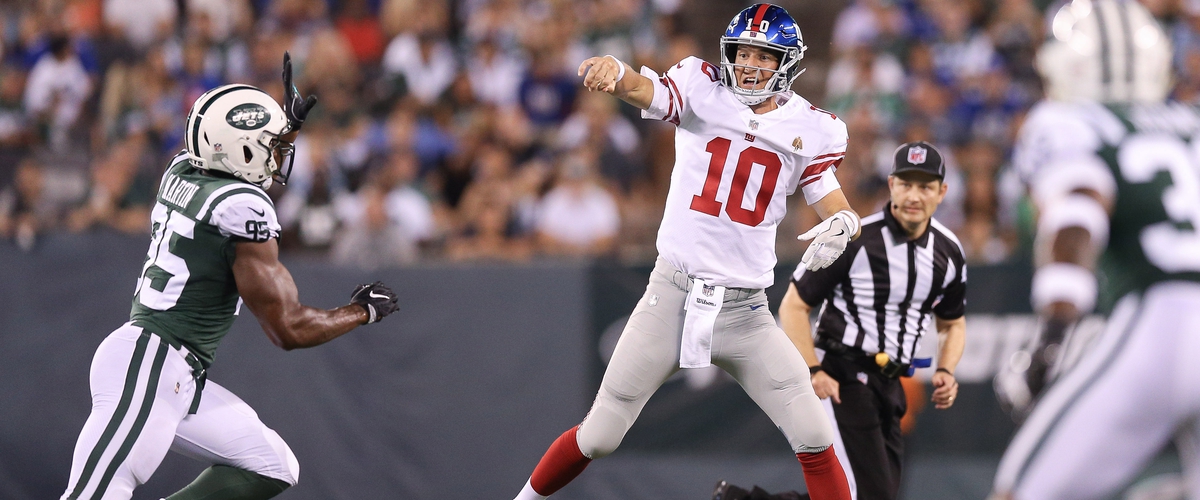 Football season is finally here, but not the NFL regular season though. That's in a couple weeks. There is a lot to be optimistic about for the regular season. Multiple teams have improved while others have gotten worse. With the moves that made in the off-season, it gives the pressure for some players and coaches to have a breakout season.
Eli Manning. He is known around the league as the little brother of the all-time great Peyton Manning. He also beat one of the best quarterbacks of all-time (Tom Brady) in the Super Bowl twice and took home both Super Bowl MVP honors. He's a four-time Pro Bowler and Walter Payton NFL Man of the Year. He broke almost every record among all the quarterbacks that played for the Giants. He is currently ranked 8th all-time in passing touchdowns. Now that you know the good side of Eli Manning, here is the bad side of Eli Manning. He made the playoffs 1 time in the last 6 years. He led the league in interceptions 3 times. He was benched last season, for QB Geno Smith, ending his second-longest iron-man (behind Brett Favre) with 222 consecutive starts.
The Giants made moves in the off-season surrounding Eli Manning with a supporting cast. They draft Saquon Barkley, the best running back in the 2018 NFL Draft. The Giants hadn't had a good running back since Tiki Barber. They also gave Eli Manning some pass protection by signing Nate Solder and drafting Will Herandez, one the top Offensive lineman in the draft. Sterling Shepard and Evan Engram are also going to contribute along with Odell Beckham as their top receiver.
With all these moves that they made this off-season, Eli Manning must take full advantage of these opportunities. Eli Manning is on track of being a hall-of-fame quarterback. He can't have another bad season. If he does, his hall-of-fame status like soon go down. Imagine your brother being inducted into the hall-of-fame, but you were not inducted to the hall-of-fame. That would be really embarrassing. This season, I am expecting Eli Manning to make his 5th Pro Bowl appearance and also to make a run in the playoffs. Time is ticking. It's time for Eli Manning to perform.
---