Does Gordon Hayward's Injury Open the Door for the Washington Wizards in the East?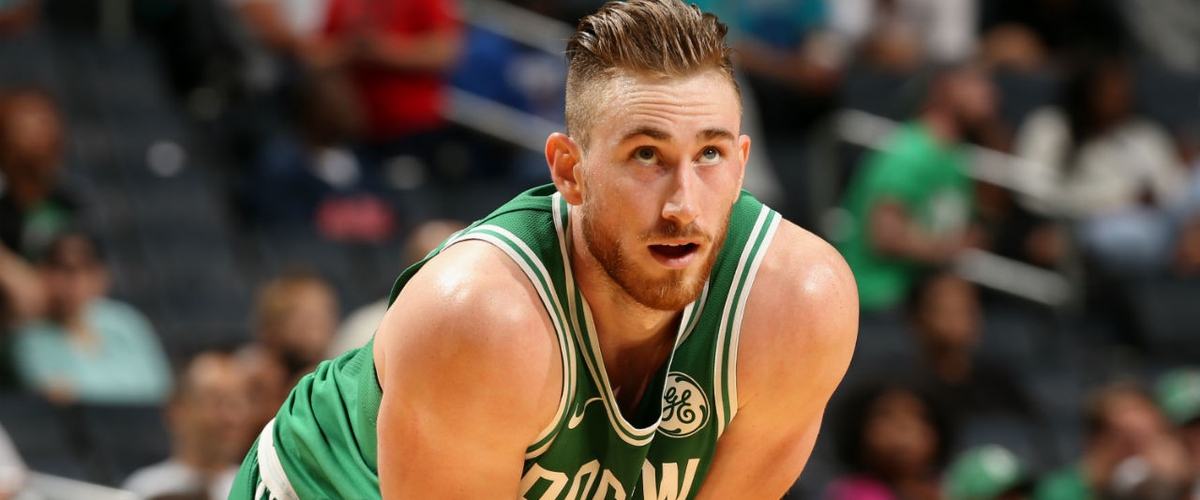 About 5 minutes and 15 seconds into the first game of the NBA season, Boston's all-star forward, Gordon Hayward, went up to catch a pass and landed hard on the court. It didn't sound good, but no one gave it much thought for the moment. Once Hayward remained on the ground and everyone could see his foot bent in a way no human should possibly be able to bend, it was evident. TNT announcer Kevin Harlan quickly exclaimed "Hayward has broken his leg!" and everyone, whether watching at the arena or from home, knew the worst had happened. I'm going to show the clip following this sentence: if you do not want to watch the clip, either don't click on the "play" button or simply scroll to the next paragraph.
This injury will keep Hayward out of the lineup for Boston for the rest of the season. He's undergone successful surgery after being diagnosed with a fractured tibia and dislocated ankle. This injury is a big deal not only for the Celtics, but for the rest of the Eastern Conference as well. Many considered Boston a legitimate threat to the Cleveland Cavaliers before this injury. Without (arguably) their best player on the court, how will Boston fare? Will another team rise to the occasion and take their spot as the second-best team in the East? It's entirely possible, and the team that is capable of doing so is the Washington Wizards. The Wizards have been waiting on this moment for a long time, and this could be the year John Wall and Bradley Beal finally get to the Eastern Conference Finals. But why is this team capable of doing so? Didn't they go 49-33 last year? Didn't they lose in seven games to the Celtics in the playoffs?
Yes, the Wizards lost to Boston in the playoffs last year. Yes, the Wizards won 49 games, but Boston only won 4 more than them with 53. Before Gordon Hayward's injury, Boston was the consensus 1 or 2 seed in the Eastern Conference, ahead of the Wizards in either scenario. It was the easy pick at the time. Now that Hayward is out for the year, many are picking Washington to leapfrog Boston in the standings, and I'm on board. The Wizards are in prime position to get revenge for last year's game 7 loss to the Celtics in the playoffs, and here's why they're doing to do it:
Washington's starting five is just as good as Boston's, if not better: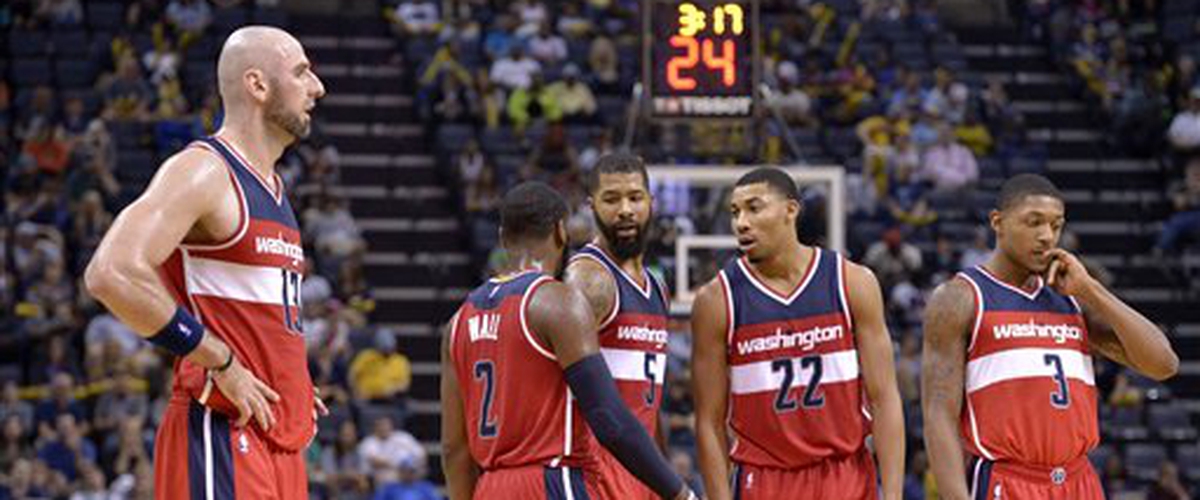 Washington quietly has one of the better starting units in the NBA. John Wall is one of, if not the best, point guards in the East and Bradley Beal is no slouch himself, averaging 23 points a game last season on a deadly 40% clip from deep. Otto Porter Jr. is poised to make another leap after averaging 13 points and 6 rebounds a game on 51% shooting from the field and a 43% clip from downtown that is even higher than that of his teammate, Beal. Marcin Gortat is a consistent double-double threat at the center position. Oh yeah, not to mention Markieff Morris is going to return in a couple weeks from his sports hernia surgery. This unit is going to once again be one of the best in the league, especially with expected improvement from Wall, Beal and Porter.
Without Hayward, Boston still sports a very good starting lineup of Kyrie Irving, Marcus Smart, Jaylen Brown, Jayson Tatum and Al Horford. It'll be interesting to see how Irving handles being the alpha-dog he's wanted to be for awhile now. It'll also be intriguing to watch the development of Smart and Brown's three-point shots (both below 34% career shooters from beyond the arc). Boston has proven, consistent scorers in Irving and, to a lesser extent, Horford, but Jayson Tatum brings a very polished offensive game to the NBA and should adapt soon enough. If Smart and Brown can score consistently, this starting five may turn out to be better than Washington's. Until Irving proves himself as the number one option and his supporting cast gels together, Boston will struggle to a degree on offense. Right now, Washington gets the edge in the starting five argument (more on that later).
Washington's bench is better than Boston's: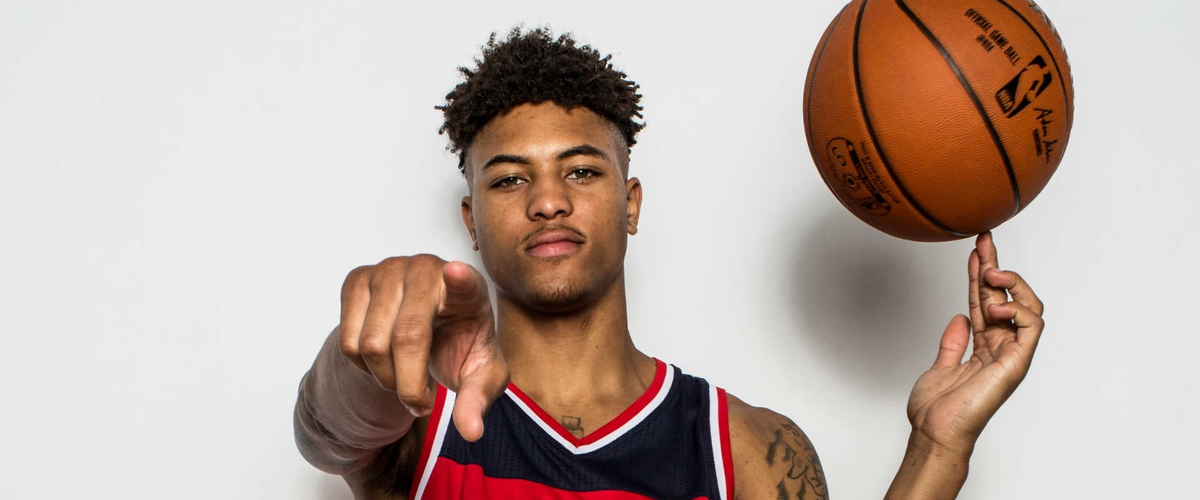 One thing the Celtics lost this offseason was depth. With the loss of Avery Bradley, Marcus Smart is now starting. With the loss of Gordon Hayward, Jayson Tatum is now starting. Here's the Boston bench:
Shane Larkin, Semi Ojeleye, Terry Rozier, Marcus Morris, Aron Baynes
Marcus Morris might be the only name you recognized from that list, and that's okay. The other guys are decent pieces, but this Boston bench is significantly worse than it was last year. Expect to see a big difference when the first unit comes off the court. It will be in Boston's best interest to keep one or two of its starters on the court to mix in with the reserves.
Washington's issues last year were health and depth. Health is something you can't teach or learn, it's just luck. Depth is something you can acquire and develop, and the Wizards have more of it this year. Let's look at Washington's bench:
Tim Frazier, Jodie Meeks, Kelly Oubre Jr., Mike Scott, Ian Mahinmi
Frazier and Meeks are guys who've started many games in the NBA. Meeks is a sharpshooter off the bench and a guy who can handle the ball in spurts. Frazier played plenty of minutes in New Orleans but is no stranger to coming off the bench and still making an impact. Mike Scott isn't anything special, but he's a decent wing off the bench. Ian Mahinmi is a lethal defensive weapon when healthy. The key to this bench is Kelly Oubre Jr. The Kansas product averaged just 6 points per game last season, but played some clutch minutes in the playoffs and flashed a lot of potential. Some of it was shown in the Wizards' season opener:
If this kid can play good basketball as a 6th man for Washington, look out. This bench isn't going to take over the world, but it has the potential to perform quite a bit better than it did a season ago. Washington gets the edge over Boston in bench play.
Experience > Inexperience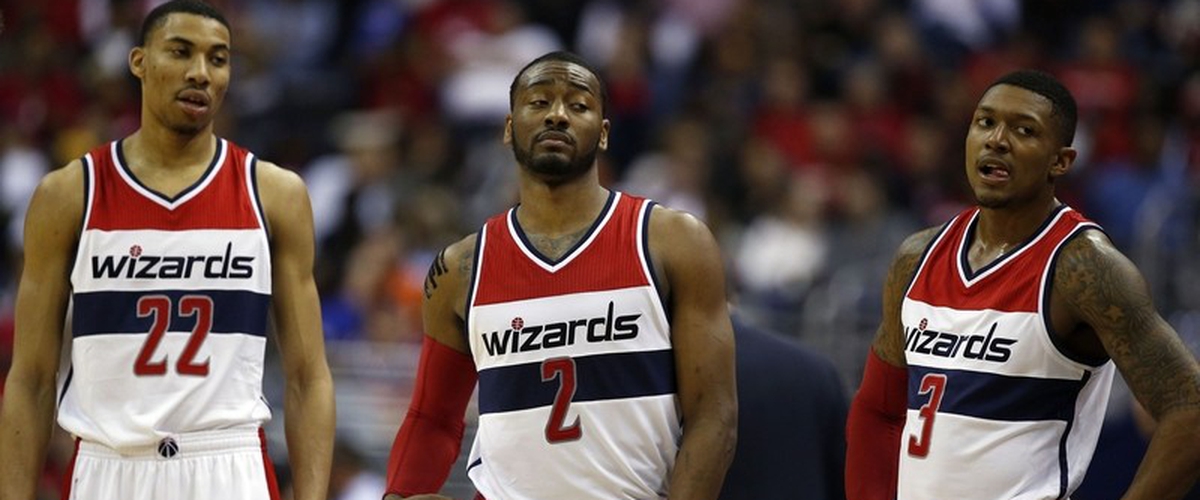 Think of the Boston Celtics as a puzzle with pieces that can be altered to fit together. It's going to take awhile to figure out what pieces go where and how they're going to work together, but it should be fine. Think of the Wizards as a puzzle that has already been put together, but one where the image formed looks more and more stunning over time. Often overlooked, but something that will become too good to ignore at some point. That point is this season.
Once Markieff Morris is healthy, Washington will be sporting the exact same starting five it did a year ago. Keep in mind John Wall is 27 years old. Also keep in mind that both Bradley Beal and Otto Porter Jr. are just 24 years old. This core is going to be as dangerous as ever in year five together. Wall is just beginning to enter his prime. Beal averaged 23 points a game last season, he's as dangerous as ever. Porter is poised to take big leap forward under the tutelage of Wall/Beal. Kelly Oubre is poised to do what many players do and make year three the best one yet. Gortat and Morris both know their roles on this team and are very efficient in playing them. Washington has the perfect amount of youth, mixed with plenty of continuity and experience.
Boston has a lot of question marks. Will Jaylen Brown and Marcus Smart ever develop three point shots? Will Al Horford begin his decline at the age of 31? How fast will Jayson Tatum adapt to the NBA? Will the team feel the absences of defensive stoppers Avery Bradley and Jae Crowder? What about the absence of Gordon Hayward? Perhaps the most important question of all - is Kyrie Irving capable of leading this team? All of these questions will be answered throughout the season, but no one knows when. It's going to take time for head coach Brad Stevens to tinker with his rotation until it plays well together. It's going to take time for Jayson Tatum to come into his own at the NBA level. It's going to take time for Smart and Brown to develop their shots. Kyrie Irving has 10 turnovers in two games and is shooting just 37 percent from the field; it's going to take time for him to become the player he wants to be for this team.
The Wizards aren't being handed the 2 seed in the Eastern Conference just because Gordon Hayward is hurt. For all we know, Kyrie Irving and company will figure things out quicker than we thought. Kyrie Irving could turn into a dominant force and a leader before everyone predicted. It's just not likely. Washington has a starting five that should rank alongside Boston, if not higher, this season. The Wizards also boast a decent bench that is going to get even stronger once Markieff Morris returns in early November. Washington also has a core of three young players in their 5th season together. A potential MVP candidate, a budding all-star and a great third option that may grab a few all-star votes himself is a recipe for success, especially when surrounded with two starters who play very efficiently. Last year, 115-105 was the final score in game 7 of the Eastern Conference Semi-finals, in favor of the Celtics. This year, the outcome could be much different. Boston is vulnerable, while Washington is getting stronger by the day. We'll soon find out just how good both of these teams are.
--------------------------------------------------------------------------------
This is your reminder to put your Best Foot(e) Forward in everything you do today! Be the best version of yourself possible and treat others with respect and care.
As always, if you'd like to get in touch with me or follow my social media accounts, you can find them here:
Facebook: https://www.facebook.com/TheBestFooteForward
Twitter: https://twitter.com/TheBestFooteFWD
Instagram: https://www.instagram.com/thebestfooteforward
Email: bestfooteforward17@gmail.com