49ers Should Still Rule The West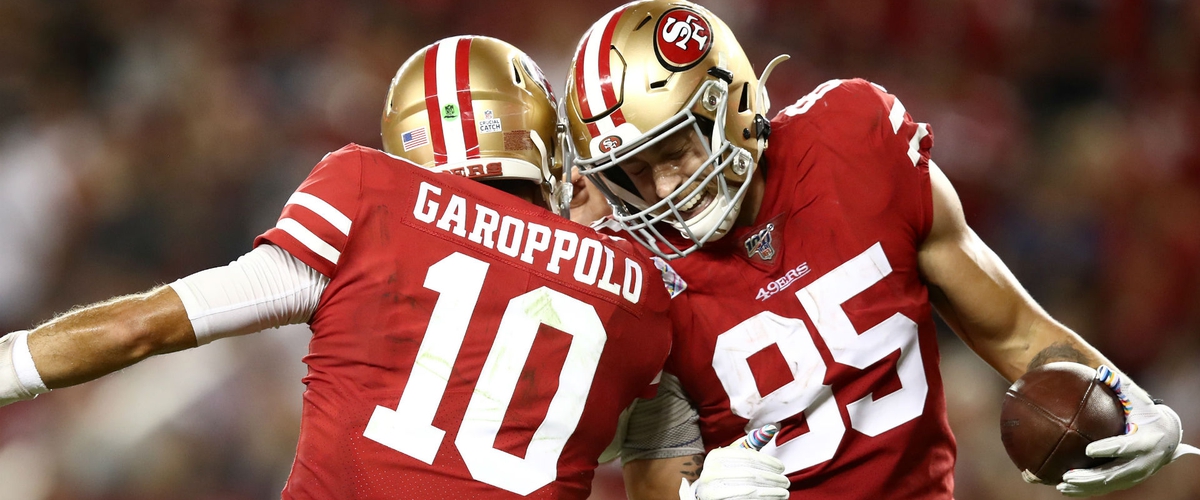 The 2020 NFL draft is done. The cameras have all been packed up, the analyst grades are in and each team is assessing their new rosters.
Being a lifelong resident of California, I have a natural following of the San Francisco 49ers and Los Angeles Rams. So obviously, a look at the NFC West was the perfect spot for me to focus in on as we prepare for what we all hope, will be a normal NFL season.
Here is my team by team rundown of just how each of the four teams look after an offseason of trades, signings and draft picks.
San Francisco (13-3 last season)
The 49ers are still smarting from their 31-20 loss to Kansas City in the Superbowl and so far have made some key changes to major personnel.
Offensively, QB Jimmy Garoppolo, RB's Raheem Mostert, Tevin Coleman and Jeff Wilson, WR Deebo Samuel and all world TE George Kittle are all set for another go at a championship.
Gone is WR Emmanuel Sanders, who signed with New Orleans and offensive line mainstay OT Joe Staley, who retired. The Niners were quick to fill the gaps with WR Brandon Aiyuk (second round pick from Arizona State) and 7 time pro bowl veteran OT Trent Williams (acquired from Washington post draft).
Defensively, they traded DE DeForest Buckner to Indianapolis but drafted his replacement, highly-rated Javon Kinlaw from South Carolina with the 14th pick in the draft.
MY TAKE: I think they still need to get another solid WR to take attention away from last years rookie star Samuel. Their running game is still solid with their three headed monster but word is they still might deal away Coleman.
I can see them with another standout year, going 12-4 and the Super Bowl is definitely in their sights again.
Seattle (11-5)
The biggest drama coming out of Seattle these days is surrounding OLB Jadeveon Clowney. Will he stay or go? He has talked with Tennessee but so far the free agent hasn't made his decision. If he does return to Seattle, he will pair with newly acquired pass rusher Bruce Irvin (signed from Carolina) and solidify the Seahawks pass rush.
Top draft pick Jordyn Brooks from Texas Tech was a reach in the first round but will add to Bobby Wagner and KJ Wright in the solid linebacking core.
Offensively, they beefed up the Oline in the offseason, signing BJ Finney, Brandon Snell and Cedric Ogbuehi and they will be protecting the usual suspects of QB Russell Wilson and RB's Chris Carson and Rashad Penny. WR's Tyler Lockett and DK Metcalf remain but they got no extra help in the draft or via free agents.
MY TAKE: Looks like another respectable year, mainly because Wilson wins games by himself. Looks to me like a 10-6 season will be the cap for 2020.
LA Rams (9-7)
This could be a make or break year for the Rams and it did not start out good. The unveiling of a new logo was not popular among the fans, then they released fan favorites RB Todd Girley and LB Clay Matthews then traded top receiver Brandin Cooks to Houston.
They are hoping they addressed two issues in the draft taking RB Cam Akers from Florida State and WR Van Jefferson from Florida. Both are solid players but will have a big task in stepping in right away to help the offense. QB Jared Goff is coming off and up and down year while WRs Cooper Kupp and Robert Woods and TE Tyler Higbee will have to continue to step up.
On defense, starters Michael Brooks, Dante Fowler and Cory Littleton have all departed so OLB Terrrell Lewis (the teams 5th round draft pick from Alabama) will be given the task of stepping in for Fowler.
MY TAKE: The super bowl team of 2 years ago could be in for a fall this year as an 8-8 season is a distinct possibility.
Arizona (5-10-1)
The Cardinals could be a team on the rise. The problem is they have a long way to go to threaten for the division. Offensively QB Kyler Murray had a better than expected season to most and this year will have another weapon. Star wideout DeAndre Hopkins came over from Houston to give future hall of famer Larry Fitzgerald some help.
RBs Kenyan Drake and Chase Edmonds will have to take a big step to replace the departed David Johnson and will probably split time in the back field. They are hoping 7th round draft pick Eno Benjamin from Arizona State will help, since he got good reviews as a late round pick.
Their top choice in the draft, OLB Isaiah Simmons from Clemson will step right in to help what was a bad defense near the end of last season.
MY TAKE: Will Murray make another step up or will defenses figure out how to get to him. He will be the key, and improvement is expected but I still see the Cardinals 8-8 at best.
(Getty images)
---