Moves I'd still like to see this offseason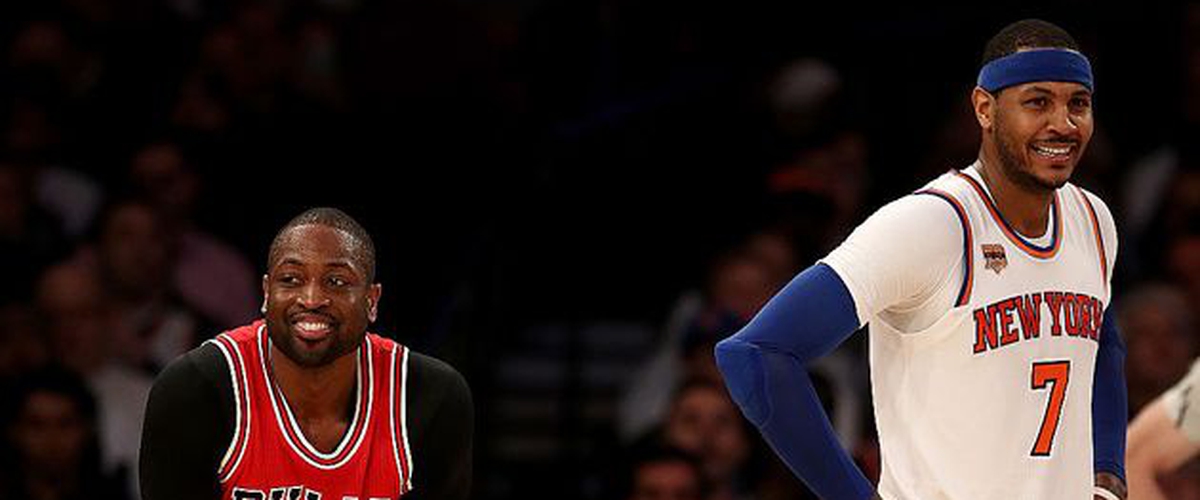 With free agency wrapping up and all the big name free agents signed and the biggest moves (possibly) already made, what the rosters for this upcoming season will look like are starting to take shape.
That being said, that doesn't necessarily mean we can see some other major moves and there are few I personally would like to see.
LAMARCUS ALDRIGE TAKES HIS TALENT TO SOUTH BEACH
There are no rumors I know of with this happening and is certainly fantasy for me but in my opinion, the Association is better when Miami is on top of it's game.
We all know how the East has gotten significantly weaker with Chicago letting go of Jimmy Butler and Rajon Rondo and Indiana moving on from the Paul George era. The East at this point is a one and half horse race (Boston caught up some with Gordon Hayward but I'm not willing to say they're in it until I see it).
Miami was one of the hottest teams in second half of last year going 30-11 after an 11-30 start and just fell short of making the playoffs. In fact, many fans speculated Cleveland tanked the first seed because they didn't want to see Miami, granted that's just fan speculation. But with their core returning, their poised to stay hot going into next season.
There were rumors of Aldridge trade rumors and I believe San Antonio has hit their ceiling with him in their lineup. He's inconsistent and doesn't play well without a defensive minded center next to him. There is a reason his best years in Portland coincided with Robin Lopez's best years in Portland as well.
Enter Hassan Whiteside.
We all know Whiteside is a defensive nightmare for opposing offenses. With another defensive guy like Justice Winslow on the other side, this would allow LaMarcus to go back to just focus on getting buckets, where he shines with that deadly mid-range game. Miami also has been missing a stretch big since Chris Bosh has been in and out for a few years now.
The only way something like this could happen is via trade and both teams are over the salary cap so they would have to match salaries. I think a package centered around an Aldridge-Goran Dragic swap would be the most ideal. Miami would have to come up with more to match salary but if they could add to that to get a guy like Dejounte Murray or move Tyler Johnson to point full-time, that could work given the versatility of guys like Dion Waiters and James Johnson who can handle the ball some as well.
Bringing Dragic to San Antonio would allow Pop to run an uptempo style with Dragic and Kawhi and Miami all of sudden is being talked about as one of the best front courts in the NBA and gives the East another playoff threat to Cleveland.
CARMELO ANTHONY GOES WEST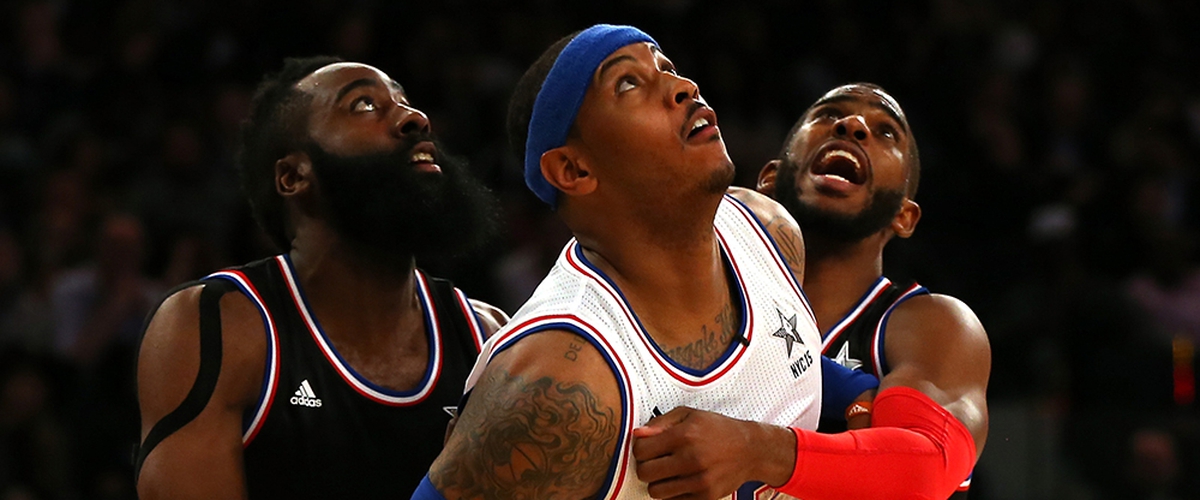 It's safe to say the last couple years for Melo in New York has been tumultuous to say the least. To make things worse, here are a few things that aren't changing any time soon: His age, the quality of the Knicks, the likelihood of a Cleveland/Golden State final. The Knicks just drafted developmental project Frank Ntilikina, and the thing about a developmental project is they need to play...a lot. They need to have the ball in their hands, they need to make their mistakes and they need to do it early when the pressure if off, especially if you're on a not very talented team. However, if you're going to pay a guy $20+ million a year, you need him to play as well, and you would hope compete as well.
That's the impasse the Knicks find themselves in right now and it would be beneficial for both sides to part ways. For the Knicks, the best would be to find a trade, but I think finding a trade would be difficult given teams just don't have the assets or desire to trade for that contract. I think the best move would be for the Knicks to complete buyout and for Carmelo to sign with Houston.
With CP3 in Houston, you already have a member of the banana boat squad there, not to mention MVP-runner up James Harden, which is something Melo needs right now. Melo isn't a number one anymore, at least not one who could compete for a title, he needs someone else to be the primary option and he acts as a co-star, here's where Harden comes in.
Melo also needs someone he trusts and someone he respects to keep him in check and at this stage in his career, there are really only three players who could realistically do that in my opinion: LeBron James, Dwayne Wade and, you guessed it, Chris Paul. The Point God has the resume and relationship with Melo to earn that respect and get Melo to fit his role.
Not to mention the Rockets would instantly become the most likely to unseat Golden State as kings of the West. If Houston can have the third best record with only Harden in house, this new big 3 would rampant in D'Antoni's open system.
DWAYNE WADE REUNITES WITH HIS OWN BANANA BOAT FRIEND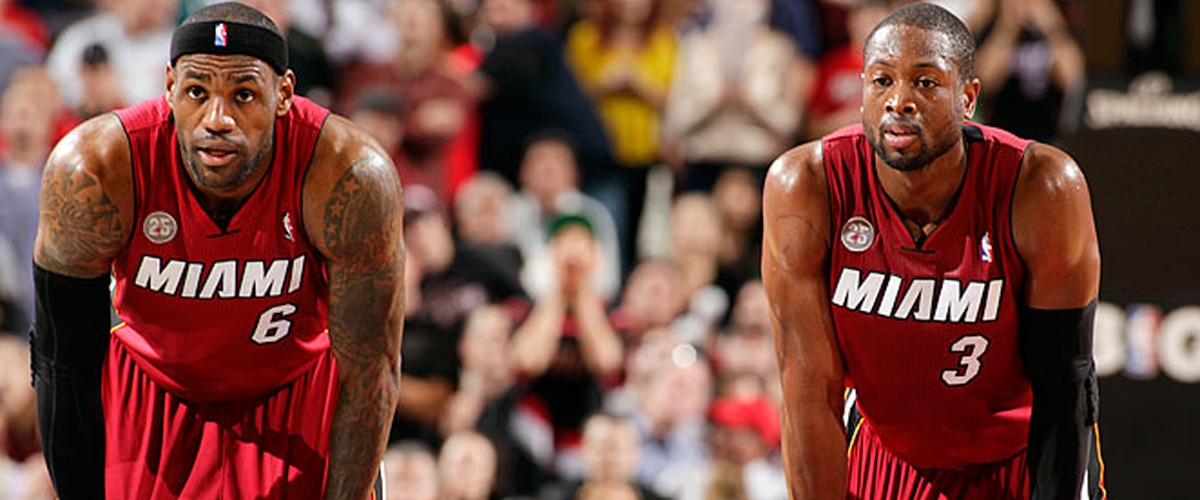 The Chicago Bulls suddenly find themselves in the same situation as the Knicks. They're a rebuilding team with their own developmental projects and an over-the-hill superstar earning $20+ million.
Wade is in a different boat than Melo however. He has three rings, a Finals MVP and five total Finals appearances. He has the accolades to retire and be looked on fondly by history and doesn't need to compete for rings. He's also earned over $176 million in his time in the NBA, so it's not about getting paid either, he's done that as well. At this point, Wade could play just for the fun of playing basketball, so why not go play with one of his best friends and one of the that he reached basketball's pinnacle with?
There wouldn't be pressure for him to play 82 games and score 20 points a game since Cleveland already has three prolific scorers. We all know how Cleveland values rest so if Wade's knees only allowed him to play 66 games, the Cavs wouldn't wait until he aggravates them to give him the rest he needs. Not only that, he can play with and mentor one of the best guards in the NBA in Kyrie Irving.
It's safe to say Cleveland isn't going to trade for Wade given his massive contract and how strapped for cash they are, so the only way this could happen is a buyout from Chicago and then Wade signing on a cheap deal. But with a bevy of guards like Zach Lavine, Kris Dunn, Denzel Valentine, Paul Zipser, Jerian Grant already in house, it would be in Chicago's best interest to let those young guys run free to see what they could be and give them the minutes that Wade would be eating. Even a guy like Justin Holiday should be given some minutes as he has proven to be a valuable rotation player.
As an aside, how amazing would it be to see the banana boat squad duke it out in the Finals against each other? That would be such a fun series to see.
---