Baker Mayfield Still Underrated?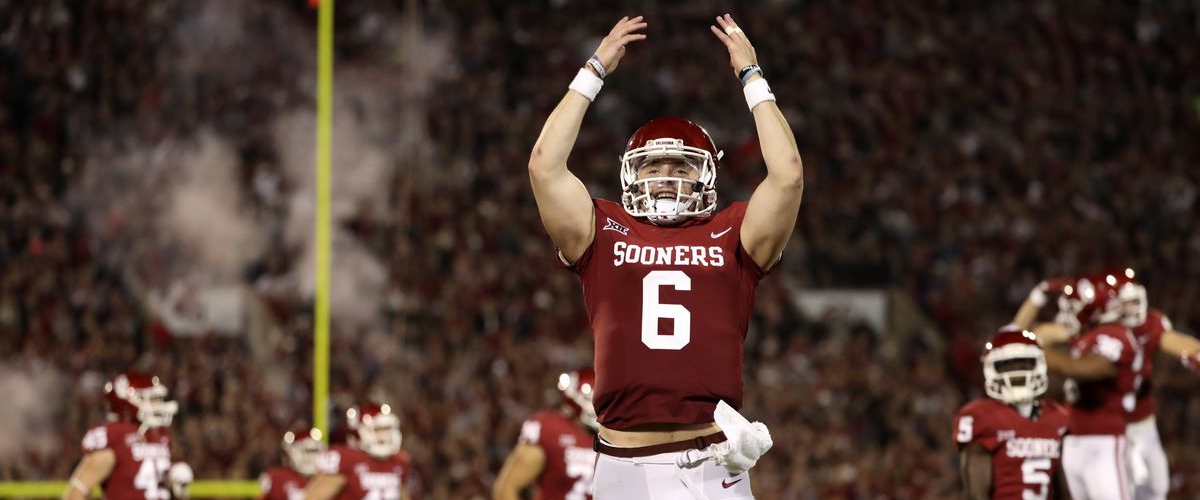 After exploding onto the scene from complete obscurity, Baker Mayfield has had an amazing career at Oklahoma. It reached its peak with his Heisman Trophy victory to end his senior season. But somehow, he is still underrated in his NFL draft stock. Teams still believe that at best he is the fourth best option in this draft, as many draft pundits have him ranked behind Josh Rosen, Sam Darnold, and Josh Allen. But Mayfield possesses the talent to outplay them all at the next level, and should be taken just as seriously as them in the draft process.
Mayfield is a winner. Plain and simple. He has lost 5 games total in the past 3 years. That is an insane stat. All the while he has improved year by year in his passing stats as he improved his mechanics and football IQ. He drives himself past opponents and does what needs to be done to win. He will do it on the ground or through the air. And it's not always pretty. He is the next gunslinger to enter the league. He has a fire that no one can put out. That alone puts him on the same level as the other candidates. That fire to win. It makes the people around him play harder and, in turn, better.
Mayfield also is one of the most mobile quarterbacks in the draft. He knows how to carry the ball and make tacklers miss. He is also smart enough to get down when he has to, in order to protect himself. The way he moves reminds me a lot of Russell Wilson in that they both are surprisingly elusive and quick. He will be a terror and has the ability to cover for mistakes by his offensive line.
One of the biggest knocks on Mayfield though, is his size. He is 6 feet tall and weighs 220 pounds. That puts him on the level of a Drew Brees or Russell Wilson. However, the success of those passers should help to ease the pain of GM's. He has a lot of the same qualities of those passers and has the ability to follow in their footsteps in the NFL.
His attitude is another big reason for his lower draft stock. He has gotten in trouble for gestures and words exchanged with fans and other players. But it is this attitude that GM's should fall in love with. That is his competitive spirit coming through. You can see just how much he cares about the game in how he acts. That spreads to other players in the locker room and helps to get the most out of a roster. He seems to have learned from his run in with the law in the offseason and that has been the only time he has gotten in trouble.
Overall, teams need to keep Mayfield in mind as they go through the draft process. All of the other prospects have the big "P" word in their resume(POTENTIAL), but none of them has the results that Mayfield has been able to produce. Teams like the Broncos, Jets, or Browns should take a serious look at him and understand all of what he could bring to this team. He can be their leader for the next decade. He will not fail because he will not allow himself to.
---