Lions Look: A View At The Top (From The Bottom)
When it comes to the Detroit Lions, the subject is not about today, but tomorrow.
The Lions hosted the Tampa Bay Buccaneers, who have been knocked out of playoff contention like Detroit, and were walloped by a scorching hot Jameis Winston (28 of 42 for 458 yards, 4 TD's & INT for a 124.9 passer rating) as the Bucs ran away in a 38-17 romp. With so many injuries to starting players, the result was academic. Third string rookie signal caller David Blough showed that he is still a long term project at that critical position, WR Chris Lacy caught his first pro pass, LB Jahlani Tavai made his first interception as he picked off Winston on Tampa's opening possession, RB Wes Hills, filling in for an inactive Bo Scarborough, scored his first 2 rushing TD's as a pro.... And that's about it. The Lions are lucky to be fielding a team at this point. So, with the 2019 campaign all done but for the crying, Lions fans are turning their eyes to the 2020 season. After such a disappointing year, there are more than a few unvarnished opinions about what owner Martha Firestone Ford should do (thank you, social media). Your humble scribe shall opine about those particular pathways The Pride has suggested, as well as offer up rationales for you to decide each given validity.
There is a case for cleaning house; getting rid of head coach Matt Patricia and general manager Bob Quinn When Quinn fired previous head coach Jim Caldwell, his actions made it clear that mediocrity would not be accepted. That meant that despite the 9-7 winning record (Caldwell's third in four years in Detroit), missing the playoffs with a team that possessed the adequate talent to do so was deemed a cause for termination. Enter Patricia, hired by Quinn to help instill the culture he wanted to have in the Lions organization. Both came from New England, where the Patriots have been the most successful NFL franchise in the past two decades. It doesn't take much imagination to envision how Quinn & Patricia wanted the Lions to operate: a synergistic weaving of on field talent, coaching prowess, and an active, aggressive front office whose outlook would be geared toward the long term. In less than 2 years, the Lions look to be a far cry from mediocrity. Patricia's current coaching mark is 9-20-1, the same amount of wins in nearly two seasons that Caldwell got in his final one. The defense, trending upward entering 2019 and the focus of Patricia given his background, has regressed to the point to be amongst the dregs of the league. The defense for the Lions was a bugaboo for Caldwell starting in 2015, so this has been a long running issue. Another long standing problem has been the run offense, which has been absent for the duration of QB Matthew Stafford's career. The run game still rates in the lower quadrant of the league. Add to this, either through miscommunication or through misdianosis, the period of transition for the Lions to turn their defense into a 3-4 alignment, a scheme not run in Detroit since 1993, was going to take time to install. Plus, in the interest of purportedly trying to gain control of the locker room, Quinn would trade two popular players: WR Golden Tate last year and SS Quandre Diggs this year. While transactions like this could impress upon the rest of the roster to fall in line, it could backfire in making these young men apathetic toward the coaching staff as well as the front office. Watching the Lions devolve into an outfit that is struggling to even compete with most any other team can serve as an indictment on the GM on down. And it is a telling statement if Ford felt compelled to fire Quinn and Patricia. It would indicate a complete and utter loss of confidence in both men going forward, and by pulling the plug after two seasons, an admittance of an egregious mistake in permitting them to be hired in the first place. But if either or both are deserving to be sacked for the long term health of the franchise, then it must be done.
Then again, there's also a case to retain Quinn and Patricia for at least one more year In the framework of the present, there are mitigating factors that would favor both men to receive a mulligan. The hire of offensive coordinator Darrell Bevell has drastically improved the unit while turning Stafford into a dark horse MVP candidate (there's no way Stafford could win the award this year, but his play in 2019 has been considered the best of his career before being sidelined due to broken bones in his back). Terminating Patricia could very easily mean Bevell is also relieved of his duties without true justification. Plus, injuries have been crippling. Across the defense, key players have missed some time due to injury. With so much youth forced into action, it changed the complexion of that unit. With the coaching staff left scrambling to cover holes all over the field, a slip in play quality was an inevitability. One way or the other, defensive coordinator Paul Pasqualoni will be shown the door. Looking long term, what Quinn and Patricia are trying to accomplish is more than just win football games. They are looking to turn the Detroit Lions into a consistent winner, something that this franchise has not been since the 1950's. That means not just players buying in, but a mentality that courses through the organization. With no basis for the Lions to build upon, Quinn and Patricia are attempting to create this from scratch. Such an ambitious mandate requires the most valuable commodity of all: time. And every head coach and front office executive is on the clock the moment they're hired. Fans want results immediately and are notably intolerant of backslides. Owners bounce between giving those in positions of power the time to make a winner while remaining engaged with fans so as to not show complacency. If for any other reason to give Quinn and Patricia a third year would be to get off the hamster wheel of frequent turnover of head coaches and/or general managers. It's not a surprise that the more successful franchises enjoy stability. The same coach and the same GM means that the organization can have continuity, which is necessary when the roster experiences turnover every single year. Dumping those in charge every 3 or 4 years only upsets that goal. Outside of curing a knee jerk bloodlust, is firing everyone in football operations really the answer?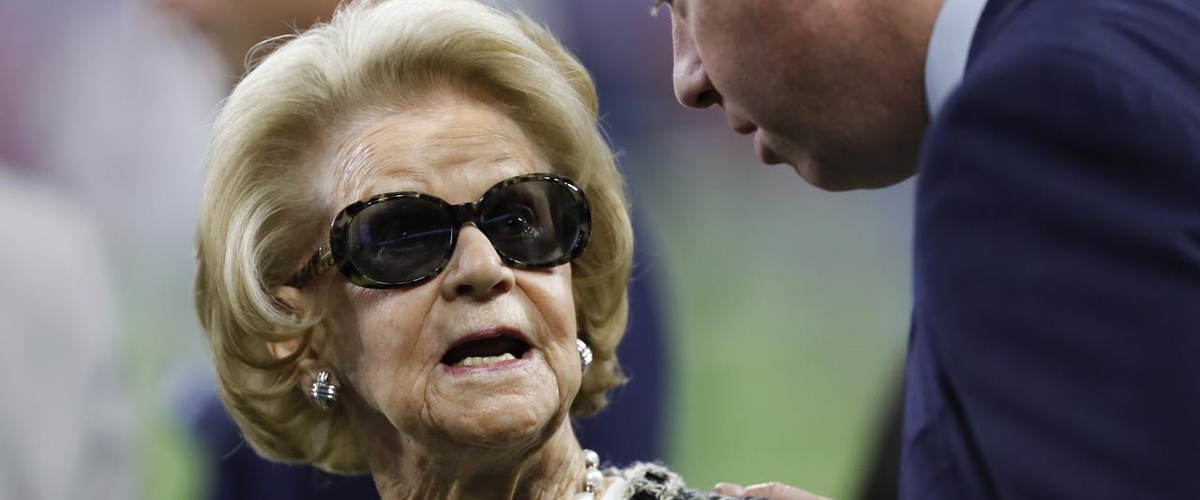 Demanding that Martha Ford sell the Lions is preposterous This has been a rallying cry for a segment of the Lions fan base for years, if not decades. Because of the team's woes, because the Lions last won a championship in 1957, because they have played in one NFC Championship Game in the Super Bowl era, because the Lions are steeped in obscurity due to continued losing, the Ford family should sell the Detroit Lions. To who? Whoever is in the market to buy a team. Because in the minds of these fans, anyone would be better than the Fords. Let's debunk this argument right now. Whether it be the Ford family in general or Martha Ford in particular, there is no interest in selling the team. Further, a new owner is not and will not the panacea that will cure the ills of this franchise. In fact, there is a stronger case to be made that a new owner would treat the Lions with indifference, as there is marginal fiscal incentive to field perenially competitive teams. Look no further than the most recent owners who purchased their clubs than have it passed down due to surviving succession. David Tepper is in his second season with the Carolina Panthers, so his work is in progress; Kim & Terry Pegula has overseen the Buffalo Bills acquire their second playoff under their stewardship, but have been largely underwhelming; Outside of a surprise AFC Championship Game appearance in 2017, the Jacksonville Jaguars under Shahid Khan have remained abysmal; The Los Angeles Rams, save for winning the NFC title last year, have been among the league's worst since Stan Kroenke became majority owner; & the Miami Dolphins have all of one wild card in the decade that Stephen Ross has owned the team. Ownership is hugely consequential in the NFL. Everything flows from the top down. They set the tone and impart their vision of what they want their club to be, as the most successful franchises in the sport are because of their owners, not in spite of them. In the case of previous Lions owner William Clay Ford, Martha's husband, he wanted to win, but he wanted the Lions to win his way. William Clay Ford would hold on to executives and coaches because of his view of them as individuals instead of the results on the field. Because of his stubbornness, the Lions would suffer as a result. And because of perceived indifference to the Lions outcomes year in and year out by fans, this led to fans wanting William Clay Ford to sell the team. Martha Ford has unfairly been yoked to the failures of her deceased husband. This is her sixth season as the primary owner of the Lions, yet despite the fact that this is Detroit's third losing season under her watch, she is targeted by naysayers who want new ownership. The false narratives spread by fans (the Fords don't care about winning, they only want the money, etc.) can easily be debunked by asking two particular questions. One, if Martha Ford was not interested in fielding a competitive team every year, then why did she seek assistance from Commissioner Roger Goodell in guidance to run the Lions, who in turn suggested acclaimed NFL executive Ernie Accorsi could be hired as an adviser? And if the Fords are only in the league for the money, then why did the team lose money for a number of years if profit was the sole motivator? Did Martha Ford make a mistake in hiring Quinn, who in turn hired Patricia? Quite possibly, yes. OK, fine. But demand the Lions be sold because of a misguided grudge? Please. The grass is not always greener on the other side, and you must be smoking a lot of it if you believe that the Fords going away will solve all the Lions problems.
Two weeks to go, with the Denver Broncos up next in the Mile High City. These games have been blowouts in recent memory, so this could get mud fence ugly in a hurry.