Lions Look: Paths Decided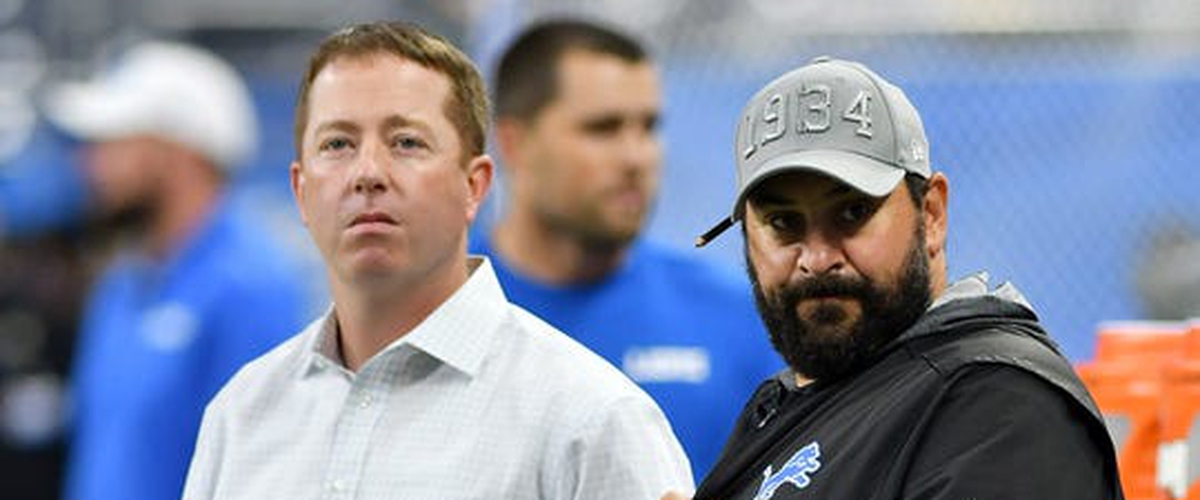 .
About what was expected.
The Detroit Lions continue to wind down this immensely difficult season, losing 27-17 to the Denver Broncos to extend their losing streak to 8 and make their record 3-11-1. If there is any positive to take from this lost campaign is the fact that the Lions are assured of a high draft pick in April's draft. Detroit currently sits third, behind the Cincinnati Bengals (1-14) and Washington Redskins (3-12) in the draft order. The Lions can finish as high as second overall or as low as fifth, dependent on the results of Week 17 games.
The bigger news regarding the Lions came out of Allen Park earlier in the week when it was announced that general manager Bob Quinn and head coach Matt Patricia will be retained for the 2020 season, with the understanding that there will be changes on the coaching staff and there will be an expectation for Detroit to be "in playoff contention". The decision made by owner Martha Ford and vice chairperson Sheila Ford Hamp, as articulated in a letter to season ticket holder where they would state that season ticket prices would either be frozen or reduced for next year, has been received with a degree of relief or outright hostility. While those who feel as though the Ford family is not committed to winning or accepting of mediocrity (or worse), allow your humble scribe to make the case for this conditional retention.
If one were to examine common traits of NFL franchises, one correlation that can be easily distinguished is winning teams see less coaching turnover than losing ones. The reason is obvious: teams don't get rid of successful coaches (although history does have rare exceptions). So, naturally, clubs who are not successful dismiss their coaches and executives within a limited time frame. The constant cycling of these key members of a football organization fosters instability, and that is the hobgoblin of a losing culture. In such changes occurring with such frequency, many teams cannot break that vicious cycle. And yes, the arguments for the Lions to start over are understandable. Patricia was handed the reins of a team who posted a 9-7 record the season before he arrived and has won as many games in two years time. Quinn was not upfront with the fan base in that the Lions were being rebuilt upon Patricia's arrival. Both have dealt popular but opinionated players at the trade deadline seemingly for locker room control than personnel capital. And they tend to be opaque in responding to the media on many parts of how the team operates. But are these arguments based on objectivity or emotions? Quinn and Patricia are completing their second year together with Detroit. Is that really enough time for any regime to change the culture of an NFL franchise, especially one that been mired in mediocrity for six decades? The ultimate goal is not just to win a playoff berth, or a division title, or even a Super Bowl in one season. The ultimate goal is to be in contention of reaching the Super Bowl every season, and hopefully hoisting the Lombardi Trophy once or twice. Winning a Super Bowl is a short term strategy. Winning one or more Super Bowls while being a perennial presence to compete for them is the long term outlook. If the concept is to break the Lions' losing culture and make them title contenders, it will not happen immediately. It will take time, require patience, and a dedication to a long term vision. This is not to say that accountability is verboten; consider the Fords have implied that a reprisal will be forthcoming if 2019's result is replicated. Besides, it's simply one more season. If it works out, fantastic. If Quinn and Patricia fall well short for a third consecutive season, then slap down the Armageddon card and the Ford Matriarchy goes back to the drawing board. A Year Two housecleaning is driven by emotion, while a Year 3 purge offers an acceptable objective conclusion to be drawn.
The Lions will get one more crack at a fourth win with the Green Bay Packers coming to Ford Field. Depending on the Pack's game against the Minnesota Vikings on Monday night, the Lions could be facing Green Bay's second stringers in a who cares game. But if the Vikings win, then Titletown will be hellbent to win the NFC North and do whatever is necessary to accomplish that goal.
---