Who Fed It And Who Ate It: 2019 Week 16
With only one week left in the regular season, the playoff field is nearly set. The NFC has all but one of their entrants, with only two seeds set (Minnesota Vikings in the six seed & the NFC East champion as the four seed). In the AFC, the Baltimore Ravens have secured home field advantage throughout the playoffs, the New England Patriots and Kansas City Chiefs jockeying for the 2 seed for that first round bye, the Houston Texans trying to get out from the four hole, the Buffalo Bills locked in at five, with the Tennessee Titans, Pittsburgh Steelers, and Oakland Raiders (?) all vying for that six seed on Sunday. Sunday Night Football will feature the San Francisco 49ers visiting the Seattle Seahawks for the NFC West crown, with the Niners assured of the one seed with a victory while the 'Hawks would earn at least a home playoff game with a win, but would need help to either earn a first round bye or gain home field advantage throughout the playoffs. Week 17 promises to be an intriguing conclusion to the regular season. But this is about Week 16, and today, we will look at teams who have made a change in the ranks, are slated to do so in the very near future, or are in the midst of the fallout.
The Ass Kicking of the Week was given to the Carolina Panthers, whose 38-6 decimation at the hands of the Indianapolis Colts is asking more questions about the state of this franchise First of all, let's be clear: any coaching change in the middle of a season is often a white flag, a sign of surrender on a campaign. And since Panthers owner David Tepper dismissed head coach Ron Rivera, the Tobacco Road Cats have been in a tailspin. Interim head coach Perry Fewell is 0-3, with an offense that has coughed up the ball ten times and a defense that is getting shredded like a block of cheddar cheese on taco night. After watching this, it begs the question if there is a head coach out there that can put the pieces back together to make Carolina a viable playoff contender. Reports have said that former Green Bay Packers head man Mike McCarthy has been interviewed for the job. That would be a curious hire, as McCarthy would probably be better in getting picked up by a club looking to start from scratch than try to refine a fairly talented roster. But since Tepper has publicly stated that he wants to put his fingerprints on his team, that puts the job security of general manager Marty Hurney on the spot. Will Tepper retain Hurney and make it a condition of employment for any head coach that they work with him, or will Tepper be willing to cede control of day to day football operations to a well known head coach? These are questions that simply won't be answered until they are. And what Tepper opts to do will say a lot about how he plans to run the franchise.
Jacksonville Jaguars executive vice president of football operations Tom Coughlin has been relieved of his duties once his handling of players went public When players start either looking at free agency or make requests to be traded, fans almost universally examine the motives of the player. No one ever thinks to question the people running the team, unless evidence begins to pile up (looking at you, Bruce Allen). For Coughlin, it piled up hot, heavy, and fast on the doorstep of Jags owner Shad Khan. The NFL Players Association reported that of all grievances filed with the union in the last two years, a quarter of them were against the Jaguars. An independent arbiter ruled that fines handed out by Coughlin's office for a myriad of reasons, from RB Leonard Fournette getting dinged $99,000 for sitting on the bench during a game in which he was inactive to current Rams (and former Jaguar) LB Dante Folwer getting over $700,000 of fines levied against him for missing offseason rehabilitation appointments, were deemed violations of the NFL's Collective Bargaining Agreement. Coughlin has the reputation of being a control freak, fining players for the slightest infraction when he was a coach with Jacksonville at the turn of the century or in New York later on. The pushback from the league and the union showed that being aggressively punitive will not be tolerated. The last straw came when the NFLPA expressed in a letter to all players who are up for free agency about the perils of joining the Jaguars, a rare rebuke of an organization by the players union. For Khan, this was enough. It was reported that Khan and Coughlin had agreed upon Coughlin walking away from his post at the end of the year, but in light of this series of events being reported, Khan felt it necessary to fire Coughlin outright before their agreed time of departure. And the Jaguars track record alone was enough to endanger Coughlin's job status. After that magical run in 2017 that left the Jags only a quarter away from a Super Bowl berth, the club imploded. The offense have been amongst the absolute worst in the league as the defense has decayed to match the offense in ineptitude in 2019. When most of Jacksonville's receiving corps left in the 2018,it just looked like bad timing. Cornerback Jalen Ramsey wanted out, saying that he didn't believe the Jags would re-sign him to a lucrative pay raise as he would be a free agent in the spring of 2020. With what we know now, everything looks changed in a different light. It's as if everyone wanted out of North Florida, regardless of where it was. And for a franchise that has largely been a forgotten outpost in the league for nearly twenty years, that type of toxic reputation is the last thing Khan needs to deal with as he tries to return the club to its standing in the late 1990's. There's been no word yet as to the fates of head coach Doug Marrone and general manager Dave Caldwell, so it remains to be seen if this was a necessary termination or the first step in a wholesale purge. As for Coughlin, his agent declared that the 73 year old still has plenty of football left in him. That may be the case, but other NFL teams will be decidedly wary to put someone in charge who has violated league rules while making players miserable in the process. While the game may not have passed him by, the way he treats players has. Players will not stand for a coach whose discipline crosses the line of accountability into harassment in this day and age. More than likely, Coughlin will be inducted into the Pro Football Hall of Fame one day, but his days in this league certainly look to be over. And that's just the way it is.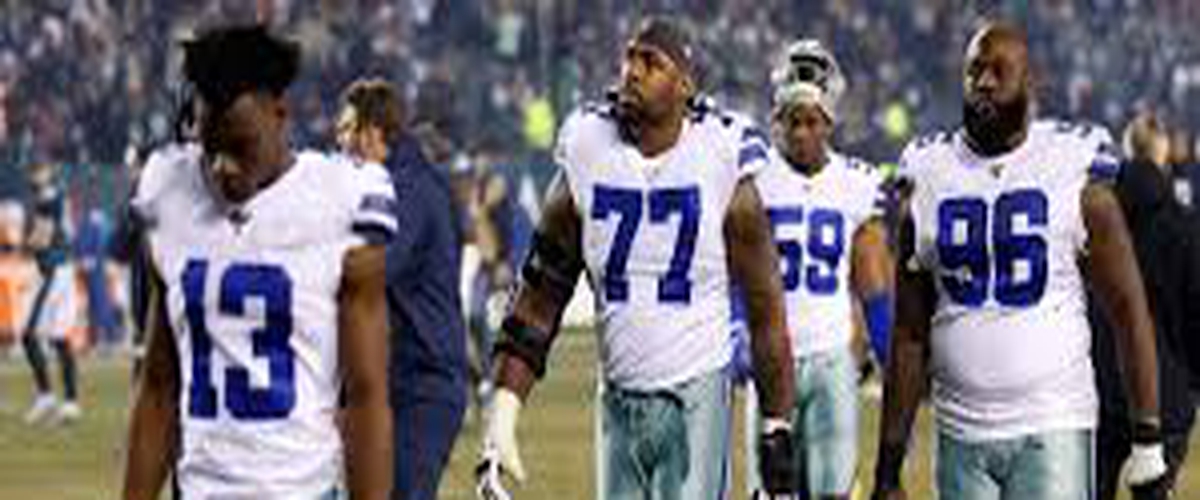 The Dallas Cowboys lost control of their playoff destiny after an ignominious loss to the Philadelphia Eagles, 17-9 Even though the result may have not been a surprise, the way it occurred was nothing short of breathtakingly embarrassing. And no one was safe from scrutiny, save perhaps K Kai Forbath, whose 3 field goals accounted for all the Cowboys scoring in this critical divisional matchup. The defense was carved up by QB Carson Wentz (31 of 40 for 319 yards & TD for a 108.2 passer rating) as he was throwing to tight ends Zach Ertz and Dallas Goedert & a bunch of practice squad receivers. The Eagles also converted nearly 43% on third down (6 of 14) while posting a commanding 36:12 time of possession. When one considers how long the Cowboys defense was on the field, it leaves an obvious question: what the hell happened to the offense? Everyone involved had a game to forget. Offensive coordinator and playcaller Kellen Moore seemingly forgot that he had RB Ezekiel Elliott at his disposal, as the NFL's highest paid rusher only carried the ball 13 times. QB Dak Prescott turned in a pedestrian performance (25 of 44 for 265 yards for a 74.5 passer rating). In such an important game, with the NFC East within reach on national television facing a recent Super Bowl champion, Prescott did not make a strong case for his desire to be amongst the highest paid players in the league today. However, to be fair, his receivers did him no favors, as many had key drops throughout the game, with some of them being drive killers. But it also bears noting that the Eagles secondary has been eaten alive with injuries. Many other offenses have enjoyed field days against this unit, and the Cowboys could not muster a single touchdown. For a team like Dallas, who have been up and down all year, this defeat at Lincoln Financial Field represents an unequivocal nadir for America's Team in 2019. For the first time this season, the Cowboys do not own at least a share of the NFC East lead. And now, with only one game left in the regular season, Dallas must defeat the Washington Redskins and the Eagles must lose to the New York Giants in order to win the division and host the West loser on Wild Card Weekend. It's been an open secret that head coach Jason Garrett is not long for the Cowboys sidelines with owner Jerry Jones looking ready to move on after 9 1/2 years. For many fans, it's long overdue. And for many of those rabid Cowboys fans, did it need to be this level of heartbreak to force change? Did squandering one of the most talented Cowboys teams in recent memory need to occur for Garrett to take the walk? Perhaps the answer is yes. But as this change may be sorely needed, will Jones hire a head coach who will have the blessing and backing of one of the sport's most involved owners, or will he hand the reins to a head coach who will follow the orders of the team's owner and general manager (who happens to be the same guy)? Jones has said time and again he wants one more Super Bowl triumph, a fourth Lombardi Trophy to add to the trophy case and his personal hardware haul. We'll see just how serious Jones really is in a very short period of time.
---