Who Fed It And Who Ate It: 2019 Week 9
With the calendar striking November, it's now moving month, where the contending teams will pull away to secure a favorable playoff seed while the pretenders fade and jeopardize their own postseason entry. Today, we'll be discussing two AFC teams flying under the radar, while the most recent victory by a third puts a spotlight on a particular trend that may make 2019 a special season.
The Ass Kicking of The Week was administered by the Houston Texans, whose 26-3 drubbing of the Jacksonville Jaguars in London put them back on top of the AFC South Your humble scribe has a complicated view of the Houston Texans franchise, and has carried its for some time. While there is a lot to like about their talent on the roster, especially QB Deshaun Watson, one easily conclude that the Texans' Achilles heel are the people in charge: head coach Bill O'Brien and executive vice president of team development Jack Easterby. The lack of a true general manager will hurt this club eventually, which would be a crime given the collection of talent now under contract. Offensively, they are highly effective, ranked 9th in scoring and 3rd in yardage. On defense, the Texans are an average unit, sturdy on the run (third in yards allowed) but struggling to defend the air (27th in yards surrendered while already allowing 18 TD's by opposing passers). Houston currently sits at 6-3, a half game ahead of the Indianapolis Colts in the division standings, and reside in the 3 seed in AFC playoff picture. So why are they are not being talked about as a conference contender? Some have ruled the Texans out due to season ending injury to DE JJ Watt. One could make the case that the New England Patriots and Baltimore Ravens are at the moment taking all the oxygen in the room concerning the junior conference. But one should also consider Houston plays a lot of close games. In the nine contests they've played this year thus far, only two have been decided by more than one possession. The good news is the Texans won both (The Jags in London and a 53-32 romp over the Atlanta Falcons). But in those close games, they are 4-3 this year. Last year in games decided by 8 or less, the Texans went 6-5. In the NFL today, teams cannot be taken seriously for a deep playoff run by playing so many opponents close, especially with the talent they have. They start crushing some teams, they'll turn some heads. But until then, they will be viewed as good, but not scary.
The Buffalo Bills have gone 6-2, the best start to a season they've had since 1993 and have the second best record in the AFC. Who has the best? The New England Patriots The Bills, as an organization, have to feel frustrated by playing second fiddle to the Patriots for nearly two decades. No matter what happens, who comes in, or any momentum built, Bill Belichick & The Boston Bling Company come in, wreck your tents, pee on your campfire, and leave you going back to the drawing board. But the Bills might be onto something. Head coach Sean McDermott has a team playing well in the typical mold of a defensive oriented coach. The D is nearly lights out, ranked third in both scoring and yards allowed. The offense is a top ten unit running the ball, with the youngster Devin Singletary and old man Frank Gore toting the mail. Right now, the Bills' greatest concern is, or should be, quarterback Josh Allen. He was drafted to be the franchise signal caller for the next decade, but his decision making skills in the passing game leave a lot to be desired. Granted, young QB's are going to throw a higher percentage of interceptions starting out. But Allen has thrown some bad picks, easily avoidable giveaways that could (but not yet) be backbreakers for a young squad who's learning how to win. Perhaps this is a premature alarmism, a case of concern for a passer going through growing pains. Perhaps he develops and Allen is fine in the end. But in today's environment, while quarterbacks can still be complementary players that can be key to a championship, they cannot in no uncertain terms be a liability. Look no further than the example of Jameis Winston in Tampa Bay as to the perils of being a turnover happy QB on a rebuilding roster. It will be up to Allen and offensive coordinator Brian Daboll to work out those kinks and have Allen reach his full potential.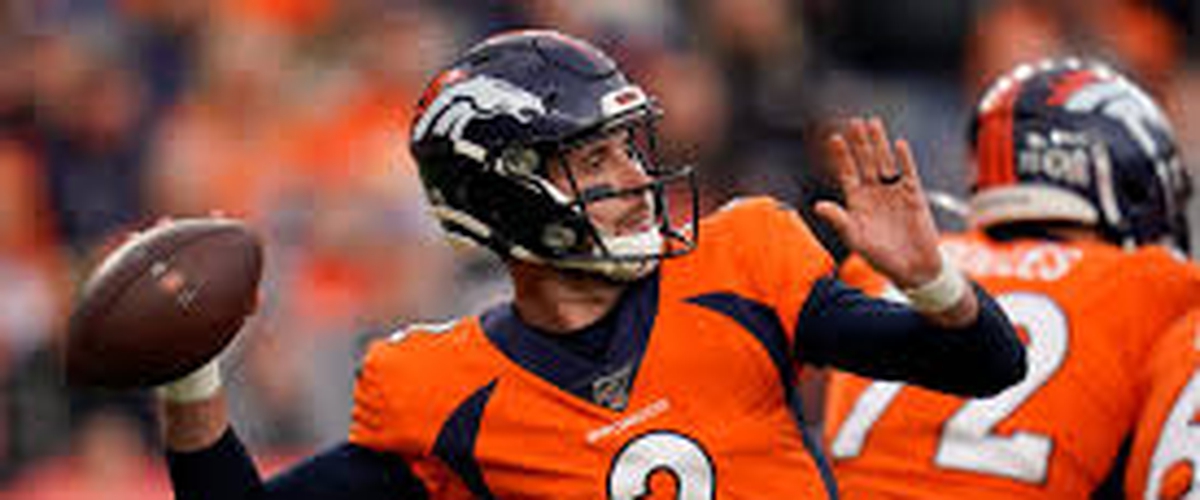 The Denver Broncos, with first time starter in QB Brandon Allen, defeat the Cleveland Browns 24-19. Allen becomes the 13th quarterback in a special category This particular game could easily be about the Browns sliding to 2-6, on a hype train officially bound for nowhere. Or it could be about them losing to a team starting a quarterback who never started a game in an a already journeyman career in Allen. But the focus moreso here is on Allen, specifically what he represents. Despite being in his fourth year, this start makes Allen the 13th quarterback this season to start a game with less than 16 starts prior to 2019. Make no mistake about it: the NFL is a seeing a youth movement at its most high profile position. To what extent these young players last is anyone's guess. Some, such as rookie signal callers Kyler Murray of Arizona & Daniel Jones with the New York Giants will be with their respective teams for the foreseeable future. Second year Pittsburgh Steeler Mason Rudolph could be Ben Roethlisberger's successor, depending on how Big Ben's elbow rehabilitation goes. Gardner Minshew of the Jacksonville Jaguars may give way to Nick Foles once Foles is cleared to play off injured reserve, but Minshew certainly looks like he belongs at this level. The Carolina Panthers look to be very comfortable with Kyle Allen under center as Cam Newton continues to heal from a Lisfranc injury. And sophomore sensation Lamar Jackson of the Baltimore Ravens is in the conversation for NFL MVP. The quarterbacks of yesteryear are fading from view. The likes of Tom Brady, Drew Brees, and Philip Rivers have far many yesterdays and a dwindling number of tomorrows. And the NFL is a young man's game. The youngsters of 2019 will lead the NFL into the next decade, with all the shifts in power and redefinition of the league hierarchy that all entales. While we may be wistful about saying goodbye to Brees, Brady, Rivers, and Roethlisberger, we should be excited to say hello to Jackson, Rudolph, Minshew, Jones, & Murray. We'll see some of them a time to come. This injection of youth will make the NFL feel new again... just as it always does.
---