The Capitals Through (Almost) 30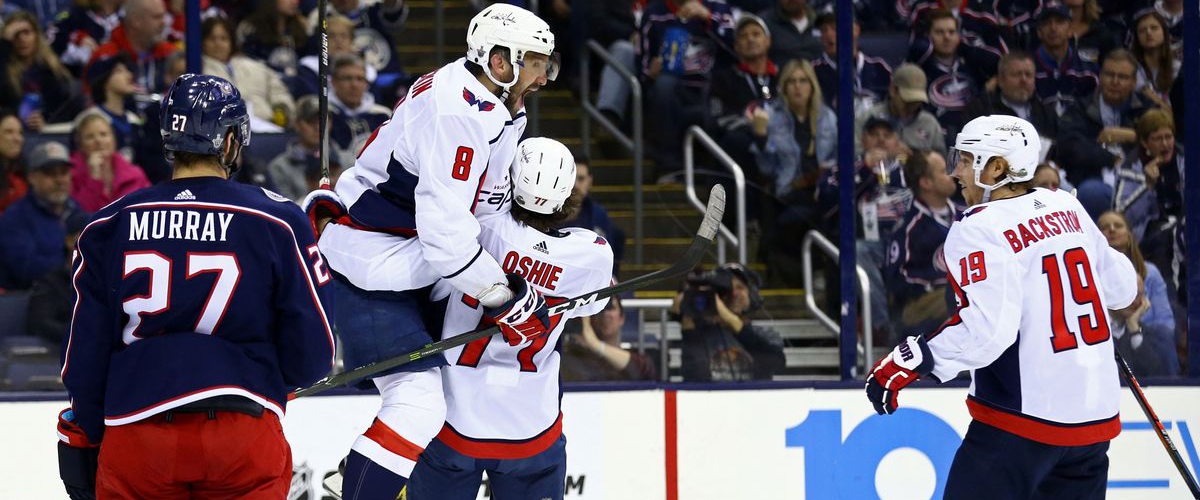 The Washington Capitals have played 29 games, so I thought it'd be good to do a recap of the season so far, and what's to come in 2019. As of today, the Caps are in 1st place in the Metro division with an impressive 17-9-3 record. Things weren't always this great for the boys, however. It took a couple months for them to get their footing, having not recorded back-to-back wins until November. Then, the savior came.
Tom Wilson.
Who would've thought? After Wilson's suspension was reduced, he was immediately reinstated that night after serving 16 games for his hit in the preseason. He wasted no time getting started, and recorded a goal in the first period of an eventual Caps dismantle of a red hot Minnesota Wild. From there, the Caps ran off a 7 game winning streak that had Wilson produce at a rate never seen by him before, rattling off his first goal streak of 6 games, as well as a point streak of 8 games for a total of 8 goals and 14 points in 11 games. He was clicking on all cylinders with the first line of Ovechkin and Kuznetsov, the line that finally got the Caps over the hump with Kuznetsov leading the postseason in points, Ovechkin in goals, and Wilson recording 15 points in 21 games, a clear uptick in production.
While it seemed clear that Wilson was the catalyst to this Caps team, and quite frankly the most valuable player to this point, he decided to get into more hot water he blindsided a New Jersey Devil and received a match penalty and subsequent ejection from the game.
Was the hit illegal? Probably. Was it to the head? No. So Wilson (rightfully) didn't receive a suspension, but all eyes in the hockey world were once again on him. With his polarizing style of play, as well as his production increasing, Wilson became the enemy of every other team in the league, as well as the star Washington D.C. deserves.
Wilson epitomizes D.C. so well. Often an overlooked city, as was Wilson to the NHL. Through Wilson's first five season's in the NHL, he was underused, overlooked, and out of place. He tried to adapt to being a fourth line player early in his career, which really exemplified his brute style of play. The goals and points, however, did not follow, as playing on a line with other 4th liners didn't create many opportunities for the forward. As his playing time slowly increased from season to season, so did his shots. Likewise, the city of D.C. is often overlooked of its beautiful architecture and environment and labeled as a politically city, as well as being blamed for what is happening in the world today.
With more exposure, however, Wilson has proved to become the 1st liner that he was paid to be this summer. While many were quick to ridicule the Caps for the massive six year pact they handed out to Wilson this summer, paying him an AAV of $5.1 million, the deal was made in mind for the future and progressing, not Wilson's past production. These are the smartest types of deals to make, betting on a player's future, instead of rewarding him for past production. While they are risky, for example the Leafs handing out a 7 year, $4.5 million AAV contract to Nikita Zaitsev after only one season of him in the NHL, they are necessary in locking up future stars to deals that will eventually look like steals. Time will tell if Wilson can keep his hits in check, but if his production is any indication, he will well be worth the money.
While calling Wilson the most valuable player of the team might seem crazy at first, I want you to hear me out. Since coming back to the lineup, Wilson has taken on the responsibility of playing on the first line, setting up in front of the net on the power play, and leading the penalty kill. Let's dive a little deeper into this. Most people argue that any player, including themselves, could play on a line with Ovechkin and Kuznetsov and thrive and score goals. But it's not that easy. It took the Caps trying out more than five players over the course of two seasons to find the right guy, one that can hit and show grit, but one that can make plays and put the puck in the net. With Oshie being out (I'll get to that in a second), Wilson has assumed his role on the power play, crashing the net and teeing up for a one timer. He has made sure the power play hasn't come crashing down just because Oshie is out. Finally, the area where he helps the Caps out the most is the penalty kill. Wilson is an incredible penalty killer, and the Caps went from having one of the worst penalty kills in the league to around the league average after he came back.
Now a couple games back, after a devastating 6-5 loss to the Ducks which saw the Caps blow a 5-1 lead, the boys headed to T Mobile Arena to face off in a rematch of the Stanley Cup Final against Vegas. This is when shit hit the fan. Ryan Reaves, another one of the most polarizing players in the NHL basically hit Wilson the same way Wilson hit that New Jersey Devil a couple games before. The problem was, Wilson's chinstrap unhooked and his head slammed against the ice. He still hasn't returned, missing the last two games (both wins) with a concussion. Now most people said Wilson got what he deserved (which is truly just a horrible thing to say about anyone, I don't care how much you hate them) but my belief is that while the hit was illegal, they made the right call on the ice, and Reaves should not be suspended for it. That being said, I hope Wilson comes back soon, the team needs him.
They didn't show that on Saturday, though. The Caps absolutely dismantled the Blue Jackets 4-0 in the most complete, dominate effort they have put together this season. The Jackets had almost no chances, and the game was put away at the end of the first period. It was great to see bottom six forwards stepping up and carrying the team, and if they play like this in May, they will still be playing in June again.
Finally, I wanted to share just my overall thoughts, what I'd change and whatnot. The first is that I absolutely love the way Jakub Vrana is playing right now, and he needs to be put on to the power play immediately. Get Brett Connolly off, and have Vrana show off his sniper. While I do have issues with him carrying the puck into the offensive zone, as it normally becomes a turnover, having him on one of the ends being ready to shoot would be a huge boost to this team.
I don't think the Caps are the best team in the league, but they also weren't last year and they won the damn cup. I think Nashville, Tampa, and Toronto are all better on paper. But so were the Caps in 2016 and 2017 and they still lost. I think they can matchup with any team in a 7 game series, and I am confident that they can make another run this year. One big change the team will have to adjust is their defense, which is getting better but has been atrocious this year. No, Brooks Orpik returning will not help, I pray to god Reirden does NOT start him. I honestly think they are working out kinks though, and they don't want to give anything away before the playoffs.
Special shoutout to Michal Kempny who is the Caps best defenseman and the most underrated in the NHL. He's also a steal at $2.5 million AAV a season.