Bears Roaring into 2019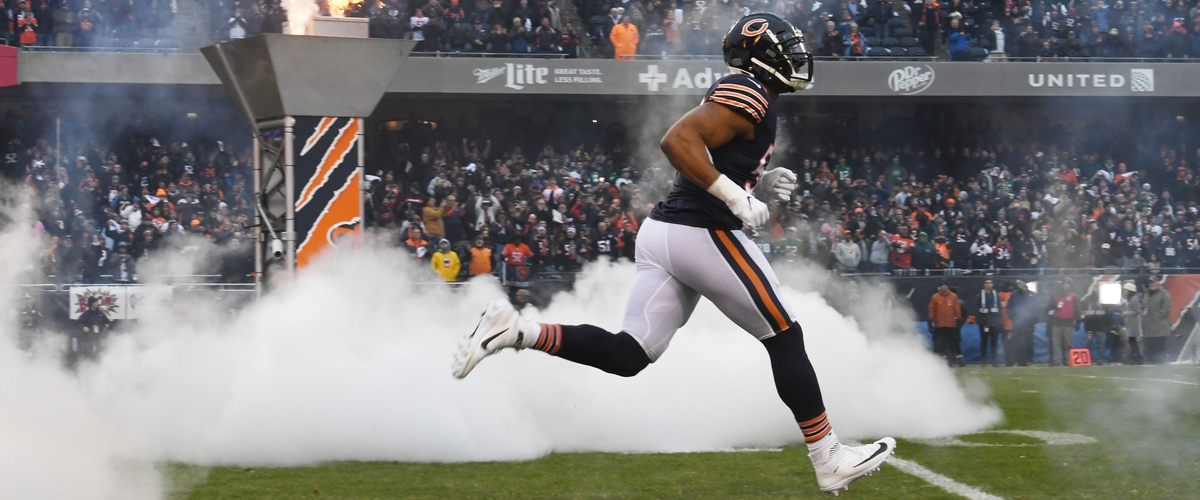 What a difference one year can make. Last year, the Chicago Bears were coming off a 5-11 season. Expectations were low, and there were plenty of questions surrounding the team as they went into Lambeau Field in week 1. Can Matt Nagy really coach an NFL team? Is Khalil Mack worth two 1st-round picks? Can Mitchell Trubisky lead the offense and win football games? I think I can speak for most Bears fans when I say, yes, yes, and yes. Nagy changed the whole culture of this team, Mack was one of 2018's most dominant players, and Trubisky showed significant improvement in the team's 12-4 season. Now there is one big question for the Bears to answer. Can they repeat and add on to last year's success in their centennial season?

The first step in doing just that is maintaining their defensive dominance. Littered with stars, the Bears defense allowed a stingy 17.7 points per game, while sacking opposing passers 50 times and taking the ball away an incredible 36 times. They were undoubtedly the most feared defense in the NFL. This defense does face one major obstacle, a new coordinator. Vic Fangio deserves a lot of credit for his work with the defense, and his absence is most certainly felt among the players. However, his replacement, Chuck Pagano, may be a fitting replacement. Pagano will essentially be the defensive head coach with Matt Nagy almost exclusively handling the offensive side. That means head coaching experience is a huge plus. Pagano is also expected to bring even more aggressive play-calling than his predecessor. That's a terrifying image for opposing offenses.
The extra aggressive defensive scheme is something that may help a secondary that got a downgrade over the off-season. The rock solid Adrian Amos moved up north to Green Bay, while the talented nickel corner, Bryce Callahan, joined Vic Fangio in Denver. This leaves the secondary a little weaker, but putting more pressure on the QB will make the job easier for this weaker defensive backfield. Heavier pressure often results in more mistakes, which allows ball hawks like Eddie Jackon, Kyle Fuller, and newly acquired Haha Clinton-Dix more opportunities to snatch the ball away. Clinton-Dix may not be as good a player as Amos, but I think he might benefit from Pagano's system and could have strong year, assuming he can get healthy and stay on the field in 2019. If all of this is true, this defense may not take even a small step backwards this coming season.

On the other side of the ball, much like the defense, very little has changed. The Bears swapped Jordan Howard for David Montgomery, they added Mike Davis to the backfield, and the brought in the versatile Cordarrelle Patterson, However, there is one variable that is more crucial to the success of this offense than any of those guys, and his name is Mitchell Trubisky.
The young passer had a major step up in his Sophomore season. However, he still has plenty of room for improvement. At times, Trubisky looks like a star. Other times, he looks like an antsy rookie. One play he's hitting Robinson in the corner with a perfect toss. Then the next drive he'll airmail a ball straight to the deep safety. Sometimes he looks calm and cool under pressure. Other times he looks lost. If he can just find a little consistency in his game, this team won't be losing many games in the near future. He doesn't have to be an all-pro. He just needs to manage the game.
I think after this season, the Bears will finally know what they really have in Trubisky. With little college experience and a rough start to his NFL development, he was bound to underachieve in his first two seasons. But there are no excuses anymore. If Trubisky is going to be worth the price the Bears payed for him, we should start to see clearer results in 2019. If we don't and he continues to struggle with major inconsistency issues, Bears fans should be concerned. I'm expecting to see him take another step up in performance after another off-season learning this offense, but I have no idea how big that step might be.
For the most part, this is the same team as last year. The off-season was relatively uneventful in Chicago. However, with young talent all around the team, they may improve without adding anyone. I expect this team to be just as good as last season, but with a much tougher schedule ahead, another 12-win season seems like a long shot. There are no bad teams in the NFC North, which means no win will come easy within the division. They will also face six 2018 playoff teams. Those teams are the Saints, Chargers, Eagles, Cowboys, Rams, and Chiefs. If the Bears would split those six games and go 4-2 in the division, that would be a very respectable performance on their part. That would already put them at five losses, and in the NFL, they could very well lose one of the other four "easy" games as well.
That's what I expect from this team. A 10-6 or 11-5 season would be just fine, considering the schedule they've been given. I believe that will be enough the take the division title once again, and possibly end up with the same 3rd seed as last season. It's what they do after that that really matters. The fans in Chicago expect more than just a playoff appearance. They want to see their Bears in the Super Bowl again. With a dominant, terrifying defense, a mystifying offense, and the reigning Coach of the Year, the Chicago Bears are certainly capable of such a feat. Now they need to execute.
---