Preseason to Postseason: Predicting the 2019 NFL Playoff Bracket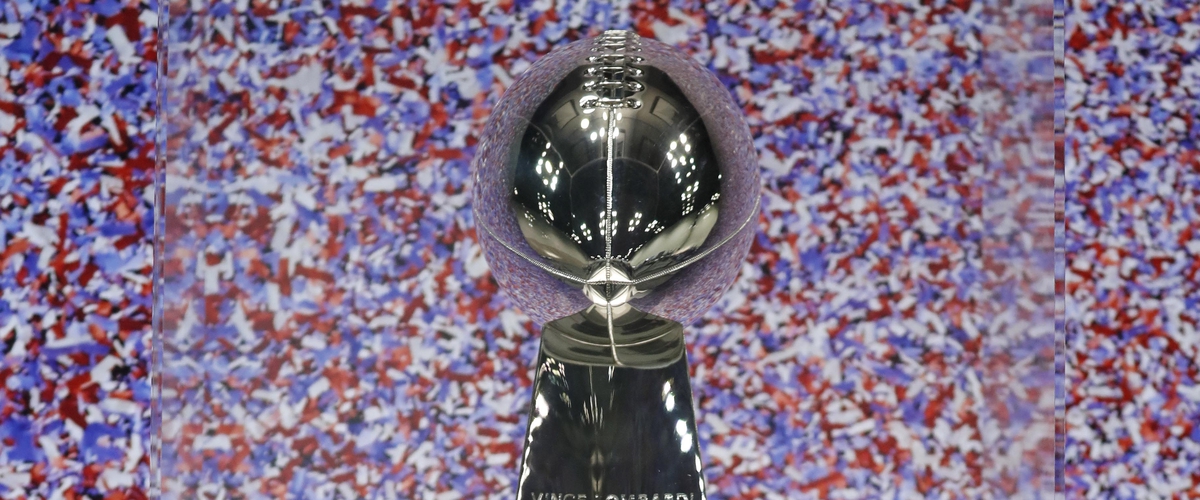 At long last, football is back! The nation's most watched TV show will be kicking off it's centennial season with the Bears hosting the Packers in just one week. Now that each team's starters have most likely played their final preseason snaps, now seems like a perfect time to get all the wild 2019 predictions out in the air. Today I'll be predicting the entire playoff lineup, seeds 1-6 in both conferences. I'll start in the NFC.
NFC #1 Seed: New Orleans Saints
The Saints claimed the top spot in the conference last season, only to fall in heartbreaking fashion for the 2nd year in a row. That's a tough place to come back from, but if any team in the NFC can do it, it's the Saints. The 40-year-old Drew Brees has shown no signs of slowing down heading into his 19th season. Their skill position group is headlined by the incredible talents of Alvin Kamara and Michael Thomas, and they have an O-line that only gave up 20 sacks all of last season. Cameron Jordan leads a defense that allowed only 3.6 yards per carry, forcing opponents to out-throw Drew Brees to earn a win.
The Saints do have a difficult schedule, but it's nothing they can't handle. If they can put the past behind them and stay healthy, there's no reason that New Orleans can't reclaim the top seed.
NFC #2 Seed: Seattle Seahawks
Not long ago, I thought the Seahawks were on the verge of a slow plummet into mediocrity. However, now I believe they are back on the rise. This team doesn't have as many household names as they did a few years ago, but they have all the pieces necessary to be big time contenders again. Russell Wilson would have been a serious MVP candidate if it wasn't for Patrick Mahomes, and I expect more of the same this year. Wilson also was part of a backfield that led the league in rushing yards, averaging 160 yards per game. Seattle also controlled the ball extremely well, having the fewest giveaways and leading the NFL with a +15 turnover differential.
Seattle's defense didn't turn any heads last season, but it was serviceable. Defense was the main focus in both the draft and free agency, and I expect that to bring results. This defense should keep them in the game and allow Wilson and the rest of the offense to win it.
With Seattle still being one of the toughest places for visitors to play, I don't expect them to lose more than one game at home. Even a mediocre road performance could get them a bye.
NFC #3 Seed: Chicago Bears
Last season was a breath of fresh air for Bears fans. After winning just 14 games in John Fox's 3-year run, the Bears won 12 in Matt Nagy's first year in Chicago. The entire culture of this team changed. The defense finally regained the same ferocity that Chicago defenses are expected to have, and the offense went from bland and predictable to one of the most creative in the league. There is a lot to like about this team and their future in front of them.
I believe you can expect the Bears to be just as good as last season, if not better. The defense may take a small step back, depending mostly on the success of Chuck Pagano. I do expect more from the offense, specifically from Mitch Trubisky. However, due to a tough schedule, I don't see them achieving another 12-win season. I think 10 or 11 wins and reclaiming the 3rd seed is a very reasonable expectation for this good Chicago Bears team.
NFC #4 Seed: Dallas Cowboys
When the Cowboys are firing on all cylinders, there aren't many better teams. The offensive is rooted in the trenches with an outstanding O-line. Dallas also has a fine new set of triplets in Prescott, Elliott, and Cooper. On the opposite side, the young Leighton Vander Esch heads a defense that was quietly one of the NFL's best. The sky is the limit for the Dallas Cowboys.
All that being said, I question how often we'll see this team play to their potential this coming season. The Cowboys already struggled with inconsistency in recent years, and a star like Ezekiel Elliot holding out isn't going to help anything. We saw a similar situation in Pittsburgh with Le'Veon Bell last year, and we saw how that turned out. On top of that, although he is not holding out, Dak Prescott is also unhappy with his current contract. This kind of thing is never good for a team. Even if Elliott does not miss a game, these contract disputes are still bad for the locker room.
Luckily for them, they don't have a whole lot of competition in the East. The Eagles are the only team who can contend, but it seemed as though they may have some locker room trouble of their own. There were reports that some Eagles players preferred Nick Foles over Carson Wentz, and after the trade of Foles, there may be some issues in Philly. Maybe not all the Eagles rumors are accurate, but if they are and both the Eagles and Cowboys are experience troubles, I'd just have to bet on the more talented team. That is clearly the Cowboys.
NFC #5 Seed: L.A. Rams
The Rams entered their 3rd season back in L.A. with high expectations. After adding several big defensive pieces in the off-season, the young Rams team seemed poised for 1st-round bye and a possible Super Bowl appearance. And that's exactly what they did. One might assume the expectation would only grow larger for this year's team, but personally, I'm expecting a slight drop off.
The biggest rumor surrounding the team through the off-season have been around Todd Gurley and his knee injury. Any time a runner as good as him encounters a lower-body injury, there's always some cause for concern. He may see a decline in 2019, but who I'm actually more concerned with is the man under center. Jared Goff has thrived under the coaching of Sean McVay in the last two seasons, but his performance late in the season left a lot to be desired. In his last 8 games (postseason included), Goff completed just 58% of his passes, threw more picks than TD's, and his passer rating was only a 73.3. Those aren't the numbers you want to see in the biggest games of the season.
I still see the Rams being a highly competitive team this coming season, but they will be taken down a peg from last year's success. I fully expect Seattle to beat them for the division title, and that would put them with a much more uphill battle in January if they want to reach the biggest stage once more.
NFC #6 Seed: Green Bay Packers
For the first time in the Aaron Rodgers era, Green Bay is coming off back-to-back losing seasons. This is an odd sight after seeing them in the postseason every year from 2009-2016. In response to these underwhelming seasons, Green Bay dumped Super Bowl Champion Mike McCarthy and picked rookie head coach, Matt LaFleur. It's clear to see why LaFleur was was brought in. The Packers have watched Sean McVay and rival Matt Nagy do some amazing things in the last couple years, and they're hoping to achieve some of that same success with one of McVay's prodigies. If LaFleur is as good as the two aforementioned coaches, with Aaron Rodgers by his side, this could be the best Green Bay offense in some time.
Don't expect an all-time offense right out of the gate from the new coach, but we should see a more acceptable performance from this offense. If Mike Pettine can put together a competent defense as well, we should see the Packers in January.
AFC #1 Seed: New England Patriots
Surprise, surprise, the New England Patriots are still the NFL's Goliath. Fresh off their 6th Super Bowl victory of the 21st century, the expectations for the Patriots are just as high as ever. I've given up on waiting for Tom Brady drift off. He won't. He's immortal. Bill Belichick is the greatest coach of all-time, and it appears he will always be at least one step ahead of the competition. With these two at the helm, New England is constantly excelling on both sides of the ball. The Patriots have been a top 10 scoring offense for each of the last 16 seasons, while also having a top 10 scoring defense in 14 of those 16 seasons. No matter who is on this roster, the Patriots remain dominant, and I don't see that changing.
As if the Patriots weren't good enough to get the top seed already, they will also be aided be an easy schedule. For the defending Super Bowl Champions, this schedule is comically easy. For starters, the Patriots play in the weakest division in the NFL. New England has had a winning record within the East every year since the divisions were realigned in 2002, and with young, unproven, sophomore QB's leading each of their weak rivals, I expect more of the same. The Patriots also play the NFC East and the AFC North, which I could argue are the next two weakest division in the game. This season should be a cake walk in New England.
AFC #2 Seed: Houston Texans
After the utterly stunning news of Andrew Luck's retirement, the Texans became the clear favorite in the South. Houston was already the reigning division champs, and now, their biggest threat to overtake them just received the biggest hit they could possibly take. It appears to me that the question is not who will win the South, but which seed will Houston claim along with it?
I see the Texans finishing rather well. This team has serious talent. Deshaun Watson is one of the league's brightest young stars, and his favorite target, DeAndre Hopkins, might be the best WR in the NFL. The Texans boast a terrific run defense, allowing a league low 3.4 yards per carry that helped them to let in less than 20 points per game in 2018. Lamar Miller's recent injury will hurt their own backfield, but Duke Johnson is capable of getting the job done. Houston also excelled in ball control last season with a +13 turnover differential, ranking 1st in the AFC in that respect. The only thing holding this team back is their O-line, and with some adjustments and quicker releases from Watson, that weakness can be limited moving forward. If the Texans can stay relatively healthy again this year, they should be in for a great season.
AFC #3 Seed: L.A. Chargers
Since coming to L.A. in 2017, the Chargers have become one of the most balanced teams in football. They don't light up the scoreboard like some other great offenses, and they don't possess an airtight defensive wall like some contenders. However, the Chargers play both sides really well. They have as much young talent as anybody, and they have a seasoned veteran QB to lead the charge. They may not have Melvin Gordon for some, or all, of the season, but that doesn't concern me. They have other runners. They can afford to continue without him. They have depth, and that goes a long way.
I'm sure many are surprised to see the Chargers in this slot over the Chiefs. Personally, I think it's a toss-up between the two, much like last year. Kansas City is clearly the more flashy, exciting team, but that's not always what you want in the NFL. Consistency goes a long way in this league. Just look at the Patriots. The Patriots have dominated the league through steady, rock solid football. The Chargers are looking to do the same thing, and I think it will pay off.
AFC #4 Seed: Cleveland Browns
As weird as it is to say, this is the Browns division to win. Cleveland may have finally found their QB in Baker Mayfield, and surrounding him are the talents of OBJ, Jarvis Landry, Nick Chubb, Kareem Hunt, and David Njoku. If this offensive group develops chemistry and stays healthy, they could quickly reach elite status. Defensively, the Browns were very hit or miss last year. Some weeks they are allowing only 21 to the Saints or Steelers, while others they give up 35 or 45 to the Bengals or Raiders. All in all, Cleveland was only 21st in scoring defense with 24.5 points allowed per game. However, they did make up some ground by taking the ball away 31 times, only the Bears took the ball away more. If Cleveland keeps those trends, they will win a bunch of shootouts, and they'll be a ton of fun to watch.
The Browns will be an exciting team in 2019. It's been quite some time since Cleveland's expectations were this high. Naturally, there will be some bumps in the road. With a rookie head coach and a young QB leading the way, you can't expect all smooth sailing along the way. The will have some rough games that will knock them down to a low seed, but I fully expect them to win this division.
AFC #5 Seed: Kansas City Chiefs
Last season, Kansas City rode the arm of Patrick Mahomes to a 12-4 record and a 1st seed finish in the AFC. That was the 3rd consecutive division title for the Chiefs. Led by the eventual MVP and one of the best play designers in the game, Kansas City's offense was nearly unstoppable. So what could cause them slip to wild card position in 2018? Well, there's a couple things.
The biggest and most obvious is a regression from Mahomes. The 23-year-old phenom has all the looks of a true star, but what he did last season can't be repeated every year. At least, I don't think it can. By no means do I see Mahomes playing poorly, but even a 4,500 yard, 45 TD performance would be a regression that could cost the team a win or two. Tyreek Hill's major off-field drama isn't going to help anything either. Although Hill won't miss any games, I imagine the locker room may be a bit divided, especially after another star, Kareem Hunt, got into trouble just last year. With a defense as poor as Kansas City's, they can't afford these things to lower their point totals very much.
This is still a very good football team, but as I stated earlier, the Chargers are more solid. The Chiefs have extreme strengths and weaknesses, while the Chargers can do anything well. The Chiefs have most of their success riding on one player, while the Chargers depth is one of their biggest strengths.
AFC #6 Seed: Jacksonville Jaguars
The 2018 season was huge disappointment in Jacksonville. After winning there first division title of the century, the Jaguars cut their win total in half and finished last the AFC South the following year. Jacksonville quickly went from a Super Bowl contender to a bottom feeder. With the Colts' playoff chances suddenly dropping, Jacksonville could really use a rebound this season, and I think that's what they'll have.
Even in through poor season they had last year, Jacksonville's defense still remained a bright spot. Although the takeaway and sack totals dropped significantly from the previous year, the Jags still allowed less than 20 points per game, despite having to play 7 of their games against top 11 scoring offenses. If that defense stays steady, they won't need a whole lot of offensive production. Jacksonville did a very smart thing in signing Nick Foles over the off-season. While he isn't exactly an elite QB, Foles has shown that he can get the job done, especially in big games. Even if no other progression is made within the offense, switching out Bortles for Foles should make a noticeable difference. On top of that Leonard Fournette has the potential to bounce back from his poor 2018 performance and give this team another big boost going into the new season.
I'd be surprised to see the Jaguars seriously challenge Houston for the division, but I can easily see them getting this spot. If they do get here, you can't keep them out of the Super Bowl discussion either. They'd have a hard road ahead, but a great defense and big game QB can get you a long way.
---