NFL Week 15 Preview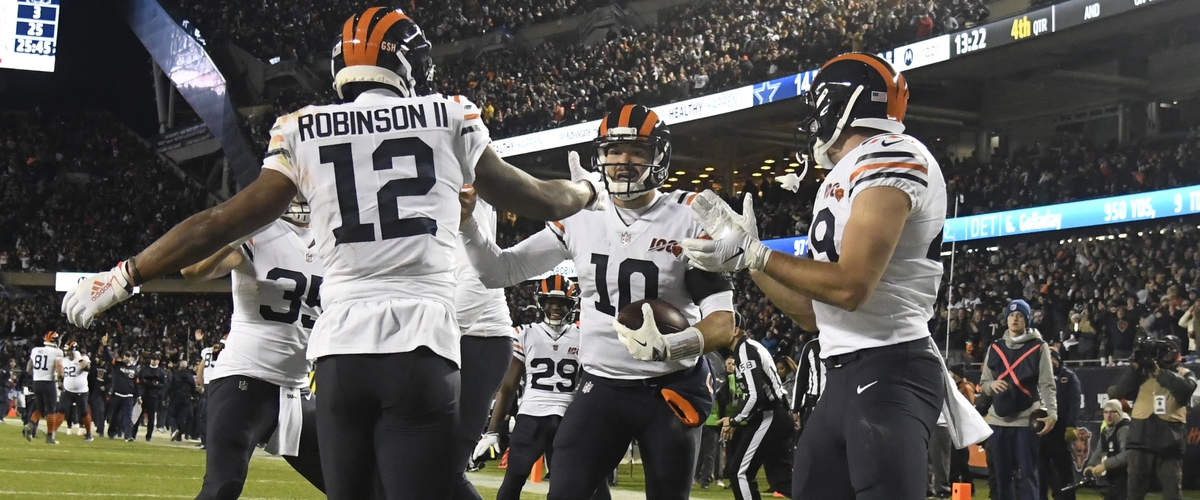 With nine playoff spots still unclaimed and only three weeks of football left to play, this NFL regular season is in for one hectic climax. While a few teams are just one easy baby step away from securing their 17th game of the season, other teams are one slip away from securing their extended Winter vacation. These last weeks will bring out the best and worst of all the contending teams in the league, and there will be little question who truly belongs in the postseason. Below are four games consisting mostly of teams on the border of the playoff picture. All of them have tough challenges ahead of them. How they respond to them will speak volumes of their true ability.
Bears vs Packers
Just a few weeks ago, this game was marked off by many fans as another irrelevant game in a one-sided rivalry. With the Bears having taken a big tumble from last year's division title, there was little sign of hope to find their way back into contention. But after stringing together a few wins, including their best performance of the year last Thursday night, Chicago does have an outside chance at reclaiming a spot in the postseason. To do so the Bears will almost certainly have to win out, including winning their 3rd game in Lambeau since 2007.
The poor performance of the Bears back in the season opener against Green Bay would end up being a major sign of things to come. Chicago's offense came out of the gate about as slowly and poorly as you could imagine. The defense, while still very good, just wasn't able to carry the team the same way they did a season prior. Those things would continue to remain true nearly every week. However, if last week's game is any indication of things to come, the tides may be turning in their favor. The offense may be finally their identity. The Bears finally found ways to get Mitch Trubisky out of the pocket and use his legs effectively. As a result, every other aspect of their offense also benefited. The defense also manhandled Dak Prescott most of the night, only really faltering in garbage time. And that defense could be getting huge boost in the form of 324lb Akien Hicks who is hopeful to make his return this Sunday. Hicks' absence has been felt clearly around this team, and his presence is exactly what this team needs right now to continue winning games.
Green Bay is not an easy team to beat, but I do think they are worse than their record would show. Just like very other year, the Packers' success is almost entirely due to Aaron Rodgers, and the Bears have already shown this year that they are capable of shutting him down. With a few extra days to rest and prepare, I don't see why they can't do that again. And with the offense's confidence higher than it's been all year, the Bears might just bring home a giant win this Sunday.
Bears win, 22-21
Texans vs Titans
No division in the NFL has been as competitive as the AFC South. Up until a week or two ago, all four teams were very much in the running to take the title. But now with Jacksonville and Indianapolis both tailing off, it is now a two horse race. The Texans and Titans now stand at a tie with just three weeks left to play. It seems that the NFL schedule-makers knew this would be the case. Not only do they play this week, they have another meeting in week 17. The goal is simple. Win those two games and the division is yours. However, executing that plan is easier said than done.
Although they are winning at the same rate, there is no doubt that the Texans get more recognition around the league than the Titans. With stars like Deshaun Watson, DeAndre Hopkins, and J.J. Watt, it's not surprising to see them getting the spotlight more than some other teams. However, having those elite players on the roster has not always translated to elite play. Sometimes those stars get hot and elevate this team to a high level. Other times they go cold and leave you wondering how they could possible beat teams like the Chiefs and Patriots. The team opposing them this week doesn't have many household names. They don't really get much recognition for what they do. So let me show you what the Titans have been doing in case you haven't noticed.
After starting the year 2-3 against mediocre competition, Tennessee decided it was time for a change and benched Marcus Mariota in favor of Ryan Tannehill. The following game would be a brutal shutout loss to the Broncos, but it wouldn't be long before their luck would turn around. Since that loss, the Titans are 6-1 and are averaging 31.4 points per game. Most of the credit for that success has gone to Derrick Henry who is 2nd in the NFL in rushing yards and tied for 1st in rushing TD's. But the one who is not getting nearly enough credit is Tannehill. Ryan Tannehill is playing the best football of his career, completing 73.4% of his passes, gaining 9.8 yards per attempt, and amassing an incredible passer rating of 118.5. This makes the QB-RB combo in Tennessee, unexpectedly, one of the most dangerous in the game. And backing up that great offense is a defense that has produced all year long, allowing under 20 points per game. The Titans are secretly starting to become one of the league's strongest teams, and they appear poised to claim their division title.
Titans win, 30-24
Rams vs Cowboys
Over the past few seasons, the stories of the Rams and Cowboys have had more than a few similarities. Both teams drafted their current QB's in the 2016 draft. Both Goff and Prescott have had their hot and cold patches, but overall I think their respective team's fans are happy with those picks as of today. The stars of these teams though have been their young, elite runners in Todd Gurley and Ezekiel Elliott and their blockers in front of them. Each side has shown top tier defensive ability at times, but neither has been able to sustain that success consistently. As a result these similar paths, both L.A. and Dallas have been considered prime contenders in these last couple seasons, and the same was expected in 2019. But both teams have also suffered a similar fall from grace in this season, and now they are just trying to keep themselves in the race.
There is, however, one major difference between the Rams and the Cowboys. Coaching. It's no secret that Jason Garrett's days in Dallas are dwindling. It is clear to everyone that Jerry Jones is becoming less of a fan of Garrett as each day passes, and Cowboys' fans around the nation are in the same boat. Garrett has never accomplished much of anything in nearly a whole decade as the head coach of the Cowboys, despite having plenty of talent do so in multiple seasons. The Cowboys have had the talent to contend for a few years now, but they have no playoff wins to show for it, and they have continued to play worse each year.
Sean McVay does deserve some amount of blame for the Rams' 2019 regression, but he also deserves a little praise for seemingly righting the ship in the last couple weeks. After an embarrassing Monday night performance against the Ravens, McVay made adjustments, rallied his troops, and responded by taking two division wins in a row in blowout fashion. Now the Rams are getting some momentum building at the perfect time, and a playoff run seems within the realm of possibility. McVay has already shown more coaching ability than Garrett ever has, and that should continue with a win over him this Sunday.
Rams win, 24-21
Bills vs Steelers
Buffalo and Pittsburgh have been in position for the two AFC wild card slots for several weeks now. Neither one has been considered a serious Super Bowl contender, reasonable so, but both might only be a couple players away from reaching that level. They don't have many standout, X-factor type players. There success is based mostly on their nameless defensive unit, and the offense seems to do the bare minimum required to scrape out wins. Because of that, they'd probably be considered to be pretty boring teams by most NFL fans. Boring they may be, but winning will bring more than enough excitement to any team in any sport. These teams may not be major contenders yet, but in the meantime, they will continue to play their heart out and may win more games than most people think they can.
This week will be a big test for both offenses involved. If they want any shot at stringing together some wins this January, they're going to need to perform at a decent level against high quality defenses. Between these two options, I see Buffalo standing a much better chance to do that. The Bills have had consistent success running the ball all year long. So if and when Josh Allen gets in a rhythm, they have potential to do some real damage. The Steelers, however, now on their 3rd-string QB and without James Connor in the backfield, appear to be helpless against any real defensive competition. The only way Pittsburgh has a chance in this one is by forcing a bunch of turnovers like they have done this whole season. Josh Allen has had a major turnover problem in the past, turning the ball over 23 times in his first 17 games. So going against a team like the Steelers who lead the league in takeaways could bring trouble. However, with Allen having turned the ball over only 3 times in the last 8 games, it seems like that issue may be a thing of the past. Even with a below average outing from Allen, the Bills should have a much easier time moving the ball than their opponent, and they should secure a double-digit win total with two more games still to play.
Bills win, 20-13
---