Kevin Durant to Warriors....NBA Changed Forever
     I never thought I'd have to write this but Kevin Durant is leaving OKC for the bright sunshine of California. Oh and he's going to win some rings with the Warriors while he's at it. Marc Stein has details about the contract.
Kevin Durant will sign a two-year deal with the Warriors at $54.3 million, league sources say, with a Player Option for Year 2

— Marc Stein (@ESPNSteinLine) July 4, 2016
     So there you have it, Kevin Durant is joining the Warriors and now they are winning the ring....sigh....Ok I know that as a sports blogger I'm supposed to maintain professional integrity and I can't just start ranting about this and that...but you know what it's not happening. If you don't want to read my rant about how KD screwed OKC and the NBA, then skip down until you see the section marked "Grading". Now for the rest of y'all. Enjoy....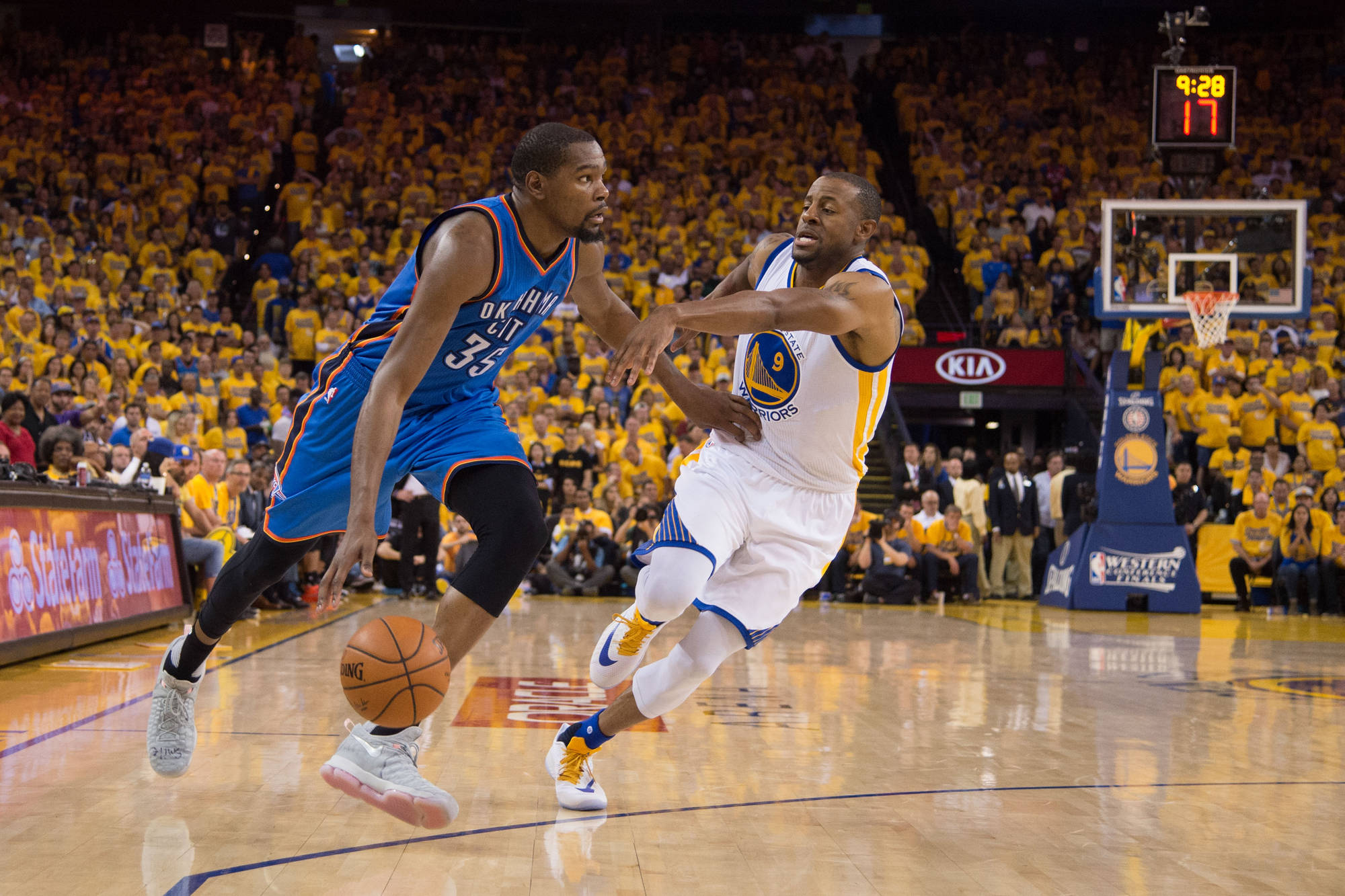 Kyle Terada-USA TODAY Sports
     Congratulations Kevin Durant. After many years of trying to be the man in OKC, you finally copped out and decided to join Golden State. What did it for you? Was it choking a 3-1 lead against them? Was it you realizing that you've been in the league 9 seasons and only having 1 NBA Finals Appearance and 3 WCF Appearances (The Clippers envy you right now. Why didn't you go and join them?) ?  Was it you wanting money? I will never know (nor will the rest of the NBA) what was the catalyst for the decision. I looked up to you KD. I'm not a Thunder fan (Heat) but I am a Texas fan and I was so proud to say that KD went to my college. He played for us. My dream in life was to meet you in person and thank you for everything. You were my inspiration along with Dwyane Wade. And I was so proud that you were a Texas Longhorn. Now? Now I am ashamed. The University of Texas has moral values, those of which we are proud of. I don't know them all, but I know for d**n sure that sacrificing morals for money is not one of them.  By joining GSW, you have ruined the NBA. An All-Star Team was formed out of the misery of the NBA. And for what? FOR WHAT? RINGS? DID YOU SEE WHAT OKC DID FOR YOU? They gave you a top 5 PG (Westbrook). They gave you Harden. They gave you Ibaka. They gave you Kanter and Adams (a C combo that's in the top 5). They just got Oladipo, a very good SG to pair with YOU. OKC loved you KD. They were willing to do all this for you because they believed in you. And I honestly thought you believed in them. I guess not. They gave up IBAKA! To do all this, they were forced to part ways with him. They did all this to satisfy YOU! And what did you do? YOU ABANDONED THEM! You are now the most hated player in the NBA. You have ruined the NBA like a toddler having a tantrum because he isn't getting what he wanted. And you know what's ironic KD? Now the rest of the league is going to make d**n sure that you don't get what you or the rest of your teammates want. This entire scene is reminiscent of a certain scene from a certain movie 
Yeah KD. Congrats. You were the Chosen One and what did you do? You left OKC in darkness. Now all we need now is Luke to come in and lead the rebellion and this is real life Star Wars. Wow! You leaving might actually help out OKC. It'd be the greatest thing ever if Westbrook and the Thunder were to beat You and your Sith Warriors in a playoff series. I was reading somewhere that you have 3 days to review your decision and decide if it's the best. Even if you were to come back, you'd never be forgiven. Not by me. Not by the rest of the NBA! I hope you never win a ring! I hope that you lose in the playoffs! Maybe someday you can redeem yourself like Anakin ended up doing. But it won't be today and it won't be this season. Goodbye KD.....goodbye.
Grading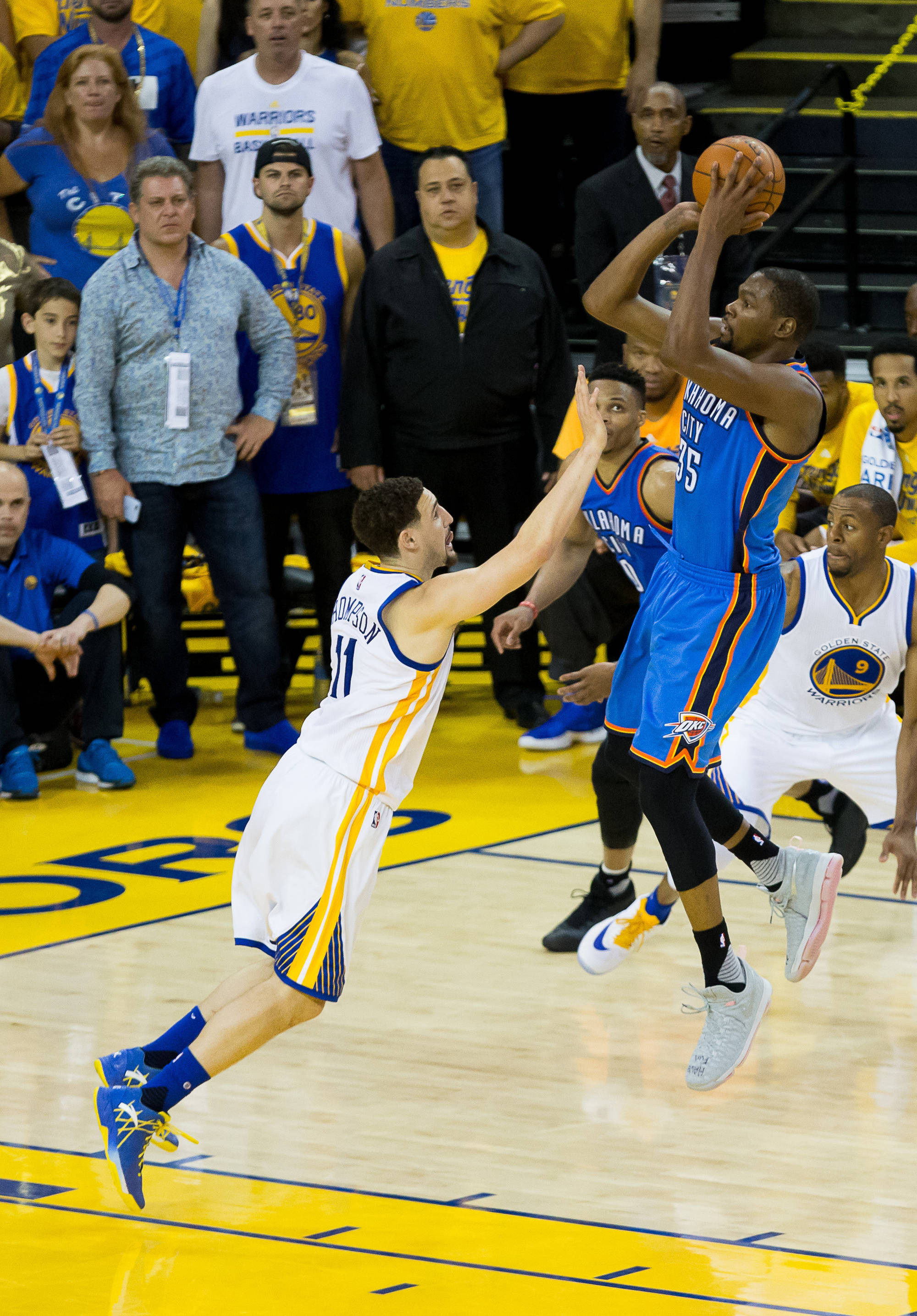 Kelley L Cox-USA TODAY Sports
     Well, there's no need for expert analysis on this one to see that this is going to get an A+ grade for the Warriors. They have the last 3 MVP's on 1 team (Steph and KD) to go along with All Stars in Klay and Draymond. They have formed a superteam one that' s very capable of winning more than 73 games and winning the 2017 NBA Finals. I'm not going to dive into that. That's an easy grade.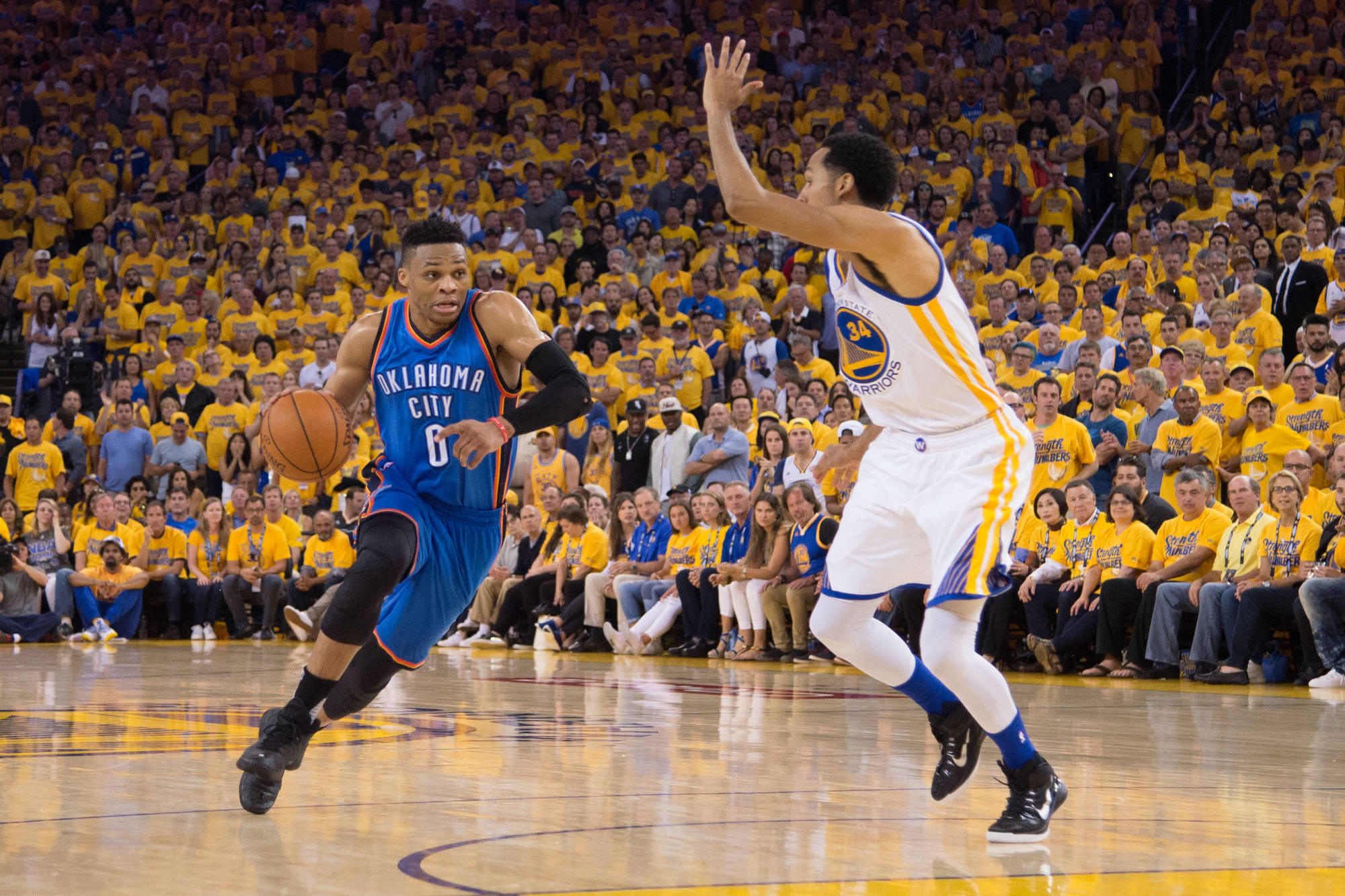 Russell Westbrook will now get a chance to show to the NBA how he will do in leading the Thunder by himself
Kyle Terada-USA TODAY Sports
    For the Thunder, all is not lost. They still have Westbrook. They have solid supporting pieces in Oladipo, Kanter, and Adams. They can make the playoffs next year. While it's disappointing that KD left, they are a solid team still and I could see them getting at best the 5 seed next season. As for the rest of the NBA, well I have said it once, and I will say it again. KD joining GSW has ruined the league. As I said in the previous paragraph, their starting 5 is composed of the last 3 MVP's, and two All Stars to go along with a center (no word on who that will be). I think when the next CBA comes around, the NBA should do something to make sure stuff like this can't happen again. And I know I sound like a hypocrite since I am a Heat fan. The Heat had the Big 3 (Lebron, Wade, Bosh), and the rest of the league was freaking out just like they are now. And what did those Heat teams do? 4 consecutive Finals Appearances to go along with 2 wins during that time frame. I really hope the NBA does something next CBA because letting super teams like this one form eliminates the whole point of competition. And isn't that the point of professional sports? To give it all you got and compete for the championship? That's why we play. Because at the end of the day, what's going to matter more? You gave it all you got but didn't win or you won by cheating the system? People value the former as good and the latter as evil. And that's why KD will be hated by me and the rest of the NBA.
Thank you for reading this article. Got any tips on how to improve? Kindly leave a comment down below. If you liked this article, please hit that subscribe button or follow button because the support means a lot to me. Thanks!
---