Quick Thoughts on the First 6 Weeks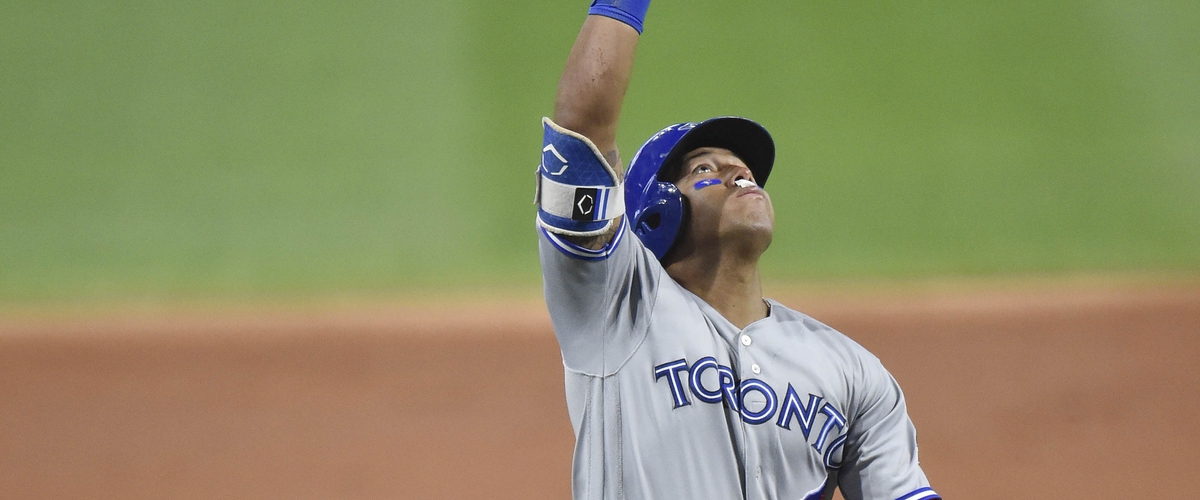 So it's been a while hasn't it? Well between the Raptors and Maple Leafs struggling in the playoffs; and the job that pays the bills being busy as all hell; sometimes this blogging stuff is really hard.
Writing is hard. Writing while trying to be witty and smart at the same time is even harder. I'm not going to lie; it's tough and when writers block comes for me it's insanely hard to sit in front of the laptop and focus for a couple of hours to pound out a 1500 word article. But like anything; it takes one step; or one sentence...or in my case right now; one glass of wine...which may or may not be followed by a second.
Now onto the fun stuff. The Jays had a winning record in April for the first time since; well since I can remember. Ever year; the Jays have had to dig themselves out of a hole usually so big that it's damn near impossible for them to compete the rest of the year. Before this year; the last time the Jays had a winning record in April was 2012. That's crazy. Think about the teams they had and the players...painful to think that this team could get off to that many slow starts. That's what makes this April that much more impressive. Josh Donaldson was out for half the games. Russ Martin and Kendrys Morales both forgot how to hit but still keep checking their bank accounts every other week and low and behold; tons of money keeps coming in. Randall Grichuk couldn't hit and played every day. Devon Travis got demoted because he was hitting so poorly. I listed 5 of the Jays starting 9 who struggled and somehow this team won more than they lost and those that they did lose were more often than not competitive games.
Well the way that it's possible is the bullpen was very effective; and some new faces made big time impacts. Curtis Granderson; who a fair amount of people thought it was a dumb signing (not me); had a great start to the season as did his platoon mate Steve Pearce. Aledmys Diaz had a strong first couple of weeks before tapering off significantly and then getting injured. The bullpen has been fairly strong and they've had to be since the starting pitching has been super weak all season. Then something unexpected happened. The rebuild started right in front of us with no one really saying it was an actual rebuild but it is and it's working so far. Teoscar Hernandez proved that although he might strike out a lot; when he hits the ball it's going to be hit very, very hard. Lourdes Gurriel Jr got brought up and although he doesn't have great stats thus far his at bats have been better than the guy he's filling in for (Travis and Diaz). Anthony Alford is now up with the big club and so is Dalton Pompey. Think about that for a second. 5 guys that weren't with the club to begin the year are now up and playing a role with the team. Maybe; just maybe the club is on to something.
To be honest though; none of this would have been possible without the emergence of Yangervis Solarte. He's seemed to have so many clutch hits already in this young season that I can't help but be impressed. Yes; he may swing too hard all the time but that's who he is as a hitter. His backstory is incredible. Single father of 3 young kids because his wife passed away due to cancer at 31. Seriously; break out the tissues. If there ever was an athlete who deserved to frown and sulk and be mad; this was the guy. But you don't see him do that at all. He's always got a smile on his face; he's always celebrating. He knows how lucky he his to be playing a kids game and making a lot of money doing it.
So we make it to May and things are going well...and then they aren't. Our star closer; whose name I'm not using for some time; gets charged with assault and it appears he hit his girlfriend who happens to be the mother of his first child. I'm not going to be preaching from my laptop saying the Jays should trade him or he should never play another game in his life. I'll let the courts decide his punishment and from there I hope he gets the help he needs and that his girlfriend and child get the help they need. I've got no time for this in my life and it makes me sick thinking about it. I'm here to write about baseball; it's my get away from all the nastiness that's going on all over the world. So when something like this happens; on my team; it shakes me. It really does. I want to escape reality for a couple of hours every once in a while and just watch a game. Now; I've got to hear about how the closer for the Jays is abusive on the tv, the internet and the radio. Awesome.
Back to the good stuff. The Jays as of right now are 2 games above .500. That's a good thing. Sure; they could be far better but considering how most of their regulars are playing and how bad their starters have been. This is a good thing. Even if the players that are struggling bounce back just a tiny fraction of a bit compared to what they are doing now; the team will be much, much better. It's just simple math.
I know it's tough to be watching baseball all the time; there are a 162 games a year! We all have lives, there's hockey playoffs and basketball playoffs and guess what? Those are almost over and both Toronto teams are out so start getting behind the Jays. You might actually fall in love with this team more than those that made the playoffs because this team has a ton of likeable guys on it. Underdogs; guys with great back stories; guys who when you watch them you think "Man; that guy is actually having fun." That is why you want to turn on the Jays game this year. Trust me.
---