Thoughts Before Opening Day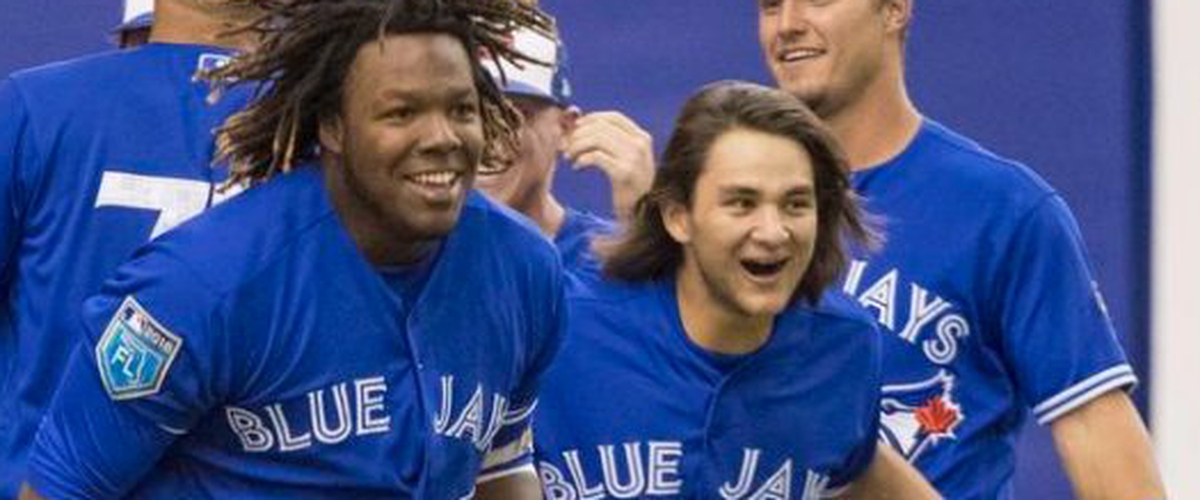 So we are literally a day away from Opening Day; which to those who know is me is a bigger deal than Christmas, my birthday and my anniversary. My wife is aware of this...and if she isn't; she is now and I'm currently sleeping on the couch as you read this. Seriously; OPENING DAY IS TOMORROW!!!!!!!!
So first things first. In case you've been living under a rock for the past 24 -48 hours the Blue Jays were in Montreal; as they have been the past few years to end spring training before the real games begin. The only difference this year from the previous years is that a certain much hyped prospect whose Hall of Fame father played in Montreal was actually going to be taking the field in Montreal. Real nice feel good story to start right? Even found out that Vlad Jr. was excited to be in the clubhouse in Montreal because when he was growing up watching his dad play there happened to be a soft serve ice cream machine in the clubhouse. Now for me; that's heaven. However; todays athletes require a little bit better quality of food to be served to them so that had long since been removed. The rumour was that Vlad Jr was a bit upset. I feel his pain. It's like finding out the Bonanza restaurants your went to as a kid and got all your could eat ice cream went out of business and there's no where to get all you can eat ice cream any more....
Got a little side tracked like I always do when there's ice cream involved. So when game two came down to the bottom of the ninth with the game being tied at zeros and the 19 year old prodigy who grew up at the stadium came to bat...basically you couldn't write a better story. Every kid that has ever played a sport dreams of this moment; and Vlad did not disappoint.
I've watched this clip about roughly 100 times; probably lowballing that figure and needless to say every time I watch it I get more and more excited. Look at the power behind that swing. It's vicious. This is something to look forward to the next 5 or 6 years if you're a Jays fan. You can see exactly why the Jays would not include him in any trade this winter and I don't blame them one bit. The potential is there. Now; hopefully they don't call him up too soon. Let him have some success in the minors at AAA before calling him up. Let's remember he's 19 years old and still has some room to grow but don't be shocked if he's up in Toronto by August doing his best impression of his father.
So in very small sample sizes both Vlad and Bo accounted themselves well. As did Cavan Biggio. Yes...we've got three prospects whose fathers were very good major leaguers. Anthony Alford was looking to lock up a spot on the big club with an excellent spring before he got hurt (again) but he should return and if I was Kevin Pillar; I'd be very worried about getting off to a slow start. Teoscar Hernandez looked like our best outfield by far and he got sent down. Which begs the question....what the hell does he have to do to get on the starting roster?? Very simple; Granderson needs to struggle (it could happen) and Steve Pearce needs to get injured. That last one is a guarantee; I mean he missed time this spring stepping down the stairs in the dugout. So that is going to happen.
And like all inevitable things in this world like death and taxes; Troy Tulowitzki is out for an extended period of time. It looks like now it could be until the all star break until he comes back so that's really, really, really bad. Do you make that trade in hindsight. Of course you do; but it's tough to stomach paying him for 2 more years after this one when he can't get on the field and he's not getting younger. Basically; it's coming to terms with the fact that he's never going to be 100% and the Jays have to figure out how to keep healthy and get him on the field 50% of the time while paying him like a premier player in the league.
Look; do I love this team and think they can contend? Yes to both questions. It even shocks me. The second wild card changes everything and with this team and pitching staff there's a chance. That's how good the pitchers are. Plus this team is far deeper at every position than I can remember and has countless prospects knocking at the door as position players since....well; since I actually started caring about prospects; so about 10-15 years. That's really, really important over a 6 months schedule.
Now can this season turn into a flaming dumpster fire within the first month and a half if they don't get off to a fast start and injuries pile up...it sure as hell is also within the realm of possibilites. I'm putting the odds at 50/50 for either one of those things happening. However; tomorrow is my Christmas and I've got hope. Just like I have had every opening day since I can remember because that's what the start of the season is for fans in any sport; unless you're a Marlins fan; then there is no hope....so it sucks to be them.
So for now check your negativity at the door and enjoy the next couple of weeks and who knows; maybe we will just keep getting excited as the season goes on.
---