Why Did We Sign Who We Did?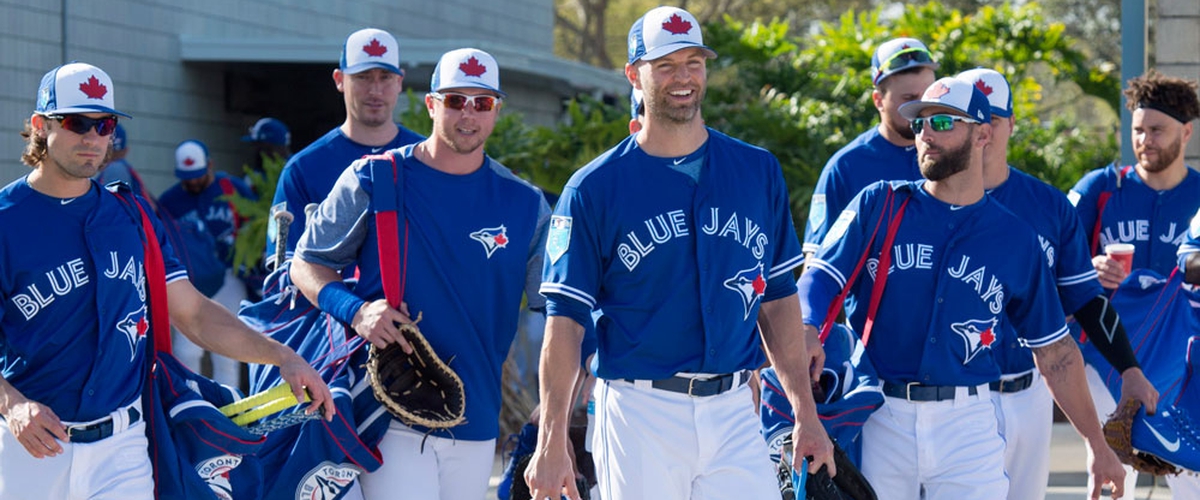 We're roughly 2 weeks away from the Jays home opener and a large number of free agents are still looking for a place to call home. Seriously; take a look at some of the guys left...Jose Bautista, Melky Cabrera, Trevor Cahill, Alex Cobb, Andre Ethier, J.J. Hardy, Greg Holland, Brandon Phillips and Jason Werth to name a few...and trust me there are a lot more. What do all of these guys have in common? They're all over the age of 30. If you're a bus driver; you're ok at that age. If you're a pro baseball player this is not the year to be entering your mid-thirties. It's crazy to see how quickly the owners and front offices have re-evaluated players and started to place more of an emphasis on young players and their development.
You look at Josh Donaldson right now and although I applaud his belief in himself; he's got to see these guys signing for less than $30 million a year and even a fellow third baseman in Mike Moustakas who was considered a top slugging free agent signing for $6.5 million with a mutual option (put your money down that it won't be exercised) and he's a few years younger. Think about that.
With all respect to Neil deGrasse Tyson; he's a science guy and I'm a baseball guy so if he stays in his lane and doesn't question off season signings; I'll stay away from astrophysics and all the things my high school science teachers asked me to promise I'd never take outside of high school if they passed me. That is a true story. I'm not proud of it but I'm far from ashamed by it.
I'll come back to JD in a few but lets take a look at the signings and trades the Jays made over the last few months and look into it a tiny bit deeper. Here are the free agents signings Tyler Clippard (minor league), Seung Hwan Oh, Jaime Garcia, Craig Breslow (minor league), John Axford (minor league), Curtis Granderson, Al Albequerque. The two trades the Jays made were for Yangervis Solarte, Randal Grichuk and Aledmys Diaz.
Look I know a lot of you want more...but you're not getting more than what they've done. Here's what every one of those trades and signings have in common. No long term commitment and player control through arbitration. The older guys are all on one year contracts and the guys that they traded for are all arbitration eligible for the next couple of years. When you factor in current Jays players if they don't resign any one from the current roster next year; the Jays will go from $158 million committed this year to $122 million next year and by 2021 only $69 million committed and that includes arbitration expectations for players eligible.
Now there's no way the Jays drop that far in their payroll savings. I can't see it happening. What they are doing is waiting for the right free agents to come along and have money to spend. The best part of this offseason is every free agent they signed is low risk (due to the low dollar value on each contract) and high reward value. They've added depth in the pitching rotation and bullpen. Axford, Clippard and Oh were all once considered near the top for relievers in the majors; yes they've struggled but that's the nature of relief pitchers. There are very few that you can trust for their entire career. If they suck; you cut them loose and it doesn't hurt you. Jamie Garcia is a sneaky good signing for the rotation. He's a proven starter that has had success and has pitched in the American League East. The best part is that he's not being signed to be an ace; he's here to be the 5th starter and throw about 160 innings this year and take his turn every 5th day and give the team 5 innings. Anything more is a bonus.
The we look at the position players. All under control for the next couple of years; and all are upgrades at the positions compared to the guys they are replacing. No offense to Jose Bautista but last year if he was on any other team he'd be sitting on the bench. Grichuk is a solid defensive player that we need, and our middle infield bench players are improvements over Goins and Barney. Throw in the fact that Tulo won't play for a bit and we can't expect 140 games out of Travis yet so upgrades were needed.
Believe it or not it does. Liam knows. Look at all the financial flexibility this team gets over the next couple of years. Throw in a few prospects making the leap to the bigs and you've got the potential to make some big signings when the big names (and the right age) become available starting after this season. Look at the names: Bryce Harper, Manny Machado, Clayton Kershaw, Craig Kimbrel, Elvis Andrus....point is there are are a ton of guys that are going to be available when they Jays have a ton of room in their budget so they can spend like a 20 year old going on spring break when acquiring their first credit card...not that I would know anything about that but...I'm pictured below.
I'm not saying they are going to go out and make the huge signing of Bryce Harper but they at least have a chance to make an offer. That's what you want to be able to do. The good news is what this cratering tough market is doing is driving the price of Josh Donaldson down. I've actually convinced myself that a 4 years deal with JD for $25 million annually isn't a bad deal.
Now here me out with this thought...it's crazy but if it happens this year; I wouldn't be entirely shocked. Josh wants to maximize his value and make a ton of money. Know who else wanted to do that this year? Manny Machado. What did he do? He moved to SS. Now if Tulo stays hurt for a while; which is not entirely out of the equation; and Diaz and Solarte struggle. There is a chance that JD could slide over to short. Now; I know what you're saying: "But who the hell is going to play third base?!?!?!?" Get ready to follow this.
If JD slides to short; who plays short that is major league ready for the organization? We've got that guy already in the lineup. Russ Martin. Now you're hitting me with who catches every day; not Luke Maile. That's right. Danny Jansen gets the call up to catch. Why him; because he can hit and it's a chance for him to play every day which Blue Jays management has said that they only want him to come up if he's got a chance to play a lot; not back up. The other option is JD still stays at short, Russ continues to catch and our third baseman becomes: Vlad Guerrero Jr. I'm well aware that they don't think he's going to stick at the hot corner for his career but why not give him a shot? Let him have a taste of the bigs and if he struggles he goes back down to the minors and works on a few things and knows what he has to improve on. Who cares about starting his service time; if the Jays management feels he's capable of being up with the big club and playing he will be. Especially if the team is contention.
So let's look forward to this year with this team because there's a chance that after this season a good portion of the roster won't be here as there aren't all that many commitments beyond 2018. That's a good thing believe it or not. I'm trusting in the process and there is absolutely no reason for any one not to.
---