Way Too Early 2018 NBA Mock Draft
The NBA Summer League ended Monday night, with the LA Lakers raising the trophy and Lonzo Ball winning tournament MVP. Over these past several weeks, we got to see this 2017 rookie class for the first time against league competition, and most of the lottery picks are making their teams look smart. However, I'd like to briefly flip our attention to next year's draft. For as much as the 2017 draft was hyped, next year's crop is just as good, and arguably much better. To determine the order for this mock, I simply predicted the standings- an imperfect science, I know, but I did the best I could. Also, there's been some pretty big news regarding the possible reclassification of 2018's top prospect, Marvin Bagley III. He is a once-in-a-generation prospect, but unfortunately, since he hasn't made a decision either way, I didn't include him in this mock. Without further ado, the Way Too Early 2018 NBA Mock Draft.
1. Chicago Bulls: Michael Porter Jr.- SF, Missouri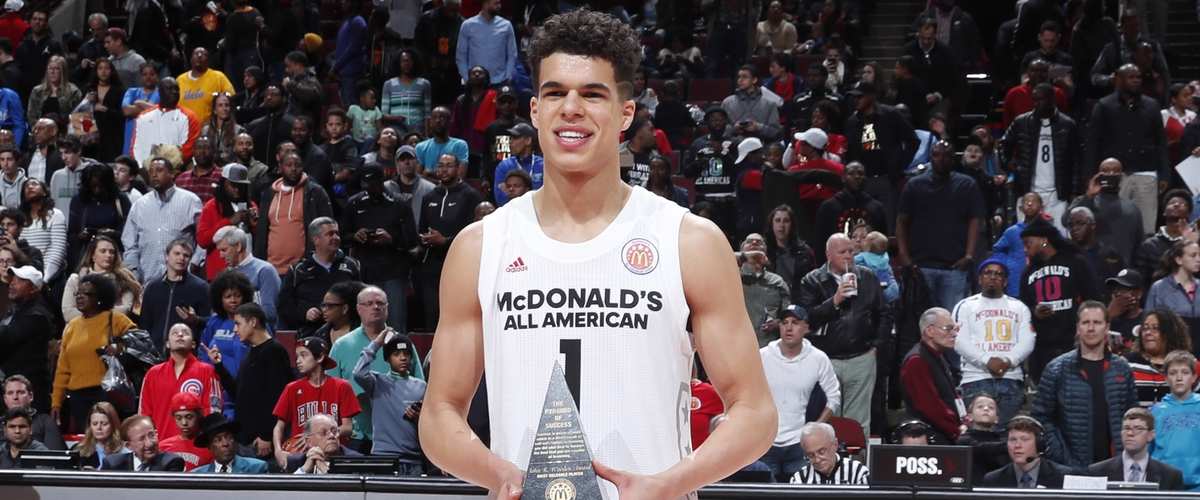 Am I a homer that wants the rebuild to work perfectly? Yes. Is a Bulls top pick completely unthinkable? Not at all, just imagine the roster when Dwyane Wade is inevitably bought out. Chicago might be rolling out a lineup of Kris Dunn, Zach LaVine, Paul Zipser, Nikola Mirotic, and Robin Lopez. If that's not the worst starting five since the Process years in Philadelphia, I don't know what is. For the Bulls, any sort of talent is necessary, and Porter is the best prospect in the 2018 draft right now. He evokes Kevin Durant comparisons as a lanky stretch forward with the ability to grab-and-go in transition, and is an elite rebounder with bounce. Porter would be a franchise player in Chicago for years to come.
2. Atlanta Hawks: Mohamed Bamba- C, Texas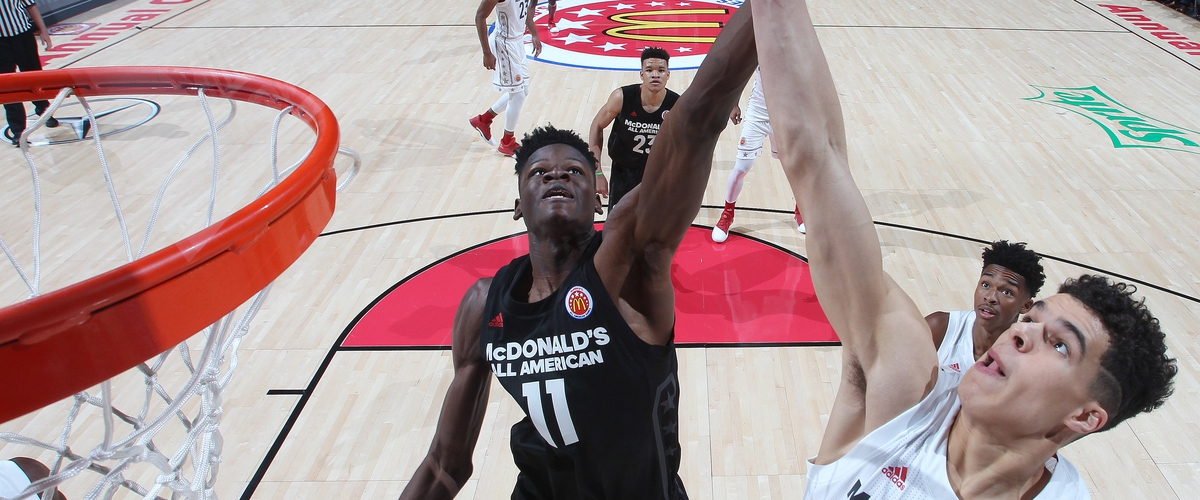 The Hawks won't be quite as bad as Chicago, but boy, they'll be bad as well. Luckily, their chief need (anybody of significance in the frontcourt) can be addressed easily at the top of this draft, where Mohamed Bamba is an excellent fit to replace Dewayne Dedmon as the starting center in Atlanta. Bamba enters college as a readymade defensive star with his 7'9" wingspan and elite lateral quickness. He's still very raw offensively, but has shown stretch-five potential, which, if realized, could make him an absolute two-way terror in the NBA. The new Atlanta management group clearly wants to move the franchise in a new direction, and Bamba could be the face of their rebuild.
3. Boston Celtics (via Brooklyn): DeAndre Ayton- C, Arizona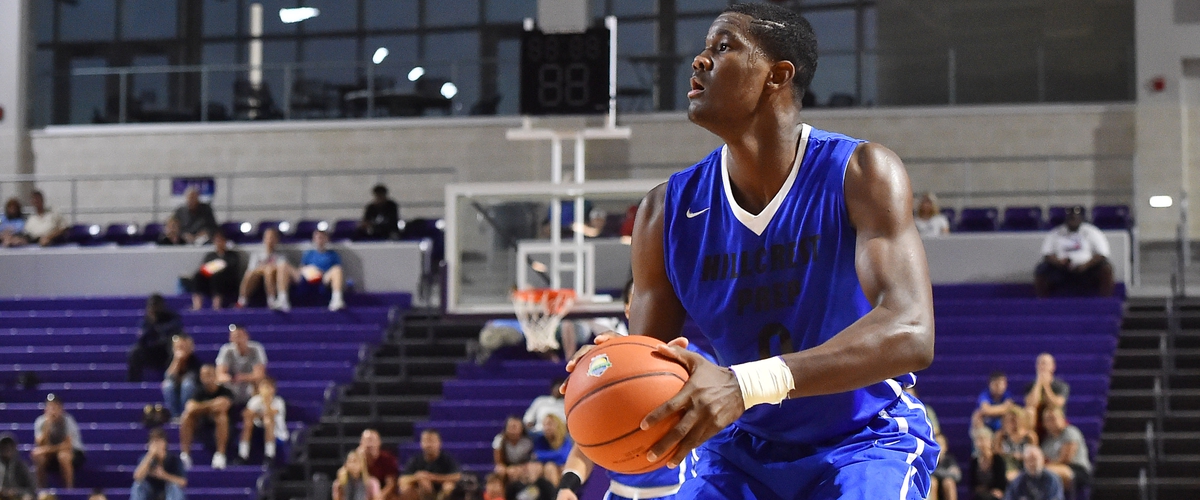 This might actually be the year that Boston trades their pick for a superstar. At this point, the Celtics have a fairly complete team. Isaiah Thomas, Al Horford, and wings upon wings make for a solid second seed in the Eastern Conference, with the potential for growth if a trade is made. That being said, it's impossible to forecast the landscape of the league one year from now, so the Celtics pick the best player available in DeAndre Ayton. The Arizona center is oft-compared to Karl-Anthony Towns due to a combination of elite physical tools and fluidity, but an inconsistent motor and relatively raw skill set make such expectations rather unfair. Ayton would simultaneously further set the Celtics up for their post-LeBron run of contention whilst learning under the tutelage of the great Brad Stevens.
4. Orlando Magic: Luka Doncic- SF, Real Madrid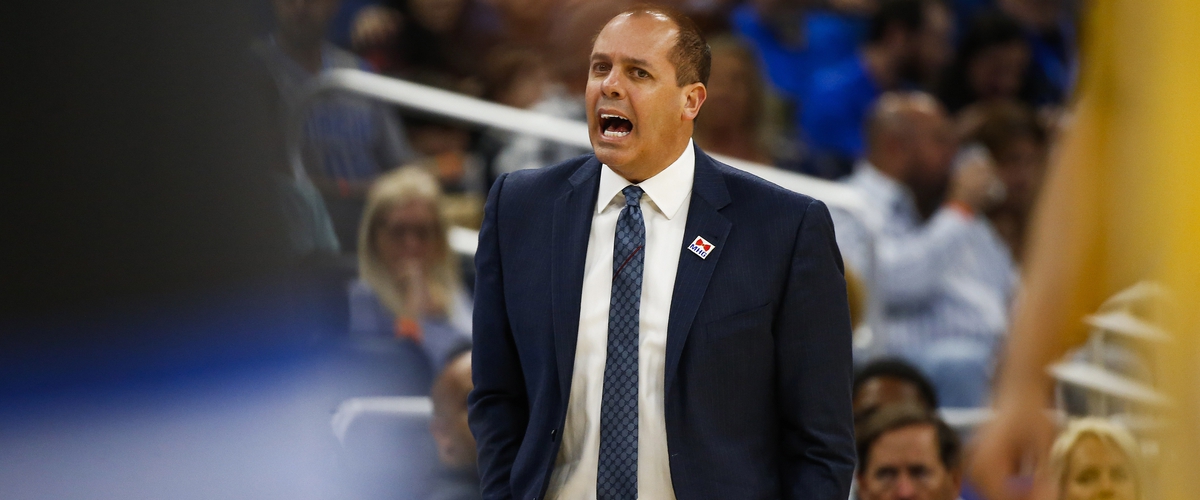 This may change, depending on if the Magic choose to extend Elfrid Payton this fall, but Doncic is by far the best prospect remaining. He has been considered as one of the best prospects in Europe for years, and is finally old enough to declare for the draft. Doncic is extremely polished, both physically and mentally, and does everything well on the basketball court. He can score from all levels, is an excellent passer, and works very hard on defense. Doncic is more smooth than explosive, which limits both his defensive upside and his ability to create half-court offense, but he could nevertheless provide the Orlando Magic with their best prospect since Dwight Howard and make the team's frontcourt very entertaining, joining Jonathan Isaac and Aaron Gordon.
5. Sacramento Kings: Miles Bridges- SF, Michigan State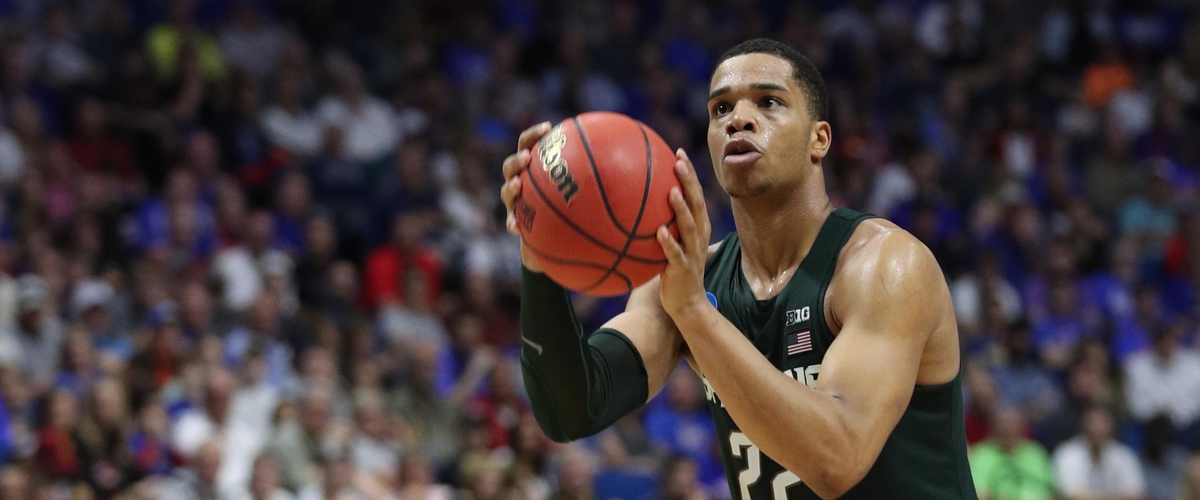 The prohibitive National Player of the Year favorite, Bridges was a lottery talent last season in a stacked draft class, and looks primed to only improve his stock after returning for his sophomore season. Bridges is an outstanding athlete who's nearly impossible to stop with a head of steam, and plays smartly and intensely. His skill set is incongruous with his physical tools, and he is a very inconsistent shooter whose mechanics change often, but another year of Tom Izzo can hopefully shore up these weaknesses. Bridges could round out an intriguing young Sacramento Kings core that has locked in four of its five future starters in De'Aaron Fox, Buddy Hield, Skal Labissiere, and Willie Cauley-Stein.
6. Los Angeles Lakers: Wendell Carter- C, Duke
What the Lakers do in next year's draft is really up in the air at this point. They have a pretty sound starting five with an up-and-coming bench, but only Lonzo Ball and Brandon Ingram are safe bets to be on the team this time in 2018. However, most of the free agents that LA has been linked to in recent months are wings like Paul George and LeBron James, which would still leave them with a hole down low. Wendell Carter fits the unselfish brand of basketball that Ball plays, as he's an excellent passer a la Blake Griffin or Marc Gasol, and has big-time defensive potential. Carter's jumper still needs a bit of work, but his foundation is solid and he could make for a great piece in Tinseltown for the foreseeable future (if the Lakers don't trade this pick).
7. Indiana Pacers: Trevon Duval- PG, Duke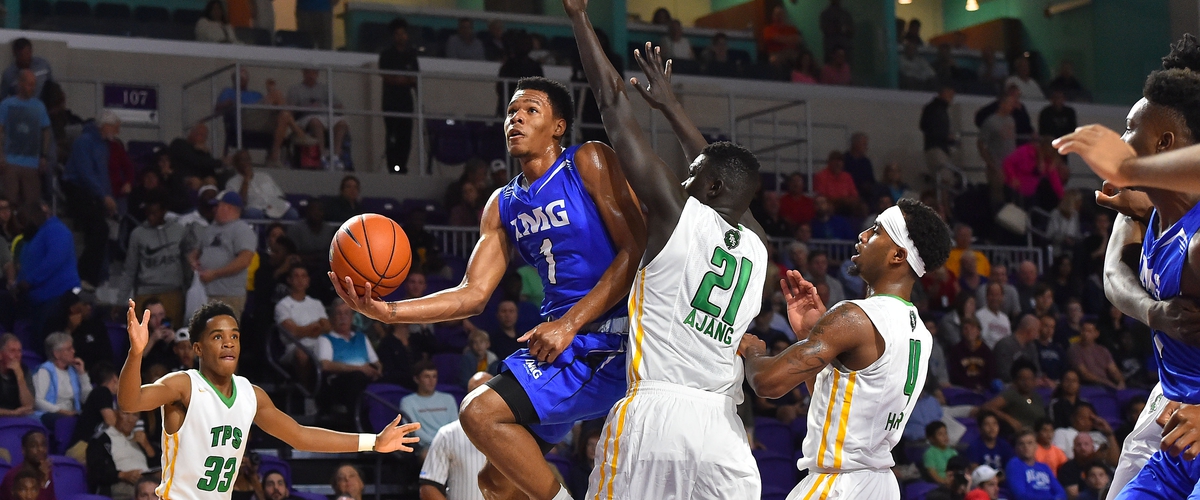 Now that Paul George is gone, the Pacers will be rebuilding, whether they want to or not. Myles Turner looks like a great piece going forward, but today's NBA almost requires a franchise point guard in order to contend, so Indiana takes Trevon Duval without thinking twice. Duval can jump out of the gym and stands at 6'3" with a 6'9" wingspan, giving him lockdown defender potential with the ability to guard all over the perimeter. Like many super-athlete lead guards, Duval's shot is broken, and he needs to become a little bit more polished as a ball-handler and decision maker, but on the Pacers, he'd start from Day One and form an appointment viewing pick-and-roll with Turner.
8. Phoenix Suns: Collin Sexton- PG, Alabama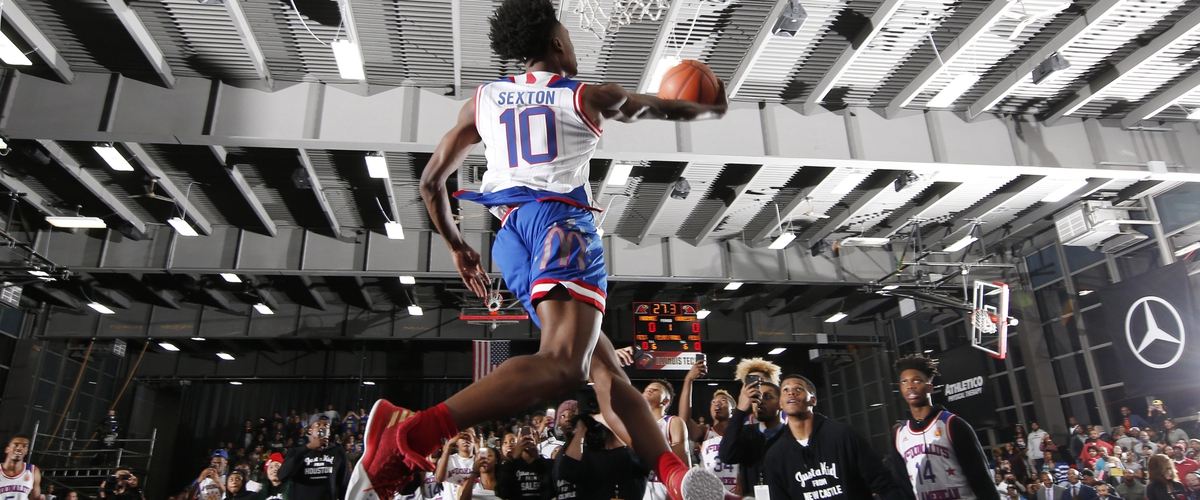 It seems as if the Suns have locked themselves into four of their five future starters in Devin Booker, Josh Jackson, Marquese Chriss, and Dragan Bender. This leaves the point guard spot, currently occupied by fringe star Eric Bledsoe. The NBA's Muscle Hamster has always been a weird fit on the Suns, so at some point, they have to bite the bullet and trade him. Collin Sexton doesn't solve this team's desperate need for shooting, but he is easily the best point guard remaining. He's incredibly explosive, gets to the rim with ease, and has one of the most tenacious motors in recent draft history. Sexton has a limited defensive ceiling and his intensity can sometimes prove detrimental, but the combination of Sexton and Josh Jackson could make for some incredibly heated games in Phoenix.
9. Dallas Mavericks: Kevin Knox- SF, Kentucky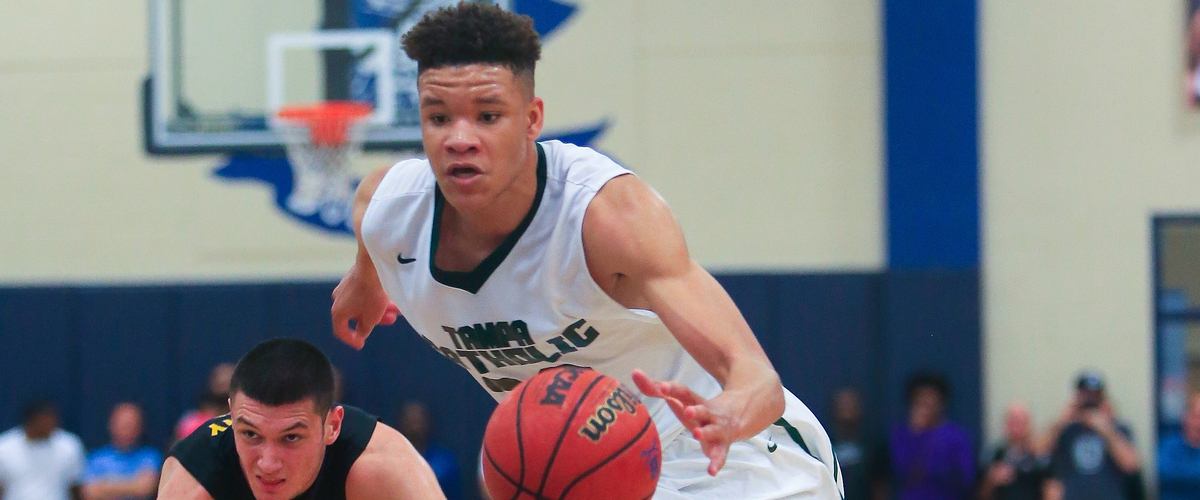 Dennis Smith Jr., Harrison Barnes, Nerlens Noel, and Seth Curry (lol) make up the Mavericks' future core as of right now. If the assumption is that Barnes will play power forward full time (which seems almost certain at this point), Dallas is only lacking a solid wing starter, which could be Knox. The Florida native has excellent physical tools, can play above the rim, and has "multi-position defender and elite rebounder" written all over him. Motor and IQ are very big questions with Knox, and he's still growing into his frame, but Dallas is one of the best organizations in the NBA. They could most certainly help Knox achieve his high ceiling.
10. New York Knicks: Lonnie Walker- SG, Miami (FL)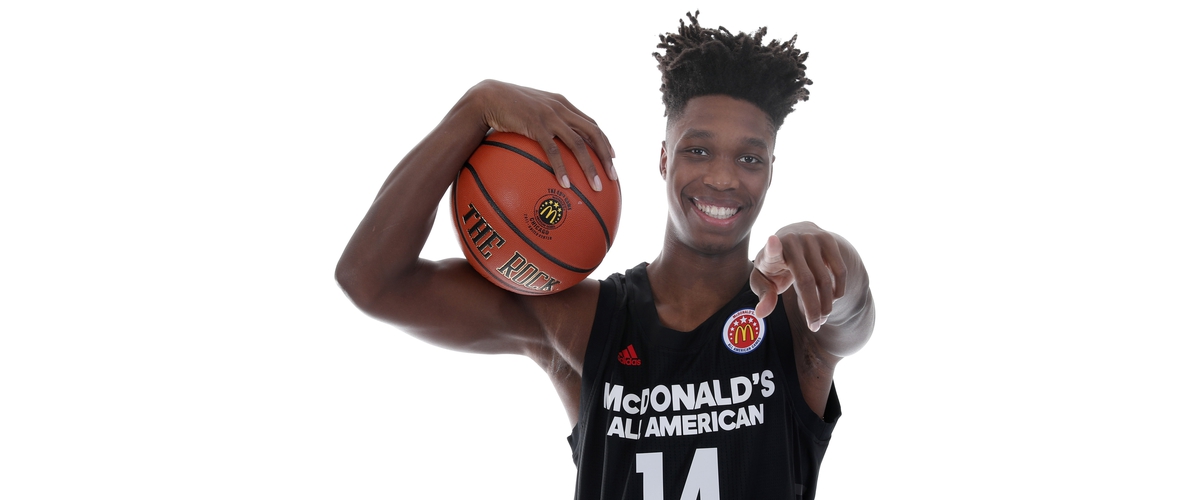 New York's chief need is a Carmelo replacement on the wing, and Knox was just selected, so they'll settle for Walker, an arguably better prospect. Standing at 6'4" with a 6'10" wingspan, the Miami two-guard is an outstanding physical specimen with major three-and-D potential. Walker can get to the rim, pull up off the dribble, and is unstoppable in transition. Strangely enough for a good shooter, he struggles to play off the ball and doesn't always have a high motor or alpha dog mentality, but on a team with Kristaps Porzingis, everyone else is of secondary or tertiary importance by default.
11. Detroit Pistons: Robert Williams- PF/C, Texas A&M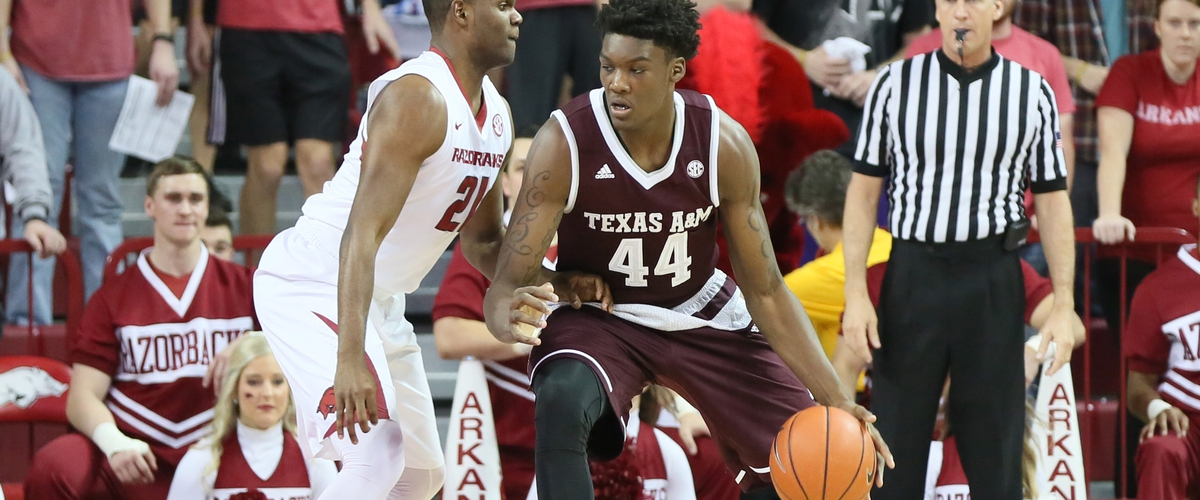 Talent, talent, talent, that's what the Pistons need! Robert Williams is definitely the best player remaining, so he goes to Detroit. First and foremost, this pick slides Tobias Harris to small forward and benches Stanley Johnson, which, barring some big improvements from Stanley, is the move. In terms of Williams' fit in the Motor City, it's great. He can both play alongside Andre Drummond and eventually replace him, boasting a 7'4" wingspan as well as a steadily improving post repertoire and jumper that moves further away from the basket every few months. Williams needs more pounds on his frame and is generally a more theoretical than actual player due to his lack of awareness and fundamentals, but his ceiling could be what Detroit thought it had when Drummond arrived in town.
12. Utah Jazz: Gary Trent Jr.- SG, Duke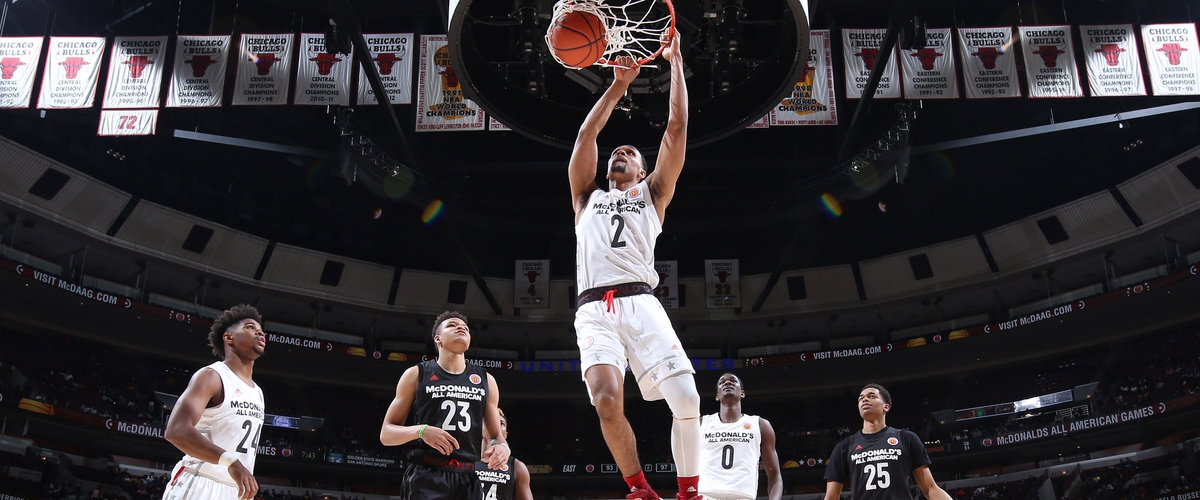 With the loss of Gordon Hayward, the Jazz are desperately looking for a go-to scorer to carry the next phase of the franchise. Rodney Hood isn't cut out for a 20 points-per-game role, Derrick Favors is rarely healthy and never developed a three-point shot, and while Donovan Mitchell impressed in Summer League, he isn't ready to take over just yet either. Even as a rookie, Gary Trent Jr. could average 15 points per game. He's an extremely polished scorer with the ability to put his head down, get to the basket, and draw fouls at will. Trent is an alpha dog that plays very aggressively, relying heavily on his chiseled physique to get buckets. Trent doesn't always get his points efficiently and is a reluctant passer, but the Jazz will need all they can in the scoring department going forward.
13. New Orleans Pelicans: Hamidou Diallo- SG, Kentucky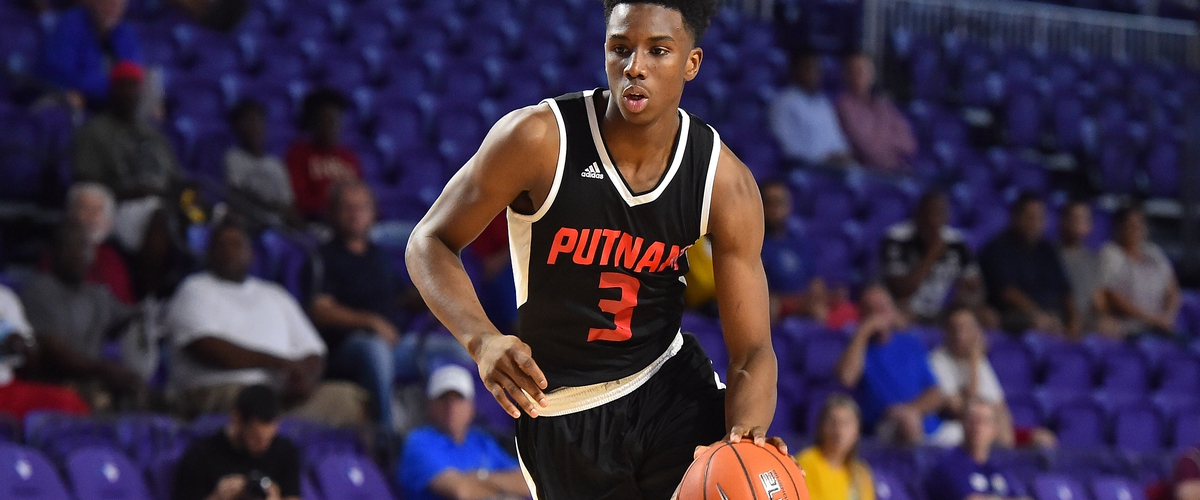 With Anthony Davis and DeMarcus Cousins roaming the frontcourt, the Pelicans should be a perennial contender in the Western Conference. However, E'Twaun Moore and Solomon Hill are the two projected starters on the wings, and the only people that should frighten are Pelicans fans. Enter Hamidou Diallo. The best athlete in a very athletic draft, Diallo posted an astounding 44.5-inch vertical at this year's NBA Combine. This ridiculous athleticism combined with a gigantic 6'11" wingspan should make Diallo a top-5 pick. However, he's not a good shooter, and frequently makes poor decisions with the ball. On a Pelicans team without any sharpshooters, this should be cause for concern, but Diallo's eye-popping game will make New Orleans a must-watch team.
14. Memphis Grizzlies: Jaren Jackson Jr.- PF/C, Michigan State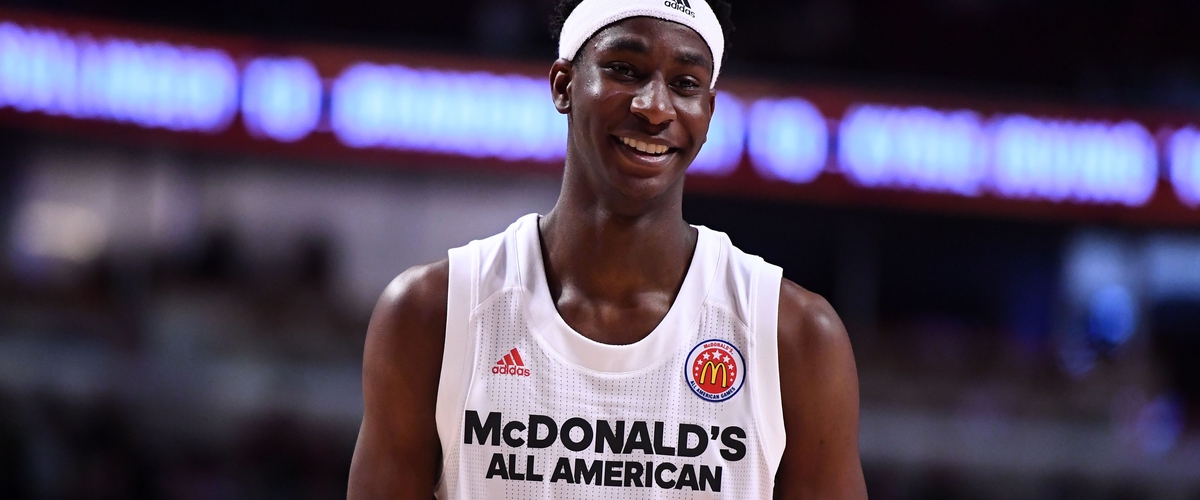 The Memphis Grizzlies are in a tense moment. On the bright side, they have two perennial All-Star candidates in Mike Conley and Marc Gasol. That being said, the team around those stars is crumbling, which is essentially a recipe for disaster in the Western Conference, though a lottery pick in a draft with plenty of hidden gems would really help Memphis in the long-term. One of these sleepers is Michigan State big man Jaren Jackson Jr. The Spartan doesn't have much physicality or fundamentals, but he's versatile and boasts a tremendous frame at 6'10" with a 7'4" wingspan. Jackson can defend both the rim and the perimeter while also showing face-up potential on offense and the ability to finish above the rim. His ceiling is Marc Gasol-plus, and on a team with the actual Marc Gasol, that could be special.
15. Philadelphia 76ers: Bruce Brown- SG, Miami (FL)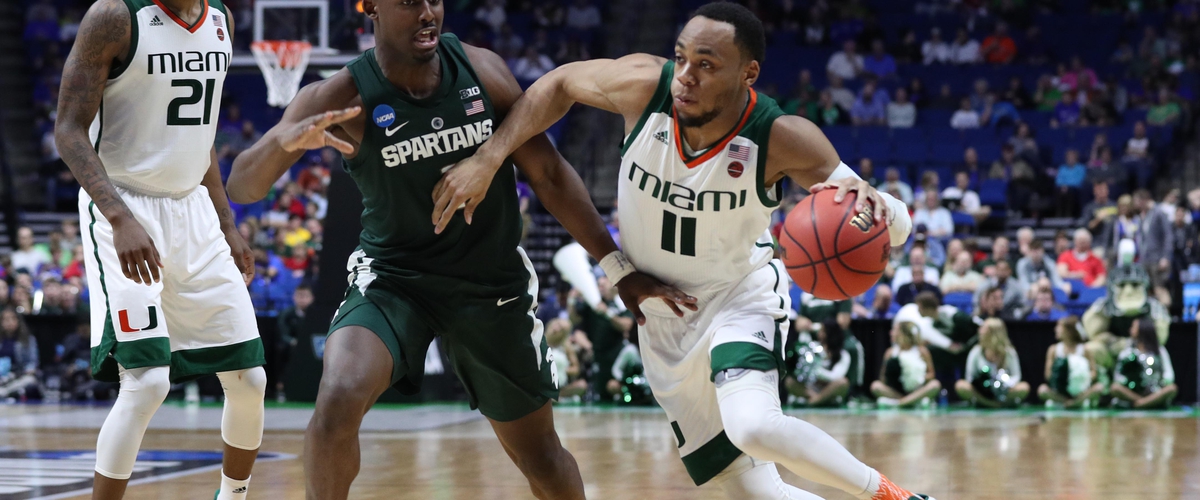 The Sixers have their core of the future almost set with Joel Embiid, Markelle Fultz, Dario Saric, and Ben Simmons. That's four All-Star level talents, three of whom are possibly transcendent. As the team gets better, they will start to get higher and higher draft picks, and it's imperative that they start finding steals. One of those is Bruce Brown, who will be a great role player for a long time. His shredded physique, high motor, and vicious dunks evoke Russell Westbrook comparisons, but he and Russ really aren't at all similar outside of the superficial eye test. Brown can do a little bit of everything, from to spot-up shooting to playing lockdown defense, and boasts a high IQ. His weaknesses are mostly areas that will be less of a concern on a team with multiple talented playmakers. Look out world, here comes the Process!
16. Charlotte Hornets: Troy Brown Jr.- SF, Oregon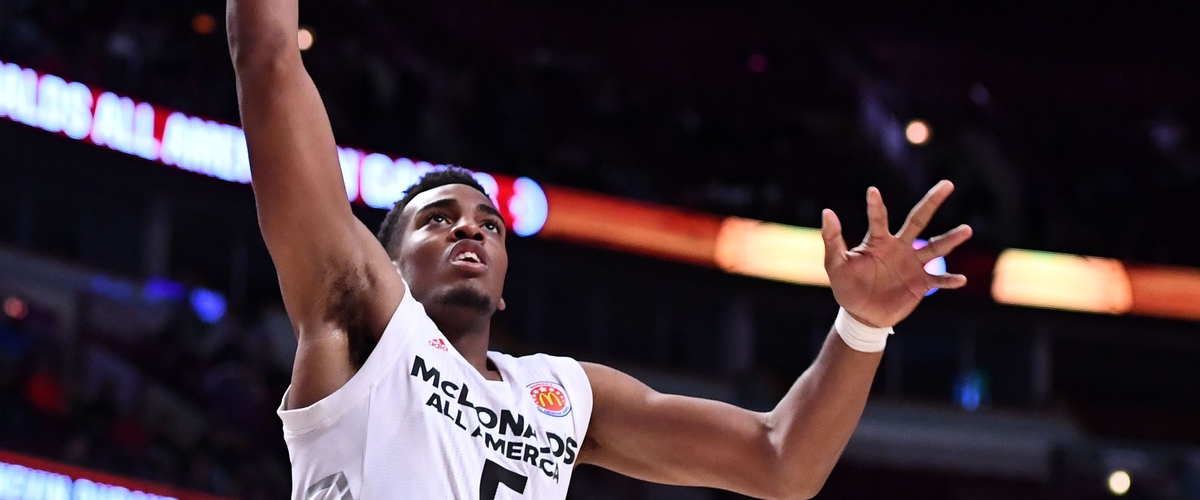 The Hornets have a solid starting five with versatility and depth at every position. Best player available is a good strategy in those situations, so they pick Oregon's Troy Brown here. A classic Swiss Army Knife wing, Brown has excellent physical tools, plays unselfishly, and plays hard on defense. He's not a consistent shooter and isn't even of the Justise Winslow/Josh Jackson/Stanley Johnson class of do-it-all wings without a shot because he isn't very explosive, but Brown's intelligence on and off the court would be a boon to any team.
17. Phoenix Suns (via Miami): Nick Richards- C, Kentucky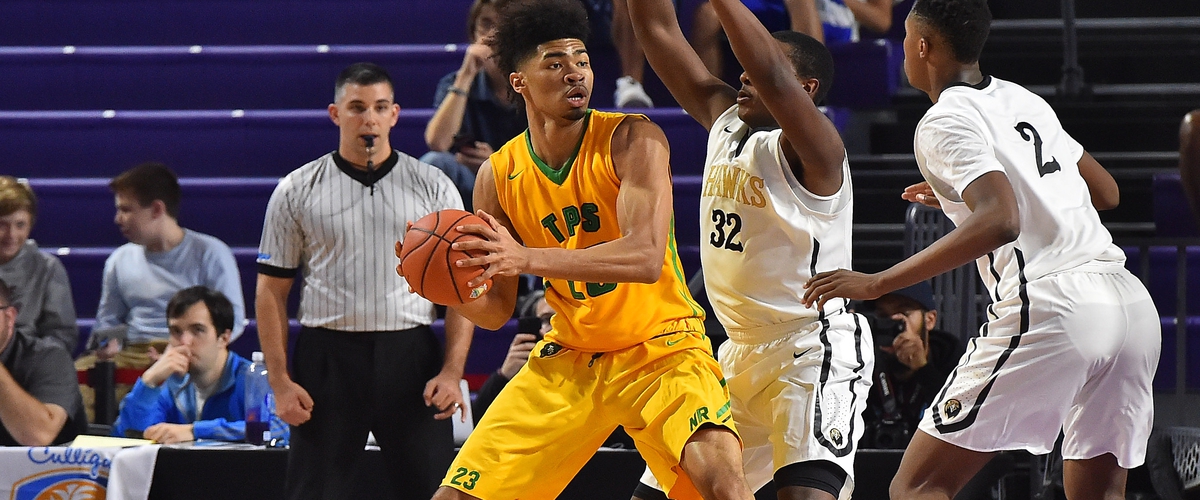 As noted earlier, the Suns have spent four lottery picks in recent seasons on players they believe to be key parts of the future. That being said, while three of the four have almost solidified their spots in the lineup for years to come, Dragan Bender's status as a starter is still very much up for debate. Yes, he was hurt for a good portion of last season, but he didn't impress when he played, and didn't erase doubts this summer either. Considering all that, Bender is likely the most expendable of the four, and certainly has the highest bust potential. The Suns can draft his possible replacement here in Nick Richards. A large but nimble big man who gobbles up rebounds and blocks shots, the Jamaican is very raw, but has a ton of potential as a rim-running, pick-and-roll switching big man in the league.
18. Denver Nuggets: Aaron Holiday- PG, UCLA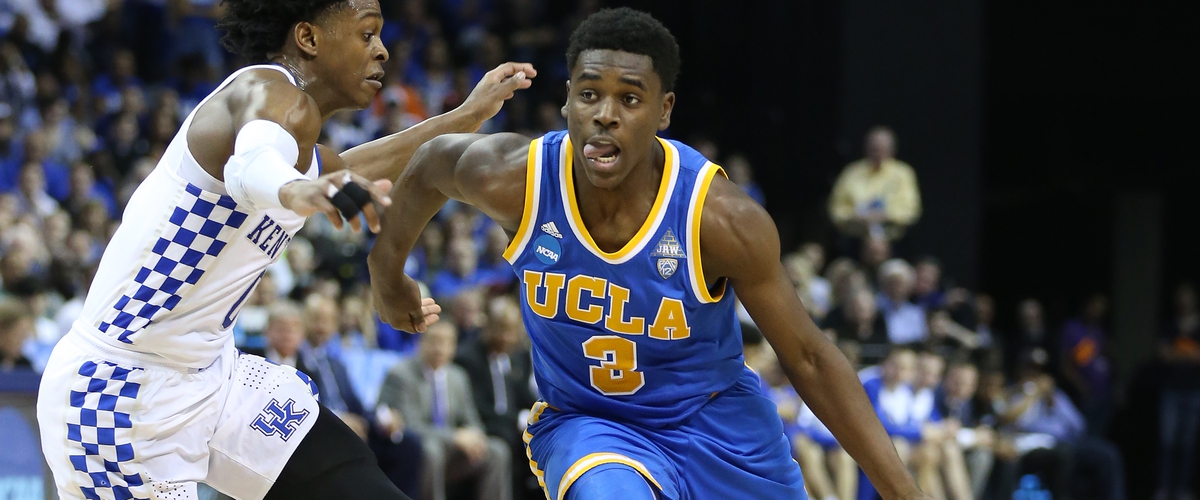 The Nuggets have more or less solidified their core. Gary Harris, Juan Hernangomez, Nikola Jokic, Jamal Murray- these are the names that will be associated with the Mile High City over the next decade. However, one position that has been almost a constant source of controversy and question over the past several years is point guard. Former lottery pick Emmanuel Mudiay has looked downright awful for much of his two-year stint in the NBA, and 35-year old Jameer Nelson is not a long-term solution. Cue Aaron Holiday, a point guard that makes up for his small stature with big-time length, burst, good decision-making, and an above-average jumper. Holiday will never be an All-Star, but if his older brothers Jrue and Justin are any indication, he'll at least be a solid contributor for years.
19. Los Angeles Clippers: Josh Okogie- SG, Georgia Tech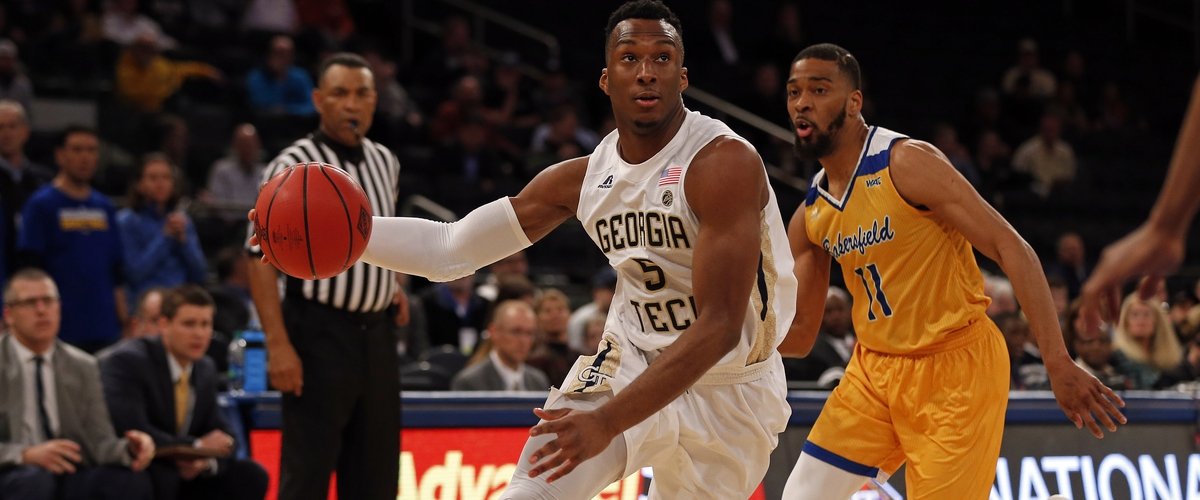 Playing for Josh Pastner at Georgia Tech certainly hasn't done Josh Okogie any favors, because if he played for Duke or Kentucky, he'd be getting lottery buzz. A chiseled 6'4" with a near seven-foot wingspan and get-out-of-my-way athleticism, Okogie boasts a tremendous physical profile with lockdown defender potential. On the Clippers, he'd form a devastating defensive backcourt with Patrick Beverley. He's less polished on offense, but has shown the ability to get to the basket, make a spot-up three, and find the open man. Okogie's feel and motor aren't great, but on a team like the Clippers with playmakers like Beverley, Blake Griffin, and Milos Teodosic, those issues will be less pronounced.
20. Portland Trail Blazers: Mitchell Robinson- C, Western Kentucky
Despite the valiant efforts of its starting backcourt, Portland was unable to land a marquee talent this summer. As a result of that and the team's dearth of cap space, Neil Olshey will have to continue building through the draft, and Mitchell Robinson is a perfect prospect to take in this situation. A seven-footer who runs like a guard, Robinson's role as a rim running, rim protecting, perimeter-defending center fits the future of the NBA perfectly. That being said, he has a ways to go skill-wise, and is significantly lacking in basic fundamentals. This is why Portland is a perfect fit. If Robinson busts out of the league, the Blazers already have a full roster and that wouldn't affect them. However, if he becomes a full-blown star level talent, they can find him a spot on the team. In a way, this is a no-lose situation for Portland.
21. Toronto Raptors: Justin Jackson- SF, Maryland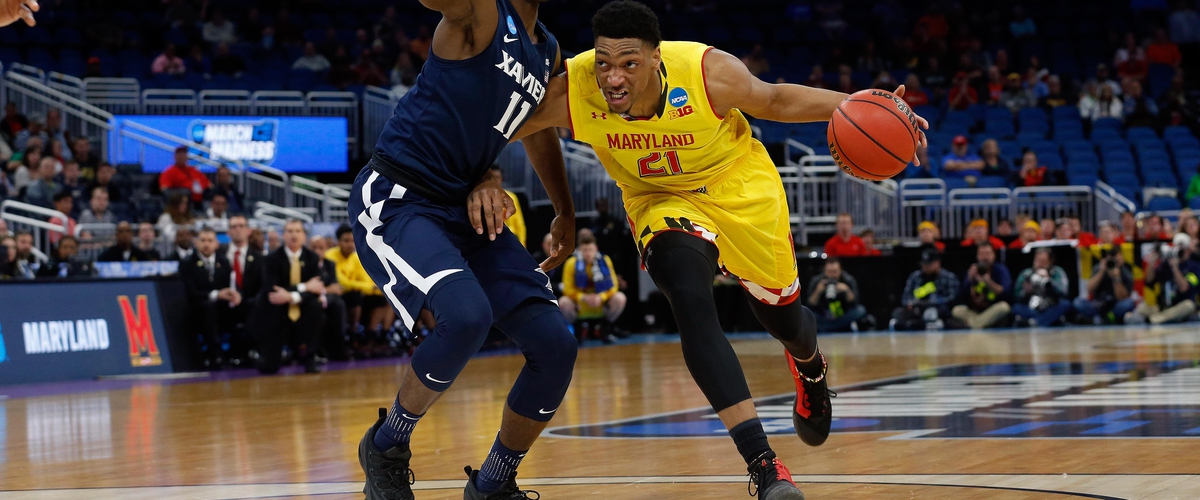 This is an absolutely perfect fit. Jackson is a wing with huge length (6'7" with a center-like 7'3" wingspan) that can handle a bit and defend multiple positions. However, the Terp has had trouble with his shot, and isn't particularly explosive. Thankfully, these issues wouldn't be too worrisome in Toronto, where myriad sharpshooters (Serge Ibaka, Kyle Lowry, CJ Miles), and world-class athletes (OG Anunoby, DeMar DeRozan, Norman Powell) reside. Where this fit gets fun (besides Jackson being a Toronto native) is defense. Combining Jackson with Anunoby, another long wing, and the tenacious Kyle Lowry makes for one ferocious perimeter defense. The Raptors better not overthink this pick.
22. Milwaukee Bucks: Jarred Vanderbilt- SF, Kentucky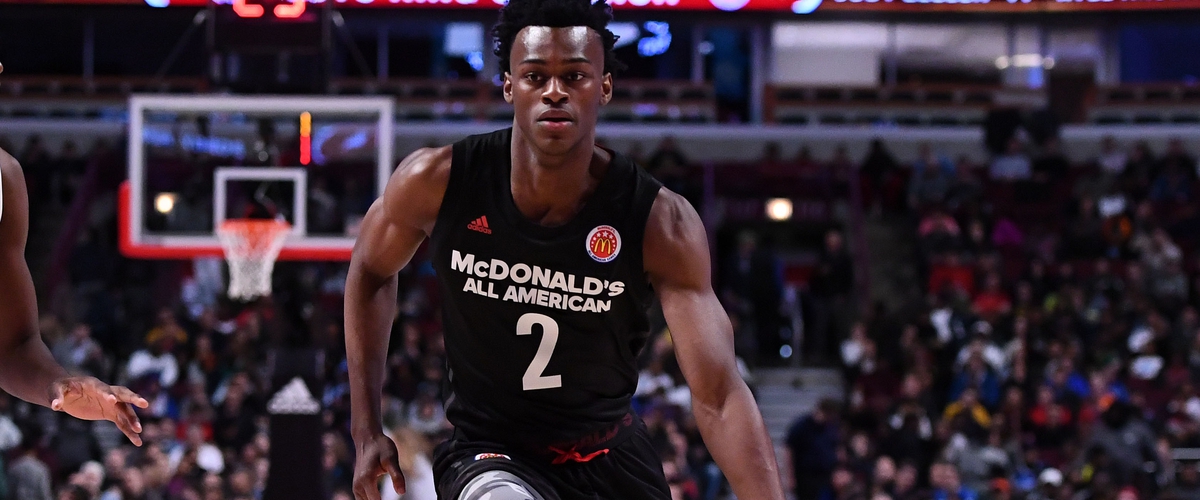 Vanderbilt is very much underrated in this class, mainly because it's packed with All-Star caliber talent. However, he could be one of those stars, especially if he lands with the Bucks. Vanderbilt fits Milwaukee's key resume requirement (length), measuring in at 6'9" with a 7'1" wingspan, and he's a fluid athlete, versatile playmaker, and tenacious rebounder. That would all immediately help Giannis Antetokounmpo, who clearly needs some support after leading his team in points, rebounds, assists, steals, and blocks last season. However, Vanderbilt's biggest weakness is quite glaring, and it's shooting. Not only is he a very bad three-point shooter, he's a very bad free-throw shooter, which suggests serious mechanical flaws. Here's to hoping he at least improves slightly under John Calipari's guidance.
23. Washington Wizards: Rawle Alkins- SG, Arizona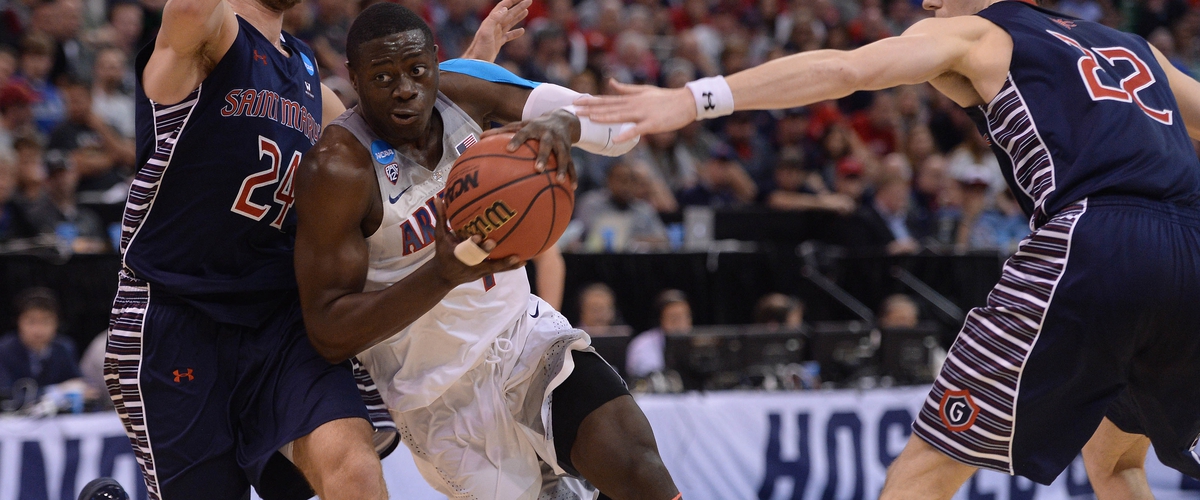 Alkins could have been a late first-round pick this year, and that's probably where he'll end up again next summer. An undersized 2-guard who combines tremendous strength and length with a high motor, Alkins would bring tenacious all-around defense to a Washington squad that only defends when Otto Porter Jr. and John Wall feel like it. He's also a great rebounding guard and isn't afraid of protecting the rim, a skill lacking in NBA guards since the heyday of Dwyane Wade. Most importantly, however, the Arizona sophomore is a great culture fit in DC. A Brooklyn native who's locked in whenever he's on the court, Alkins has the swagger that the self-titled "Death Row DC" has become known for, and will be a fan favorite at the Verizon Center.
24. Atlanta Hawks (via Minnesota): Isaac Bonga- SF, Frankfurt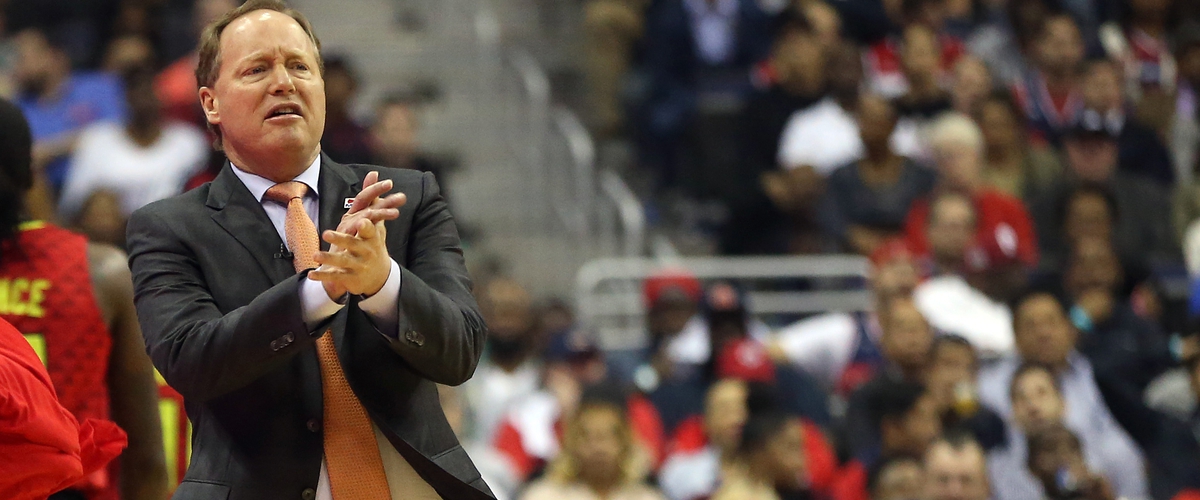 The Hawks are going about this rebuild right, collecting assets and trying to find as many draft steals and scrap heap role players as they can. Bonga is a late first-round pick that might prove to be a steal. He's a European facsimile of Kyle Anderson in that he stands at 6'10" and is a bona fide point guard with the size of a big man. Bonga even has learned many of the intricacies of playing the position, playing at different speeds and knowing when to draw fouls. However, what makes him Anderson and not Ben Simmons or Giannis Antetokounmpo is a relative lack of athleticism combined with a penchant for flashy plays, which leads to frequent turnovers. Like all of them, Bonga's also not a great shooter, but playmaking big men are en vogue in the NBA, so he'll get every opportunity to succeed and find a role.
25. Boston Celtics: De'Anthony Melton- PG, USC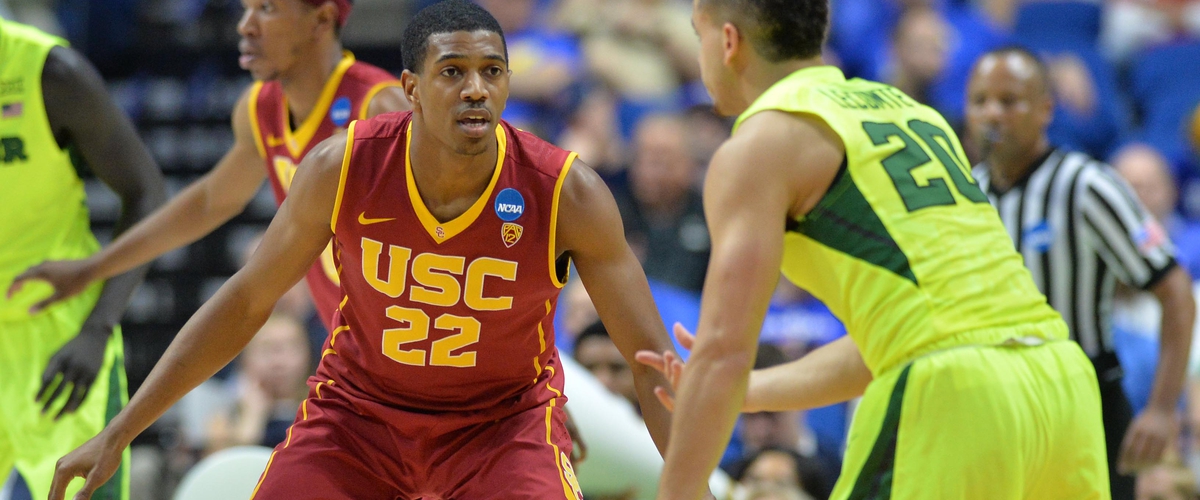 If Melton doesn't rise up draft boards over the course of the 2017-18 NCAA season, something has gone wrong. He's not much of a scorer or shooter, but can do almost everything else on the court well. At 6'3" with a 6'8" wingspan, Melton has the tools to be an excellent defender, and he showed big-time potential during his freshman season, locking down Lonzo Ball and Markelle Fultz during the Pac-12 season. He also plays with a high basketball IQ and almost always makes the right decision. Melton's high motor and well-rounded game has appealed to Danny Ainge in the past with prospects like Avery Bradley, and makes him a perfect fit in Beantown (though they may not have a roster spot for him).
26. Minnesota Timberwolves: Chimezie Metu- PF/C, USC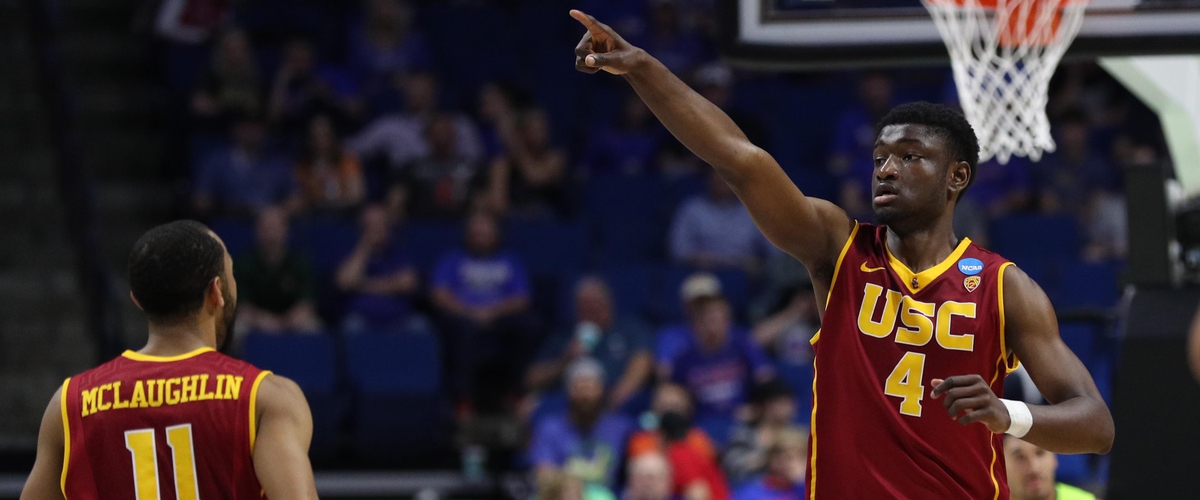 Metu has gotten somewhat overshadowed due to USC's ridiculous depth, but he is a pro prospect worth considering in the first round. At 6'10" with tremendous lateral quickness, the rising junior is a versatile defender, specializing in guarding multiple positions and blocking shots. Metu needs work on the offensive side of the ball, but the Timberwolves lack for proven defensive stoppers and are overflowing with scorers. He'd be a perfect fit under Tom Thibodeau.
27. San Antonio Spurs: Brandon McCoy- C, UNLV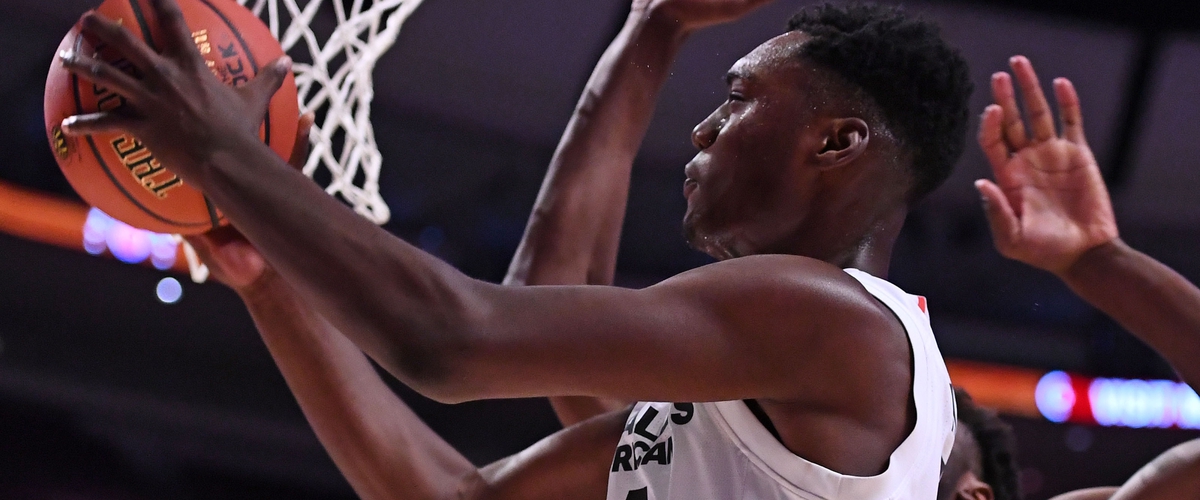 The Spurs got the steal of the draft. When have we ever heard this before? McCoy isn't one of the standout players from this freshman class, but he was still a McDonald's All-American. McCoy is mobile for a 6'11" center, and has excellent defensive potential as a rebounder and rim protector. His IQ isn't very high, nor is he long or explosive, but McCoy isn't done growing yet. He could turn into a defensive menace by the time he's 25 years old, and the always-in-contention Spurs arguably have the most leeway in the entire NBA to gamble on picks, especially those in the frontcourt, where the timetables on LaMarcus Aldridge and Pau Gasol are rapidly coming to a close.
28. Atlanta Hawks: Mikal Bridges- SF, Villanova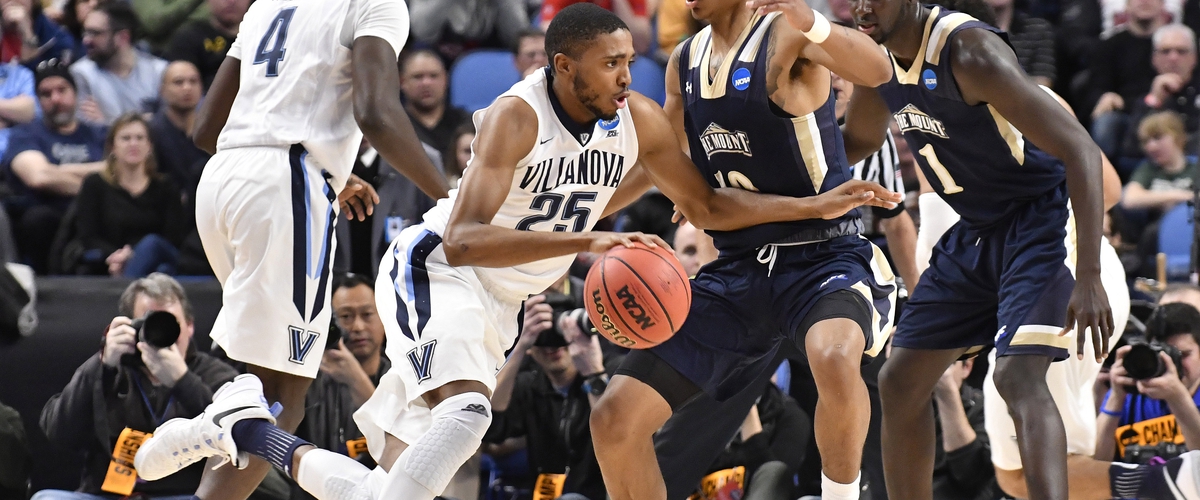 Over the past several seasons throughout plenty of turmoil all over the organization, the Hawks have been consistent in one belief: they love athletic, versatile wings, and Mikal Bridges is exactly that. The Wildcat owns a seven-foot wingspan, enabling him to guard up to four positions, and he's an explosive and fast defender. Bridges faced major questions about his offensive improvement going into his sophomore season and he responded, shooting almost 40% from range and 55% from the field. While Bridges will never be a primary shot creator for a team, he is a two-way talent that could fill multiple needs for the Hawks.
29. Cleveland Cavaliers: VJ King- SF, Louisville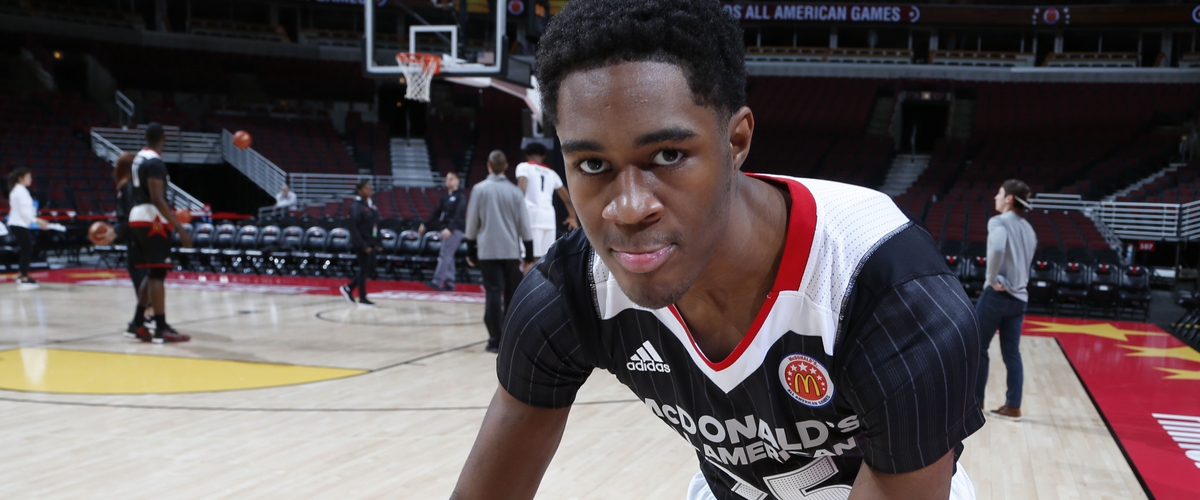 Now more than ever, the Cavaliers will need versatility and scoring to compete with the Golden State Warriors, as two-way play was easily the top reason Cleveland was routed in five games during the Finals. VJ King is a prospect with this potential. He stands at 6'7" with long arms and outstanding fluidity, and can create offense. His jumper is a little shaky and he scores inefficiently, but sheer length and potential should be enough for the Cavaliers to bet on this late in the draft.
30. Golden State Warriors: Vince Edwards- SF, Purdue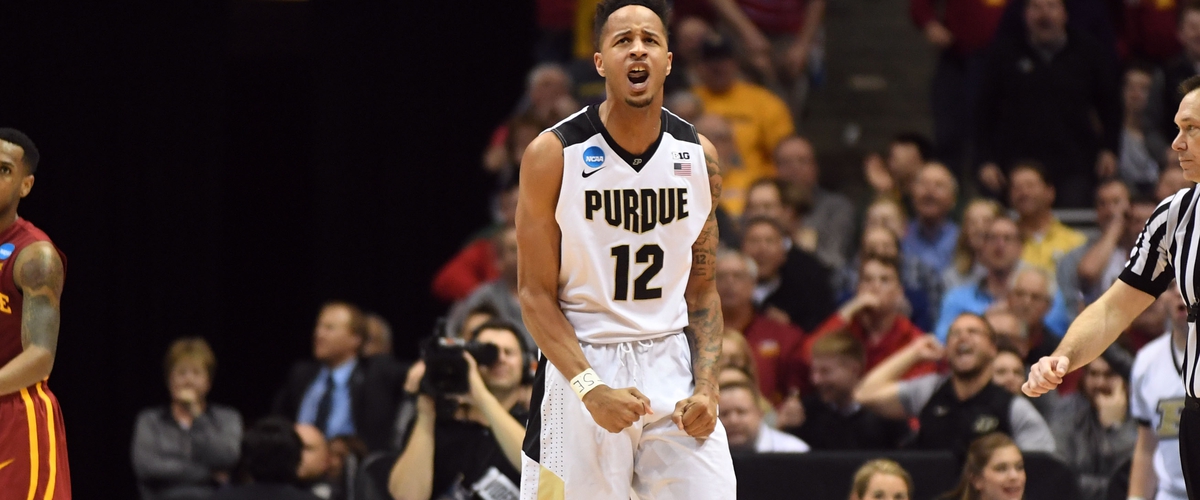 Edwards is a classic Bob Myers-era Warriors steal at the end of the first round. He's an average athlete, but has length, strength, a good shot, and great feel for the game, adding yet another playmaker to Golden State's arsenal. Of course he has areas to improve on in his game, but the Warriors are so talented and have so many established role players already that he'd be able to do what he does best without having to be an offensive creator. It's unfair that the Warriors are able to continue plucking awesome role players from the middle of the draft, but that's the state of the NBA right now.
---