Auburn-Oklahoma Sugar Bowl Preview
#14 AUBURN TIGERS

Auburn had four tough losses that ended their run to the playoffs, but they had eight wins with two big victories against LSU and Arkansas to get themselves a Sugar Bowl appearance. Auburn is led by their defense that includes one of the best defensive lines in college football. Auburn's defense will keep this team in the game, but their offense must follow through and it all starts at quarterback. The running backs will do their job, but Sean White, John Franklin III, or Jeremy Johnson must play their best football if Auburn has any chance of winning this game.
WHY AUBURN WILL WIN
Running backs Kamryn Pettway and Kerryon Johnson runs down on Oklahoma's rushing defense. Their running game in no-huddle situations eventually opens up play action passes. Quarterback Sean White throws well, Jeremy Johnson succeeds on third-and-short and redzone plays, and John Franklin is used for pass-run option situations that confuses Oklahoma's defense further. Auburn's defense manages to keep Oklahoma's points to a minimum and scores plenty of points on them in return. The defensive line led by Carl Lawson and Montravius Adams is too much for Oklahoma's offensive line to handle. The passing defense takes advantage of a successful pass rush and contains Dede Westbrook from being the first option target. They force Baker Mayfield to make bad decisions to give Auburn's coverage a chance to get an interception.
WHY AUBURN WILL LOSE
The quarterback position is the first to struggle and they're unable to pass the ball efficiently. The run-pass option has some success, but is eventually picked up by linebackers Okoronkwo and Evans. The running backs do their best to keep Auburn in the game, but the team will be forced to pass more to stay with the Sooners' high-flying offense. The quarterbacks face constant pressure from the defensive ends and linebackers and make constant mistakes. Auburn's defense are on the field more than usual and eventually get tired from Oklahoma's no-huddle offense, Baker Mayfield's decisions on throwing and running, Dede Westbrook's speed, and Samaje Perine and Joe Mixon tiring out the entire defense.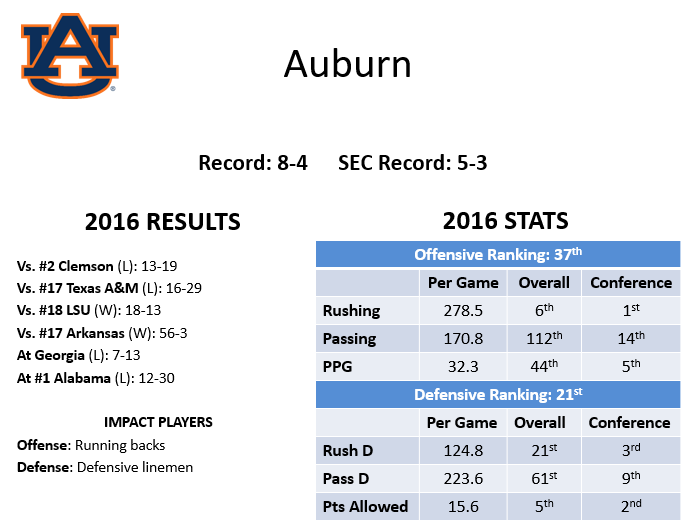 #7 OKLAHOMA SOONERS
Oklahoma had two rough losses against Houston and Ohio State due to lack of defense and replacing key players and leaders in certain positions of both sides. But for the second straight season, they enter Big 12 play with a purpose. They squeaked by TCU, avenged their loss against Texas in a Red River Rivalry thriller, and took down Baylor, West Virginia, and Oklahoma State to win the Big 12 for the second straight year. QB Baker Mayfield is a Godsend for the Sooners' offense but Dede Westbrook was a huge compliment after replacing now New York Giants receiver Sterling Shepard. The only problem that kept the Sooners from making a playoff run is their defense. The injuries, lack of leadership, and lack of depth hurt the team for most of the year. If they can show some progress against the Auburn Tigers, the defense will improve next season.
WHY OKLAHOMA WILL WIN
Baker Mayfield, Dede Westbrook, Samaje Perine, and Joe Mixon played a big part in the Sooners' success against the Tigers' defense. The defensive line brings pressure on Baker Mayfield, but failed to bring him down time and time again. Mayfield's legs and arm keeps the offense alive and going, and Perine and Mixon have success running the ball to wear out Auburn's strong front line. Dede Westbrook outdoes Auburn's passing defense and more receivers, including Joe Mixon, are involved in the passing game and add up plenty of points. Oklahoma's defense takes notice of the quarterback issues and focuses on stopping the run first. Linebacker Ogbonnia Okoronkwo makes Auburn's quarterbacks uncomfortable and Jordan Evans, Steven Parker, and Jordan Thomas force turnovers to make the Tigers pay much more.
WHY OKLAHOMA WILL LOSE
Oklahoma's offensive line are still not in sync and Auburn's defensive line pressures Baker Mayfield into forcing his throws carelessly. Perine is shut down and Joe Mixon can't get much going. Auburn's coverage contains Dede Westbrook, leaving Mayfield with less options to go to and the other receivers fail to help him out of a situation. Oklahoma's defense continues to give up big plays in the air and on the ground. They can't stop running backs Kamryn Pettway or Kerryon Johnson and Sean White picks apart the passing defense all game long. Special teams adds to Oklahoma's problems and gets good field position to work with their no-huddle offense.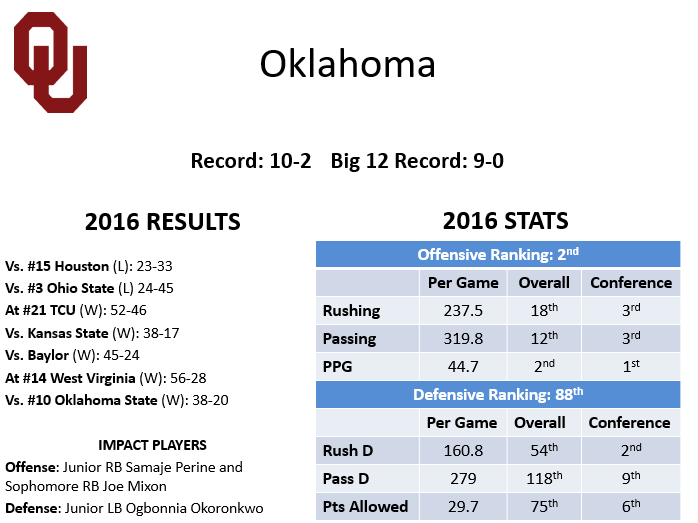 ---