Games To Watch: Week 1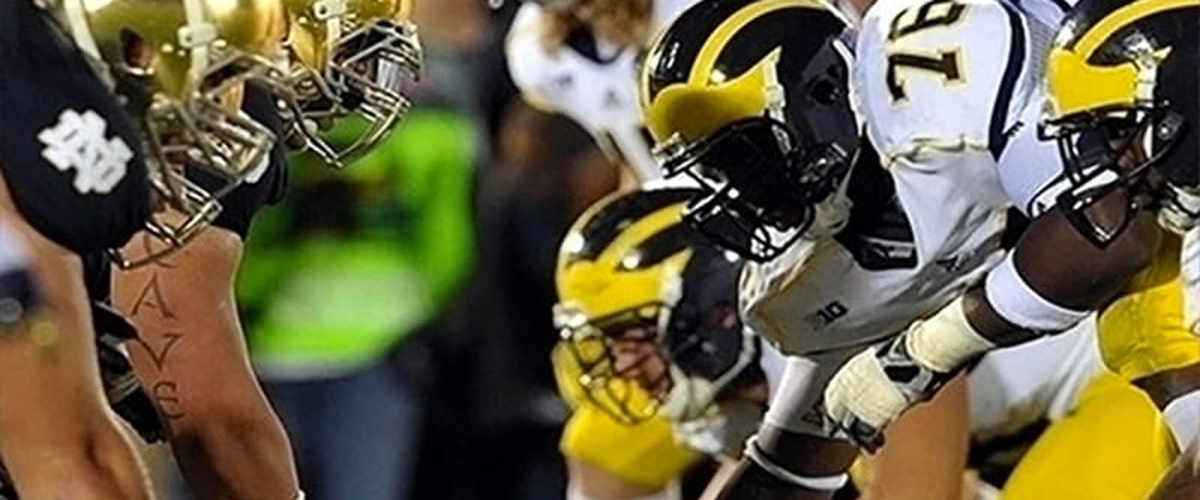 College football is back. I don't know about you guys, but I'm very excited about it. For once, I've been active with my researching, reviewing, and looking back on the past season. But I also, looked forward to the current and potential future for what will come for all 130 teams. Yes, 130 teams! I took time during the spring and summer to look through and come up with my opinion and prediction for 21 teams I favored to improve or take a step forward. You can check them out on my blog. Also follow me on instagram and Twitter for all the college football information. So here are my Top 5 games to watch and I'm doing the upset information once again as the #5.
UPSET) SEPTEMBER 1. FAU at #7 OKLAHOMA: 9AM PT/12PM ET [FOX]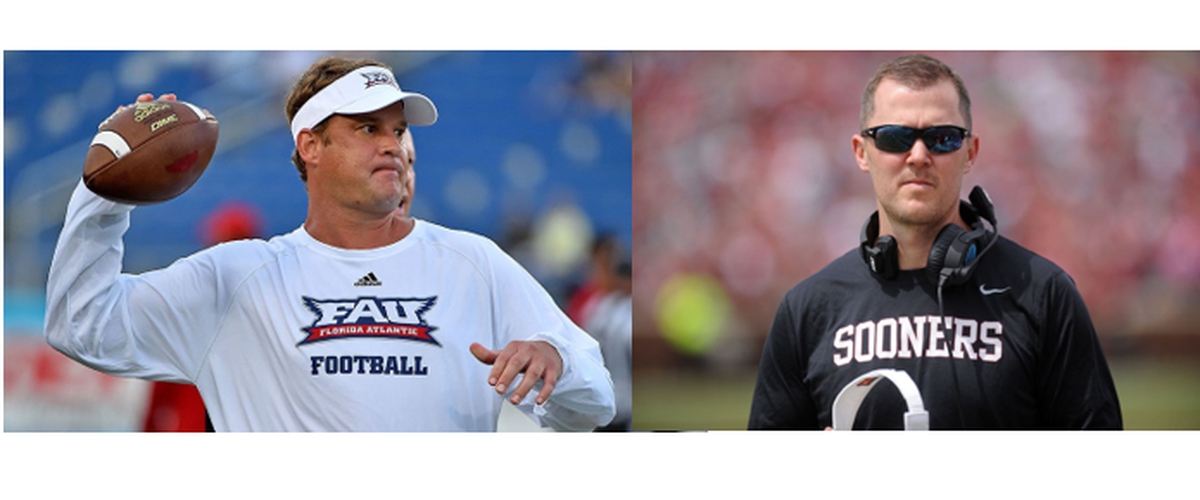 Last time FAU defeated a Power 5 team was in 2007 against Minnesota. Oklahoma usually struggles in their opener after rebooting from a National Championship or playoff run. One being Houston 2 seasons ago after losing in the semi's playoff against Clemson, BYU in 2008 after losing to Florida in the National Championship, and #20 TCU after losing to USC in the 2004 National Championship. While FAU may have significant pieces to replace, they have key players like running back Devin Singletary and linebacker Azeez Al-Shaair back on each side and figure to lead their squads. FAU is a lethal high-scoring offense that rival the Top 2 Big 12 scorers (Oklahoma and Oklahoma State). I can't doubt FAU challenging Oklahoma because the Sooners defense haven't been good for awhile, but the young guys that played last year along with some nice talent coming in could show something. The Sooners hope quarterback Kyler Murray is the guy because they must be ready for what Kiffin will throw at them. FAU's defense over the course of spring have optimism with 10+ starters returning. They're the underdog and their history against Power 5 and ranked teams for a decade show it, but second chance university with Lane Kiffin and key returns could shake up the season for both sides. If Oklahoma's defense doesn't improve, the Sooners can say goodbye to the playoffs before Week 2.
4) SEPTEMBER 3, MONDAY. #20 VIRGINIA TECH at #19 FLORIDA STATE: 5PM PT/8PM ET [ESPN]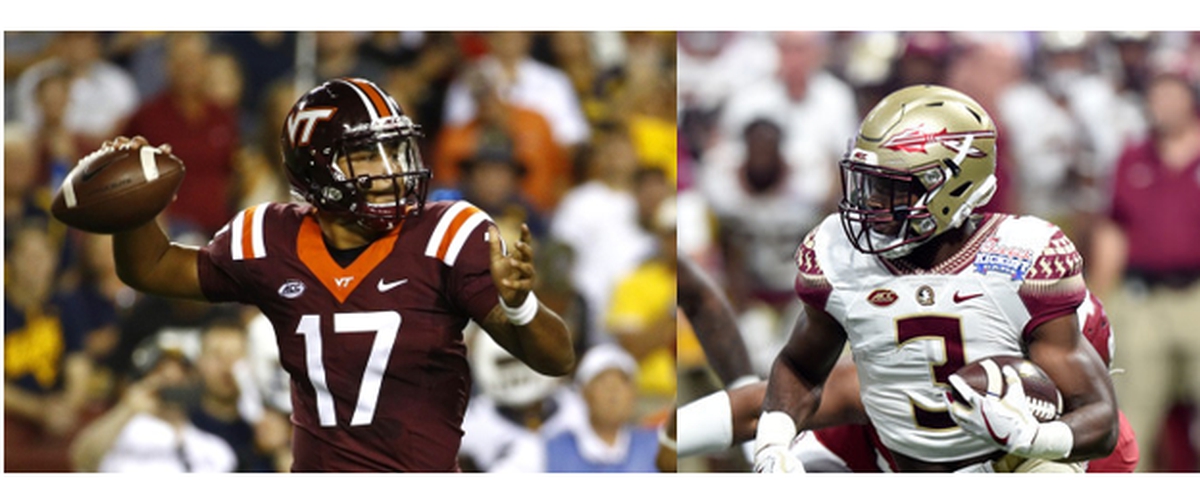 This is a game rebuffing of the skills position for both teams. Florida State's questions are at quarterback while Virginia Tech's questions are at running back and wide receiver. Both replace key players at linebacker and coverage, but Virginia Tech may have the short end of the straw due to issues off the field and injuries. But maybe highly-known defensive coordinator Bud Foster could retool them. Florida State should bounce back, but it's unknown whether they are ready to compete with the likes of Clemson yet and the offensive line is still a concern. Virginia Tech may take a step back this season because of Georgia Tech's potential bounce back and Miami's rise as a big bowl and potential playoff team. The winner will take a step in the right direction in the ACC.
3) SEPTEMBER 2, SUNDAY. #8 MIAMI vs. #25 LSU: 4:30PM PT/7:30PM ET [ABC] (ARLINGTON, TX)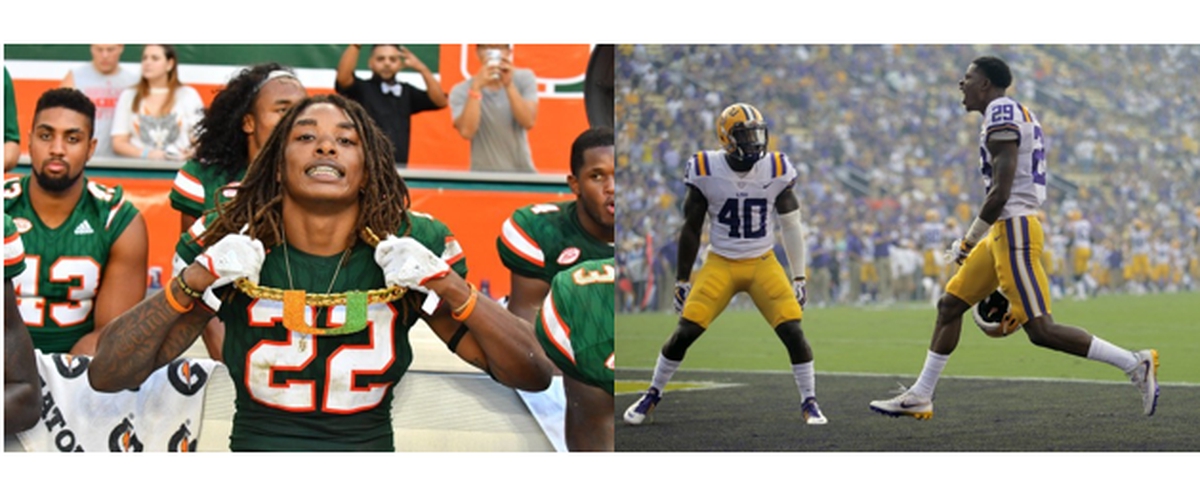 It's nice to know that Mark Richt is coaching against his former counterpart LSU when he coached at Georgia. The questions are at quarterback, although, both teams have defenses that can compete against anybody. Mystery comes from LSU's offense because they're dealing with new skills players and an ongoing quarterback search since Zach Mettenberger…for a good long LONG while. But maybe Joe Burrow could be the answer??? Miami has skill players with the return of Ahmmon Richards back, but the quarterback is still questionable. Yes, Malik Rosier did well at the beginning of the season, but it ultimately came to the Virginia game that made the last 3 teams know that Miami relies on their defense, and Rosier isn't the key quarterback a lot of us assumed he was. He went from throwing nearly 300 yards per game to a mere 200 yards per game after the Virginia Tech game. Can he bounce back against the Tigers defense? This game could come down to who has the edge in the passing game.
2) SEPTEMBER 1. #9 AUBURN vs. #6 WASHINGTON: 12:30PM PT/3:30PM ET [ABC] (ATLANTA, GA)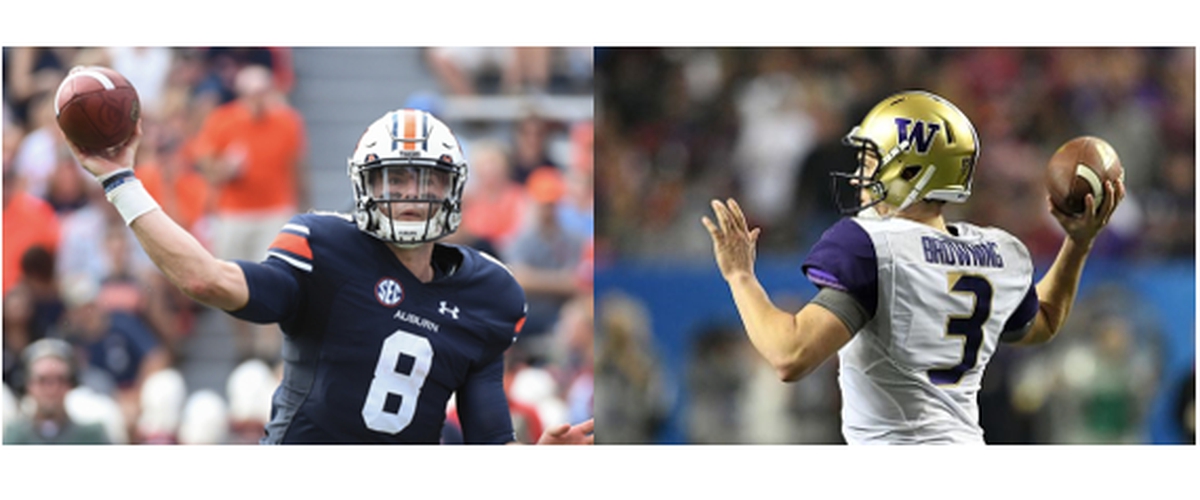 This isn't your typical game. This game will determine the edge in the playoff race. Washington is a bit more in the red with a loss more than Auburn due to strength of schedule. Washington returns plenty of players on offense and defense and are favored to win the Pac-12. Auburn returns some skilled players, including Jarrett Stidham, and the defense is loaded with talent, even without defensive lineman Montravius Adams. Washington must work in some receivers and hopefully the offensive line is healthy too. Meanwhile, Auburn must replaces Kamryn Pettway and Kerryon Johnson with only Kam Martin and they need him and possibly another back to carry on the ground game. Washington's win can give the Pac-12 some leverage over the SEC that could push for two teams in the playoffs again. Auburn's win helps them push for another opportunity at a playoff spot.
1) SEPTEMBER 1. #14 MICHIGAN at #12 NOTRE DAME: 4:30PM PT/7:30PM ET [NBC]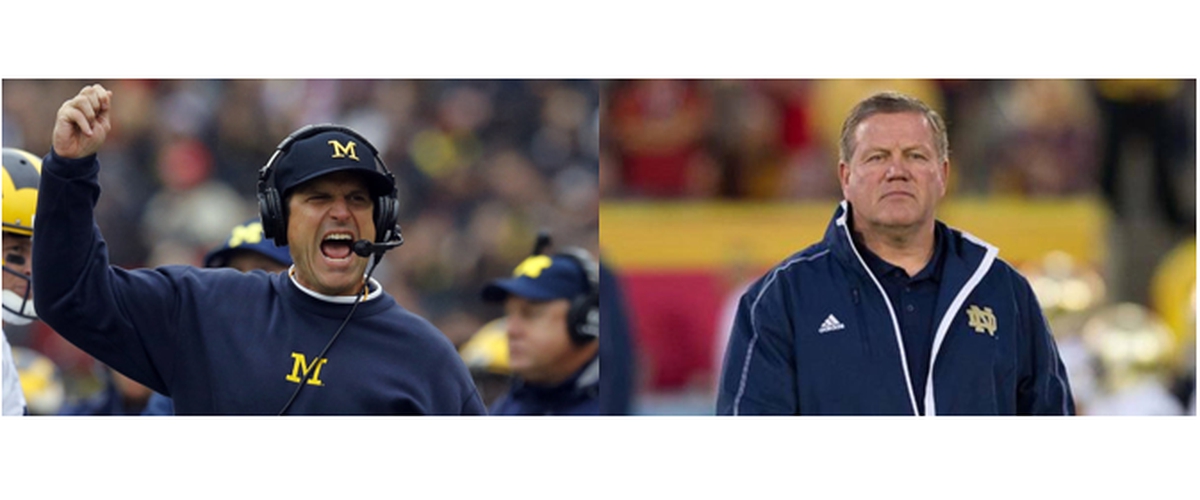 This is one of the most anticipating games of the year since they were put back on the schedule together. Jim Harbaugh and Brian Kelly, Michigan's defense and Notre Dame's offense, and quarterbacks Brandon Wimbush and Shea Patterson will be featured. Talented skilled players and special teams should be involved in this excitement. This could be a low-scoring to the 20s game because Notre Dame has athletic talent and speed while Michigan has physical, smashmouth defense. The winner sets the tone for a long, arduous run in their schedule but puts them one game ahead of the other.
---