Sun Belt Underrated Teams
The Sun Belt competed well last season. Arkansas State, Appalachian State, UL Monroe, and Coastal Carolina came up short against Power 5 teams, and South Alabama and Louisiana were competitive, but Troy came up with a huge upset...against ranked LSU...in Death Valley! The conference itself was competitive and no team was safe from each other. Georgia State and UL Monroe were in the mix for a bit. Oh I almost forgot, the conference has a division and a conference championship now.
The West is a bit open but Arkansas State is favored. They have a quarterback and a running back, and that's enough to make them the better team of the Sun Belt. If anyone has paid attention to UL Monroe, they have plenty of returners on their team and should have enough offense to run with any team in the conference. South Alabama has talent in the skills position, but after quarterback Dallas Davis transferred, is freshmen Cephus Johnson the future and answer in that position? Louisiana has concerns on defense and quarterback and Texas State is currently an enigma with replacements.
The East is a bit tougher with Appalachian State and Troy holding the Top 2. Appalachian State must replace Taylor Lamb but running back Jalin Moore will carry the load. Troy replaces both their quarterback and running back but has plenty of talent to carry on without them. Georgia Southern could find their way back to competing again after last season's disappointment. They have leverage over Georgia State and Coastal Carolina, which figures to finish at the bottom.
This conference will be focused on Appalachian State, Troy, and Arkansas State, but watch out for Georgia Southern, Louisiana and UL Monroe to loom around. For my picks from the West conference (to be honest, I just learned about that setup a month ago) are UL Monroe and Arkansas State.
ARKANSAS STATE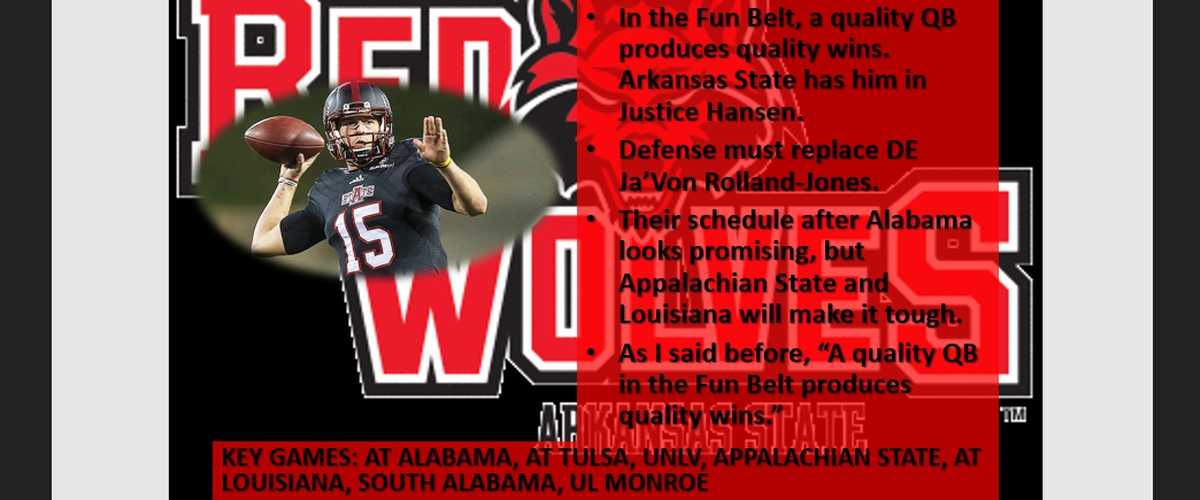 With how open the Sun Belt conference is, it's a tough call, but choosing Arkansas State should be a safe pick. Reason? Quarterback Chase Hansen. When you have a good QB in this conference, it makes you a likely favorite to win the conference. Returning running back Warren Wand and leading receiver Justin McInnis helps the offense stay as strong as last season. They didn't have any impressive wins except against New Mexico State, but after Alabama, their schedule is favorable. Appalachian State's and Troy's loss of QBs, and also not having Troy on their schedule makes them the favorite to win the conference.
UL MONROE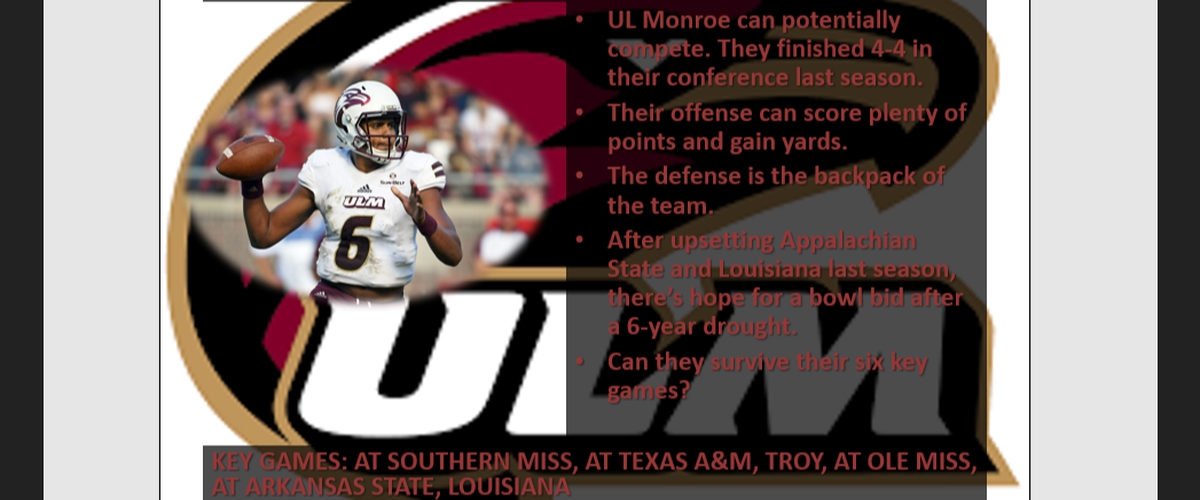 This could be the riskiest pick I've ever made. Believe it or not, Louisiana-Monroe hasn't gone bowling in 6 seasons. But after going 4-4 in conference play, defeating Louisiana and upsetting Appalachian St, there's hope for bowl-eligibility. Their first 5 losses came by 11 points or less. They return their do-it-all QB Caleb Evans, who led the team in the passing and rushing TDs. The question on defense is when the riskiest pick comes in. Their schedule looks tough with Southern Miss, Texas A&M, Troy, Ole Miss, Arkansas St, and Louisiana. The defense is subjected to giving up points once again like they have in the past few years. But if Caleb Evans takes another step forward and carries them to a few more wins and at least an upset, UL Monroe will be bowl-eligible.
---