Week 10 Recap
Another week of action is in the books. As a disclaimer, *I personally don't wager actual money on these games*. This week saw a lot of scoring and not enough defense. With that being said, let's get to the results of this week's match-ups. 
#15 Colorado 20, UCLA 10 (Pick: Colorado -12.5, Under 58)
This one was ugly. The teams combined for 25 penalties and five turnovers, with four of them coming from the Buffaloes. There were four missed kicks in the game. The Bruins rushed for a lowly 25 yards, well below their season average of 85 yards rushing per game. Colorado running back Philip Lindsay was the bright spot, catching 11 passes for 76 yards and adding 73 yards rushing and a touchdown. I missed on the spread due to a surprisingly sloppy game that featured two teams trying to give the game to each other. These teams slugged it out, resulting in a combined point total of 30, well below the set total of 58. UCLA now has to win out to become bowl eligible, which is a harsh reality after the Bruins were picked to win the Pac-12 South. Both teams will look to get back on track next week as Pac-12 play nears an end.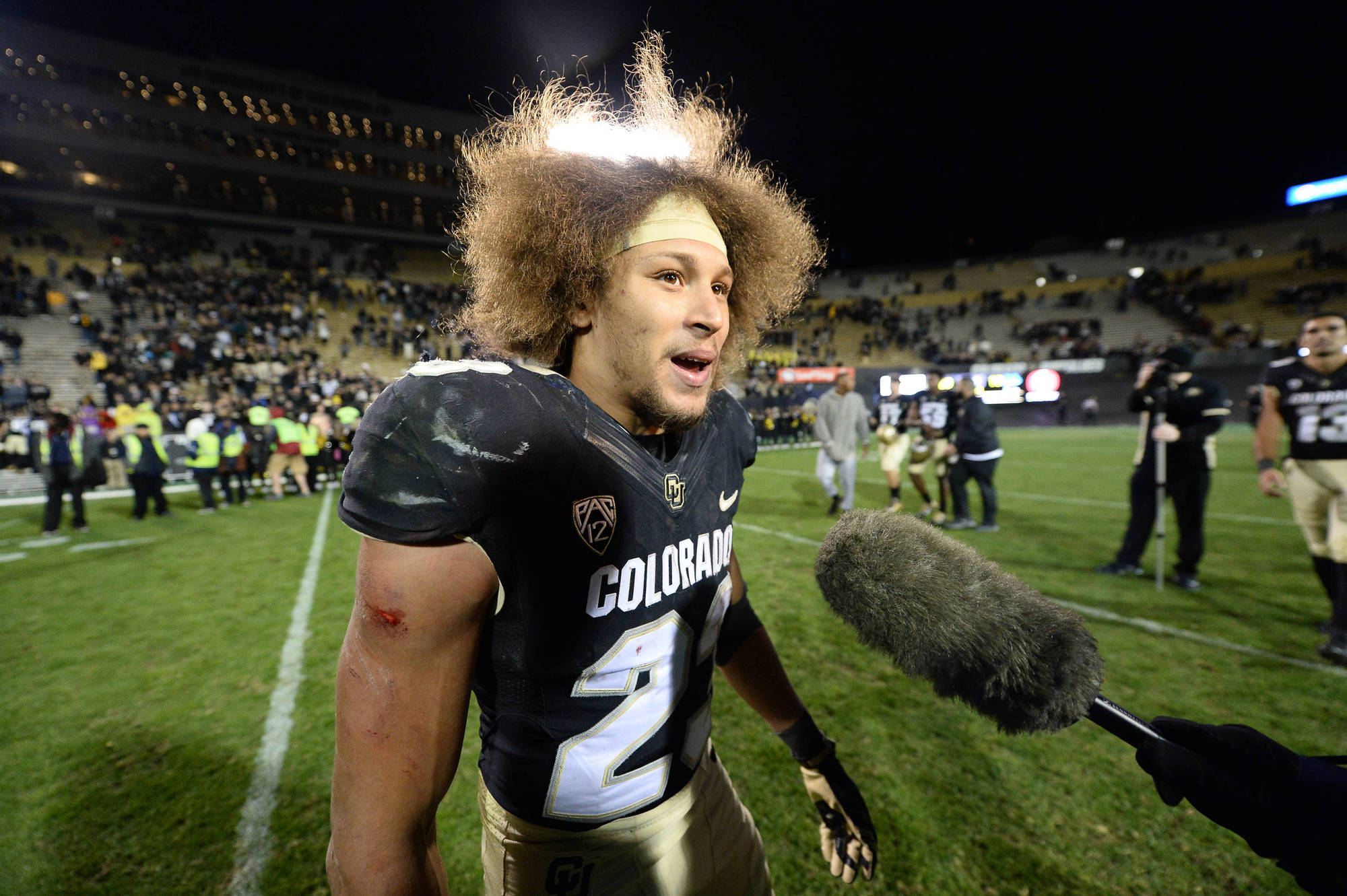 Running back Phillip Lindsay has helped Colorado rediscover their ground game.
Ron Chenoy-USA TODAY Sports
USC 45, Oregon 20 (Pick: USC -17, Under 78.5)
The Trojans came out and imposed their will on the poor Ducks. USC sliced Oregon's defense apart, featured by running back Ronald Jones' 171-yard, four-touchdown performance that tied a school record. Quarterback Sam Darnold threw for 309 yards and two touchdowns. USC extended its winning streak to five straight, the team's longest streak since 2013. They face a huge match-up next week in Seattle against the Pac-12 frontrunner Washington. Oregon has yet to win a game on the road this season, but they return home next week against Stanford. I hit on the spread and the over/under due to the Ducks being an uncharacteristically predictable team this season.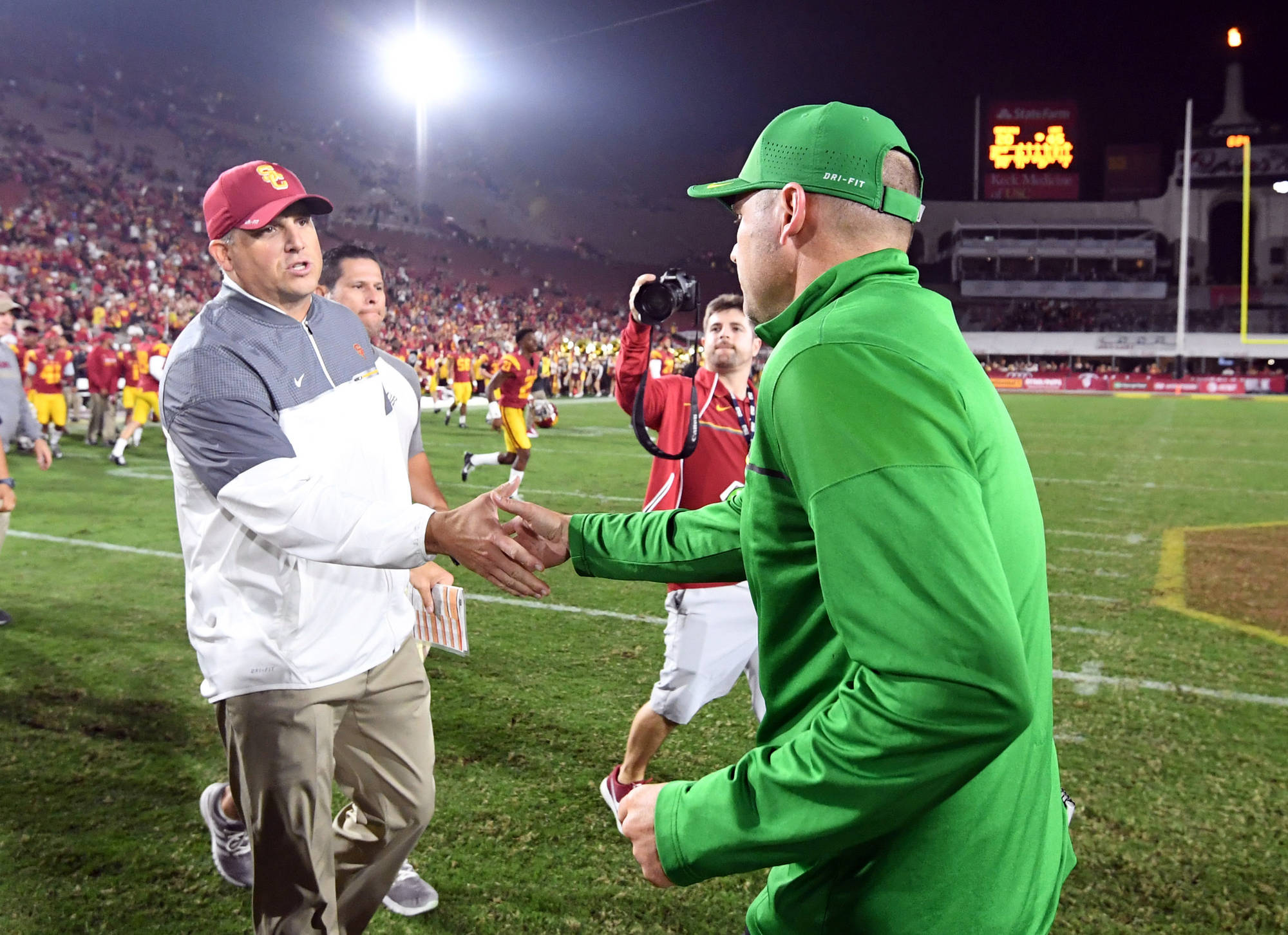 USC coach Clay Helton has the Trojans playing their best football of the season.
Kirby Lee-USA TODAY Sports
Stanford 26, Oregon State 15 (Pick: Oregon State +14.5, Over 42)
The Cardinal ran for 365 yards and controlled the ball for 39 minutes of the game. Stanford running back Christian McCaffrey rushed for 199 yards and added a touchdown. Complimentary running back Bryce Love also busted a 56 yard touchdown. The quarterback position remains an issue for Stanford, as Keller Chryst fumbled three snaps that halted the Cardinal's momentum. I hit on the spread as the Beavers showed their pride and refused to be kept down. However, I missed the over/under by one point, which is a gambling nightmare.The Beavers have seen better days as they have failed to become bowl eligible for the third straight season. But things may improve next week when Oregon State takes on UCLA, who they beat 41-0 last year in Corvallis. Stanford will travel to Autzen Stadium to take on the Ducks in a game that doesn't resemble what the match-up has meant for the past five years.
#4 Washington 66, Cal 27 (Pick: #4 Washington -17, Under 77)
The Huskies came into this game looking to make a statement. Mission accomplished. Jake Browning threw for 378 yards and six touchdowns, breaking the school's single season record for touchdown passes in the process. Wide receiver John Ross caught three touchdowns on top of 208 yards receiving. His partner-in-crime, Dante Pettis, caught two touchdowns and even threw a touchdown for style points. The game was already out of reach, but Cal quarterback Davis Webb threw three second half interceptions. The atmosphere in Berkeley was electric as former Cal running back Marshawn Lynch re-enacted his injury cart joyride, much to the delight of Bears and Huskies fans alike. Despite that, Washington made it clear that this wouldn't serve as an upset opportunity for the Bears. I hit on the point spread because Washington's explosive offense wasn't going to be stopped at any point. However, I didn't think it would happen to this magnitude, which caused me to miss on the over/under of 77. 
#25 Washington State 69, Arizona 7 (Pick: Washington State -17, Under 65.5)
Washington State jumped out to an early 24-0 lead and never looked back. Quarterback Luke Falk threw for four touchdowns and the team as a whole combined for 614 yards of offense. The Cougars point total was their highest since 1997. Arizona's quarterback play was dreadful, resulting in three different players taking snaps. Brandon Dawkins, Anu Solomon, and Khalil Tate combined for 128 yards, one touchdown, and two interceptions.  Arizona has now lost six games in a row, and things don't get easier next week as the Wildcats host Top-15 ranked Colorado. Wazzu hosts Cal in what should be another shootout, which plays into their favor. I hit on the spread for this game, but I missed on the offensive explosion of Washington State. I underestimated Arizona's apathetic approach to this game.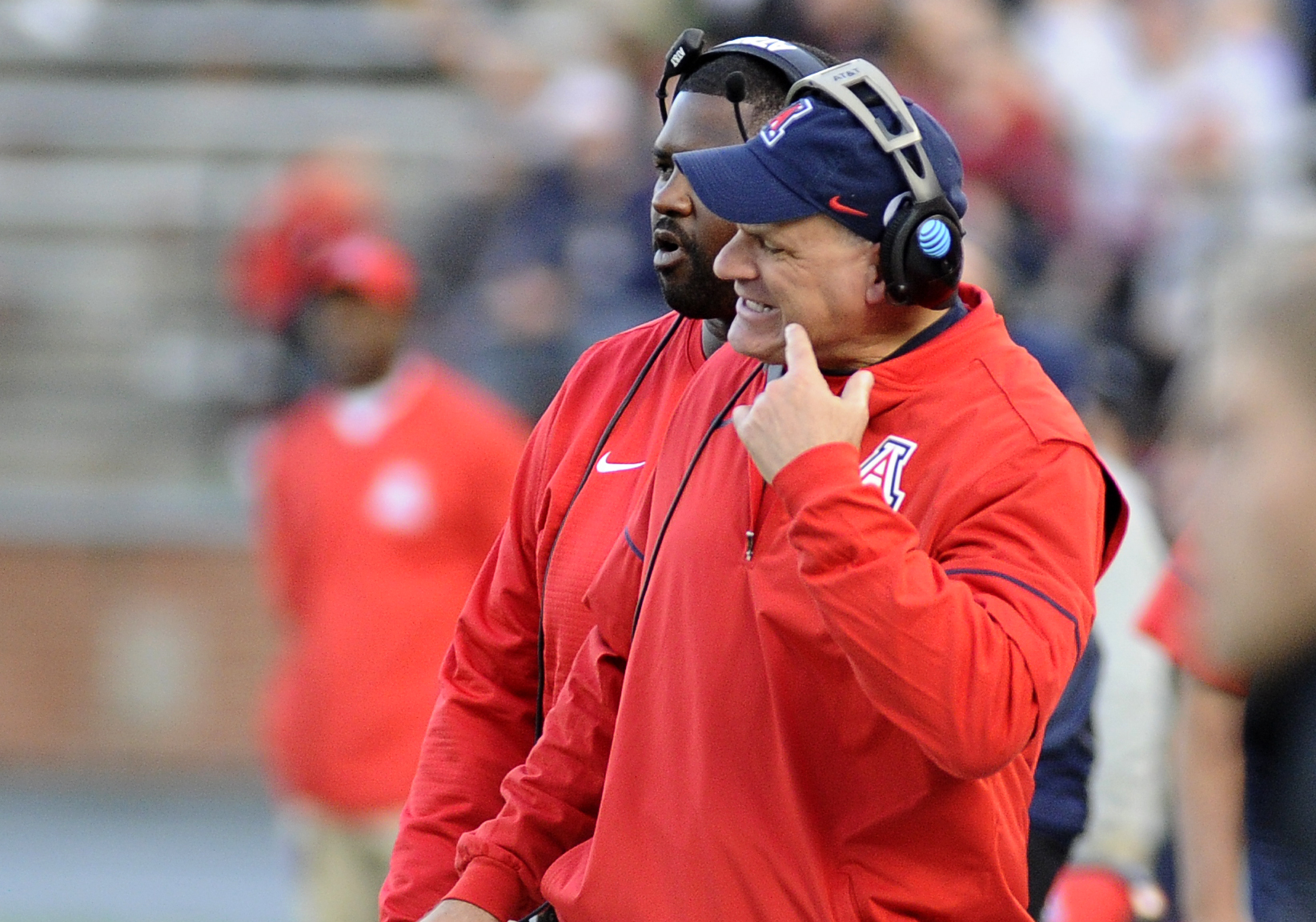 Arizona coach Rich Rodriguez's seat may be getting hotter by the week.
James Snook-USA TODAY Sports
This weekend saw a lot of high scoring. Next week, I expect more of the same. Pac-12 football has been high scoring with little to no defense this season. The top-tier teams find ways to make plays when they count, a trend that has helped separate the real from the fake. Next week's picks will be up on Thursday.
Ron Stove's record for the season: 19-11.
*All lines and over/under taken from www.vegasinsider.com*
---