WEEK 11 RECAP
What a week for the Pac-12! USC showed that they are real and ready to contend for the Pac-12 South. The Washington State Cougars now sit on top of the Pac-12 with a matchup with the Huskies looming after Thanksgiving. There is plenty of action to recap and analyze. Let's see how my picks did. As a disclaimer, *I personally don't wager actual money on these games*.
#15 Utah 49, Arizona State 26 (Pick: Utah -4, Over 56)
Utah fell behind early, 13-0. But they showed the resiliency that is crucial for teams that aim to contend for championships and buried the Sun Devils. Quarterback Troy Williams threw four touchdowns against the worst passing defense in college football. Running back Joe Williams ran for 181 yards and two touchdowns. I hit on the over/under and the point spread because I believed in Utah's ability to dominate both sides of the ball. They got after the quarterback and recorded an astounding 11 sacks. Utah is rolling on all cylinders and looking to claim the Pac-12 South. Next week the Utes will take on Oregon, where we can expect more fireworks. Arizona State gets to face a furious Washington team that will look to destroy them.
#21 Washington State 56, Cal 21 (Pick: Washington State -17.5, Over 80)
Going into this game, everyone knew Cal's defense wouldn't stop the Cougars air raid. Luke Falk threw for five touchdowns, including three to wide receiver River Cracraft. With seven receptions in this game, Wazzu wide receiver Gabe Marks set the all-time Pac-12 receptions record with 295 for his career. However, I didn't expect the Cougars defense to limit Cal's offense to such a low number. Cal accounted for over 500 yards of offense but failed to find the end zone with consistency. I was banking on Cal finding a way to put up over 30 points, but I missed on the over/under. I nailed the spread as the Cougars love to run up the score. The Cougars are now on their longest winning streak since 1930 and seeking to win the Pac-12 North. Next up for the Cougars is a visit to the Buffaloes in a fascinating matchup. Cal takes on Stanford in The Big Game this Saturday.
#24 Stanford 52, Oregon 27 (Pick: Stanford -3, Under 58.5)
The scoreboard made this matchup look closer than it really was. Stanford led 52-13 before Oregon scored two garbage time touchdowns. Christian McCaffrey scored three first half touchdowns in a game that was over almost as soon as it started. The Ducks surrendered 540 yards of offense and never seemed to play with intensity. There are a lot of question marks surrounding the Oregon football program right now. I hit on the spread as Stanford is a much better team than Oregon, but I didn't expect Stanford's offense to explode to this magnitude. Next week, Stanford looks to tackle Cal in The Big Game. Oregon travels to Utah to try and slow down the high-octane Utes. 
UCLA 38, Oregon State 24 (Pick: Oregon State +11, Over 49.5)
In the most irrelevant Pac-12 game of the week. The Bruins used their ground-and-pound attack to wear down Oregon State. UCLA rushed for 163 yards and controlled field position for the entire game. I missed on the spread after a late-game interception sealed the game for UCLA. Tough way to lose. I hit on the over as these two team's defenses have faltered as of late. UCLA collides with USC in a matchup made for the spotlight of Los Angeles. Oregon State will take on Arizona and look to build on their improvements.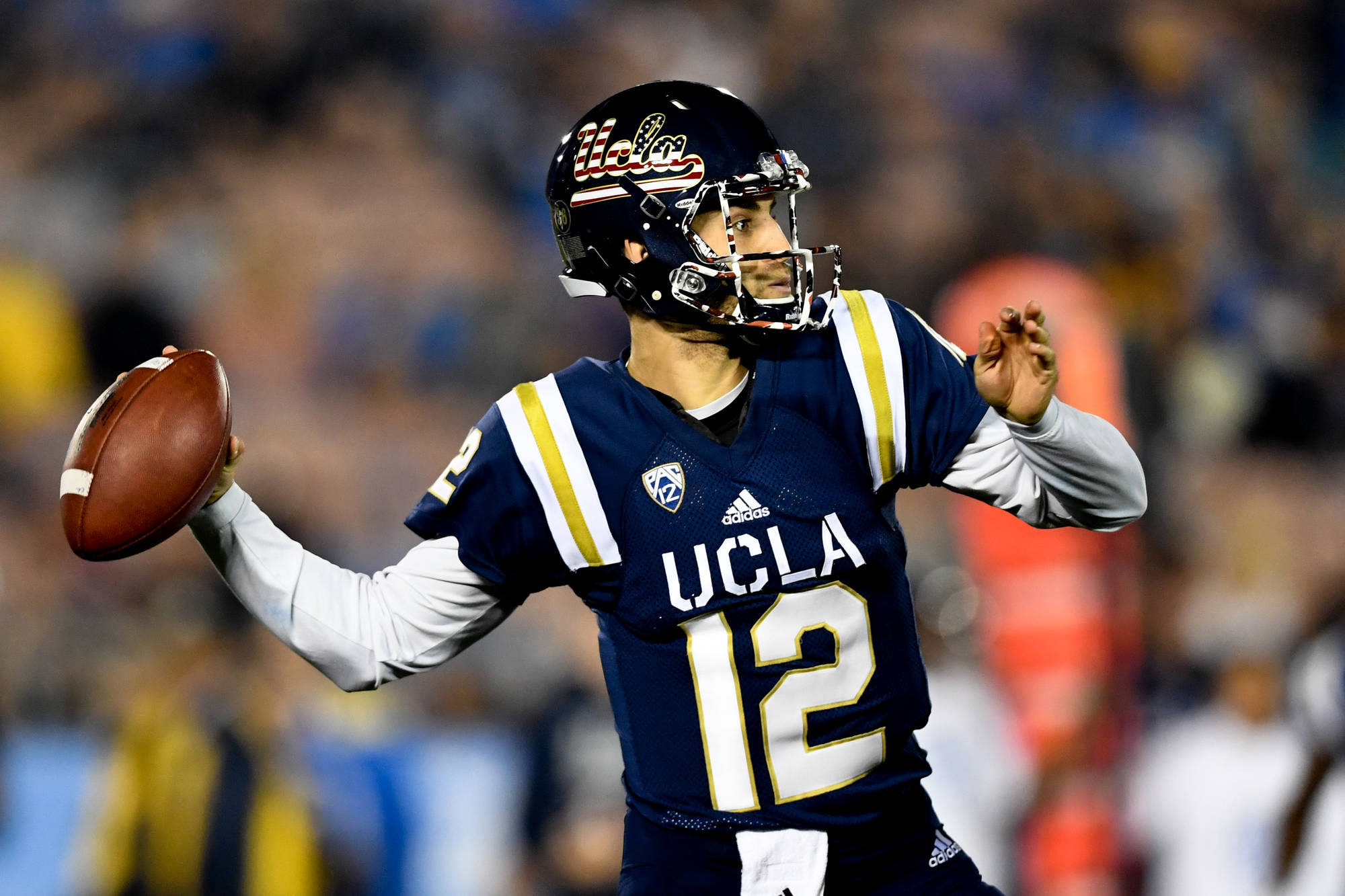 UCLA paid tribute to veterans with these special uniforms.
Kirby Lee-USA TODAY Sports
#10 Colorado 49, Arizona 24 (Pick: Colorado -17, Over 60)
Colorado is on its first four-game winning streak in 14 years. Kudos to coach Mike MacIntyre for bringing the best out of this team. They are now ranked #10 in the country and are looking to move up even higher. Quarterback Sefo Liufau threw for three touchdowns and ran in another. The Buffaloes are looking like a legitimate contender to win the Pac-12. Poor Arizona looks like they want to pack up their things and give it a try next year. I hit on the spread and the over/under because I believed in the Buffaloes desire to prove the doubters wrong. They continue to make statements each game. Next week, Colorado takes on Washington State in what appears to be a high-scoring affair. Arizona will lick its wounds and play Oregon State this Saturday. 
#13 USC 26, #6 Washington 13 (Pick: USC +7.5, Over 60)
This game sent shockwaves through the Pac-12 and the College Football Playoff. USC's defense stifled Heisman candidate Jake Browning all game and snapped the Huskies' 12-game winning streak. Freshman quarterback Sam Darnold is playing like one of the best in the nation. He accounted for 287 yards and two touchdowns against a tough Huskies defense. USC has now won six straight and moved up to #13 in the poll. I hit on the spread as I knew USC was going to give Washington a great game, but I didn't expect them to shut down Washington's dynamic offense, causing me to miss the over/under. The Huskies get to take their anger out on Arizona State next week. USC will look to show their dominance of Los Angeles against UCLA. 
A crazy week of action saw me score a record of 8-4. Many match-ups were predictable, but there is always other factors that need to be considered. That is why I try to bring up relevant statistics that help decide the spread and point totals. Feel free to leave comments and critiques. Next week's post will be up on Thursday.
Ron Stove's record for the season: 27-15.
*All lines and over/under taken from www.vegasinsider.com* 
---