NFL Week 1: Statistical Quarterback Review (QBI)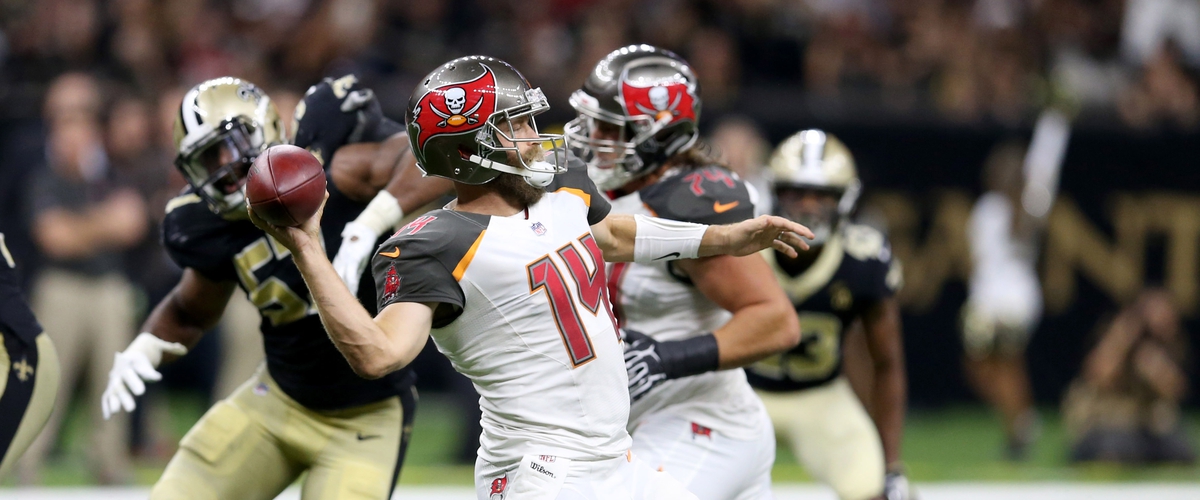 Longtime journeyman Ryan Fitzpatrick shocked the world in week one with 417 passing yards in a duel with Drew Brees. So, how good exactly was Fitzpatrick?
Week 1 of the 2018-19 NFL Season was flashy, high-scoring, and nothing short of shocking. There were backups throwing for 400 yards (Ryan Fitzpatrick) and starters getting benched in a single half of play (Nathan Peterman) or throwing four interceptions (Matthew Stafford). So, how well did each quarterback do in Week 1? That is the question being answered here, as Quarterback Index (QBI) takes a look at each performance. QBI is a different take on NFL quarterback performance than Passer Rating or ESPN's QBR. A player's score is read as +/-___%, based on the percentage variance from the mean performance by a starting NFL quarterback in the modern era. As the statistics are efficiency-based, the metric can apply to games or seasons, or even careers with account for an era-based adjustment. These single-game statistics can vary wildly, as there's a wide range for this small sample size. Week 1 was no different, as some players provided a great deal of value over the average, while others were just the opposite.
Edit: The original spreadsheet used to calculate these figures had a typo that changed the weight of one variable. QBI totals have been changed to reflect this correction.
Philadelphia Eagles 18-12 Atlanta Falcons
Nick Foles, QB, Philadelphia Eagles: -43.36% - Foles, the Super Bowl MVP, did nothing short of underperform in the NFL opener. Foles showed the world exactly why he's a backup, with 0 TDs to 1 INT passing and an Adjusted Net Yards Per Attempt score of 1.64. This game was sloppy all around, and Foles failed to replicate his Super Bowl success.
Matt Ryan, QB, Atlanta Falcons: -33.36% - Ryan was horrific on Thursday night, but QBI says he was the better of the two on the field that night. Ryan's 3.83 ANY/A, a very poor figure, more than doubled Foles' figure, as Ryan threw for over 200 yards on the night. Ryan also failed to collect a passing touchdown, completing less than half of his passes, but it was enough to better Foles - just not enough to win.
New England Patriots 27-20 Houston Texans
Tom Brady, QB, New England Patriots: +14.86% - In comparison to the opener, the Patriots' 7-point win over the Texans was a much better game. Brady was above average with an ANY/A mark of 6.88, slightly above league average, and threw a touchdown on 3 (7.69%) of his throws. The only blemish on Brady's mark, save for an uneventful second half, was an interception by Houston S Tyrann Mathieu that was tipped at the line of scrimmage.
Deshaun Watson, QB, Houston Texans: -25.34% - Watson's second-year debut was as anticipated as any after Watson took the league by storm in 2017 with 19 touchdown passes in 6 starts. He failed to live up to that standard in the game, completing just 50% of his passes for an ANY/A of 3.59 and under 200 passing yards. Watson's bounce-back efforts will be closely watched, as will the Patriots' defensive unit, one that notched 3 sacks and an interception.
Pittsburgh Steelers 21-21 Cleveland Browns (OT)
Ben Roethlisberger, QB, Pittsburgh Steelers: -45.26% - Big Ben was nothing short of atrocious in the Steelers' opener, being responsible for 4 turnovers and almost gifting the Cleveland Browns their first win in years. Roethlisberger's 3 interceptions comprised 7.31% of his throws, docking his ANY/A to a below-average 4.4. With Roethlisberger's play, the Steelers were lucky James Conner and a late field goal block could carry them to a tie.
Tyrod Taylor, QB, Cleveland Browns: -32.30% - Taylor added to the weeklong theme of subpar quarterback play, but it was enough to scrape out a should-have-been-win. Taylor had a rushing touchdown and a passing one, but was nothing short of poor in all categories. His 2.66 ANY/A was a near-cellar-dwelling score, as was his laughable 37.5% completion percentage. Taylor's only saving grace was his close to average interception percentage, at 2.5%.
Cincinnati Bengals 34-23 Indianapolis Colts
Andy Dalton, QB, Cincinnati Bengals: +12.93% - Dalton was impressive in a victory over the Colts, beating the ANY/A average with a mark of 7.47. Dalton's passer rating of 109.7 was one of the better scores of the week, while he was able to get past an interception. One impressive statistic for Dalton: a 75% completion rate. Dalton's performance fluctuates more than anyone from week-to-week, so his score should be one to look at.
Andrew Luck, QB, Indianapolis Colts: -0.81% - Luck's first start in two years was not what the Colts wished. Though Luck surpassed 300 yards, it took 53 passes, dropping his ANY/A to 5.45. Luck's over-70 completion percentage was impressive, but it wasn't enough to win, nor were his 2 touchdown passes (just 1.89% of throws).
Minnesota Vikings 24-16 San Francisco 49ers
Kirk Cousins, QB, Minnesota Vikings: +16.19% - The 84-million-dollar man wasn't godly, but he was impressive in his first real game in a Vikings uniform. His ANY/A mark was 8.55% over the league average, whereas his lack of an interception sparked a higher QBI than even Tom Brady.
Jimmy Garoppolo, QB, San Francisco 49ers: -60.20% - Garoppolo makes more money than Cousins, but he certainly didn't look it on the field. Garoppolo was unable to best one of the NFL's top defensive units, throwing three interceptions, a regression from the league average per throw by over 165%. His sub-50% completion percentage also failed to inspire confidence. Garoppolo is a big player to watch this year, but if he plays like this, he shouldn't be, as Garoppolo fell below the league average of an NFL starting quarterback by over 50%.
Tampa Bay Buccaneers 48-40 New Orleans Saints
Ryan Fitzpatrick, QB, Tampa Bay Buccaneers: +97.78% - Fitzpatrick posted a wild scoreline on Sunday afternoon, and probably ruined a great number of people's survivor picks. The career backup completed 21 of 28 passes for 417 yards and 4 scores, giving himself an ANY/A mark a ridiculous 181.4% over the NFL average. His passer rating was just 2 points short of perfect as he carved up a defense that is looked at as probably going to regress. This game was evidence of that, for sure, as Fitzpatrick played nearly double as well as an average NFL quarterback.
Drew Brees, QB, New Orleans Saints: +44.09% - Sure, Brees out-passed Fitzpatrick, but his overall statistics weren't as insane as the Tampa quarterback's. His touchdown percentage was just 6.66%, a 37% weighted increase to Fitzpatrick's 172% weighted increase over the league average at the mark. Brees had the edge in completion percentage, but his ANY/A was far less. At 10.63, Brees' ANY/A was ridiculous, but Fitzpatrick bested him with a mark of 17.75. Neither quarterback's numbers will be sustainable, that's for sure, but both got off to historic starts in Week 1.
Jacksonville Jaguars 20-15 New York Giants
Blake Bortles, QB, Jacksonville Jaguars: -21.80% - The Jaguars won, but Bortles again seemed to hold them back. His ANY/A mark hovered just over 4, 33% worse than the mean performance. Bortles' performance was overall unremarkable, coming in under the average in every measured category.
Eli Manning, QB, New York Giants: -29.28% - Manning may be on his way out. Eli's ANY/A mark of 4.23 was just a hare better than his Jacksonville counterpart, but his combined interception and lack of a touchdown throw in the loss gave him a worse mark than Bortles. Manning will need to step it up for this talented Giants offense to really get going.
Baltimore Ravens 47-3 Buffalo Bills
Joe Flacco, QB, Baltimore Ravens: +41.63% - Flacco was the only good quarterback in the laugher of the week. His ANY/A surpassed 8.4 in the win, and Flacco was pulled in the second half with the team up big. Flacco's 121.7 passer rating was phenomenal, as was his 8.82 touchdown percentage. Joe Cool certainly looked the part in this one as the Ravens took a huge W.
Lamar Jackson, QB, Baltimore Ravens: -29.46% - Jackson barely passed the ball, but he wasn't impressive at all when he did. Jackson completed just one of four attempts, but didn't really register any meaningful statistics. Still, the completion mark docked him a quarter hundred percent from an average starter.
Nathan Peterman, QB, Buffalo Bills: -115.82% - Peterman's performance was utterly stunning, as he was benched after completing 5 of 18 passes (27.78%) for 24 yards and a pair of interceptions. The truly stunning thing: Peterman's ANY/A of -3.71. Peterman's lackluster game makes it truly shocking that the Bills ever believed he could play at the NFL level. The saddest thing: it isn't even Peterman's worst game by QBI, though it did produce his worst Passer Rating. In November of 2017, Peterman's infamous 5-INT first half against the Los Angeles Chargers produced a QBI of -240.35, a mark that should never be surpassed again - more than two times worse than the average NFL starter. That game included a hilarious 35.71% of Peterman's throws going for interceptions - just barely lower than his completion rate in the game. Peterman's performance proved he should never start (or have started) an NFL game.
Josh Allen, QB, Buffalo Bills: -25.82% - Rookie Josh Allen was bad, but he wasn't Peterman bad in the Bills' 47-3 loss. He avoided throwing an interception, whereas Peterman had three of them. Allen's completion percentage of 40% and ANY/A of 3.22 were two more pitiful statistics in Buffalo's loss. Bills fans had better hope Josh Allen can improve a lot off of his NFL debut, one that produced a game almost 20% below the average starter.
Kansas City Chiefs 38-28 Los Angeles Chargers
Patrick Mahomes, QB, Kansas City Chiefs: +71.92% - Patrick Mahomes was huge in his first start of his sophomore campaign, with a QBI 165% of the NFL starting average. Though he didn't crack 300 passing yards, Mahomes was efficient behind a 169-yard effort from wide receiver Tyreek Hill. Mahomes' ANY/A mark was second-best of the day at the time of the game's conclusion, at 12 on the dot, nearly doubling the average. His 14.81 touchdown percentage bested the incredible effort of Tampa's Ryan Fitzpatrick, and Mahomes didn't turn the ball over either. If this keeps up, Chiefs fans could look forward to a long reign over the AFC West.
Philip Rivers, QB, Los Angeles Chargers: +16.29% - Rivers wasn't too shabby at all in his team's loss to the explosive Chiefs. Rivers threw for 424 yards and 3 scores, though not at a superhuman rate - Rivers attempted 51 passes. His completion rate was solid, but an interception deducted from Rivers' total. This game leaves a sour taste in fans' mouths no doubt, as Rivers was masterful but was ultimately outplayed by the efficient play of Kansas City's young gunslinger.
Washington 24-6 Arizona Cardinals
Alex Smith, QB, Washington: +33.37% - Smith was solid in his Washington debut against the Cardinals, completing 21 of 30 passes for 255 yards and 2 scores. Smith's 70 completion rate and zero interceptions helped to boost his rating for his efficient play. Smith was what he's always been in this game: an effective quarterback who can complete a lot of passes and make some big plays.
Sam Bradford, QB, Arizona Cardinals: -37.79% - Bradford, on the other hand, didn't put his best foot forward Sunday. Bradford attempted 34 passes but finished with just 153 passing yards, a pitiful mark that put his ANY/A just above 2.75. Add an interception to that, and you have yourself an argument for the Cardinals handing the keys to rookie quarterback Josh Rosen. For the Cardinals to make anything of this season, Bradford (or Rosen) will need to play better than almost a third below the league standard.
Denver Broncos 27-24 Seattle Seahawks
Case Keenum, QB, Denver Broncos: -16.43% - At first glance, Keenum's 329-yard, 3-touchdown scoreline looks pretty good. However, it was mired by three glaring mistakes. Keenum's 3 interceptions docked his ANY/A total severely, which otherwise would have been well above average, and his weighted interception percentage fell below the mean by 131.40%. Though it was good enough to notch a win, Keenum's performance does not look good right now, especially considering his starting-quarterback-contract. Will Case be the Case of old or the one we saw in Minnesota? That should be the question to watch with this Denver Broncos team.
Russell Wilson, QB, Seattle Seahawks: -5.48% - Wilson, a 2017 MVP candidate, was not as impressive as he could have been in his first game of the season. A last-second interception docks Wilson's total, which falls just below average. Wilson was unable to complete 60% of his passes, but his QBI was perhaps even more affected by his offensive line play, as Wilson's ANY/A suffered with the addition of 56 yards lost on 6 sacks.
Carolina Panthers 16-8 Dallas Cowboys
Cam Newton, QB, Carolina Panthers: -9.97% - In terms of quarterback play, this game was an ugly one in an ugly week. Newton's 161 passing yards didn't help him much at all, nor did an ANY/A south of 6, but otherwise Cam was relatively average. Newton's lack of a touchdown pass hindered an unremarkable score for the quarterback, as QBI reflects no rushing statistics.
Dak Prescott, QB, Dallas Cowboys: -13.68% - Many Cowboys fans have become frustrated with their quarterback following a 7-9 campaign, and Sunday's matchup did little to quiet those views. Prescott led the game with 170 passing yards, but that number just isn't enough in the modern NFL. Prescott also failed to pass for a touchdown, his ANY/A mark falling below 4.0. Prescott didn't offer much passing or rushing this game, and Ezekiel Elliott wasn't enough to supplement the lackluster performance. 8 points is inexcusable for Prescott's Cowboys, and it doesn't bode well for the young quarterback. Soon the questions may begin to come: is Prescott just another short-term success like Robert Griffin III and Colin Kaepernick earlier in the decade?
Miami Dolphins 27-20 Tennessee Titans
Ryan Tannehill, QB, Miami Dolphins: -14.10% - In the longest game in NFL history, as a result of two lightning delays, it would've been hard for anyone to put up an above-average QBI. Tannehill, the game's top quarterback, had an equal 7.14 touchdown rate and interception rate, having overall a mediocre day. Tannehill's 71% completion rate was canceled out in the calculation by a below-average ANY/A score, but it was enough to take it against some poor quarterback play on the other side.
Marcus Mariota, QB, Tennessee Titans: -95.57% - Mariota's QBI should be taken with a grain of salt, as he had to play in a delay-lengthened game while also throwing a second interception with a hand injury that would later force him out of the game. Mariota threw 2 interceptions and failed to accumulate a passing score, his ANY/A just 0.81 in the game.
Blaine Gabbert, QB, Tennessee Titans: -47.83% - Gabbert actually was Tennessee's quarterback for the majority of the game following Mariota's injury, and though he fared better he was unable to score well. Gabbert completed just 50% of his passes for a passer rating below 50, good for almost 40% below the QBI mean.
Green Bay Packers 24-23 Chicago Bears
Aaron Rodgers, QB, Green Bay: +51.97% - Rodgers was masterful on Sunday night, and he had to be. Though he didn't break the 300-yard barrier, Rodgers surpassed 10 ANY/A on the night and threw for a touchdown on 3 (10%) of his 30 pass attempts, good enough for a 130.7 Passer Rating and a QBI almost 50% above the average.
DeShone Kizer, QB, Green Bay: -109.22% - Kizer did complete 57% of his passes (4 of 7), but one of his seven passes was intercepted by DE Khalil Mack. That was the key to Kizer's extraordinarily poor QBI. One interception on seven passes is 14.29%, 292% worse than the weighted NFL starting average and even worse than Nathan Peterman's 11.11%. Kizer's negative ANY/A score (less than 45 yards passing compared to 45 yards deducted for an interception) and pitiful 42.9 Passer Rating didn't help either, as Kizer joined Peterman in the 100 club - just not the one you want to be in.
Mitchell Trubisky, QB, Chicago Bears: -14.34% - Trubisky was what everyone expected him to be on Sunday night: mediocre, not spectacular. Trubisky's 3.97 Adjusted Net Yards Per Attempt fell well below the starting average, as did a Passer Rating of 77.2. Trubisky helped himself by avoiding an interception but didn't throw for any touchdowns either, ultimately being just below average, as his regular statline would indicate.
New York Jets 48-17 Detroit Lions
Sam Darnold, QB, New York Jets: +17.65% - Sam Darnold's NFL career started off on the lowest of low notes, but he finished his first game at the highest of highs. Darnold's first career pass found the hands of Lions cornerback Quandre Diggs for a touchdown going the other way. That was about the only good thing on the day for the Detroit Lions. Darnold only threw for 186 yards, but it was on limited throws, and he was efficient. Darnold was below-average only in interception rate in his debut, completing over three quarters of his passes in the win. How Darnold progresses from this start will be interesting to watch over his first NFL season.
Matthew Stafford, QB, Detroit Lions: -60.38% - Stafford couldn't have finished further from where most people thought he would. The Lions quarterback, typically viewed as a Top 10 NFL starter, got off to one of the worst season openers in Detroit history with a four-interception performance, at a weighted rate astoundingly 250% worse than the starting average. Stafford's performance was good for just 2.74 Adjusted Net Yards Per Attempt, far behind the median scoreline.
Matt Cassel, QB, Detroit Lions: -145.98% - Of course Peterman couldn't just be the worst of the week. Nathan Peterman threw for just 5 completions on 18 attempts and had a negative ANY/A, and Kizer threw a pick on just seven tries, but neither could be the worst. Cassel stepped in for an injured Stafford during the second half, and promptly completing just 2 of 6 passes with an interception. That performance gave Cassel a hilarious -5.16 ANY/A, the worst of the week, and a weighted interception percentage more than three hundred and fifty percent worse than the starting average. Cassel's performance was the perfect thing to encapsulate just how poor Detroit played in Matt Patricia's coaching debut.
Los Angeles Rams 33-13 Oakland Raiders
Jared Goff, QB, Los Angeles Rams: +21.24% - Wow, how far Goff has come in the last year. At this time last year, Goff was being looked at as a candidate to be the NFL's worst starter following an 0-7 rookie year. Then, he caught fire alongside Carson Wentz, drafted one spot below him, to field the highest-scoring offense in the game under Sean McVay. Goff continued that path on Monday night against a subpar Raiders secondary, finishing with an ANY/A above 7 and no interceptions to help boost his Quarterback Index score. The only thing that could drag Goff down in the opener was a 54.5% completion percentage, but otherwise, Rams fans should be looking forward to another year of solid quarterback play from Jared Goff.
Derek Carr, QB, Oakland Raiders: -52.51% - Carr achieved this poor QBI despite throwing for 303 yards on Monday night, a feat that's hard to accomplish. Of course, it helps to complete 7.5% of your passes to the other team, and to finish without a touchdown pass. Carr did both of these, finishing the game with an ANY/A in the 4s and a Passer Rating in the 60s. Raiders fans can only rest easy knowing the Rams are likely one of the biggest defensive challenges that Carr will face all season. Still, for a player with Carr's price tag and pedigree, you have to expect more than a performance almost 50% below the average.
---
Check back next week for a two-week review on the Quarterback Index leaders of 2018.
---