Where Do The Sixers Go From Here?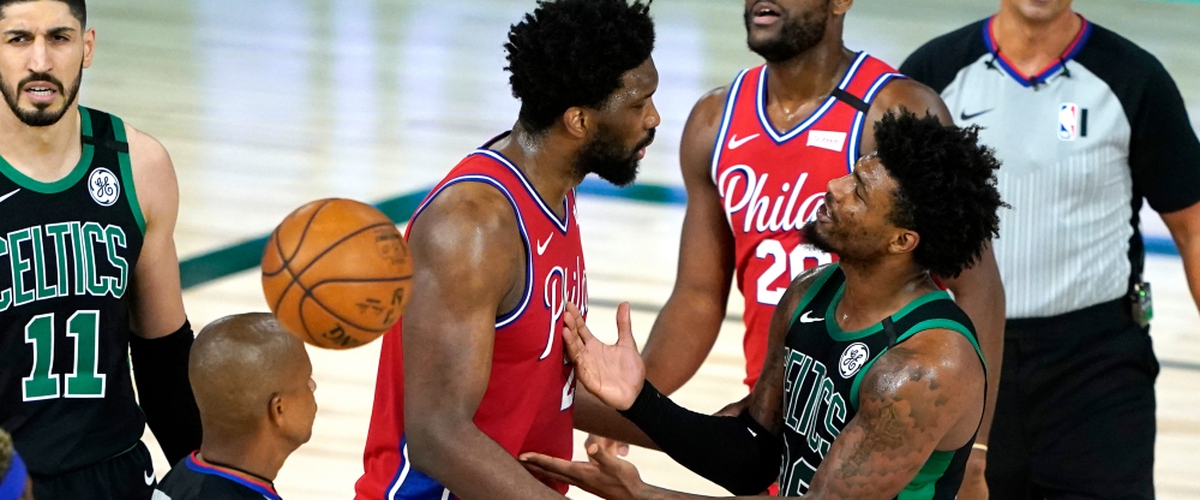 Joel Embiid and the Philadelphia 76ers have become known for their mantra "Trust the Process", but the results of the process have taken a bit longer than expected. The Sixers' have some extremely talented players on their roster, but they just always seem to disappoint.
Even with Joel Embiid, Ben Simmons, Tobias Harris, Al Horford, and other quality rotation pieces, the 76ers just cannot seem to get over the hump from pretenders to contenders, getting swept in the first round of this year's playoffs. This is the third season in a row that Philadelphia has disappointed in the playoffs, and clearly need to make a few changes if they want any shot at the NBA title in the future.
These are some of the proposed changes I would make if I were the 76ers GM.
Trade For Shooters
The 76ers are in dire need of more 3-point shooting. In today's NBA, teams can always use more outside threats, and with the Sixers reeling out a center in Joel Embiid who prefers to not shoot from outside and a point guard in Ben Simmons who doesn't have range outside of 15 feet, they can use any shooters they can get.
Guards such as JJ Redick and Wesley Matthews and bigs like Davis Bertans and Paul Millsap would be incredible additions to the Sixers. If they are able to trade for non-ball dominant players such as these, the team would be better off.
Acquire Young Players With Limited Chances With Their Present Team
Certain teams (such as the Denver Nuggets) have so much young talent that they cannot possibly guarantee playing time for all of the players that need it to improve. These types of teams could trade those players, and in return expect a veteran or a quality rotation piece. The Nuggets gave Michael Porter Jr. quality minutes during the NBA's restart, but that was with Gary Harris and Will Barton missing time in the NBA bubble. When they come back, Porter Jr. will be relegated to the bench and will continue to lose minutes to players like Jerami Grant, Will Barton, and Paul Millsap. This also speaks nothing of Bol Bol, a player who will get a few minutes (if any) playing behind these players and Nikola Jokic.
If the 76ers could trade Al Horford to the Nuggets with a pick or one of their young players (like Zhaire Smith and/or Shake Milton) for Michael Porter Jr., the Nuggets would be in a better position with another quality veteran/backup in Horford and young talent in Smith, and the 76ers would gain more cap flexibility and a multiple-position player and young star in MPJ.
Draft/Trade for Multiple Position Players
The NBA has been trending towards more positionless basketball for many years, and players such as Blake Griffin, Draymond Green, and LeBron James have thrived throughout their careers for being able to do things that players of their sizes usually cannot do. The Sixers, on the other hand, have few players like this. They have three slower centers in Joel Embiid, Al Horford, and Kyle O'Quinn, and a starting point guard who cannot shoot in Ben Simmons.
The 76ers have a few players who can fit this bill in Matisse Thybulle and Furkan Kormaz (and potentially Shake Milton), but need more players who can excel in different roles in order to survive in this league.
Shed Cap Space
Not having the cap space to sign quality players is an issue for any contending team, but seems to be especially bad for the 76ers. This year, Philadelphia paid Al Horford $28M, Tobias Harris $31M, Joel Embiid $27.5M, Josh Richardson $10M, and Ben Simmons $8M (for a total of $96.5M), locking themselves into this core for their future. Furthermore, Ben Simmons' contract extension kicks in this coming year, paying him over $29M (a $21M increase).
Unless the team can move at least one of these players, they will be stuck with the same players for a while (which has not worked at all for them thus far). If they were able to trade one of these players, the flexibility they could have would make them immensely better.
Have Star Players Focus on 3-Point Shooting
This one should be a no-brainer. The Sixers had the ninth-best 3-point percentage this season, but only shot the 22nd-most threes. The 76ers need to drastically improve their three-point attempts, and the best way to do that is to have their stars focus on improving their shooting from deep. Ben Simmons seems to take only one three every year, and Joel Embiid doesn't hit a good enough percentage to warrant many shots.
If those two players could keep improving their shooting over the offseason, and take a few more three-pointers per game, the team overall would be more efficient as the driving lanes would be less clogged.
Acquire A Top Pick
While the 76ers originally attempted to build through the draft, they still need a piece or two more. Therefore, why not draft a young, talented play that can fulfill some of their biggest needs? The Golden State Warriors, with all their stars returning, may be the perfect team to trade with, as they are in win-now mode and would probably have quality players than a rookie who may have to fight for top minutes. The Warriors have Stephen Curry at PG, Klay Thompson at SG, Andrew Wiggins at SF, Draymond Green at PF, and potentially Kevon Looney at C. They have a few young backup guards in Ky Bowman, and Jordan Poole, it would be smart to trade for a backup big, as all they have is Eric Paschall.
I could see Wiggins being movable for the right price, so I would suggest the Warriors trade Andrew Wiggins and the second overall pick, and the 76ers trade Al Horford, Matisse Thybulle, and Zhaire Smith. This will give the 76ers more switchability in terms of positioning on offense and defense, and this trade will provide the Warriors with more win-now players who can shoot and play top-notch defense.
---